EverLighten is excited with the growing demand for custom socks
|
Apr, 19 , 22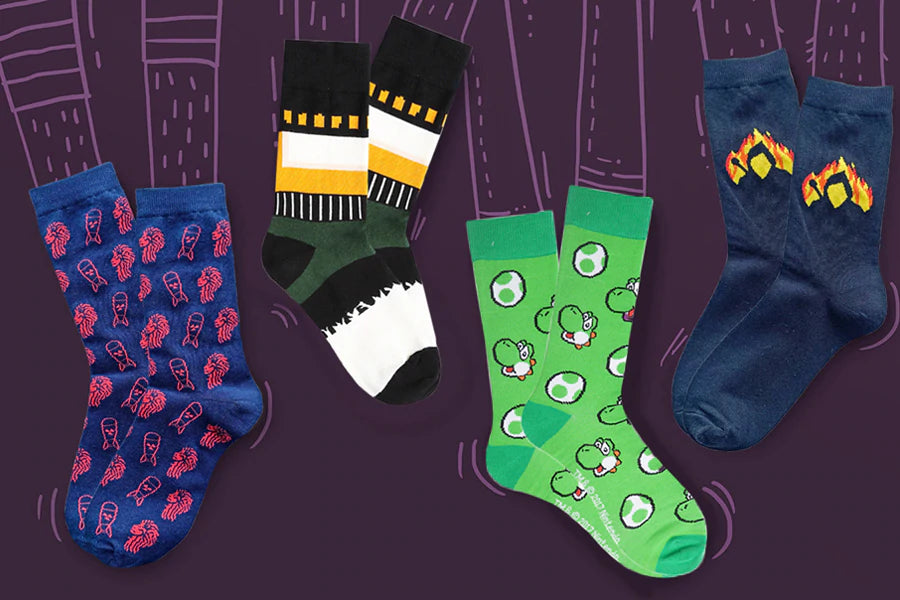 The demand for athletic and compression socks has increased this quarter. 
The global leader in custom socks manufacturing - EverLighten, took to press to release a statement announcing the increase in the demand for specific custom socks this quarter. People are becoming aware of the benefits of wearing relevant socks for their health and fitness. The world has understood the advantage of being healthy in the last two years, and it can be seen in the trends across the globe. 
Thea Chu, VP of Production, said," today, we are pretty excited to announce an increase in demand for our custom socks, especially compression and athletic socks." "The last year was pretty challenging for everyone; hopefully, that time has passed, and it won't return for good," they said. "People understood the importance of health and fitness and chose apparel to improve it." "People worldwide love clicking selfies and posting on social media, especially during working out or doing outdoor activities," they added. "Our custom socks help serve three purposes: comfort, better performance & recovery, and help get likes on social media." "People want something novel, innovative and creative but find it challenging to get a quality manufacturer for their special requirements." "EverLighten is focused on helping customers with high-quality custom socks and innovative manufacturing."
Compression socks and athletic socks have many benefits for users, including better blood flow, reduced blood clotting, preventing injuries, soreness, and faster recovery. Thea said," We create our custom socks using only the highest-quality materials and latest manufacturing processes." "Our socks are perfect for businesses, non-profits, influencers, sports teams looking to improve their market presence and team spirit." "These socks are also helpful to people looking for unique and personal gifts for events like birthdays, anniversaries, or weddings," they said. "No other product will help you get as much attention and love as personalized socks; you can use these as a souvenir or return gifts." "It is easy to customize according to the event's theme, colors, and texts." "It is an item suitable for both the personal and professional use," they went on to add.
Custom socks are useful items people need and use in their daily lives, unlike other merchandise that gets dusty on the shelf. EverLighten manufactures a wide range of custom socks to help their customers. 
Casual Knit Socks: These daily use socks are created with the latest knitting machines making them last longer than other regular ones. With your logo printed on them, you can use them as gifts and giveaways. 
Printed Socks: These socks are easy to mass-produce and ideal for businesses and people looking to spread brand awareness; print a special message in a pocket-friendly manner. 
Athletic Socks: The demand for custom athletic socks is growing day by day, and these are ideal for sports teams, universities, organizations indulged in sporting or outdoor activities. 
Logo Socks: These socks are suitable to grow your brand with your business logo. You can use these at tradeshows, client meetings, or special events giveaways. 
Baseball Socks: As the name suggests, these socks are created to keep the particular requirements of baseball players—these help to avoid injuries, blisters, and faster recovery. With your team's logo on it, you can use them for crowd support. 
Dress Socks: These socks are ideal for people looking for a more traditional look. They come in classic colors like black, blue, grey, or brown. 
Face Socks: Anyone looking to print the face of their beloved ones or pets should choose these socks. They are ideal for showing your thoughtfulness and standing out from the rest. 
Compression Socks: These socks provide relief for people with feet problems like varicose veins or going on long flights. They also offer ample surface area for personalizing with texts, logos, or designs. 
Fuzzy Socks: These socks blend various materials to make them suitable for winters. People can wear these at home, outdoor, or for sporting activities in low temperatures. 
Bamboo Socks: EverLighten understands its responsibilities towards nature and helps create eco-friendly socks made from bamboo fibers.  
Some words about EverLighten:
EverLighten has been in custom socks manufacturing for over eighteen years now. They have helped many organizations, sports teams, NGOs, social media influencers, and individuals create their custom socks. 
Production and delivery: The quality inspectors check each sock for their quality, ensuring only the best products reach its customers. 
Best pricing: Customers get the best pricing because their dedicated factory provides factory-direct pricing. 
Quality in every product: They use high-quality materials to produce personalized socks. 
Real people, real service: EverLighten loves helping people and providing help from quote to delivery. 
They make you look great: Their in-house socks designers help match the design in the customer's head to the real-life design and make it better. 
Fast turnaround: They complete every order in the quickest time because of their efficient process and dedicated factory.  
No minimum order limit: The company accepts every order without a minimum order restriction. 
Free shipping: They deliver worldwide for free.
For inquiries, contact 1- 888-445-1402, service@everlighten.com, or visit https://everlighten.com/collections/custom-socks to design your custom socks today.