Custom Socks
PNG V JPEG_ Which file format should you use for the best custom socks
|
Aug, 19 , 22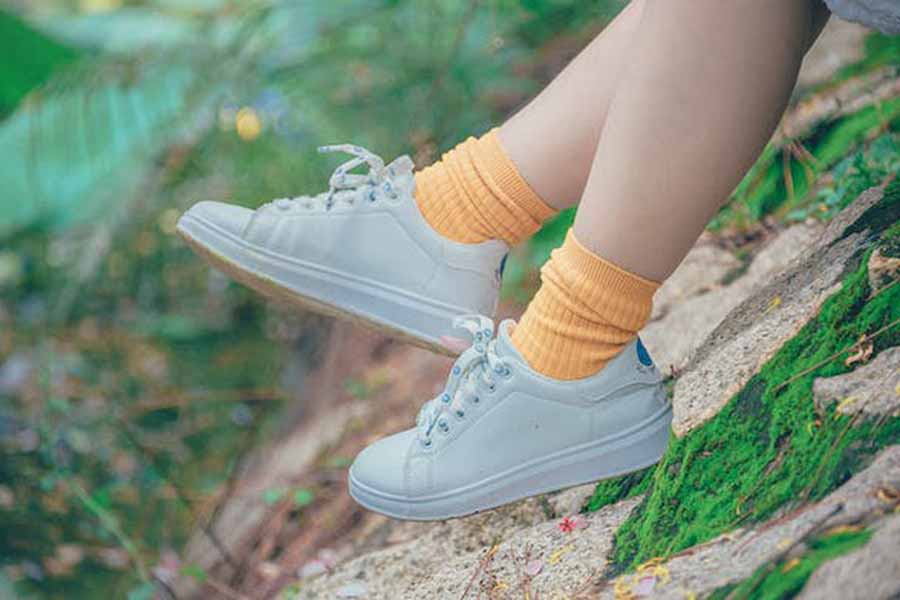 All the graphics we see online or on custom products are first designed on a computer and saved as an image file. The print quality depends upon the image file format. It means if you use the wrong kind of file format, it can ruin the print quality. If you are a marketer or a business selling custom products, including socks, the blog will provide information about JPEG and PNG - two of the most popular file formats - to get the best prints.
How to create designs on custom socks?
Jacquard fabrication is the oldest technology to create designs. However, it doesn't belong to any of the printing technology ranges. The process creates designs using weaving. Latitudinal and longitudinal method weaves the fabrics.
Dye sublimation has three basic steps to create designs. First, we print the design on a heat transfer sublimation paper with a printing machine. Then, we put the paper upside down on the heat transfer machine. It creates the design with overheating and compression technology. It uses a gasification and fumigation process to print.
360-degree printing is the latest and the most advanced printing technology. It is becoming popular fast because of the ability to create lifelike images and designs. The designs are seamless and use a 360-degree rotation of the machine's arm, thus, the name.
It supports digital designs, color measurements, and matching with computers. Theoretically, it can reach 16.7 million colors. Also, it does not have chromatography restrictions like textile printing and dyeing. It can print high precision patterns like color gradients, moire, etc., and requires cotton, cotton-polyester, etc.
Before printing, we create the designs, and it is vital to understand the types to get the best prints for custom socks. We will compare the JPEG and PNG files, but you must know vector and raster images.
All the images are either vector or raster according to the digital construction process. Raster images are pixel-based photos and become blurry when you expand them - it is called pixelation. Vector images are large and keep their details, clarity, and sharpness. It uses a geometric shape that you can expand to any size.
JPEG or JPG is an acronym for Joint Photographic Group. The format provides a compression ratio of 10:1 to 20:1. We use the extension for lossy compression. However, you can adjust the compression ratio; it is handy to balance image quality and storage size.
The image quality reduces in the format because of the compression. When you download and edit and resave, the quality lessens further. Please use the RAW JPEG file when designing
custom socks.
It removes the need to edit and save the file multiple times, and you can maintain the quality.
When to use:
For online images and artwork:Since the file format is flexible with raster editing and compression, it is suitable for web images.
To print photos and artwork: The files provide high-resolution and low-compression photos, making them ideal for editing and printing designs for custom socks.
To send a review image: When you send the design to printers or manufacturers via email, it is suitable.
When to avoid:
When you need transparent graphics: Please avoid using JPEG files when you need a color background and have transparency in your web graphics.
When you want a layered and editable image: The format saves the images in a single flat format and can not be undone. If your design has various layers, it can not print on custom socks. In those cases, it is better to use a PSD file.
If you have a JPEG image from a digital camera or some online photo source you want to print on custom socks, resave it as a TIFF or PSD file to avoid further compression.
PNG is an acronym for Portable Network Graphics and a lossless raster format. It can display millions of colors and depths and is the standard image format for online images. The file format can save RGB and RGBA according to colors or palette. Since the creators had different things in their minds while designing, it does not support CMYK.
Benefits: 
High image quality because of lossless compression
Crisp and sharper images
It provides overlays and background effects
It supports transparent background
When to use:
For transparent web graphics: When the images have transparency, it is suitable, and with variable "alpha channel" it can produce vibrant images because of high color depths.
Limited colors: When your image has fewer colors, use the file.
Small size: When you need to compress the image, it is helpful.
When to avoid:
Working with artworks and photos: The format is a lossless web file, and the size is large; JPEG is a better option here.
Which one to choose for prints on custom socks?
PNG handles deep colors efficiently and works well for high-resolution images. However, the large size makes it challenging to design. Also, if the image is on a colored background, you have to remove it from the image and save the image.
When printing on custom socks, they are not the choice of professionals because of the inability to support the CMYK color format. Both PNG and JPEG support RGB color format only.
Conclusion:
Both the file formats have advantages and disadvantages when printing on custom socks and merch. Your choice will depend on the type of photograph. Professionals prefer JPG for conventional photos and PNG for text images, illustrations, etc. For editing graphics, custom logos, product images, drawings, etc., they prefer JPEG. If it seems too much and you want to get the best custom socks, contact EverLighten. Their experts will guide you and handle everything. They have helped startups, large organizations, schools, colleges, nonprofits, celebrities, and individuals for eighteen years.
Justine Arechiga is the director of nurses at Bundle Birth, California. She wants to change the culture of obstetrics and empower nurses. They wanted to create custom compression socks for the nurses and spread their mission. However, she has little information about designing and manufacturing. Our experts helped her understand every little detail and guided them throughout the process, from design to save the image in proper file format. She sent the raw- design, and our in-house designers helped create a lovely design for the socks. The result: beautiful and comfortable custom socks satisfying their needs and praise for us.
Benefits of partnering with EverLighten:
Best pricing: they are a dedicated factory for producing custom socks and not intermediaries; customers always get the best price.
Quality without a compromise: they use premium-quality materials and the latest processes.
Fast turnaround time: they provide the quickest delivery for every order.
24*7 support: you can contact us anytime; they provide round-the-clock support.
Real people, phenomenal service: EverLighten loves helping; they offer various options for every sock.
Free design help and unlimited customization: the custom socks will look  as you imagined; they also provide endless customization.
No MOQ requirement: you can order as many socks as you need; they accept orders without a minimum limit.
Worldwide shipping: they deliver worldwide; customers can track their orders anytime with an order tracking tool.