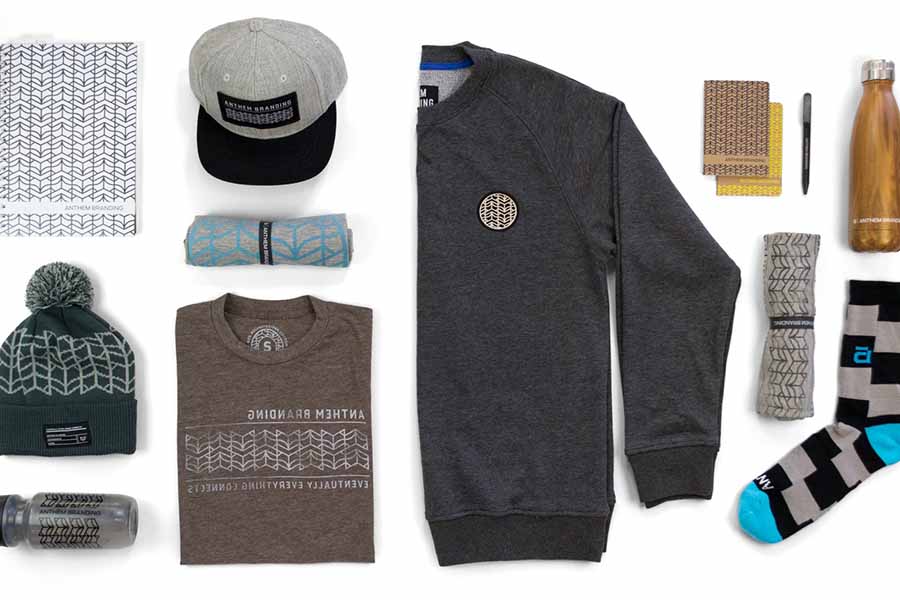 Podcasts have grown at a rapid speed over the last two years because of the pandemic. Unlike visual and written content, you can enjoy them anytime and anywhere, including driving. After YouTube and social media content, it is the next big thing. According to market researh, 52% of people using the internet listen to some podcast. You have a wide variety of niche topics available - as wide as YouTube. So, it is no surprise they are growing fast.
If you listen to podcasts, you might have heard them talking about their custom merch. They plug at the start, in-between, or at the end. When they release a new custom item, they spend some time describing them. If you are a podcaster or want to be, you might want to create your line of custom merch. But is it worth it? What are the benefits, and how can you do it right? The blog will provide you with all the answers and tips to become successful.
Should you create custom merch for podcasts?
Before we answer the question, let's look at some stats about podcasts:
There are over 2 million podcasts
78% of Americans are aware of podcasts
60% of US citizens listen to a podcast
We expect the ad revenue to exceed $2 billion in the coming year
The podcast listener demographics are growing fast, and people can find a podcast from any genre
14% of podcasters earn money by selling show-related custom merch
While 54% of podcasters earn money from sponsorships, custom merch is still an underutilized method. However, the demand is growing, and it presents a lovely opportunity because the market is still in its infancy. Offering high-quality items can open up an additional revenue stream. There is no right or wrong time to create merchandise; some do it from the start, while others do it after the show becomes popular.
But, if you think you will become rich selling custom merch for podcasts, avoid it. It might make some money but will not come close to other revenue streams like donations or ads; think of it as an additional way. However, it will provide you with other benefits; one of those is growing your community. Fans buy custom merchandise because they love the show, want to be a part of a community, and support the creators, not because they are running low on clothes or accessories.
How to create custom merch for podcasts?
Before you create a podcast merch, understand your brand and audience. Start by answering these questions:
What's the podcast niche, and what makes it unique?
Who are your listeners?
Can you describe the podcast as an elevator pitch?
How do you feel about your podcast art?
What are some memorable, exciting, or provocative moments you can remember?
After answering these questions, you have three options to create custom merch:
Create your podcast merch: The option is suitable if you like learning and trying new things. However, there are some downsides: investing money to buy equipment and time to learn new things. We all have limited time, and it is pretty challenging to create merch. You can use the time to grow your podcast and business instead.  
Use a print-on-demand service: You can connect with a POD (Print-on-demand) service to sell or give away custom podcast merch allowing you to create a product on demand - as the name suggests. You don't have to invest much money upfront and keep any inventory. Some downsides are: you depend on the service provider, they take a cut from the sales, and you can not create a product from scratch.
Custom merch manufacturer:Connecting with a custom product manufacturer is one of the best methods to create your podcast merch. You can control the quality, cost, volume, etc. Even if you know nothing about designing, materials, colors, etc., manufacturers like EverLighten provide services from in-house experts. You can create products from scratch according to your liking and requirements.
Tips for custom podcast merch:  
Think of the logo or artwork:your fans might recognize your logo or artwork, but how would someone new know about the podcast logo? You must think beyond the logo or artwork and provide the meaning behind the podcast to make everyone feel welcome.
Focus on a community:As mentioned earlier, podcast merch is more about the community than making money. Consider how your custom merch helps increase fan following and engagement. Will they make someone attached to the show? How can you make your fans stand out? Will the merch be a conversation starter or trigger positive emotions?  
Keep your audience in mind:The people who listen to your podcasts and buy the merch are most vital. You do not want to create something they would not want to use in their regular lives. Before you start, ask yourself: what makes them love your podcast? What are some of the innovative or interesting things they like? What are the things they would show off proudly? If you are unsure, it is best to ask them directly. You can ask them in your podcasts or on social media.
Not take one design fit products approach: It is tempting to choose one design and use it across several products. However, the same design does not work well for every custom product. For example, your podcast artwork might look good on t-shirts, but it might not look good on other items like socks, hats, coffee mugs, etc. You must make the design simple to make it readable on smaller items.  
Keep the products simple:remember you are a podcaster, not a retail or e-commerce shop. Making custom products takes time and money; you would be better off working on developing your podcast. Start with a few high-quality products and work your way up. If you get success and have resources available at your disposal, then expand your product line.
Focus on quality and not on quantity. Even if you have many products, concentrate on their quality. Remember that podcast merch represents your brand; you do not want to create low-quality products your fans will not want to use. E.g., plastic sunglasses with your logo.
Promote everywhere:so people can know the existence of your custom products. It is easier with video content where people can see the host wearing or using the products. But, for podcasts, describe the products explicitly.
Mention the products in every podcast
Use social media
Send newsletter, emails, etc., for new products, offers, discounts, etc.
Add links to the custom products on podcast descriptions.
Custom merch for podcasts:
There is a wide variety of custom products available; choose the ones that suit your podcast.
Apparel:
Accessories:
Custom keychains
are small, budget-friendly valuable items for people and will create awareness for a very long time. You can choose materials like metals, embroidered, PVC, acrylic, etc.
Custom phone cases
are one the most popular products, with the demand increasing exponentially. It will remind people to listen to your podcast on their phones and grow your community; others will also take a note.
Custom patches
and
stickers
are the most budget-friendly products you can create to grow your podcast community. You can show off the artwork and design according to your needs. People can use them on diverse clothes and accessories like t-shirts, hats, jackets, shoes, laptops, phones, backpacks, etc.
Conclusion: 
Custom merch is lovely to grow your podcast and community. Giveaways are beneficial to reaching more listeners. However, be careful spending too much money on giveaways; people will stop valuing them. Focus on selling and developing the podcast by partnering with a reliable and expert manufacturer. EverLighten has helped podcasters, social media influencers, Twitch streamers, YouTubers, etc., grow their popularity and earn money with high-quality custom merch.
PewDiePie is the most successful individual YouTuber, with an astounding 111 million followers. People love his game streaming and comedy-style commentary. They were looking for a manufacturer to create custom lapel pins for their fans. They contacted many companies but could not find the suitable one. After going through positive testimonials, their agent approached our team and informed us about style, size, and quality requirements. We created two samples and sent them; they were satisfied and surprised with the quality. We made 5,000 custom lapel pins displaying our exquisite craftsmanship. They praised us, and their fans loved the pins.
Benefits of partnering with EverLighten:
Best pricing:they are a dedicated factory for producing custom products and not intermediaries; customers always get the best price.
Quality without a compromise:they use premium-quality materials and the latest processes.

Fast turnaround time

:they provide the quickest delivery for every order.
24*7 support: you can contact us anytime; they provide round-the-clock support.
Real people, phenomenal service:EverLighten loves helping; they offer various options for every product.
Free design help and unlimited customization:the custom items will look as you imagined; they also provide endless customization.
No MOQ requirement:you can order as many as you need; they accept orders without a minimum limit.
Worldwide shipping:they deliver worldwide; customers can track their orders anytime with an order tracking tool.