TRIP GOOD-CUSTOM ATHLETIC SOCKS
|
Dec, 27 , 22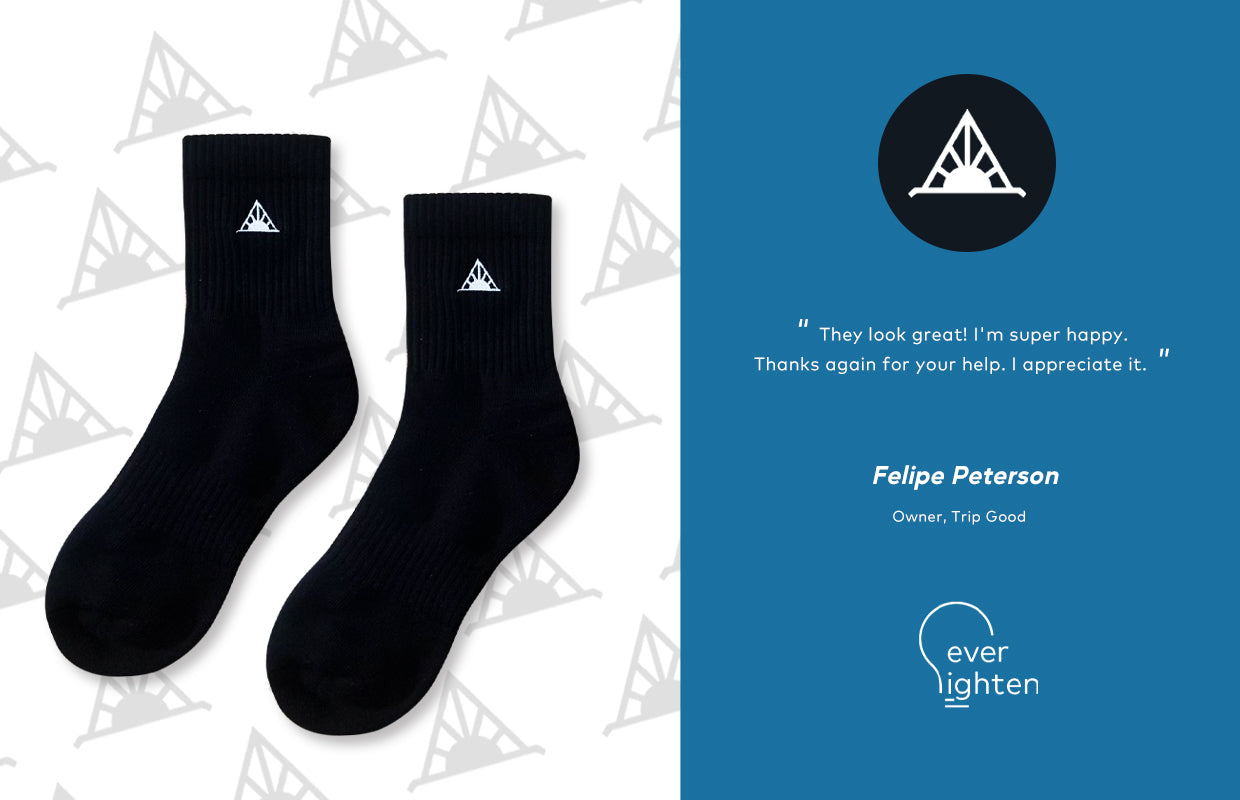 They look great! I'm super happy. Thanks again for your help. I appreciate it.
Felipe Peterson
Owner, Trip Good
[Summary]
EverLighten assisted Felipe Peterson, the owner of Trip Good, with custom athletic socks. It was a challenging project because of the ultra-tight timeframe since they wanted them before the holidays. Our team used their vast experience and expertise to deliver the project before the deadline. They are pretty happy and satisfied with the quality.
[About]
The Trip Good expresses the joys of life with apparel and NFTs. They have over 140 unique art pieces that tell their story and celebrate what makes them a brand, community, and individuals. The idea is to recognize and enjoy our differences while acknowledging our shared human experience. They design each piece to make people marvel at our beautiful world. Every image is unique. People own a piece of digital art and acquire membership to their brand.  
[What they were looking for]
They planned to expand the inventory for their online shop and contacted several manufacturers to no avail because they were unsure about the products they wanted. They reached EverLighten after research and through numerous positive reviews on various rating sites.
Our experts suggested many items after looking at their brand and requirements. Finally, we settled for athletic socks. The customer wanted NBA-quality socks. We advised about the length and thickness of the athletic socks. However, they were apprehensive about the quality. Our team assured the customer that our athletic socks are on par or even better than socks from many authorized NBA retailers. We have helped startups, big brands, and celebrities with custom athletic socks.
[What we did for them]
The customer sent us the reference design and the logo. The client's triangular logo has a unique point: the bottom of the triangle extends out a bit. It is a vital part of the logo. Our designers immediately made the mock-up. At first, the customer was not satisfied with the size of the logo. We immediately revised it, and the customer liked it. We took photos after producing the sample, including a close-up of the embroidered logo. However, to be sure, they wanted to check in person.
[The outcome]
We shipped the sample pairs to them. They carefully checked them and were satisfied. The customer gave us the green signal to proceed with bulk production. They wanted the order to be before the Holidays. Time was running out; the team worked overtime and produced in full compliance with the artwork and customer requirements. We made the exact design approved by the customer. While shipping, we saw that the sample and the bulk address were different. Our team took no chance and confirmed with the customer to ensure the accuracy of the delivery. Everyone worked hard and delivered way earlier than the scheduled deadline.