Custom Socks
AUTHENTIC APPAREL CLOTHING CO. -CUSTOM SOCKS
|
Dec, 20 , 22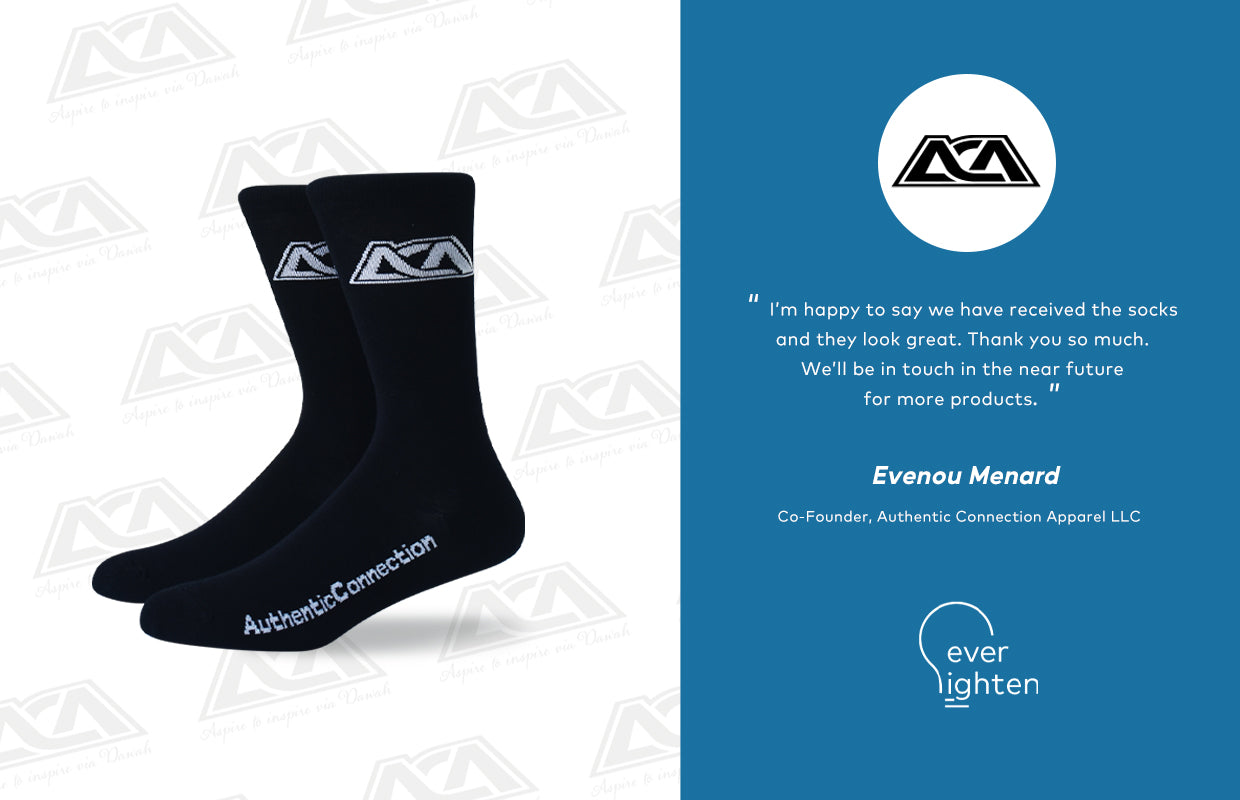 I'm happy to say we have received the socks and they look great. Thank you so much. We'll be in touch in the near future for more products
Evenou Menard
Co-Founder, Authentic Connection Apparel LLC
[Summary]
EverLighten helped Evenou Menard create custom socks for their startup Authentic Connection Apparel LLC. It was a unique challenge because they did not have a design and the deadline was pretty short. But, we used our expertise and 19 years of experience to create some of the best custom socks by working closely and explaining the entire production to them. We delivered them before their big launch.
[About]
Founded by Alonzo Shaw and Evenou Menard, the Authentic Apparel Clothing Co. wants to bring opportunities and leadership within the communities. With its slogan, A Lifestyle Of Culture, it wishes to provide people with an exquisite brand of clothing, sports apparel, and fashion accessories. They want to construct honesty, leadership, and trust within a team to provide superior customer service and 100% satisfaction and deliver opportunities to open new markets in communities to create urban unity. A part of their sale goes to Scholarship Funds to provide financial aid to students for tuition fees, campus rooms, books, and other charges.
[What they were looking for]
They wanted custom socks for their brand but were unsure about the designs, materials, and production process. Additionally, the deadline was short because they had a website launch date. They connected with various manufacturers but could not find the quality they wanted. Finally, they reached EverLighten. Although the deadline was short, we accepted the order because we love to help customers create their dream products. We also liked their mission of helping others, as we also like to contribute to society.  
[What we did for them]
Since they did not have a design, our experts connected with them to understand their requirements. The tight deadline made the project more challenging. Luckily, the timeframe increased, and it helped to create the exact socks they wanted. We created two digital prototypes. However, it confused them; they were unsure which design to choose because both were lovely. Our team explained everything to help them decide.
[The Outcome] 
They eventually settled for the design and placed the order. While waiting for the sample, they asked if we could assist in making custom packaging. We provided them with options and settled for the hang tags. We created a mock-up for the hang tags and sent it to them, and they immediately approved it.  
However, upon packing the items individually, the customer did not confirm if they wanted to add them, and they were not responsive. We waited for two days before getting confirmation. We delivered before the launch with 100% satisfaction despite all these delays.