Natalie Morrow: Custom Socks - Soxieco | Everlighten
|
Aug, 19 , 23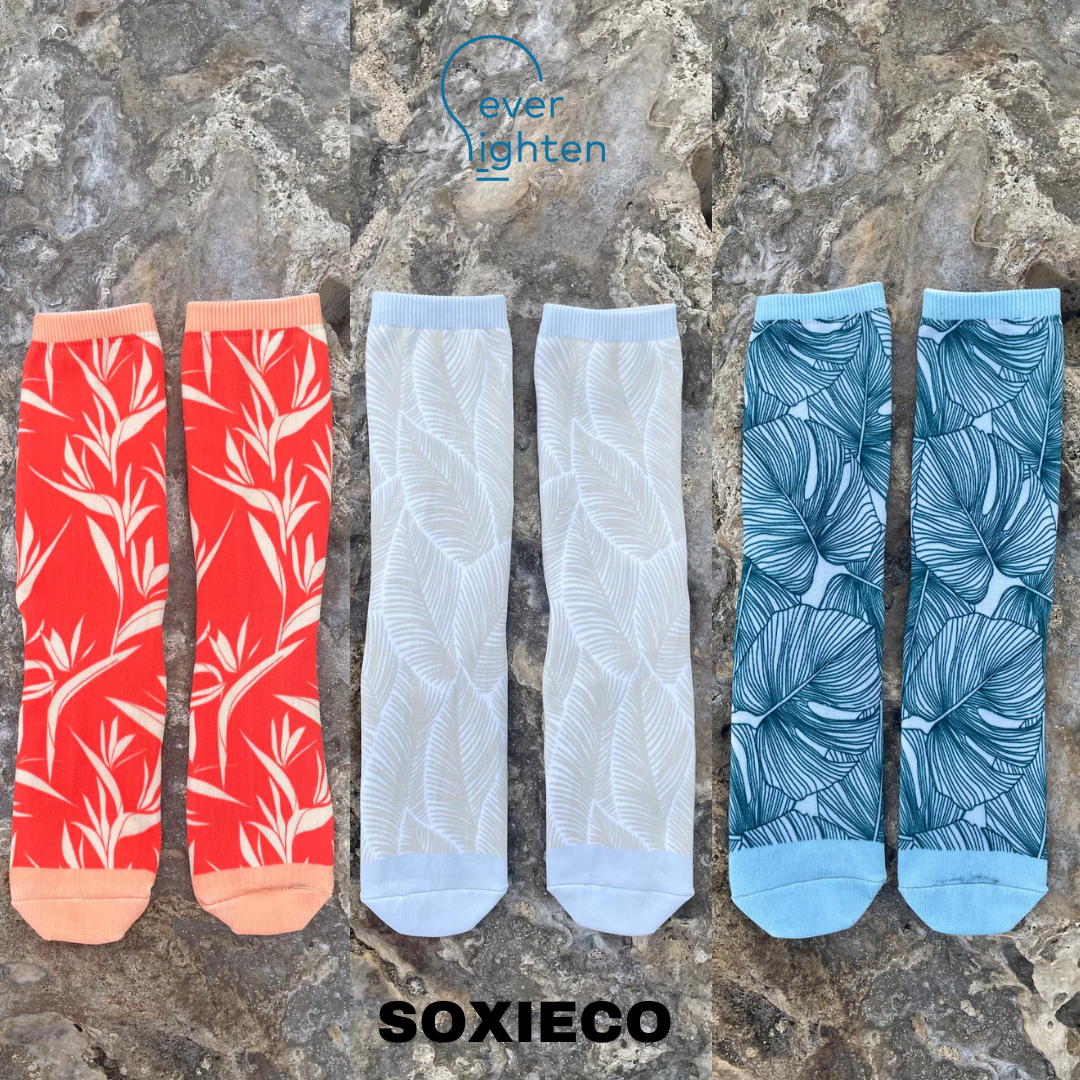 Summary:

EverLighten helped Natalie Morrow, Soxieco, create custom socks for their shop. It showcases our dedication toward customers despite challenging orders. They needed different types of custom-printed socks per design for selling, but the intricate details made it hard for other manufacturers to create the order. EverLighten, however, embraced the challenge and provided exceptional service.
About:

SOXIE CO makes vibrant socks highlighting life moments and reminding us of their importance. They dedicate their products to lovely natural surroundings. These will remind us to celebrate each moment, milestone, and memory. 
What They Were Looking For:

Natalie Morrow sought EverLighten's assistance for custom-printed socks. The order was challenging due to the intricate details, small order sizes, and different phases, causing other manufacturers to hesitate. But EverLighten was eager to help them achieve their goals. They wanted 200 pairs per design for her custom-printed socks, with three orders placed at different times. The purpose was to sell the socks, making quality and design crucial to their success.
What We Did For Them:

Upon receiving the order, EverLighten immediately started working on the samples. However, they were not 100% satisfied with the results of thermal sublimation printing. Our experts decided to use the 360 printing method. We addressed their concerns and achieved the desired effect for the socks.
In the process, EverLighten encountered some challenges in the bulk production of blue and beige color-printed socks. The distance between the pattern and the toe was more expansive than the sample. EverLighten's quality inspection team identified the mistake and promptly communicated with Natalie. We sent new prototypes, and they requested to keep the same distance as the sample. EverLighten remade 400 pairs at no extra cost, ensuring the socks met Natalie's expectations.
The Outcome:

Despite the challenges, EverLighten's dedication and willingness to help resulted in a successful partnership. Soxieco received high-quality custom-printed socks that met their standards and requirements. The excellent product and service provided by EverLighten left a positive impression on them, solidifying EverLighten as a trusted partner for custom socks.
Throughout the process, EverLighten's commitment to customer satisfaction and willingness to tackle challenging orders contributed to the success.