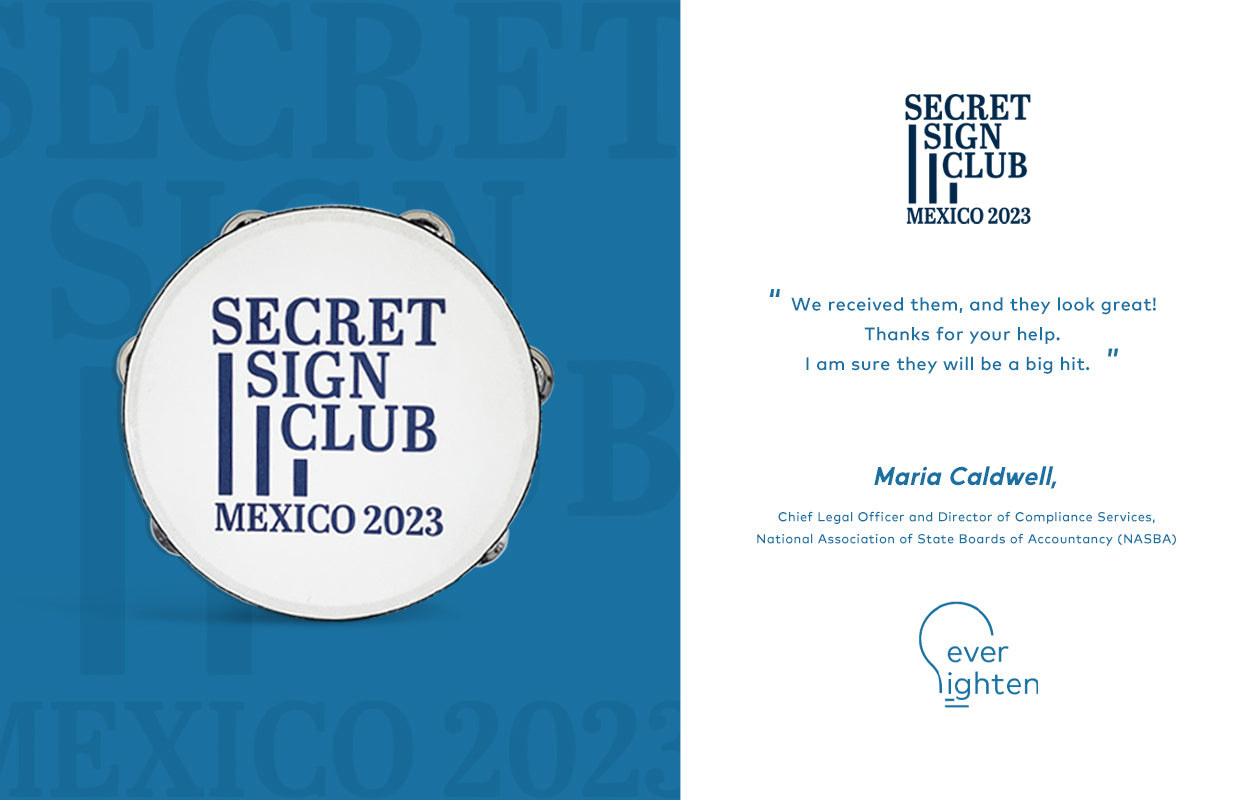 We received them, and they look great! Thanks for your help. I am sure they will be a big hit.
Maria Caldwell,
Chief Legal Officer and Director of Compliance Services,
National Association of State Boards of Accountancy (NASBA)
[Summary]
EverLighten helped Maria Cladwell, Chief Legal Officer and Director of Compliance Services, at the National Association of State Boards of Accountancy (NASBA) with
custom tambourines
. It was a challenging project because of a few issues, including an impossible deadline, shipping issues, and revision directly during production. However, we overcame all these issues and showed why EverLighten is the best company for manufacturing custom products.
[About]
Maria Caldwell serves as NASBA's chief legal officer and director of compliance services. She dwells in Nashville. They graduated from Duke University School of Law and became a member of the Bar of the State of California in 1988. She became a Bar member of the State of Tennessee in 1991. Before joining NASBA, Caldwell served in many top organizations.
[What they were looking for]
Maria wanted goat-skin custom tambourines as gifts for their upcoming event in Mexico. It was their family tradition for over 20 years. She searched hard but could not find a manufacturer because of three major issues, i.e., short deadline, quality, and quantity. Tambourine customization is a resource-intensive process, and manufacturers are unwilling to take on small orders. The regular order size is 100-200 in the tambourine industry. However, EverLighten is all about helping customers; we understand how valuable traditions are to people.
[What we did for them]
The customer wanted real-goat skin. Our team explained that it would be impossible to get the pure white color they wanted because goat skin has a natural color. Before proceeding, we confirmed with them again; they agreed.
Unfortunately, we had two primary issues. The customer's deadline is too tight, and she will need to carry the items in a bag to Mexico. Our team asked for the dimensions and weight of the box. Fortunately, the dimensions passed, and the customer agreed to proceed to the next step.
Since the deadline was too tight, we advised the customer that we should skip the samples and proceed to bulk production immediately to meet their deadline. The sample time is about seven days, and the production time is about 10-15 days. Air shipping needs 7-10 days.
[The Outcome]
Maria trusted our team, and we immediately started making the mock-up. They liked the first mock-up and eventually placed the order.
The process was very smooth since we made sure to keep the customer updated. Even though we had a very tight schedule, we delivered high-quality custom tambourines way earlier than the deadline, and the customer was 100% satisfied.