NICOLE PAPE-CUSTOM PLUSH TOYS
|
Nov, 22 , 22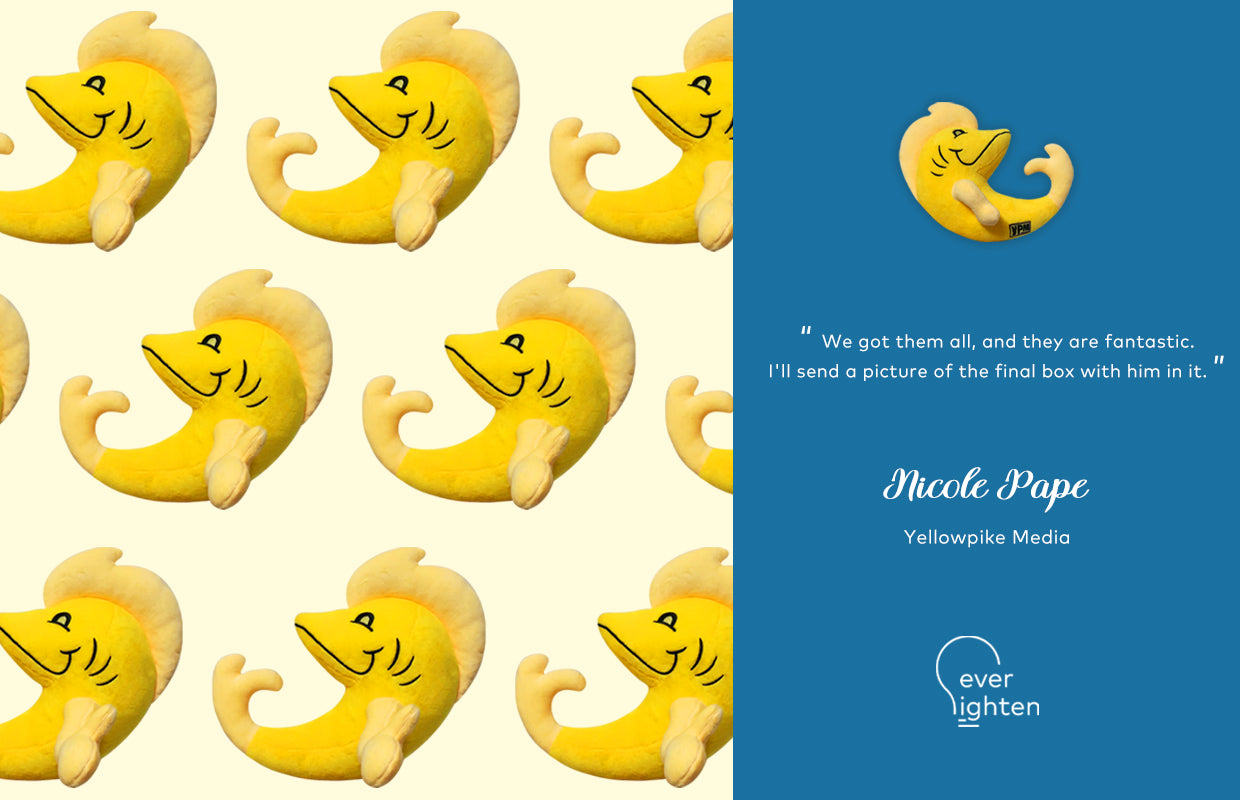 We got them all, and they are fantastic. I'll send a picture of the final box with him in it.
Nicole Pape
Yellowpike Media
[Summary]
EverLighten helped Yellowpike Media with custom plush toys. The project was challenging because of the unique shape and pose of the stuffed toy - they wanted it to sit in a particular position. Our team used its creativity, experience, and communication skills to create the plush toys they wanted. We delivered the custom toys ahead of time instead of having many issues.
[About]
Yellowpike Media is a creative agency that believes in the power of play. The organization came together because they were tired of working at agencies that forgot they were to serve the brands and people. According to them, they are aggressive in their approach, and modern agency needs to live by the same strategy. They help professional gamers and Twitch streamers drive awareness and engage with their respective audience by showcasing video clips of the show, giving verbal shout-outs, and displaying branded overlays. Their team achieves success with sophisticated tools.
[What they were looking for]
They wanted 100 units of plush toys as client gifts for this coming holiday. They wanted them in 8-inches with embroidered eyes, logo, and color of their agency. Yellowpike Media needed them with super soft velvet and PP cotton filling and sitting in a peculiar position - lying on its back.
[What we did for them]
They became busy with GamesCon after giving us their initial quotes - our team tried various ways to contact them because we needed the AI and vector files to create the sample. Finally, after getting the required data,  we created a digital mock-up, and they approved it. We customized the prototype, but they were dissatisfied with the shape and wanted various sitting positions and sizes. Our team created many images - each with a different angle and sitting position. We also advised the customer about the pose.
[The outcome]
The customer confirms the shape, and we continue completing the embroidery and start the bulk production. We made the order in only 15-days - usually, the time for such an order is 20 to 30-days. They are 100% satisfied with the custom plush toys. We hope to work soon in the future.