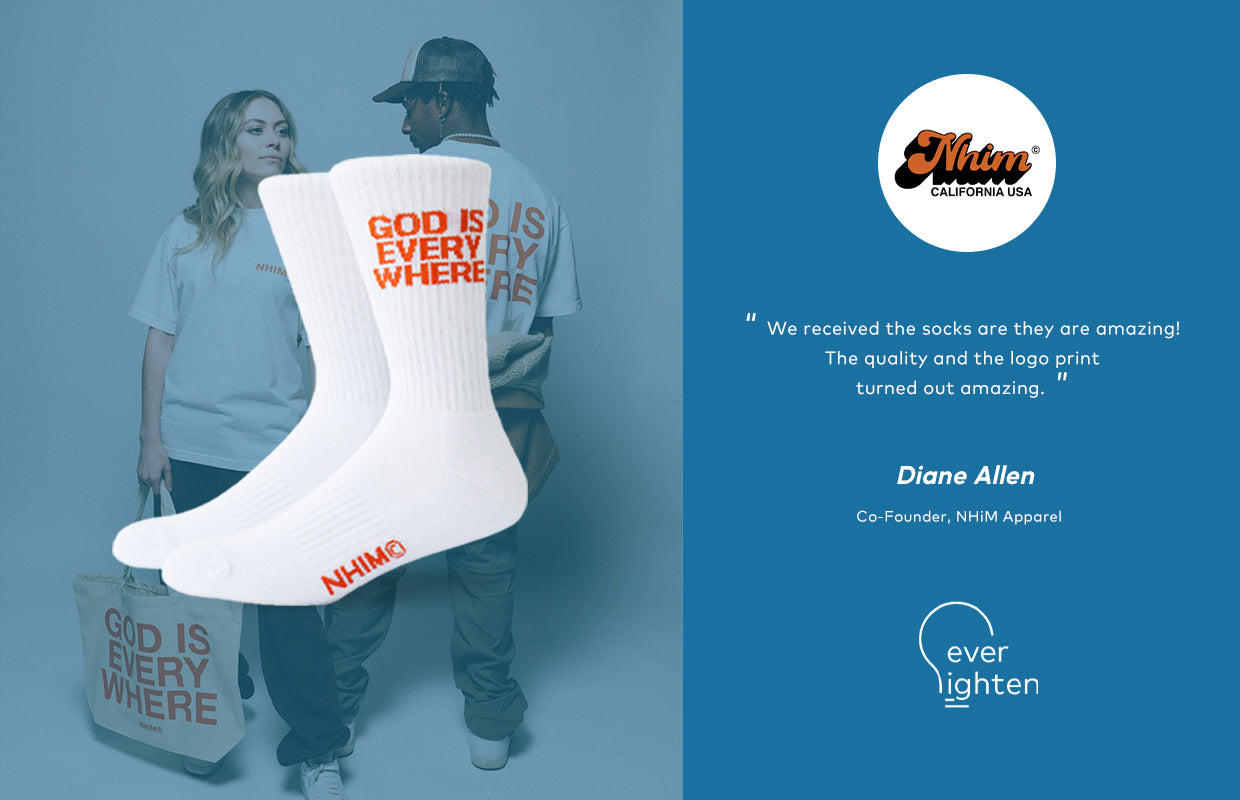 We received the socks are they are amazing! The quality and the logo print turned out amazing.
Diane Allen
Co-Founder, NHiM Apparel
[Summary]
EverLighten helped NHiM Apparel create two varieties of custom socks. The project was challenging because of the tight deadline; we had to explain the entire behind the scene process. Our design, production, and customer services teams worked in sync to deliver the socks before the launch of their new products. Our dedication and hard work came to the fore, and we satisfied them with the quality.
[About]
NHiM Apparel is a premium Christian clothing brand that promotes religion and kindness and motivates people to become everyday missionaries through casual conversations. Every item helps rescue orphans, and their noble mission is getting a lot of following - they have over thirteen thousand dedicated supporters on social media. Partnering with a reliable manufacturer like, EverLighten takes care of every need, from design to delivery, enabling them to concentrate on vital work.  
[What they were looking for]
They wanted custom athletic socks with the crew and regular thickness for their site. They were looking for a supplier who could deliver them in two weeks and had connected with various manufacturers but was not convinced about the quality. Our team explained to them every little detail that goes into the production of custom socks; they agreed to the timeline after understanding the nuances of high-quality manufacturing. But, the timeline for the launch of their new product line was near, so we had to work fast.
[What we did for them]
We created the sample immediately, but they wanted a bit of change with the text and colors - they wanted bold colors. We offered yarn collection images for the customer to check and choose. However, there were issues with the email, and our customer service team had to use other methods to communicate with them. Because we lost time, we needed a drastic measure to deliver on time. We offered and explained that to make up for the lost time, we must make the changes directly to production. It is a delicate process and could ruin the entire order. However, in our eighteen years of service, we have gathered experience and expertise that is unparalleled.
[The Outcome]
Our customer service team did a lovely job every step of the way - they convinced them to go for it. We made changes during production and completed the order in only 7-days. After receiving them, they were 100% satisfied and re-order within one month. This time they wanted to change the text on the heels. We revised the design and went into production. We hope our partnership grows with time.