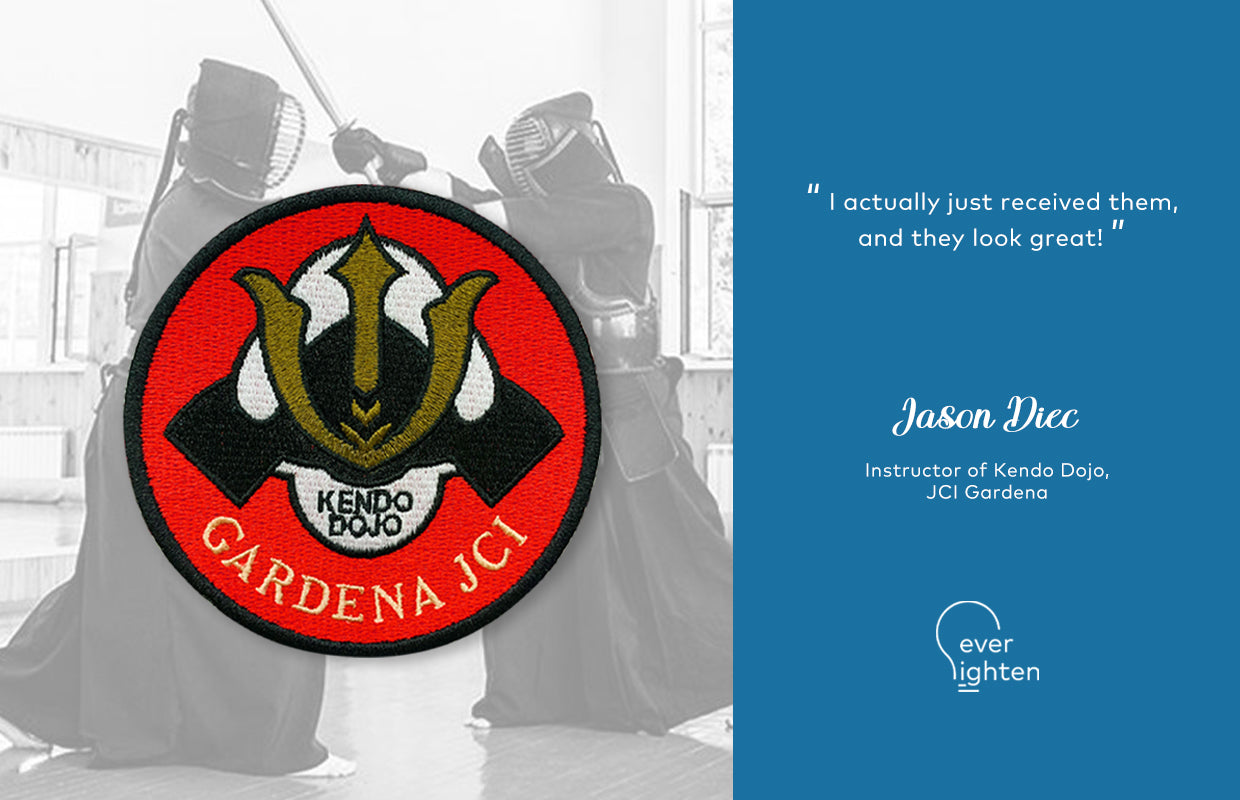 I actually just received them, and they look great!
Jason Diec,
Instructor of Kendo Dojo,
JCI Gardena
[Summary]
EverLighten was honored to help JCI Gardena create custom patches for their martial arts dojo class. The project was close to our hearts because of its mission and values. They serve people, and we also help people - a bit differently. The project faced a challenge as the shipping company sent a different package. However, our team coordinated with various parties. We bore the delivery fee - even though it was not our fault - and delivered on time.
[About]
The Gardena Valley Japanese Cultural Institute (GVJCI) is a nonprofit community center that houses various services, programs, and classes for seniors, non-seniors, and youth in the South Bay. The organization has been working for over 70 years and serves the needs of the Japanese-American community through social, cultural, and educational programs. They strive to create an environment for inter-generational understanding and promote cultural pride and respect for all humanity. It admits students of any race, color, or national or ethnic origin in its educational programs.
[What they were looking for]
They were searching for a reliable manufacturer to produce custom patches as gifts for the students of their martial arts dojo class. The nonprofit wanted 3.5 inches of embroidered patches with 100% thread coverage, embroidery border, iron-on backings, and high demand for the exact colors. They had connected with various manufacturers but could not find one because of the quality issues and non-availability of the artwork in digital formats, i.e., JPEG, PNG, or AI vector files.
[What we did for them] 
They only had the actual patch made years ago. It was a pretty old patch, and the details were unclear. Fortunately, we have a team of talented designers who made the vector file of the actual patch. However, they wanted a few changes to the artwork. We made 2-revisions to create the exact design. Finally, they were happy and asked us to proceed.
[The Outcome]
We made the sample, but the customer wanted to revise the colors. Since the time was short, we asked to make changes during the production. It is a delicate procedure, and many things can go wrong. However, we have over eighteen years of experience, which is handy during such situations. They approved, and we proceeded with success. They liked the custom embroidered patches. But the shipping company shipped the wrong package. We connected with the customer and the delivery company and offered the shipping fee for the customer to exchange the package. Even though it was not our fault, we took responsibility for the order and provided 100% satisfaction. They are looking to work with us soon.