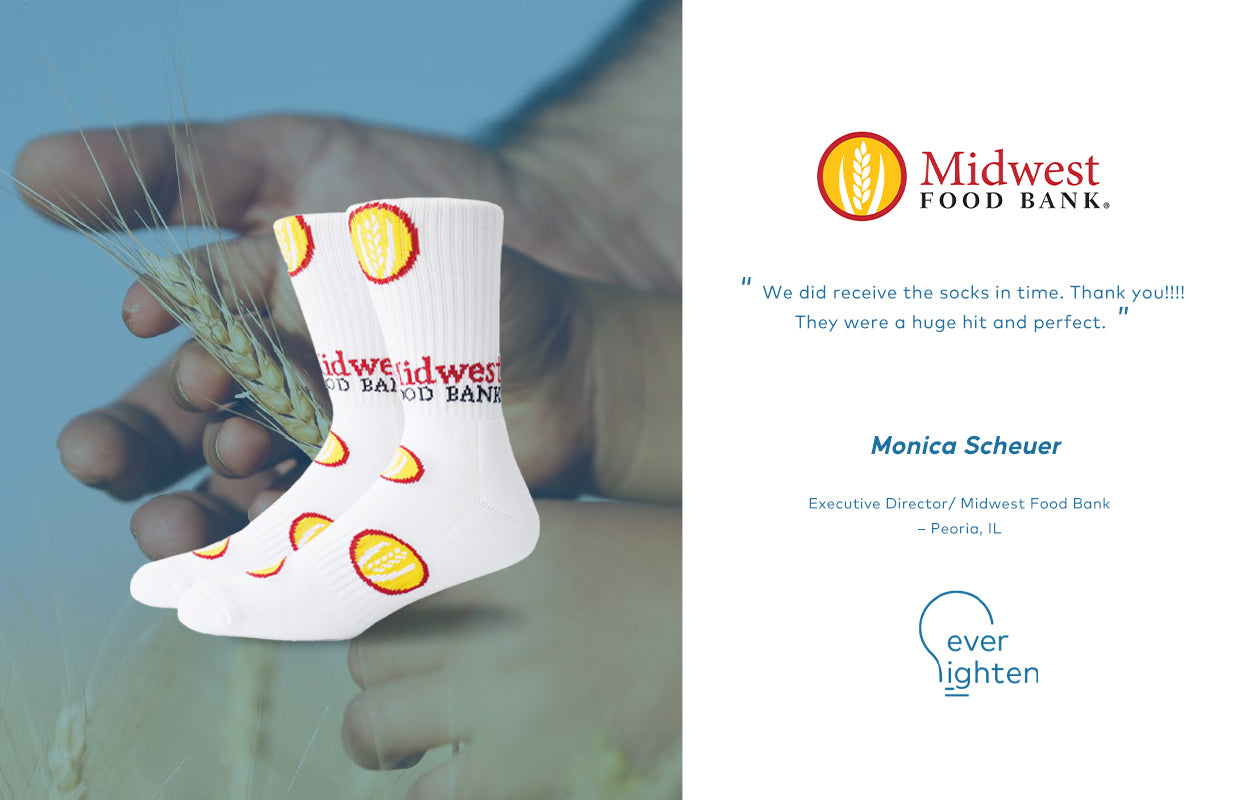 We did receive the socks in time. Thank you!!!! They were a huge hit and perfect.
Monica Scheuer
Executive Director/ Midwest Food Bank – Peoria, IL
[Summary]
EverLighten helped the Midwest Food Bank – Peoria, IL customize socks for raising funds. We were honored, humbled, and delighted to partner with them. The project was challenging, fulfilling, and successful. Once again, we distinguished ourselves from the competition by creating custom products for a worthy cause.
[About]
The Midwest Food Bank is a faith-based organization with a mission to share the love of Christ by alleviating hunger locally and worldwide. They provide food relief to the needy without discrimination. The organization does noble work with the help of 158 employees and over 25,000 volunteers across different locations in many countries.  
[What they were looking for]
Monica Scheuer, the executive director of the organization, wanted 200 pairs of one-size- fits- all custom athletic socks of regular thickness. They wanted them as fundraising items for their upcoming event. They searched long and hard but could not find a manufacturer to provide high-quality socks within the budget and short turnaround time. Fortunately, they contacted EverLighten after hundreds of positive testimonials on various sites.
[What we did for them]
Our customer service team called them immediately to discuss more details and provided the price quote. They asked for a discount since they are customizing the socks to raise funds. The noble cause moved us. We accepted the project and gave them an off.
[The outcome]
Our designer then made a mock-up. However, they have specific brand guidelines that they need to follow. They wanted the complete logo to show more, so we revised the mock-up till they were 100% satisfied. We sent it, and they approved the mock-up, and we proceeded. Everything went smoothly, and we delivered the custom socks on time. The fundraiser proved successful, and we are satisfied to be its part.