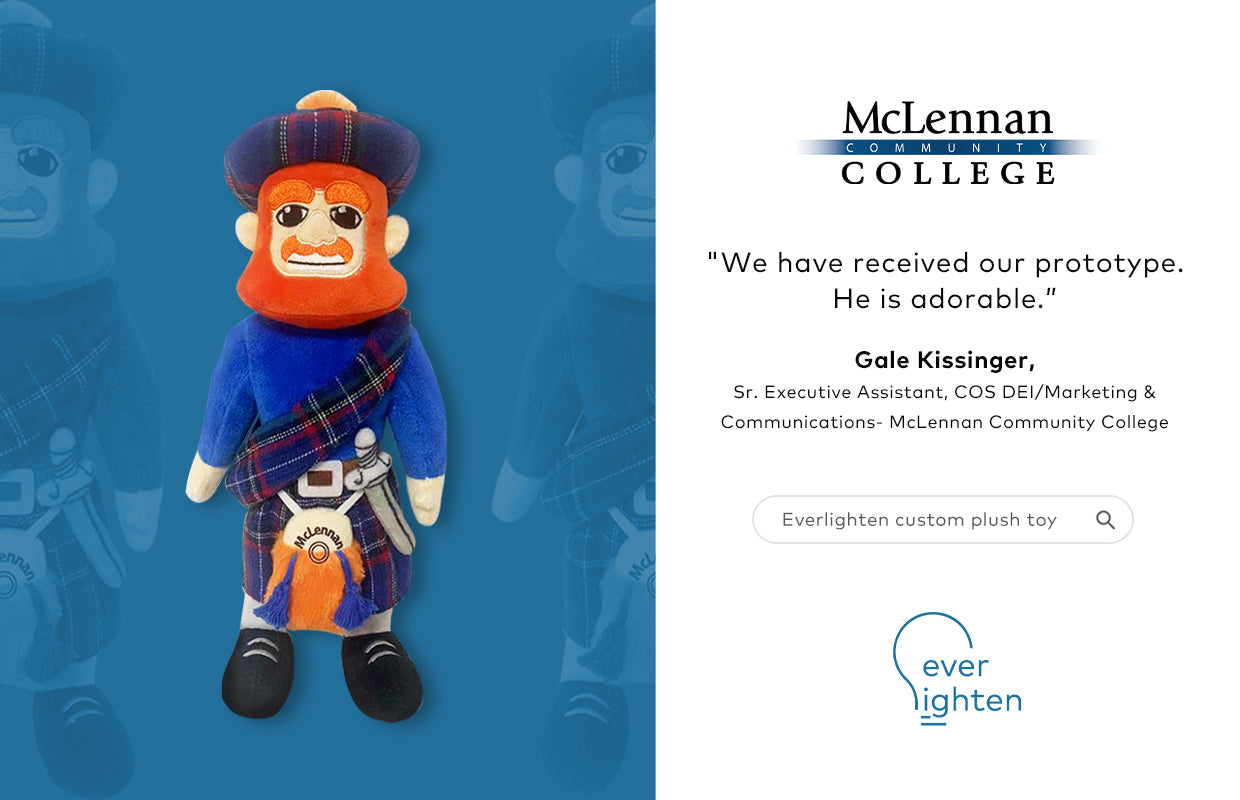 We have received our prototype. He is adorable.
Gale Kissinger,
Sr. Executive Assistant, COS DEI/Marketing & Communications- McLennan Community College
[Summary] 
Everlighten is proud to be associated with Mclennan Community College to create their college mascot - the Highlander. It symbolizes the college's spirit and tradition, and Everlighten brought this beloved mascot to life. We designed to accurately capture the essence of the Highlander mascot, including its unique features, traditional attire, and strong demeanor. There were a few challenges, but our team overcame them and delivered the exact mascot on time.
[About]
McLennan Community College (MCC) is a public two-year community college located in Waco, Texas, United States. Established in 1965, MCC offers various academic programs and degrees. The Highlander mascot is a Scottish warrior dressed in traditional Scottish attire, including a kilt and a tartan. It is a proud and powerful symbol of the college's spirit and tradition that represents strength, determination, and a commitment to excellence, which are vital to the college and its students. The mascot's holding a sword and shield represents the college's commitment to protecting and serving its students and community. The Highlander mascot is a popular and well-recognized symbol of McLennan Community College, appearing at sporting events, student activities, and other college-sponsored events. It is a crucial part of the college's tradition and identity and is beloved by students, alums, and the wider community.
[What they were looking for]
Gale Kissinger approached EverLighten to create their mascot. They wanted a 12" plush toy in a short time. It was a complicated design with various materials and accessories. But, we accepted the project because we value customers and want to help each create their dream custom item.
[What we did for them]
Our experts communicated deeply to understand their requirements. They sent us a sample image of the toy they had created previously and told us their likes and dislikes. We advised them about the materials and the shape. The cloth for the accessory was unique. It took a lot of work to find the exact one. But we went the distance and got it for them. We provided a few options to ensure 100% satisfaction. Then, we created the first sample.
[The Outcome]
They wanted a few changes, like a tassel on the bag. We found the accessory for the customer and revised it. Afterward, we made several revisions to ensure they were satisfied with the sword and clothing. With constant communication, we finally made a sample that satisfied them. We sent the prototype, and they were 100% satisfied with it and gave us a go for bulk production.