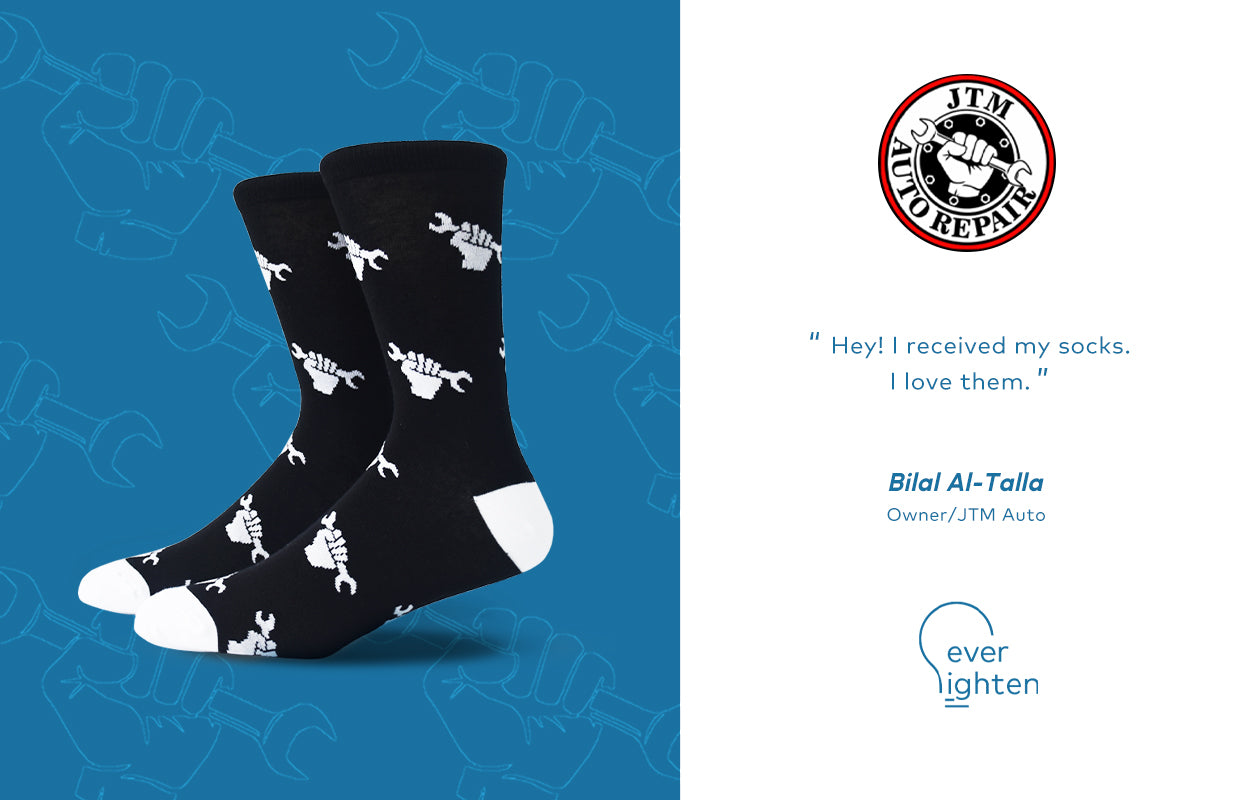 Hey! I received my socks. I love them.
Bilal Al-Talla
Owner/ JTM Auto
[Summary]
At EverLighten, we deliver top-notch custom products to our clients. Recently, we had the pleasure of working with JTM Auto to create custom socks for their employees. While we usually receive requests for custom patches from the Automobile industry, we were excited to take on the challenge of creating socks for an automobile company. Our team worked tirelessly to ensure that the socks we customized were of the highest quality and met the unique needs of JTM Auto. We were thrilled to hear that their employees loved the finished product. At EverLighten, we believe in going above & beyond to exceed their expectations.
[About]
JTM Auto was established in 2007 and is a 100% Australian-owned auto parts company in Sydney. They are enthusiastic and passionate about the outdoors, with a spirit of adventure. Their staff is passionate about the outdoor lifestyle.
[What they wanted]
When Bilal Al-Talla, the owner of JTM Auto, approached EverLighten to create
custom socks
featuring their logo as employee gifts, we were thrilled to help. They expressed a deep attachment to their brand's logo and desired to incorporate it into a range of customized products. During the consultation, they provided specific design instructions, and our team was eager to ensure that the final product reflected his vision. We carefully reviewed his specifications and worked closely with him to bring the design to life. At EverLighten, we understand that each client has unique needs and preferences, and we pride ourselves on providing personalized services to ensure their satisfaction.
[What we did for them]
At EverLighten, we take pride in providing exceptional customer service, and our recent project with JTM Auto was no exception. After receiving their request to create
custom socks
featuring their logo, our team promptly began working on the project.
We presented the client with three design options, each with pros and cons, and guided them through the decision-making process to settle on the design they liked the most. Our production team then created a sample, which the customer was satisfied with after we explained the benefits of a knitted logo for longevity.
Although there was a slight delay due to a holiday in our factory, we expedited the production process once the factory resumed operation. Once completed, we delivered the custom socks to the customer, and they were thrilled with the final product.
At EverLighten, we believe in keeping our clients informed throughout the process and providing personalized support to ensure their satisfaction. We are committed to delivering high-quality custom products that reflect our client's unique brand identities.