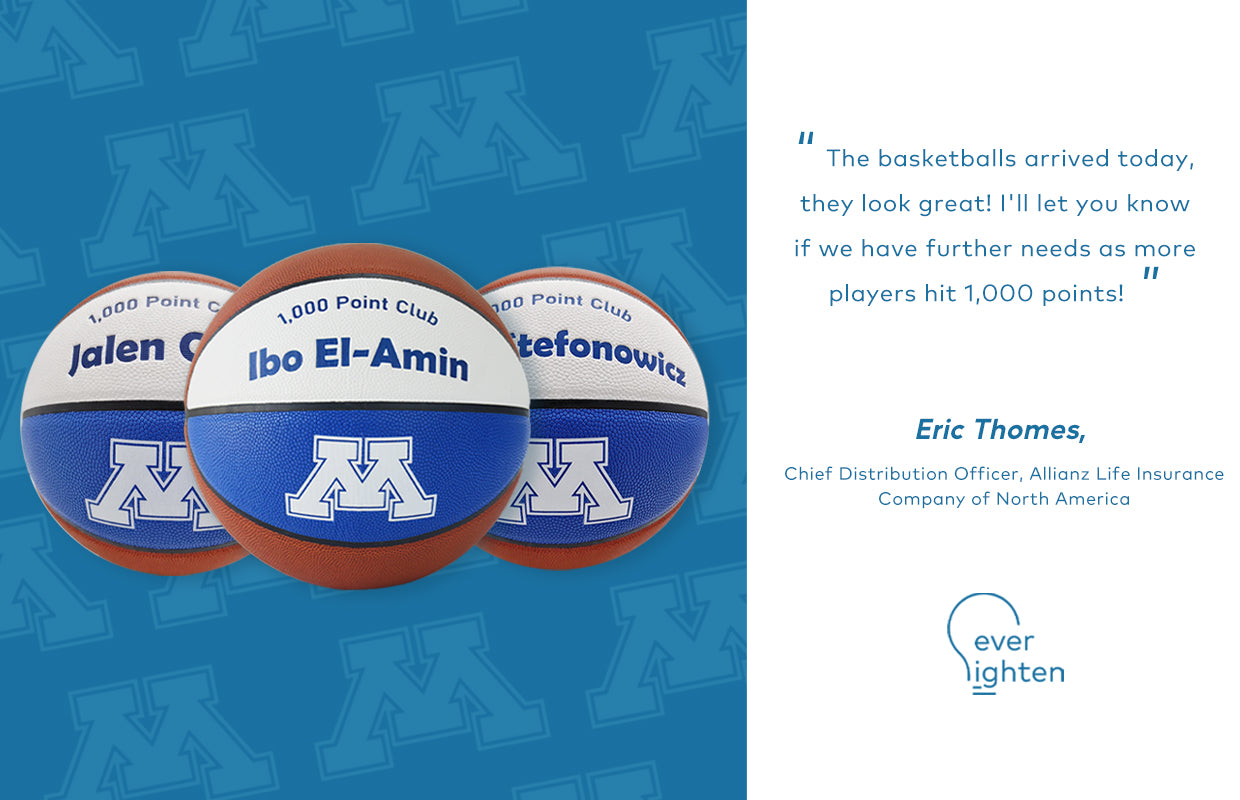 The basketballs arrived today, they look great! I'll let you know if we have further needs as more players hit 1,000 points!
Eric Thomes,
Chief Distribution Officer, Allianz Life Insurance Company of North America
[Summary]
At EverLighten, we're passionate about helping people bring their custom item ideas to life, despite the order size. Recently, we created custom basketballs for Eric Thomes to celebrate his players who hit 1,000 points in a season. It was a challenging project since we had to personalize each basketball with a different player's name, but we love a good challenge. Unlike other manufacturers who shy away from complex orders, we used our expertise and dedication to deliver the highest-quality basketballs while staying within their budget. By choosing EverLighten, Eric Thomes could trust that his players would receive a unique gift they could cherish forever. We're proud to have helped make his vision a reality, and we look forward to helping custom item ideas to life. 
[About]
Eric Thomes is a seasoned professional with nearly 30 years of experience in the financial services industry, including holding various leadership roles with increasing responsibility at Allianz Life Insurance Company of North America (Allianz Life). As a top executive, he drives the company's success by maximizing distribution through strategic relationships in multiple channels.
[What they were looking for]
When Eric Thomes wanted to celebrate his high school
basketball
players who achieved 1,000 points a season, he knew he wanted to give them something special. That's why he decided custom basketballs made for each of them. But finding a manufacturer who could create three basketballs with individual designs was a challenge. That's where EverLighten came to the rescue. Eric and his team were thrilled to discover EverLighten, a company that loves a good challenge and specializes in creating custom items, including basketballs.
[What we did for them]
Despite the unique requirements of the project, EverLighten accepted the order. Our team reached out to them and provided a quote. At first, they didn't agree because of the budget restraints. Our team contacted raw materials suppliers to do a price match. Our efforts finally paid off. We are committed to delivering the best results for our customers and take extra steps to ensure our design and production processes are perfect. When creating the leather design, we matched several similar types of leather and sent images to the customer. Our technician also found synthetic leathers with similar colors, so we checked with the customer to see if they preferred this option. We offered them a technician panel drawing before printing. It helped confirm that all processes were correct, saving time and ensuring better service.
[The Outcome]
Once they confirmed the colors and design, we quickly created a sample and sent images to the customer. They were so impressed with the quality of the prototype that they placed the order immediately. Our production team did an excellent job bringing the designs to life, and the finished products were flawless. We completed the sample in just seven days for three designs showcasing our ability to deliver custom items quickly without sacrificing quality. We pride ourselves on custom products that exceed our customers' expectations. Whether it's a single item or a large-scale production run, we're committed to delivering the highest quality products and services.