Custom Socks
GLOBAL RESOURCES-SMS-CUSTOM SOCKS
|
Mar, 20 , 23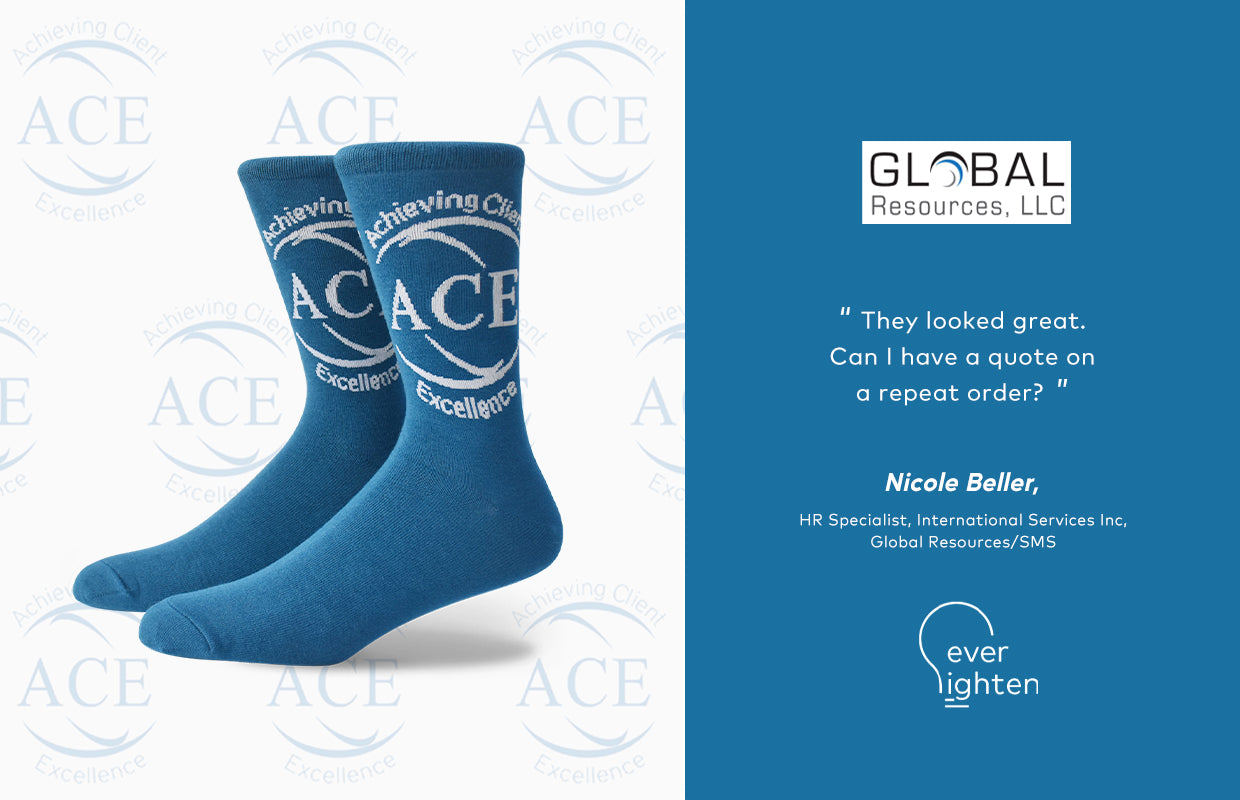 They looked great. Can I have a quote on a repeat order?
Nicole Beller,
HR Specialist, International Services Inc, Global Resources/SMS
[Summary]
EverLighten, the industry leader in custom products, recently collaborated with Global Resources/SMS to create a batch of
custom socks
as giveaways for their employees. Despite being their first time ordering custom socks, the client had high standards for the quality.  
Leveraging our experience and expertise in the field, EverLighten rose to the challenge and delivered custom socks that exceeded their expectations in only fourteen days. The team worked tirelessly to ensure that every detail was perfect, from the choice of materials to the design and printing of the logo. The result was a batch of high-quality custom socks that the client was proud to distribute to their employees. The success of this project is a testament to EverLighten's commitment to delivering exceptional custom products that help achieve your marketing and sales goals.
[About]
Global Resources, LLC is a leading provider of financial services for small and medium-sized businesses. With a focus on helping companies maintain positive cash flow, control costs, and accelerate profitable growth, Global Resources enables entrepreneurs and managers to optimize their work and personal lives.
[What they were looking for]
They had a specific vision when it came time to order custom crew socks as a giveaway for their employees.
They wanted high-quality, one-size-fits-all socks that were 22.5 by 22.5 inches and of regular thickness. However, despite reaching out to several manufacturers, they were dissatisfied with the quality of the products they received.
Adding to their frustration was the tight deadline of just 14 days, including delivery. Ordinarily, designing, producing, and shipping custom socks can take much longer. However, they needed the socks in a hurry.
After scouring the market, HR specialist Nicole Beller reached EverLighten for assistance.
[What we did for them]
They sent the logo and the design they wanted. Though apprehensive about their first-time custom sock order, the team at EverLighten worked closely with Global Resources to ensure that the final product met their exact specifications. We provided two samples in only three days for testing, allowing them to evaluate the quality of the socks before committing to a larger batch.
They finally settled the design and placed the order successfully after getting approval from the business owner. The production team did a great job making the sample and ensuring everything smooth and on track.
[The Outcome]
The success of the initial order led to another bulk order from the client, demonstrating a high level of satisfaction with EverLighten's product and service. Thanks to our commitment to quality and customer satisfaction, we have established ourselves as a trusted partner for businesses looking for high-quality custom promotional products. Afterward, the customer reached for another bulk order.