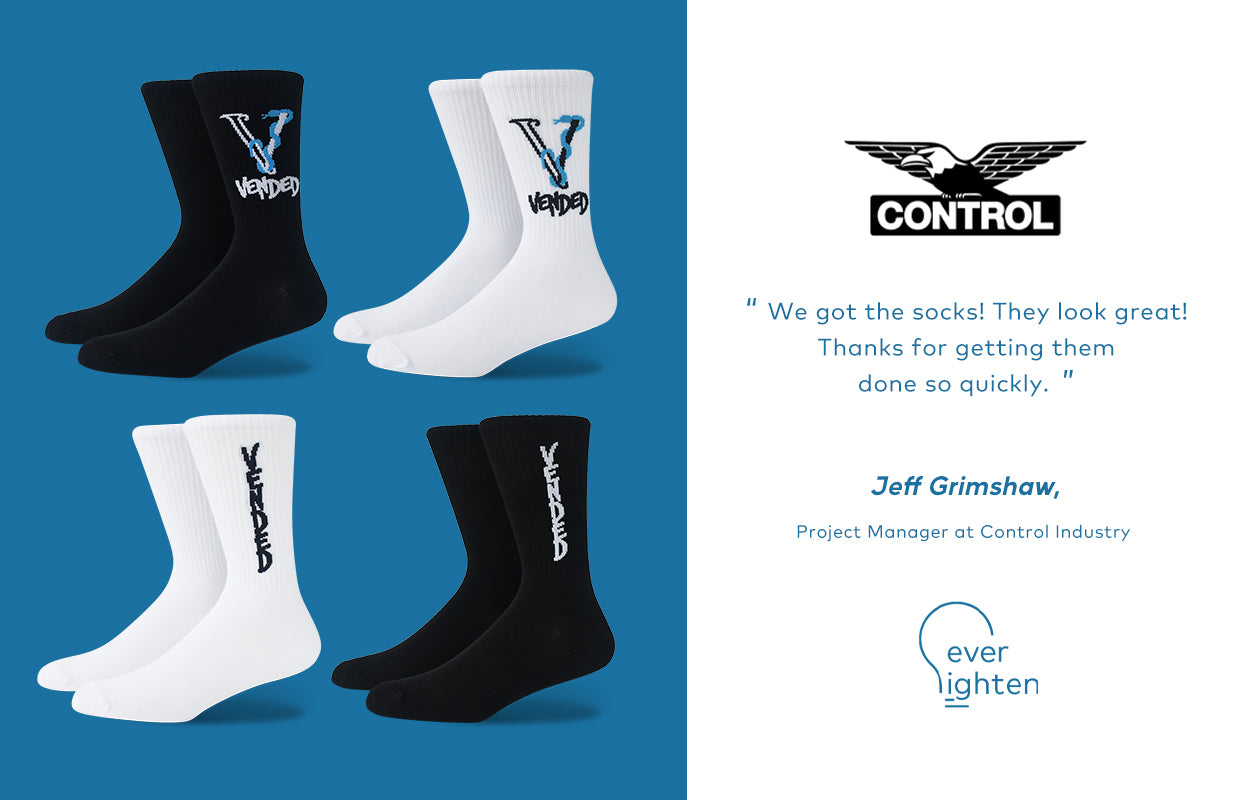 We got the socks! They look great! Thanks for getting them done so quickly.
Jeff Grimshaw,
Project Manager at Control Industry
EverLighten once again demonstrated its expertise by providing the Control Industry with
custom-knitted socks
. They required socks with challenging artwork, and they had approached several manufacturers but to no avail. However, we at EverLighten pride ourselves on walking the talk. That's why we are the industry leader in custom product manufacturing.
Our team of experts customized socks with 100% satisfaction, and we did it on a tight deadline. We are committed to providing our customers with high-quality products that meet their unique needs and expectations.
At EverLighten, we believe in going above and beyond to ensure our customers are happy with our products and services. Whether you need custom socks or any other product, you can trust us to deliver exceptional quality on time and at factory prices.
[About]
The Control Industry is a leading official music and entertainment merchandise company in Los Angles. Their expertise lies in merch management for tours, retail, and e-commerce. They are committed to providing the highest quality merchandise to their clients. 
[What they were looking for]
They seek casual knit socks with four distinctive artworks in a crew style, suitable for a one-size-fits-all, with a regular thickness. Despite approaching several manufacturers, they encountered challenges with the quality and deadline. The intricate artwork design was particularly challenging to produce using the sock style and material specified.
[What we did for them]
After discussing the details, the customer expressed satisfaction with the process and sent their complex design/artwork for the knit socks. We realized the intricate design was challenging with the chosen materials and sock style. Following further discussions, the customer agreed to simplify the artwork.
Our designer quickly produced a mock-up within hours, which impressed the customer and required no revisions.
The customer placed the order, expressing urgency in receiving the socks as soon as possible.
[The Outcome]
Since the deadline was short, we proposed skipping the sample stage to expedite production, and the customer agreed to trust our technicians and production team.
To ensure accuracy, we created a technical drawing to confirm the patterns and letters before proceeding with bulk production. Despite the time pressure, we completed the project and delivered the items to the customer's satisfaction.