Fashion Brand - Wear Your Snacks
|
Feb, 11 , 22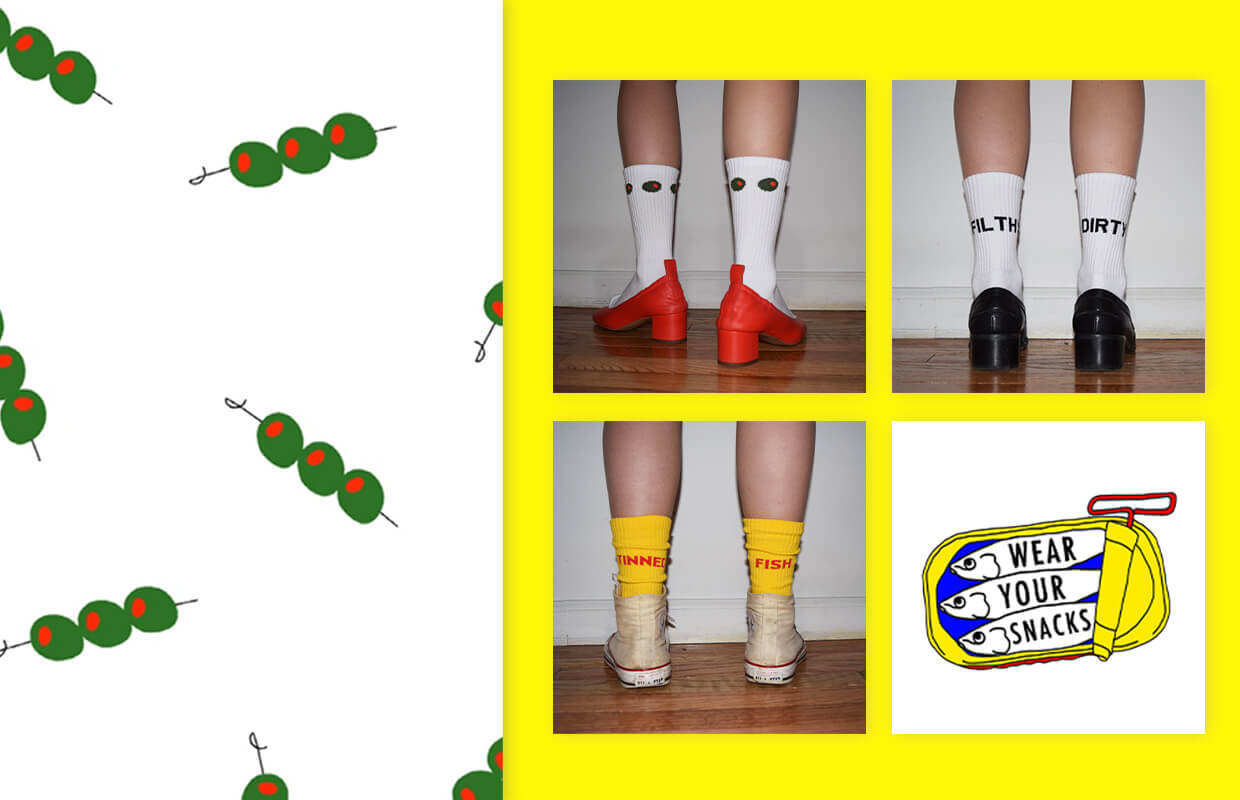 EverLighten helped Evelina Edens create athletic socks and start their fashion brand - Wear Your Snacks. Our team is passionate about socks and loves to help people pursue their dream of running their business. They wanted their socks to be unique and high-quality and not like any other company selling colorful socks; we helped her produce the same and made her understand sock manufacturing. Our partnership with Evelina Edens is growing stronger; they have ordered five times. We also re-manufactured her entire order when her package was lost because of logistic issues. She is pretty happy with our manufacturing and after-sale services.
 
[About]
Evelina Edens is the founder of Wear Your Snacks - an upcoming fashion brand. She started this as a project to keep herself busy during the lockdown after graduating with a degree in media studies. The inspiration came from mixing and matching sweaters with her beverages. But she didn't want to be like any other sock company selling brightly colored socks to teenagers; she wanted socks for a different audience - more mature, with high-quality materials. When researching, she found the gaps in the market- nobody was making socks with food prints on athletic socks. She started her website but didn't know what goes into sock manufacturing; luckily, she found EverLighten - a company as passionate about sock manufacturing as her. She is running a full-blown business and raising money for incredible organizations.
 
[What they are looking for]
For her fashion merch startup, Evelina was looking for a custom sock manufacturer for athletic socks with food and beverage prints. They did not know the basics of socks manufacturing; our team explained every detail to her. As is the norm these days, everything starts with an online search. But, after searching long and hard, reading websites reviews and testimonials, she became more confused. Finally, she became somewhat confident after seeing the positive reviews, testimonials, and ratings of EverLighten on third-party apps like TrustPilot. Evelina looked at our history with other startups; how we've helped so many people run their successful sock businesses. She contacted our team and discussed her requirements. It thrilled our team to help her, and we went into the process by first understanding their needs. They had pretty strict requirements for the quality of the socks - they wanted premier materials colors the same as the design. Other vital demands were comfort level, durability, and breathability.
 
[What we did for them]
Although their requirements were demanding, we are proud of our manufacturing quality and customer service. Evelina was unaware that what we had drawn on paper may not be precisely manufactured. Our team patiently helped her understand the technical details. Afterward, manufacturing experts created the drawings, matched the threads, and sent the sample for approval. They wanted some changes, so we had to make a few revisions to the design. We sent the edits back to her, and after she was 100% satisfied, we went ahead with the production.
 
[The Outcome]
We created fabulous-looking athletic socks with fantastic artwork. Evelina had her first order with us in October, and, after being completely satisfied with them, she ordered five more times. Our partnership is growing with time, and we are grateful to her for choosing us as their manufacturing partner. Her parcel was lost during the transit of the last order because of logistics issues. We took the onus on ourselves and regularly communicated with the logistic team. Although it was not our fault, our company re-manufactured her socks.