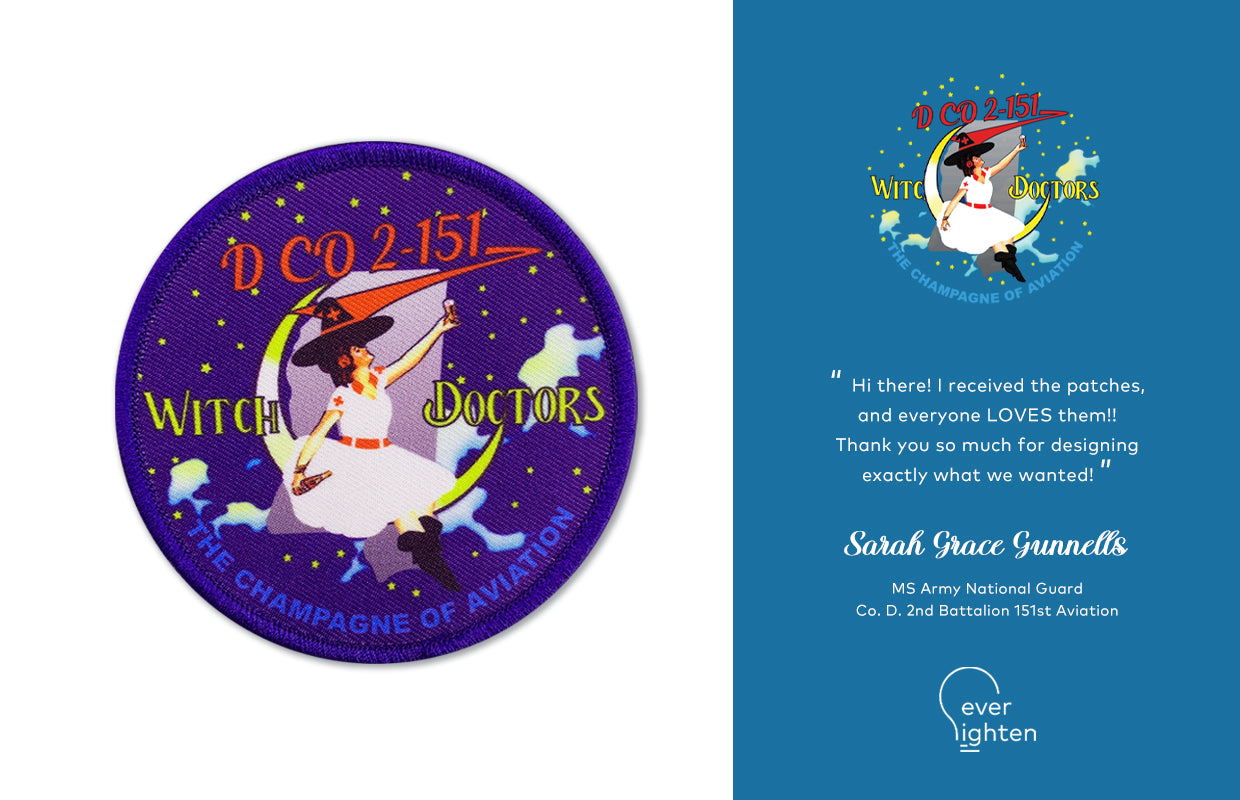 Hi there! I received the patches, and everyone LOVES them!! Thank you so much for designing exactly what we wanted!
Sarah Grace Gunnells
MS Army National Guard
Co. D. 2nd Battalion 151st Aviation
 Purpose: National Guard Unit Patch
[Summary]
Team EverLighten was honored to create custom patches for MS Army National Guard, Co. D. 2nd Battalion 151st Aviation. Sarah G. Gunnells was excited to get a unit patch for their team. The design was complex, with many intricate details, and the project became more challenging because they could not provide the design file and almost pulled the project. However, our experts came through again and designed the patches they wanted.
[About]
The 151st Aviation Regiment is an aviation regiment of the US Army provided by the South Carolina Army National Guard with a prestigious history of serving the nation and its people. We were thrilled when they contacted us to create their unit patch.
[What they were looking for]
Sarah G. Gunnels contacted EverLighten to create custom patches for their team. At first, they wanted the patch size to be 10-inches but changed their mind after suggestions and discussion with the team. 10-inches for a military patch is quite large and might not suit the uniform. The order size was smaller than the regular, but we accepted the order because we wanted to serve customers. It was also a privilege to customize the first patches for a military unit - we were becoming a part of history. They wanted round patches with embroidery borders and velcro backing.  
[What we did for them]
Since they wanted large patches at first, the design had many details. The task became challenging after they wanted them to be 3.5-inches - we had to show every detail. However, the project became even more demanding when they could not provide a high-quality design file - it takes clear artwork to create the design into a machine-readable. They were thinking of pulling off the project, but our in-house design experts used all their experience and expertise and achieved the exact artwork.
[The outcome]
After many revisions, we created the design to their satisfaction. We went into production after getting positive confirmation and made the custom patches in only five days - fast for such a complex design. They are 100% satisfied and want us to create the patches in 10-inches per their previous requirement - everyone in their unit jokingly challenged them to make them. We would be happy to make them.