ASHLEIGH HUFF-CUSTOM SOCKS
|
Dec, 06 , 22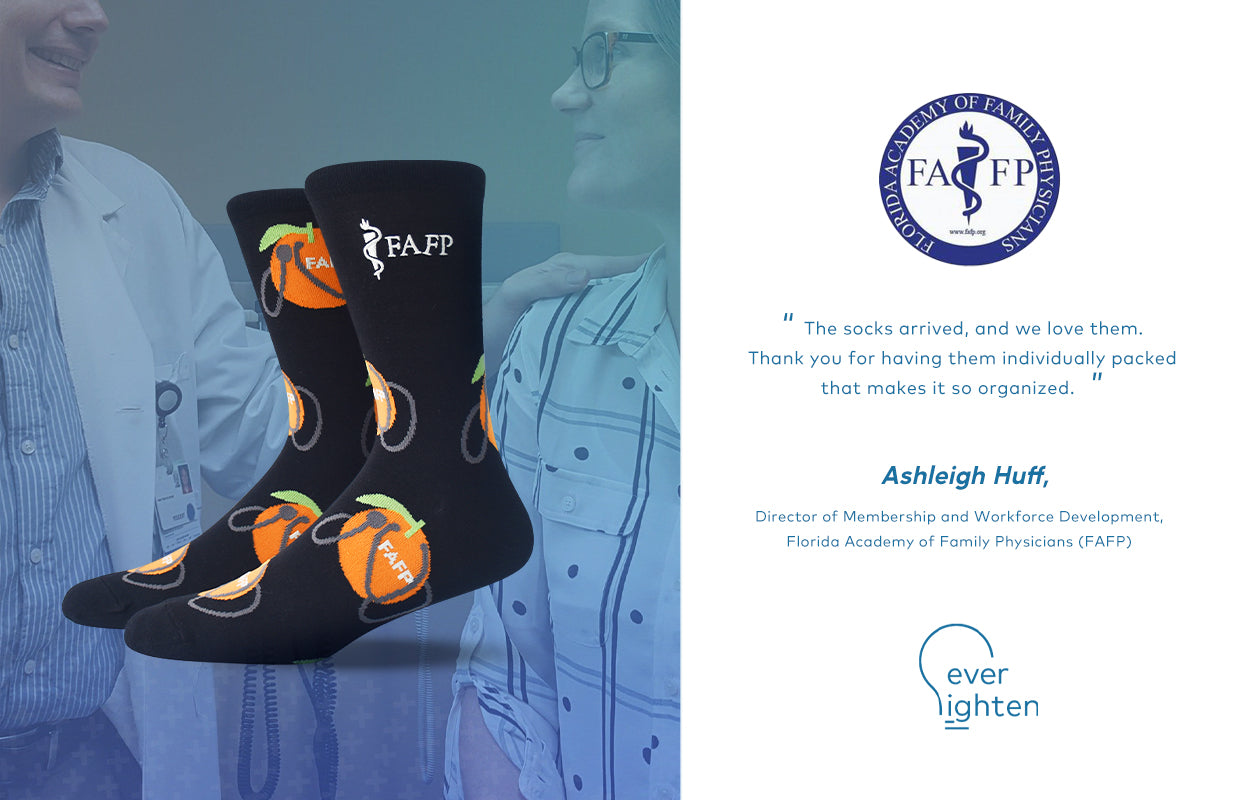 The socks arrived, and we love them. Thank you for having them individually packed that makes it so organized.
Ashleigh Huff
Director of Membership and Workforce Development,
Florida Academy of Family Physicians
[Summary]
EverLighten was honored to create
custom socks
for the esteemed Florida Academy of Family Physicians. The project was arduous because of various issues - they were doing it for the first time and had no idea what kind of socks they wanted. Our team guided them throughout the process and used their expertise to complete the delivery before the deadline.
[About]
Starting in 1948, the Florida Academy of Family Physicians (FAFP) is a prestigious group of over 6,500 family medicine physicians, resident physicians, and medical students from across the state. They work to advance the specialty of family medicine by promoting excellence and improvement in the healthcare of all Floridians.  
[What they were looking for]
The FAFP were looking for socks as gifts for their members and clients. They connected with several manufacturers to no avail; they turned down the order because of the hassles and short deadline. Since they were doing it for the first time, they had no idea about the socks they wanted. Our team provided them with sample images of socks we've done previously. They liked embroidered socks but were unsure if they would go with casual knit socks or printed socks.
[What we did for them]
Our experts checked their design and recommended simplifying the artwork to make it doable in casual knit socks. It had a lot of circles and arcs, and generally, such a pattern appears pixelated. We immediately proceed with creating the digital mock-up. They liked the first mock-up but requested one revision request before finalizing the design.
Our technicians refined the sock using high-needle count for the exact artwork and minimizing pixelation. We sent the digital sample to the customer for confirmation. They liked it but wanted one change. However, the deadline was moved ahead by a week. It made the project more challenging.
[The Outcome]
Our team rose to the occasion and ensured to complete the project on time by working overtime. The support team regularly updated and helped set up the payment with precise instructions.
We made the physical samples, and they liked them and immediately approved the production. We completed and delivered the order before their scheduled deadline. They are 100% satisfied and happy and looking to work with us soon.