ASICS-CUSTOM PATCHES
|
Mar, 28 , 23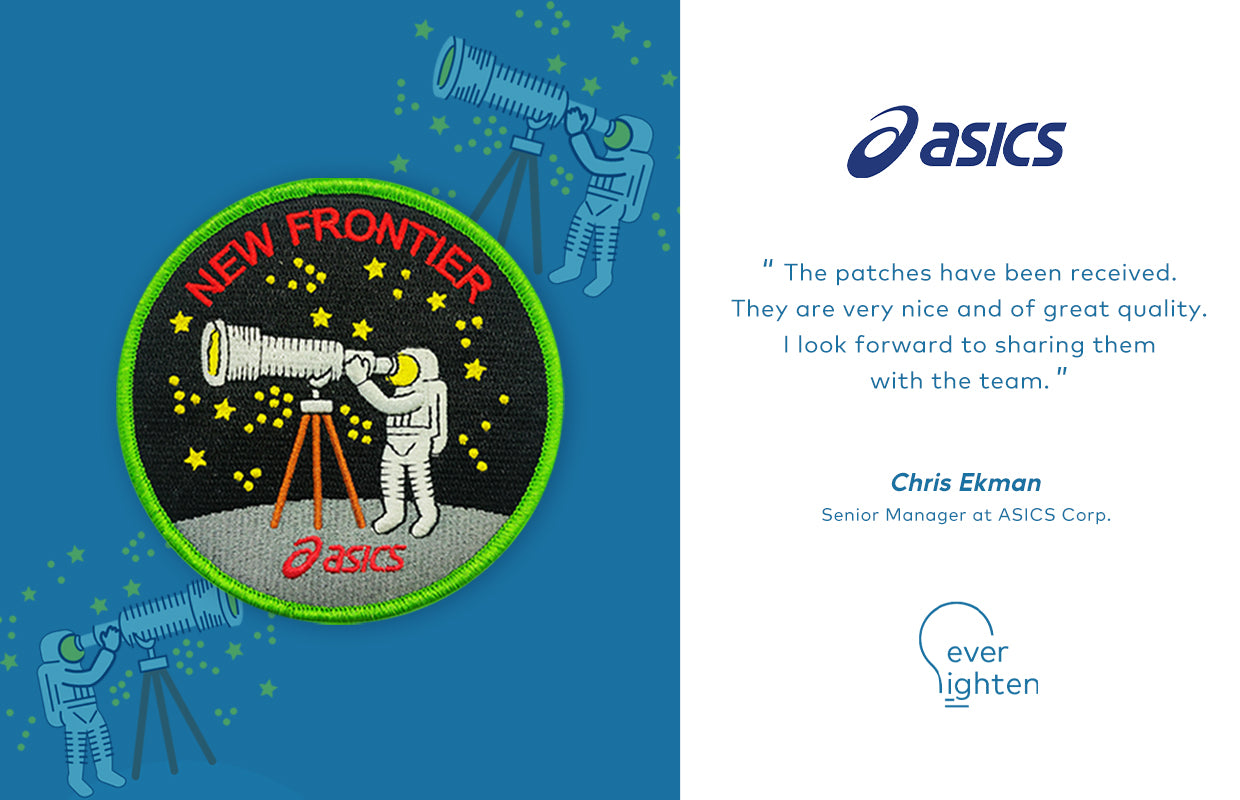 The patches have been received. They are very nice and of great quality. I look forward to sharing them with the team.
Chris Ekman
Senior Manager at ASICS Corp.
[Summary]
EverLighten is honored to have collaborated with ASICS to produce high-quality
custom patches
that meet their high standards. It showcased our expertise and demonstrated why prominent brands trust us for their customized product needs. Despite facing various challenges, such as a complex design, small order size, and tight deadline, our team was able to rise to the occasion and deliver customized patches that met and exceeded their expectations, resulting in 100% satisfaction. We take pride in providing quality custom products and are thrilled to have had the opportunity to work with such a renowned brand as ASICS.
[About]
ASICS is one of the most famous brands worldwide and among athletes and fitness enthusiasts. ASICS offers multiple products for various sports, including running, tennis, volleyball, wrestling, etc., in over 100 countries. The company focuses on innovation and research, using advanced technologies and materials to create products that enhance athletic performance and comfort.
[What they were looking for]
When Chris Ekman, Senior Manager at ASICS Corp., needed custom patches for their team, they turned to EverLighten. Their vision was for custom embroidered patches that measured 3.75 inches, featured a velcro loop, and had a merrowed border with 100% thread coverage. Despite previously encountering quality, deadline, and order size issues with other manufacturers, they entrusted us with their project, armed only with a drawing of the artwork. At EverLighten, we thrive on complex projects with tight timelines, and ASICS' requirements were no exception. We have the expertise, experience, and willingness to go the distance.
[What we did for them]
Despite not having a digital design, EverLighten accepted the challenge of creating custom patches based on their drawing. Our designers quickly assessed the artwork and determined it was sufficient for creating a digital mock-up, which we promptly shared with the customer.
After the customer requested some revisions to match their preferred colors, we encountered another obstacle - meeting the deadline. We knew we had to act fast because of the customer's deadline.
[The Outcome]
Our patch technicians swiftly reviewed the mock-up and confirmed that we could complete bulk production in time, provided that we started immediately. We promptly informed the customer, who agreed to proceed with the order. We went straight into bulk production mode.
Despite the tight deadline, EverLighten's team delivered the custom patches a day before the event. The customer was thrilled with the high-quality patches and appreciated our commitment to meeting their needs within a short deadline. At EverLighten, we take pride in exceeding our client's expectations and delivering exceptional results, no matter the circumstances.