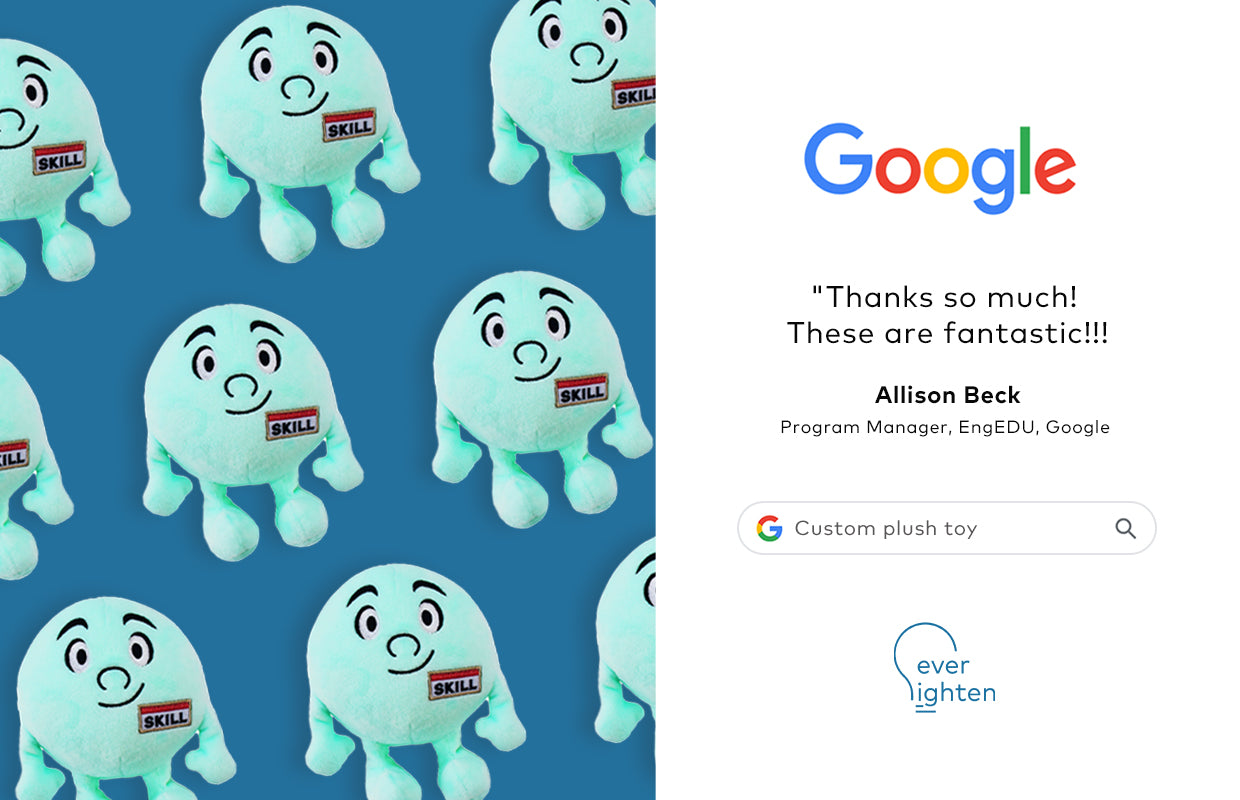 "Thanks so much! These are fantastic!!!"
Program Manager, EngEDU, Google 
[Summary]
EverLighten was thrilled to help Allison Beck - Program Manager, EngEDU, Google - create custom plush for their event. It was a challenging task because of the short deadline. However, our production team delivered the order by working day and night. Everybody on our team understands our mission, i.e., to help every customer create their dream product. They were pretty happy with the stuffed toy quality and plan on working with us soon.  
[About]
Everyone knows about Google - there is no need for an introduction. EverLighten and Google both love to solve people's problems and are doing it in their unique ways. They make life easy by providing the best answers to people's queries, while EverLigthen makes the best quality custom products for every customer. Allison Beck is a program manager, EngEdu at Google, and is in charge of various works, including learning and development, solving complex problems, developing effective interpersonal relationships, and creating psychologically safe environments for teams.
[What they were looking for]
They wanted custom plush toys - same design, different sizes - for their special event. The toy sizes were 6-inches and 12-inches with custom embroidered name tags and two shipping addresses. The fillings of the plush toys were also different - bean bag stuffing for the smaller ones and regular stuffing for the larger ones. Allison was also very particular about the color of the plush toy. It presented us with a different kind of challenge because we had to consider many things in a short time. Generally, the order size for such orders is much larger, and the deadline is about 25-30 days. However, there was no such luxury for our team, and we had to do various things simultaneously to deliver them on time before the event. 
[What we did for them]
The customer first reached out to us in the second week of June. After a few email conversations discussing the pricing, sample process, production, and shipping, she became busy with other tasks. Our team has sent follow-up emails, but still no response. After a month, they decided to proceed with her request. EverLigthen offers competitive pricing, fast turnaround, and fabulous customer service; the customer reaches out again. The customer's deadline was tight, so our production team rushed the order and produced designs in record time. We went with the prototype production after getting a nod from Allison. They wanted a color change - we matched the exact colors. Afterward, Allusion asked to create them with different fillings - we delivered again. 
[The Outcome]
Working without pause, we created the custom plushies order within a week and shipped immediately. Everything turned out to be lovely, and Allision was 100% satisfied with the quality, hard work, and willingness to go the distance for customers. It shows that we are the best for quality - we matched Google's high-quality standards even with the unreal deadline. They are planning to work with us again soon.