Why the custom tote bags can help promotion?
|
May, 21 , 21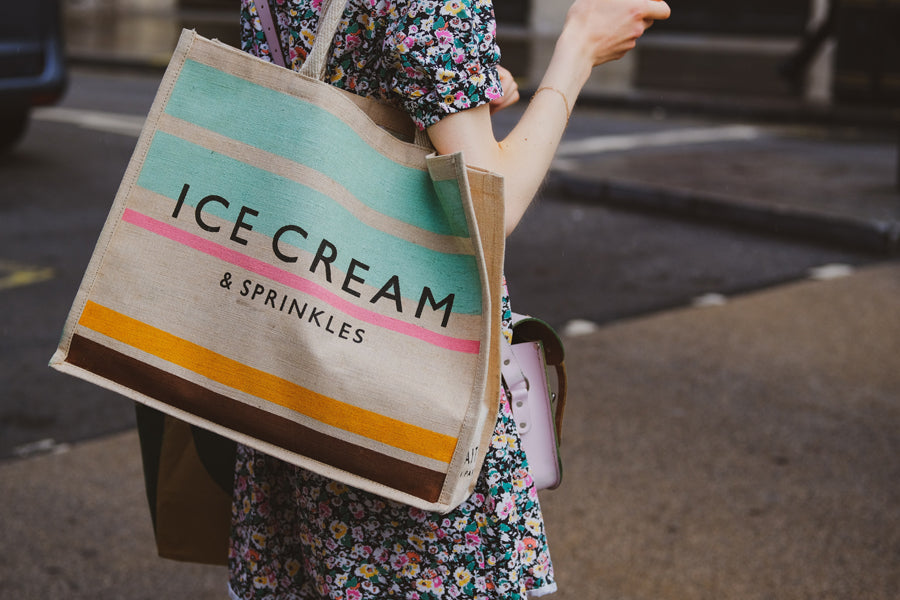 Various types of custom tote bags such as custom canvas tote bags, custom reusable tote bags, custom tote bags with logo, custom tote bags with photos, and tote bags with zipper are great promotional products for all kinds of corporate events, special occasions, trade show, or new product launch or shop inauguration. It is a unique, stylish, and compelling way to generate awareness about your brand without harming the planet as it is an eco-friendly option. It is also available in various styles and color combinations. You can successfully market your brand and product with custom tote bags with minimum effort. Let's check some of the reasons why you should promote your brand with tote bags.
1. Brand visibility
Promotional products are beneficial to promote your brand. To make people aware of your services and availability. Thus, custom tote bags in bulk are made as a marketing tool to generate awareness. Custom tote bags have more benefits than printing custom t-shirts or jackets as they have more space to print brand names, logos, or business information. People use it in their daily routine to shop for groceries, clothes, or other valuable things. You can see custom tote bags with logos and custom tote bags with photos from a distance. These promotional custom tote bags will catch everyone's eye when you visit grocery stores, supermarkets, malls, or any exotic place. Any brand should utilize this space as an advantage to increase brand visibility.
2. Budget-friendly
When you buy or manufacture promotional custom tote bags in bulk for your brand, event, or any other marketing campaign, it automatically brings the cost per unit down. It is beneficial for small businesses that do not have a big budget for marketing. It also gives you an affordable opportunity to promote your brand. Small and medium-sized brands would want to spend a high amount on creating promotional products as costing is a major concern. If you compare promotional custom tote bags to other marketing tools, then you will find them a relatively budget-friendly option to spread brand awareness. They are ideal for businesses on tight budgets.
3. Great freebie option
Custom canvas tote bags, custom reusable tote bags, tote bags in the zipper, custom tote bags in bulk are a cost-effective option for brand awareness. Therefore, they can be a great choice as freebies or giveaways for contests or events. People get overwhelmed when they get free things. So, you will stay in your target audience's memory for a long period of time without spending more. It also improves your camaraderie with customers as they will tag your brand on social media platforms on receiving amazing freebies. They will put a good word of mouth for your brand and encourage their followers to visit and support your business.
4. Anyone can use it as a great statement accessory
Custom tote bags are not specified for any gender or age. Anyone can use them. So, you do not have to filter your target audience as per gender or age. They are serviceable to everyone. If recipient like your custom canvas tote bags, custom reusable tote bags, tote bags with zipper, then they will carry them wherever they go to make a fashion statement. It can work amazingly well as a great statement accessory. If young people admire your product, then your orders will skyrocket for the same product as they like to carry things that reflect their culture, sophistication, and status.
5. Eco-friendly
Custom reusable tote bags do not damage the environment like single-use plastic. You can recycle them, and their sustainable material encourages environment-friendly values. People will support and promote your brand as you care for the planet and will improve your brand image among competitors. Customers like green businesses and tote bags like custom tote bags, custom canvas tote bags, tote bags with zippers, custom tote bags with logo will help in waste reduction.
Your brand will educate people about the importance of keeping waste down and maintain a sustainable lifestyle to control the impact on the environment. It also reduces ocean plastic pollution and keeps marine animals safe. Custom tote bags are made of natural fibers such as cotton, jute which can be composted easily, and others can be upcycled, which means turning products into different things for a new purpose.
6. A unique gift wrap
Wrapping your gift using the same wrapping paper has become boring, and it can be wasteful too. Here, custom tote bags swoop in as a perfect alternative to eco-friendly gift wrap. You can comfortably put various promotional products in a custom canvas tote bag for attendees to recall your brand or the event in the following years. People will not throw tote bags after unwrapping gifts, and they will use them instead. They are also 100% recyclable, and you can make them visually appealing enough to make them unique. You can print a message as well that can make your recipients smile or inspire them.

How to customize tote bags?
People love tote bags as they provide an ample amount of room for customization. You can have a particular logo, phrase, or image to clearly state your purpose with some fashionable flair and swag. Custom tote bags with logo and custom tote bags with photos are perfect for industrial events as they are a practical, versatile and perfect display of swag. These customized tote bags are available in various sizes, shapes, and styles, and functions for numerous purposes. If you are wondering how to create an option to distribute tote bags at events like trade shows, job fairs, and conventions, you can try having affordable, quick-ship tote bags. These low-cost options focus on the environment and can be utilized for multiple purposes. Let's now understand how to customize tote bags and which process to follow.
1. Choose your material
First of all, you have to choose the material for your custom tote bags. There are various options available on EverLighten. You can pick from cotton canvas, jute canvas, and organic cotton, recycled polyester, and recycled PU. Businesses and brands that want to promote their eco-friendly values can select tote bags made from natural materials like cotton, canvas, and jute. You can have custom reusable tote bags made from polypropylene, recyclable materials, and others.
2. Choose your size
Everlighten offers three options in size to their customers who wish to customize their tote bags. A regular-sized, 15-inch by 14-inch tote bags to larger 18-inch by 16-inch tote bags with variation in strap lengths. You can also select to have any-size custom tote bags, which gives you the complete freedom to pick the size of your bags considering what you wish to carry in your tote.
3. Choose your imprint type
You can also choose your imprint type. Some of the custom canvas tote bags, custom reusable tote bags, tote bags with zippers, custom tote bags with logo and photos are printed, embroidered, screen-printed, and stamped with a four color design process for a visually appealing look. You can select artworks for better customization patterns.
4. Choose your design and fabrication
Many people like to have total control over their customization. Therefore, EverLighten allows you to pick designs and fabrication as well. There are four options available in design options. You can select from classical tote, boat tote, gusseted tote, and full-gusseted tote. In fabrication, you have two options: digital printing and timeless embroidery. EveryLighten gives you a choice to pick a background also. You can select from white or black as your background.
5. Choose your price point
Some brands will allow you to choose your price point also. You can customize your tote bags for a specific budget.
6. Choose extra features and add-ons
You can also select extra features for your custom tote bags, custom canvas tote bags, custom reusable tote bags, and custom tote bags with logos and photos. You can have an extra pocket for a water bottle. A zipper to keep your things in custom tote bags safe. Everlighten allows you to have a top zipper, top snaps, inner pocket, external pocket, and thicker fabric with reinforced handles, too. These options help you create a custom tote bag especially tailored for your target audience.
7. Create artwork for your bags
You can design artwork for your tote bags as per your requirement, but make sure to review artwork requirements. Many brands prefer print-ready vector artwork delivered in various formats. Make sure your design fits those criteria as the file type is important, and that will ensure the high-quality and vividly printed result. Your design should not be compromised during resizing. The manufacturer will then send you a digital proof for approval. Triple-check them. If there are any revisions, then send for reworks. Make sure you check all typos, spacing issues, colors, and printing format.
The world of promotional products has been overcrowded by various products. Custom tote bags have emerged victorious among them due to their simplicity, durability, and usability. If you are looking for the best custom tote bags, then contact EverLighten. We will give you give the best product as per your budget.