What do you know about tote bag?
|
May, 24 , 21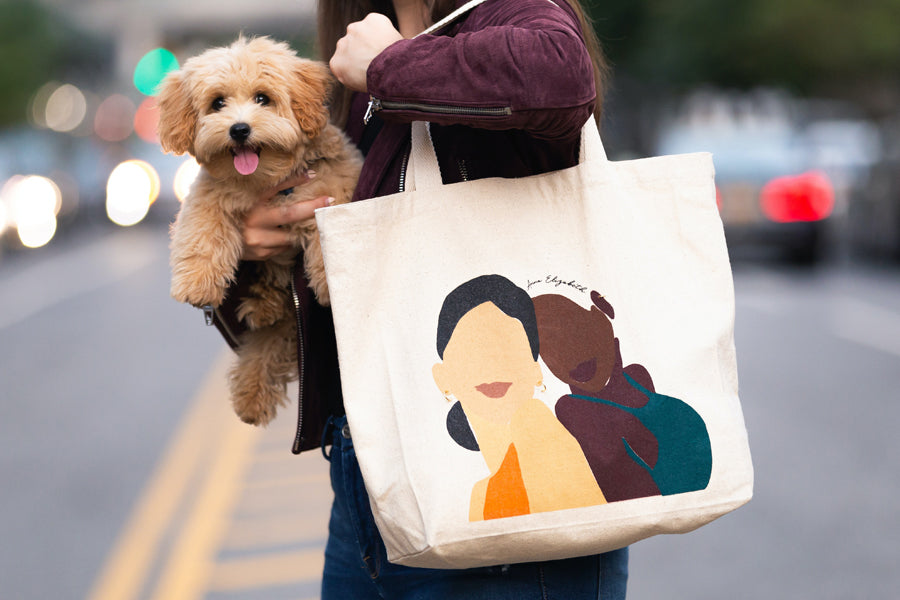 Many people do shopping as their favorite pass-time activity, and they require a bag for their purchases. A tote bag is the best option to carry while going shopping. They are available in various sizes, patterns, styles, and materials. Some of them are also water-resistant. If you start using tote bags like custom tote bags, canvas tote bags, leather tote bags, non-woven tote bags, custom printed tote bags, custom tote bags with logo, tote bags with zipper, laptop tote bags, cute tote bags, designer tote bags, and then you are protecting the environment from disposable plastic bags.

What is a tote bag?
A tote bag is a very simple bag stitched on two sides with a single panel of material. You get looped handles with it. The basic structure of custom tote bags can be enlarged and strengthened by the addition of base and side panels with interior and exterior pockets.
'Tote' word has its origin in America, but it is believed that tote bag has been named after a variant of 'tota' - a West African variant which means to pick up, or the word 'Tuta' - translates into 'carry' in Swahili. When supermarkets started phasing out single-use plastic bags in the twenty-first century, the tote bag replaced it.

Structure
Tote bags are basically made from cotton, nylon, or other fabrics that can be folded and put in a pocket when required.
Canvas tote bags and leather tote bags have a stiff and unbending structure.
Tote bags are popular among people because they have large openings, so you can use them for various purposes & pack and unpack quickly when needed.
You can carry it while visiting supermarkets, gym, work or school. They can also be used as laptop tote bags.
You can create custom tote bags with logos, custom tote bags with names, custom tote bags with photos, and custom printed tote bagsas per your creative instincts.
The advantage of having designer tote bags, cute tote bags, non-woven tote bags, or other types of custom tote bagsis its easy accessibility and affordable cost. They also have interior and exterior pockets to put things properly. But, sometimes, things fall out easily from the custom tote bags. Therefore, tote bags with the zipper are invented.
The structure of tote bags can vary from a purse-size to a giant-sized bag that fits all of your products. The standard tote size is around 15 x 16 inches.
Material
Here are the most popular materials used to make different types of custom tote bags such as canvas tote bags, leather tote bags, non-woven tote bags, custom printed tote bags, custom tote bags with logo, custom tote bags with photos, custom tote bags with names, tote bags with zipper, laptop tote bags, cute tote bags, or designer tote bags.
Polypropylene
This material is created from melted plastic to make sheets of fabric. It is used for water-resistant qualities.
Cotton
Cotton is a sustainable natural resource. Growing cotton is not harmful to the environment; you can regrow them without running out.
Polyester
The combination of synthetic fiber with cotton is polyester. They are made from polyethylene terephthalate (PET) plastic. Their texture is slippery and silky.
Canvas
Canvas is also made from cotton, but they are layered into a much heavy fabric so they can resist wear and tear.
Nylon
Nylon is another popular material after cotton canvas and leather. It is a synthetic material, and you may find many variations. There are three types of variation available for different bag types, they are:
Nylon pack cloth
Rip stop Nylon
Ballistic Nylon 
Jute
Jute is made from a natural fiber made entirely from plant material. They are cheap, strong, and biodegradable, so they can't damage the environment more. It is also called 'The Golden Fiber' due to its color.
PVC
This type of material is best used for see-through tote bags. They are also durable and are available in various colors.
Polyurethane
They can bear long periods of heat and moisture, which means they are durable.
Used for
Tote bag's versatility makes it a functional and fashionable handbag option. Let's check how you can use custom tote bags effectively.

For shopping
Various types of custom tote bags such as leather tote bags, canvas tote bags, non-woven tote bags, custom printed tote bags, and tote bags with zippers, designer tote bags are used for shopping. You can bring food, clothes, dairy products, and many more items using tote bags. They are durable, strong, and comfortable to transport any products without fuss.

For work or school
They are also functional to keep books for school or college. You can carry laptop tote bags to your workplace. They are available in different colors and design variations to compliment your style.

As a picnic, travel, or beach bag
They are handy to keep your personal belongings while you visit the beach or go for weekend picnics. You can comfortably put all sorts of food and drink items along with sunscreen or towel. They are also spacious enough to pack the maximum amount of things you need during traveling. They are available in fun, printed designs with many color combinations and handle variations.

As a purse
Designer tote bags can be your ultimate fashion accessory. You can use it for your daily routine to put all personal items. If you are going for a hangout, then you can carry a classy leather tote bag to make a style statement.

As home storage or laundry
If you have bought cute tote bags and you do not know what to do with them, then you can consider using them as home storage or laundry bag. You can hang them on hooks of your bedroom or bathroom to keep your dirty laundry or toiletries together. They can be used while traveling to keep dirty clothes and new clothes separately. You can also utilize them to hold your stationery and other items.

For the gym
It is a convenient alternative to a full-blown duffel bag. It can easily fit a towel and water bottle while you head to an exercise class, gym, or hiking.

The history of tote bags
As history suggests, tote bags first appeared in 1676 when they were used to carry load, supplies, or timber from a logging camp or the like. In 1807, the first printed example was found in the Author Washington Irving's writing.
'The Legend of Sleepy Hollow' had this sentence - 'At Baltimore, I made a stay of two days, during which I was toted about town.' It did not become popular as a noun to describe a bag until the mid-twentieth century.
In 1944, the American brand LL Bean introduced a bag that was shaped like a large box and used for carrying ice from car to freezer. Due to their strength and versatility, those bags became popular immediately. Thus, LL Bean added multiple color variations and expanded the range.
In the sixties, Bonnie Cash in brought a significant change in the world of fashion. She created a leather tote bag in various ranges of colors, and from that point in time, tote designs escalated.
Why custom bags became more popular?
Let's check some of the significant reasons for tote bags' popularity and how they have conquered the market of bags.
1. Due to artists' creative treatment
Many artists treat custom tote bags as a canvas. They express themselves through painting on the bag and showcase their talents. Tote bags get attention when it gives artsy vibe through the various artworks. Many artists also use it as the bag they use to put their belongings in. Tote bags have become a staple in any artist's outfit.
2. Great promotional product
Custom tote bags such as designer tote bags, custom tote bags with logo, custom tote bags with names, custom tote bags with logo, custom printed tote bags can be given as promotional products. It can be your permanent product to sell when people come to your shop to buy products. You will get free promotion with every sold bag as they may become part of people's everyday use. So, wherever they will go, they will take your brand with them.
3. Protector of the environment
The biggest advantage of using custom tote bags is that it helps in protecting the environment. You can lessen the waste and pollution caused by plastic bags using tote bags. The lands and oceans become cleaner. Producing plastic bags cause more carbon emissions in the atmosphere. Hence, switching to custom tote bags is a wise move to save mother earth.
4. Fun souvenirs
You can collect custom tote bags as fun souvenirs from travel destinations or any events. Customizing a tote bag for an event can add a personal touch to visitors and attendees. It serves as a memory keeper for them, and they will remember the event whenever they see the bag. It is the same for travel. Pictures on your custom printed tote bags can be a fun reminder to the adventurers he or she had at that particular traveling destination.