Why do you need to appreciate employees with corporate custom products on Boss' day
|
Jun, 21 , 22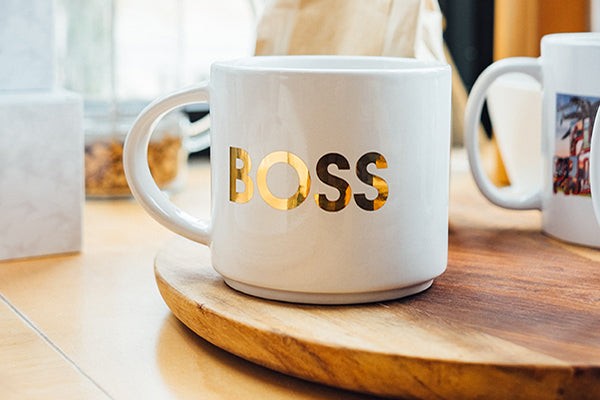 Boss' day, although not a federal holiday, is a holiday observed across the US; this year, it is on October 16. The day is dedicated to all employers; it is a time for employees to appreciate their bosses and thank them for their support and guidance throughout the year. The day strengthens the bond between employers, employees, and the organization. Traditionally, the day is marked with people giving their bosses cards, gift certificates, flowers, or taking them to lunch, but it has changed in recent years. Bosses now understand the day is not only about feeling appreciated and receiving gifts; it is about showing some of the appreciation back, meeting and living up to their employee's expectations. One of the best ways to accomplish it is by creating corporate custom merch. These gifts will boost your company's image and motivate your team members to work harder than last. Additionally, when employees use or wear custom products, they enhance brand image. 
Spread the love with corporate custom products: 
Even though the day is about bosses, you can make it about your employees to make them feel valued. It is important to appreciate their work and return the favor. Make the day about team accomplishments, emphasize how they make it possible, and you couldn't have done without them. A little appreciation goes a long way toward motivating the team and retaining employees. Now, let's discuss the reasons why corporate branded products can inspire: 
Ease stress and drive productivity:

Most employees in today's modern world work long hours with various interruptions throughout the day. It can be stressful, lowering their productivity. According to multiple studies, an inspired employee is 125% more productive than a stressed employee. Employees' motivation, sense of responsibility, drive, and energy can take the company's productivity to the next level. Custom branded corporate products help to ignite the fire and get the spirit back. 
Everyone loves being appreciated, and although employees don't work for appreciation, it feels good when they get corporate gifts as a token for their hard work. It also makes them excited and enthusiastic about work; it also improves them to meet objectives and improve the quality of their work. One of the best ways to boost the drive is by giving occasional gifts, and Boss' day is one such event you don't want to miss. 
84% of employees stated branded merch helps boost productivity and brand awareness.
56% of employees became more favorable to the brand after receiving corporate gifts. 
69% of employees had an optimistic view of their old Bosses when they gave them custom branded products. 
Create emotional attachment:

Previously, employees would work for many years when they joined an organization. However, inspiring employees in today's work environment is becoming more challenging. Providing employees with small rewards from time to time can solve the problem. They feel excited after receiving corporate custom products and re-igniting the energy and drive. These items also help create an emotional bond between workers and the organization. It is especially true if they receive gifts on a significant day like Boss' day. Positive emotions inspire employees to perform at their best; they are not doing the work only for salary now but for personal satisfaction, colleagues, and the boss. 
Promote employee engagement:

When employees receive gifts from their Bosses on behalf of their organization, they feel like returning the favor with hard work. It is normal human behavior, and more people feel comfortable giving than receiving. It creates engagement, and market studies suggest engaged employees are 25% more profitable for their organization. It is an indirect benefit of providing corporate logo products to staff; employees feel the organization is investing in them and need to show their gratitude. 
Break monotonous routine:

Let's face it, most of the time, there is a dull routine in most offices, and it becomes difficult to keep the mind engaged and productive. Occasions like Boss' day are a perfect way to break the cycle of monotony, giving employees a much-needed change. When they receive a corporate gift, they can open their minds to a new way of thinking. E.g., getting corporate branded notebooks and calendars can help employees look at the process of organizing ideas from a different angle. 
Foster company values:

Your employees are the representatives of your business, and their public behavior affects your business. Bosses think they have nailed down brand values into their employees pretty well, but it is not often the case. Custom branded items help to ingrain your business values. 
Whenever your employees receive custom logo products as gifts, they can remember why they joined the organization in the first place. You can also use motivational messages to inspire them. Using the right message can make them more optimistic about their work and the organization, helping them become organization envoys outside the workplace. 
Build workplace unity:

An organization grows when employees work hard to achieve a common goal. Company branded logo items help create a sense of belonging and an unspoken bond between the person giving you the thing. 
In large organizations with many employees, most don't recognize each other, and everyone can come together and celebrate occasions like Boss' day. They can feel excited and build meaningful connections necessary to foster growth. 
Remember brand mission:

Every business has some goals and missions, but with time it is pretty easy for employees to forget the message. Recently, organizations are waking up to building a stronger employer brand. Custom branded corporate products help you accomplish the same by making the business more recognizable. Using the products regularly instills a sense of identity to the brand and is not considered just another job.
Feel valued:

Giving corporate custom products provides many advantages; employees feel valued. Additionally, these cost significantly less money than other rewards like monetary incentives. They are easy to personalize according to the occasion. E.g., your team has reached a significant milestone before Christmas. You can create custom items mentioning the fact and congratulating everyone for their hard work. 
Some items you can use this Boss' day for employees: 
Some tips when giving corporate products:
Giving corporate custom products is a winning strategy for Boss' day for every company, but you don't want to give any gift without thinking. 
Give customized and helpful items

:

You don't have to give some extravagant or luxurious gifts to your employees. It would be better to share something that would provide value to their lives or make their work easier. E.g., if your employees are sitting at the desk all day, give them custom compression socks

to help with proper blood flow in the feet. They will appreciate the gift more than an expensive generic product with no use. 

Please don't use the occasion and products as a bribe

:

Giving custom gifts is a way to show appreciation and not make them work longer hours. Neither should you expect nor get offended. You don't want to use the gifts and the occasion to ask for a specific return action.
Avoid being too promotional: Custom corporate gifts

are a way to promote your brand, but you don't want to be too promotional with big logos. Avoid making your employees feel you are gifting only to take advantage of them for promotion. You need to incorporate the company's elements but do remember marketing tools and corporate gifts are different. 

Be creative with the products and the presentation

:

When creating custom products for employees' you need to make them memorable. You need to be creative with products, packaging, and branding. It would be better to create a design your employees can rock after work without feeling uncomfortable. 
Have fun

:

No matter what gifts you choose, having fun with your staff is essential. There is no limit to what you can achieve with a solid and dedicated team; spend some time doing activities like going outside and eating lunch together to know your employees better. 
Conclusion: 
Boss' day is a fantastic occasion for you to appreciate your employees with custom items. However, you want to present high-quality products to make them feel valued. You can design by connecting with a reliable manufacturer. EverLighten has eighteen years of experience manufacturing corporate custom gifts, and they have helped companies in twenty-three countries. 
Jan Richardson - VP, operations - Global Results communication company wanted to celebrate the success of winning the Marcom Platinum Award for "excellence in quality, creativity, and resourcefulness" with their employees. They wanted to create personalized iPhone phone cases with their company's logo. EverLighten's creative team helped them finalize the design and was 100% satisfied with the product quality. Seeing the fantastic phone cases, they again contacted the team to create another personalized product - custom socks. Read the complete success story here, https://everlighten.com/blogs/success-stories/jan-richardson. 
Benefits of working with EverLighten:

 
Best pricing: They are a factory for producing custom products and not intermediaries, ensuring customers always get the best prices. 
Quality in every product: They use top-quality materials and the latest processes to produce custom items. 
Fast turnaround time: They provide the quickest turnaround time for every order. 
24*7 support: Customers can contact them 24*7 for their queries resolution; they reply within half an hour. 
Real people, outstanding service: EverLighten loves helping; they offer various options. 
Designs to impress: Your corporate gift will look as you imagined with help from in-house designers.  
No minimum order requirement: You can order any number of products you need; they accept every order without a minimum limit. 
Worldwide shipping: They deliver worldwide, and customers can track their orders online with an order tracking tool.
For more information, queries and design, visit EverLighten.com.