12-Spooky marketing ideas for your store this Halloween
|
Jun, 22 , 22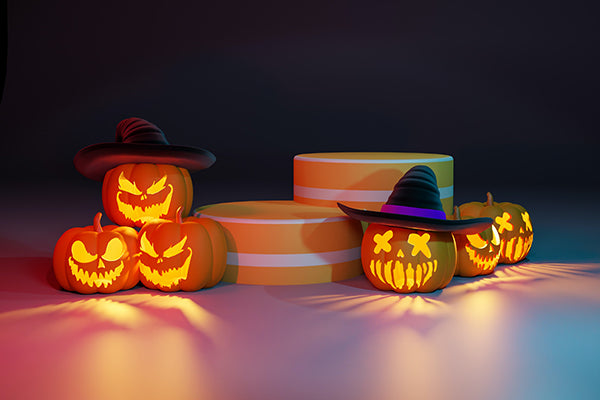 Halloween is about dressing up in spooky costumes, trick-or-treat, and having fun. But, do you know it is the fourth most popular holiday in the US? Customers go wild with shopping, but most retailers don't focus on it - they focus more on Thanksgiving and the holidays afterwards. Neglecting Halloween is a big mistake from a marketing and sales perspective. It is one of the best holidays to show creativity by using custom products to connect with people. By connecting, you are preparing your business for future success with big holidays. The blog will give you everything you need about Halloween marketing. 
Origin: 
The day marks the end of summer and the harvest; it starts dark, cold winter. Halloween originated from the ancient Celtic festival Samhain; people used to lit bonfires and wore costumes to ward off ghosts. Over time, it evolved into the form we know today with activities like trick-or-treating, carving pumpkins, wearing costumes, festive gatherings, eating candies, etc. 
Sales and marketing numbers: 
58% of people plan to celebrate Halloween this year. 
The National Retail Foundation study suggests that 74% of young parents and millennial moms will celebrate this year. 
$65 was the average spending on costumes by a person last year.
Halloween is arriving soon, and you still have a lot of time to think and prepare for taking your business to another level. 

1.Decorate:
A simple way to get into the Halloween spirit is to decorate your store. If you have a brick-and-mortar store, you can decorate with pumpkins, fake cobwebs, scarecrows, etc.; if you have an online store, you can use a Halloween theme for the occasion. Be as wild and crazy as you want - nobody will mind it because it's time for fun and celebrations. 
2.Hosting costume party:
Inviting people to your business place and celebrating the holiday together is one of the most effective ways to build a connection. Arrange snacks, drinks, festive music, etc., and ask them to dress up. You can send out flyers, social media, and emails to get the word out. Advertising for the party will benefit your business, and you can also offer discounts to attract more people. You can give some special discounts to the best-dressed person for driving more traffic to your store. 

3.Creating themed products:
Custom products are another effective way to ignite the Halloween spirit. You can incorporate ghosts, witches, ghouls, mysterious characters, etc., alongwith your business logo when designing the products. 
4.Offering deals and discounts:
Everyone loves special deals and discounts; it is one of the most effective ways to attract customers to your store during holidays. Don't be afraid to offer huge offs on products for a short period or for products that cannot sell. Additionally, you can offer discounts/ deals to people buying the Halloween-themed products mentioned above. Offering discounts might lead customers to spend more money than they would otherwise. 
5.Dressing up:
Ask your staff/ employees to dress up at work. It will be good for the business - when customers see people having fun, they can join in, take pictures, shop, etc. It will be excellent for your social media marketing also. You can decide on a theme and dress accordingly. E.g., one day, everyone can dress up like in the 70s, the next day as a celebrity, and so on. Just a note: ensure your employees wear work-appropriate clothes and not go crazy. You would also want to make it easy, so they don't have to spend huge money on their costumes. You can also offer the products mentioned above to help them prepare. 
One idea is to replace the regular uniform - if you have one - with something fun and name tags with custom patches like a spider web, pumpkin cutouts, etc. It is fun to spread the holiday spirit without spending much money. 
6.Welcoming trick-or-treaters:
Providing free candies to the youngsters is a way you can increase foot traffic to your business. You can include discount coupons with your handouts to ensure their parents return to you after the holiday. If you have some spare money, you can put out candy throughout the month leading up to Halloween to build hype. It has been shown that offering sweet treats create positive views in receivers' minds; it goes a long way in creating goodwill. 
7.Hosting contest/ giveaways: 
Hosting contests or customer giveaways are lovely for engaging more customers; you can advertise on your social media page for free. People love a chance to win something, especially during the holidays. You can create a gift card for your store and giveaway; when people shop with a gift card, they spend more than it's worth. 
8.Giving out custom branded trick-or-treat bags:
People need a bag to carry all the candy for trick-and-treat, going on shopping, etc. Giving out Halloween-themed custom canvas tote bags will do wonders for your brand awareness without spending much. You can leave them out at your storefront or give them out to customers coming in to shop. It is also eco-friendly, and people will take note of your business for helping them reduce their carbon footprints by not carrying plastic bags. It's a win-win for everyone; your logo will also get exposure after the festival. 
9.Partnering with local attractions:
October provides a wealth of opportunities to team up with local seasonal businesses like haunted houses, apple picking farms, pop-up costume stores, cornfield mazes, etc. See if you can connect with businesses by sponsoring or giving away your custom products. It will help gain visibility among customers who might visit your store afterwards. You can also set up a stall and hand out custom products like keychains or coupons for their next store visit. 
10.Hosting a pumpkin carving contest:
Pumpkins and Halloween are synonymous; you can host a pumpkin carving contest to draw in more people in the weeks leading up to Halloween. It will cost you a penny and help generate attention and curiosity. As mentioned above, you can also partner with a local farm - it will bring the cost down and improve sales. Offer the custom products as prizes to further bring in more people. 
11.Making the most of social media:
Halloween offers incredible fodder for social media like Facebook, Instagram, Snapchat, etc. Use pictures with custom products and hashtags in the weeks to the festival. Please ask your customers, employees, clients, vendors, etc., to share their photos with your custom items and tag your business. You can also offer prizes or discounts for the best picture for more engagement. 
12.Reward your loyal customers:
Everyone knows getting new customers is more challenging than maintaining the old ones. Every holiday including Halloween, offers a chance for your business to connect with your loyal customers. You can offer them custom products, early deals, and special discounts, which will help keep them coming back to your business and generate word-of-mouth advertisements from them. 
Conclusion: 
Halloween offers more opportunities for your business than you think; it helps build a relationship with customers for the upcoming big holidays. Whether an eCommerce retailer or a physical store, you can capture your share of fall customers by applying these ideas. For creating Halloween-themed custom products, you can connect with EverLighten; it will help drive traffic and increase sales. They have eighteen years of experience creating custom products for online & offline stores, celebrities, businesses, nonprofits, schools, universities, sports teams, etc. 
Cobi Sewell is a dedicated social media professional specializing in brand image management and marketing. They wanted to create custom plush toys - a big foot - to grow their brand. EverLighten's dedicated and talented team helped them bring the design to life. They made many changes and adjustments to the materials, colors, and processes to achieve a precise look and feel. The team explained each step and the reasons behind the things they did. In the end, Cobi was 100% satisfied with the quality of plush toys. Now, they are doing pretty well with their business. Read the full story here, https://everlighten.com/blogs/success-stories/mcn-cobi-sewell. 
Advantages of working with EverLighten:

 
Best pricing: They are a factory for producing custom products and not intermediaries, ensuring customers always get the best prices. 
Quality in every product: They use top-quality materials and the latest processes to produce custom items. 
Fast turnaround time: They provide the quickest turnaround time for every order. 
24*7 support: Customers can contact them 24*7 for their queries resolution; they reply within half an hour. 
Real people, outstanding service: EverLighten loves helping; they offer various options. 
Designs to impress: Your products will look as you imagined with help from in-house designers.  
No minimum order requirement: You can order any number of products you need; they accept every order without a minimum limit. 
Worldwide shipping: They deliver worldwide, and customers can track their orders online with an order tracking tool.
For more information, queries and design, visit
EverLighten.com

.