Transfer Printing 101
|
Jul, 15 , 22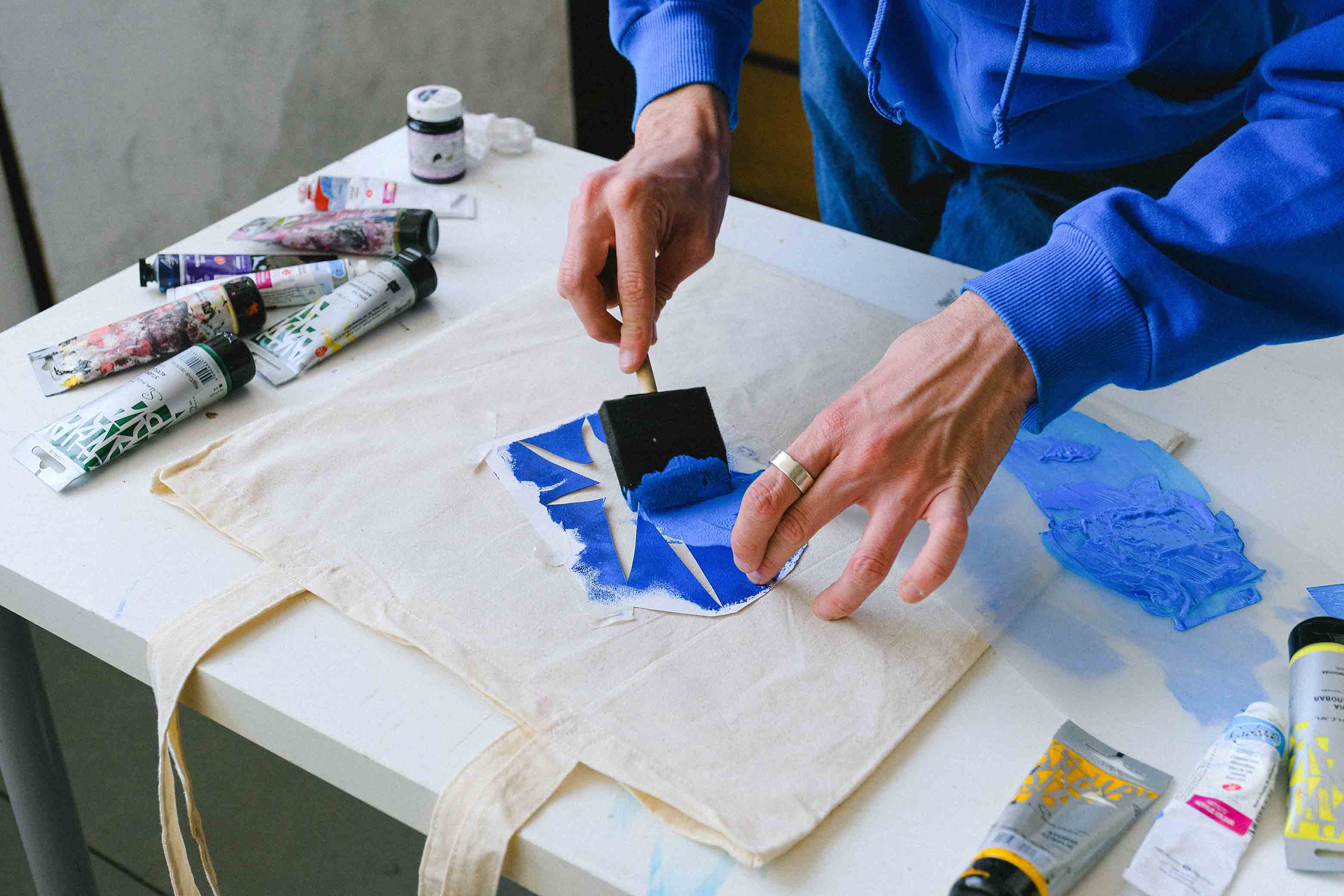 There was a time when your grandma would knit socks for Christmas, and you'd be content with it. But, times have changed, and look what's in the trend today: sharp, snappy, and precise details instead of bulky knitted designs. Modern technology has changed the way custom merch is created in bulk. One of those techniques is the transfer printing technique, and in this article, we will talk about its history, advantages, disadvantages, and more. So, without further adieu, let's get started: 
Transfer printing
is a broad term used to describe various printing methods that starts with creating a design on another surface - non-textile - and then transferring the image onto the fabric using another process. Vinyl is an essential part of transfer printing. 
The final images on the custom merch seem similar to the designs created using other printing techniques like screen-printing. You might wonder then why do you need to choose the method? But, before we answer, let's know a bit about its origin. 
How did the transfer printing start?
The method is quite old, with its origin in the 1750s in England. Interestingly, the technique was different than now; people used it to embellish ceramics, not clothes. Before the modern machines, copper, steel plate, or roller, engraving with a decorative element was used for monochrome printing on paper and then transferring the design on ceramics. The process wasn't easy and certainly not fun, but it was faster than hand-painting and provided similar results. The modern technique developed around the 1940s and became popular fast because of its convenience. 
Reasons for using transfer printing 
The technique is a versatile form of printing over clothes developed long ago. It is a budget-friendly, high-quality, and durable printing method for various merch and accessories. Here are some of the advantages, and see which one fits your unique requirements:
Advantages of transfer printing 
It is easy to design and store when printed on paper. 
The method is relatively cost-efficient when compared with other techniques like DTG. 
It has a fast turnaround time for small orders. 
The skill required is less, and the rejection rate is low. 
Some special effects and textures are limited to this method.
It is easier to print complex designs with lots of details. 
Since it provides a fast turnaround time, the storage cost is low. 
You can get various effects and textures like fluorescent, metallics, velvet, etc. 
It is suitable for full colors and vivid printing. 
The process can provide high-quality complex graphics like gradients with unlimited options. 
With so many advantages, you might think, "why isn't everyone using this printing method?" 
Disadvantages of transfer printing 
The process is helpful for smaller quantities than other methods like screen printing - 100 units per order - and DTG printing - 50 to 250 units per order. 
The technique pales in comparison to printing on various materials like screen printing. 
Each design needs to be cut individually. 
Direct ironing and printing can damage the image quality.
Going through all the points, we can see that it is only cost-effective for smaller batches, and the cost increases considerably with larger quantities. It also becomes time-consuming and expensive. There are also some limitations on printing on darker shades and the types of fabrics. 
Transfer printing working
The process differs depending upon the technique used, but in the most general form, it uses a soft, elastomeric stamp. The method operates in three steps: 
Inks - also known as microdevices - are prepared on the donor substrate using wet chemical or dry etching and released in an orderly manner. 
The ink is retrieved from the donor substrate using an elastomeric stamp. A proper preload is applied to the stamp to ensure consistent contact between the ink and stamp, making it adhesive to retrieve inks from the donor correctly. The method can be selective and non-selective depending upon precise manipulation of the inks and high throughput. 
The ink stamp is then printed onto the receiver substrate, and its removal completes the process. 
The process explained above primarily applies to methods using transfer papers. Some techniques like CAD-Cut Vinyl use solvent releasable or thermal tapes in place of stamps; it simplifies the process. 
Sublimation printing uses a special kind of heat-evaporating ink. The ink blends and becomes an integral part of the fabric instead of only attaching to the material. 
Types of transfer printing 
There are various transfer printing methods; take a look at the most popular ones: 
The plastisol printing process is named after the ink used for printing. It is a beautiful choice for an organization's logo, texts, labels, and design with fine details, and color vibrancy is a priority. People confuse it with screen-printing because it is almost the same; the only difference is printing onto transfer paper instead of fabric. The process is similar to the water-based transfer method. However, the ink is PVC free, making it more environmentally friendly. 
This heat transfer method produces vibrant colors, but you cannot print in bulk simultaneously. The quantity is limited to four at once. Plastisol has a soft feel with finer details. After heat-pressing, the transfer is allowed to cool for some time. Then, the backing is removed - the cool peel method - allowing for easy application on most garments. It is the most popular among all the transfer methods. 
Stretch litho is named after lithography and is the latest transfer printing technology in the world of custom merch. The method combines screen and digital printing. Since the printing is done on paper, the process provides more detail than other methods. Paper is smoother than fabric, so the color dots don't bleed as much when it touches the surface compared to cloth. 
Sublimation is suitable for printing on polyester transfers full-colors solutions. The method is also cost-efficient. We have already discussed the ink turning to gas and then joining with the fabric. Therefore, it doesn't add any layer to the material, making it perfect for white or light-colored clothes. The method also works with a variety of hard surfaces with poly-coated layers.The method produces long-lasting, durable images but is limited by materials compatibility, i.e., polyester. You can recognize the print easily with folds or creases remaining white. 
CAD (Computer-Aided Design ) - Cut Vinyl

is commonly used for printing numbers, logos, and names, on sports merch, including

t-shirts

,

hoodies

,

jerseys

,

socks

, etc. The method prints onto vinyl or nylon directly and are suitable for printing up to three colors at once. The process provides a durable gloss and matte finish and prints vivid colors and precise patterns. It is faster and easier with no-set time compared to screen printing. 
The transfer is cut into a name or a number and is applied to the fabric using an application tape, allowing you to heat press immediately. You can customize further with various vinyl colors and textures like a color block. Other effects like polka-dots, animal prints, chevrons, camo, stripes, leather, etc., are also available. You can also create unique products by layering various pieces of vinyl. Choosing the right vinyl and applying it to the suitable fabric is the key to keeping it pristine and avoiding peeling off. 
Popular CAD-Cut Vinyl materials are: 
Airflow heat transfer material contains small holes in the vinyl, making the fabric breathable and suitable for custom sports merch. 
Thermo film heat transfer material has a semi-gloss finish creating a sharp design. It doesn't absorb dyes from the material - known as dye migration, making it anti-abrasive and strong. 
Fashion-film heat transfer material is suitable for precise design and gives a thin matte-finish look.
Flock heat transfer material has a unique look and texture and is ideal for layering two colors giving it a suede-like finished look. 
Misconceptions about transfer printing

 
Let's clear out some of the myths about transfer printing. 
It looks coarse

:

In the past, it was true, with most vinyl types looked cheap. However, things have changed, and modern ones provide a high-quality matte finish. It is about knowing the work behind the materials, and you would not want to cover a large area with vinyl because it would make it look rigid.  
The printing cracks:

It might happen and depends on the paper quality. There are many high-quality options like Soft stretch, IronAll, etc. They are soft and elastic, taking care of the cracking issue. 

Vinyl doesn't work well with negative spaces

:

On the contrary, cutting the vinyl to show the fabric color as the background makes it feel less plasticky and stiff. 
It doesn't work on most fabrics:

Besides embroidered and fleece clothes, the process is suitable for most materials. 
The next step 
Now that you have in-depth information about transfer printing, it's time to connect with a reliable manufacturer to create your custom merch. EverLighten has over eighteen years of experience building custom products for startups, corporates, sports teams, nonprofits, colleges, universities, celebrities, and individuals. 
Sleep Inn is a part of the Choice group of hotels and is one of the largest hotel chains worldwide. They were looking to create a novel custom product they hadn't created before to welcome new customers. After brainstorming with our team, they agreed on custom socks - although they have a considerable merch range, they hadn't created socks before. We manufactured high-quality socks embodying their vision and business image. Customers were happy and surprised, and they showered praise upon us. 
The Let It Be Foundation is a women's foundation working to help children and their families affected by cancer and other deadly diseases. They regularly organize fundraisers to help children in need. The nonprofit was looking to create custom neck gaiters and socks for their next fundraiser to assist women with intellectual disabilities and their families. EverLighten made high-quality products and showed support with a flat 15% discount on the items. They didn't have any designs or knowledge about these products; our team created designs for free and assisted at every step. They were happy, and we were pleased to help the nonprofit. 
The EverLighten difference 
Best pricing:
They are a factory for producing custom products and not intermediaries, ensuring customers always get the best prices. 
Quality in every product:
They use top-quality materials and the latest processes to produce custom uniforms and accessories. 
Fast turnaround time:
They provide the quickest turnaround time for every

order.

 
24*7 support:
Customers can contact them 24*7 for their queries resolution; they reply within half an hour. 
Real people, fabulous service:
EverLighten loves helping; they offer various options. 
Free design help and unlimited customization:
Your item design will look as you imagined with support from in-house designers.  
No minimum order requirement:
You can order any number of items you need; they accept every order without a minimum limit. 
Worldwide shipping:
They deliver worldwide, and customers can track their orders online with an order tracking tool.