Top 6 Packaging Options for Custom Socks: Enhancing Presentation and Branding | EverLighten
|
Aug, 17 , 23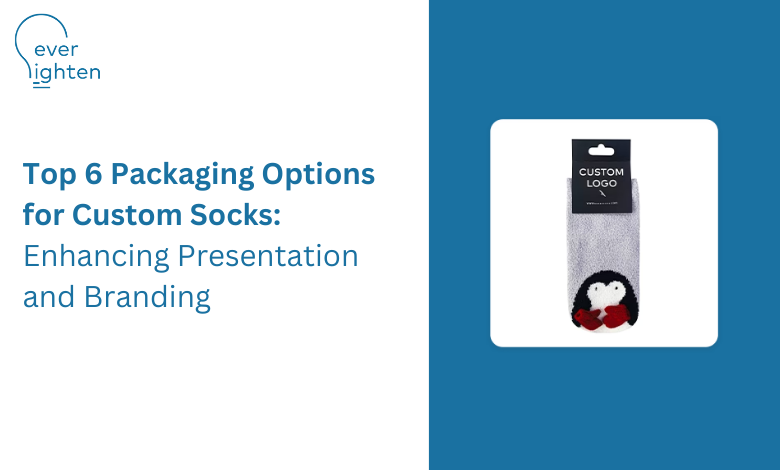 Packaging is vital in custom socks beyond mere practicality and protection. It is a powerful tool to enhance presentation and brand experience for both businesses and customers. In this blog post, we will explore the significance of packaging for custom socks and how it elevates the overall presentation and brand experience.
Importance of Packaging for Custom Socks

Preliminary impression: It sets the stage for their overall perception of your brand. A well-designed and thoughtfully executed packaging immediately captures attention, creates anticipation, and leaves a lasting impression.


Reflecting Brand Identity: Packaging is an opportunity to showcase your brand's identity and values. It communicates your brand story, aesthetics, and unique selling propositions. The design elements, color schemes, and materials used in the packaging should align with your brand image, creating a cohesive and memorable brand experience.


Differentiation in the Market:

Custom socks

competition is high, and packaging can be a key differentiating factor. Unique and eye-catching packaging sets your socks apart from others and makes them more memorable to customers. It helps create a distinct brand identity and increases the chances of customers choosing your socks over others.


Unboxing Experience: Unboxing has become an experience in itself, and customers now seek excitement and delight when opening their purchases. Well-designed packaging adds an element of surprise, joy, and anticipation during the unboxing process. It creates a positive emotional connection with customers and increases their satisfaction and likelihood of sharing their experiences on social media.


Brand Perception and Quality: Packaging quality directly influences how customers perceive the quality of your custom socks. Premium and well-crafted packaging conveys a sense of value, attention to detail, and professionalism. Customers associate the quality of the packaging with the quality of the product inside, which enhances their perception of your brand and fosters trust.


Marketing and Brand Exposure: Packaging is a marketing tool beyond the initial purchase. Customers who are satisfied with the packaging are more likely to reuse or display it, inadvertently promoting your brand to a broad audience. Additionally, well-designed packaging incorporating your logo and branding elements increases brand visibility and recognition in stores or during transit.

Polybag

Polybags are a popular and cost-effective packaging option for custom socks. These transparent plastic bags provide a practical and functional solution for protecting and organizing socks during transportation and storage.


Cost-Effective Option: One of the primary advantages of polybags is their affordability. They are a budget-friendly packaging choice, particularly for businesses looking to minimize packaging costs without compromising functionality. Polybags offer a cost-effective solution for packaging large quantities of custom socks.


Protection and Hygiene: Polybags effectively shield socks from dust, dirt, moisture, and other external elements that could potentially damage or soil them. They help maintain the cleanliness and quality, from packaging until they reach the customer. Polybags also prevent the tangling or mixing of different sock pairs, ensuring they remain organized and intact.


Versatility and Flexibility: Polybags come in various sizes, allowing you to choose the most appropriate dimensions for your socks. You can tailor polybags to fit them snugly whether you have ankle-length, crew, or knee-high socks. Their flexibility and adaptability make them suitable for many sock styles and sizes.


Customization Options: Although polybags are relatively simple, you can still customize them to incorporate your brand's logo, name, or other printed elements. Adding a personalized touch to the polybags enhances brand recognition and creates a cohesive experience. You can customize by using printed stickers or labels that adhere to the surface of the polybags.


Clear Visibility: The transparent nature of polybags allows customers to easily see the socks inside without opening the packaging. This visibility is beneficial, as customers can assess the design, color, and quality of the socks before making a purchase decision. Clear visibility also appeals to customers who prefer to display their sock collection or want to have a glance at the socks they own.


Sustainable Options: While polybags may not be eco-friendly due to their plastic composition, we have sustainable alternatives. Biodegradable or compostable poly bags made from plant-based materials are becoming more popular as environmentally conscious packaging options. Sustainable polybags can help reduce your brand's carbon footprint and appeal to customers who prioritize eco-friendly choices.


Polybag + Logo
When packaging custom socks, adding a printed logo to polybags can elevate the presentation and offer several advantages.


Brand Recognition: A printed logo helps establish and reinforce your brand identity. By prominently displaying your logo, customers will become familiar with your brand. It contributes to brand recognition and recall. It is essential for creating a brand presence in the market.


Professionalism and Credibility: Including a logo on polybags adds a touch of professionalism to your packaging. It gives the impression that your brand is well-established and pays attention to detail. This professionalism enhances your brand's credibility, making customers feel confident in the quality and authenticity of your custom socks.


Consistency and Brand Cohesion: A printed logo ensures consistency across all packaging materials. It creates a cohesive brand experience by aligning with other brand elements, such as your website, social media, and product tags. Consistency in branding enhances brand recall and helps customers associate your logo with your products and values.


Differentiation and Competitive Advantage: In a crowded market, a printed logo on polybags helps differentiate your custom socks from competitors. It adds a unique visual element to your packaging, making it stand out on store shelves or online listings. This differentiation gives you a competitive advantage by making your brand more memorable and enticing to potential customers.


Professional Gift and Retail Packaging:

If you offer custom socks as gifts or sell them in retail stores, polybags with a printed logo elevate the perceived value of your

products

. It indicates a well-packaged gift or professionally curated retail item. This premium touch enhances the overall gifting experience and increases the appeal of your socks to potential customers.


Branding Beyond the Purchase: The printed logo on polybags extends your brand's reach beyond the initial purchase. Once customers receive and open the package, the polybag with your symbol may be repurposed or reused. It can expose your brand to a broad audience, as customers might reuse the polybag for storage, travel, or other purposes, inadvertently promoting it wherever they go.

Folding Box

Folding, rigid, or gift boxes provide durability, strength. It is premium for your custom socks. Unlike traditional packaging options like polybags, folding boxes offer a more substantial and elegant feel, adding a touch of sophistication to your brand and product.


Enhanced Protection and Presentation Offered by Folding Boxes


Sturdy Construction

: Folding boxes are made from rigid materials such as thick cardboard or paperboard, ensuring durability and protection for your custom socks during

shipping

and storage. The solid structure prevents crushing or damage, maintaining the socks' shape and quality.


Added Layers of Protection: Folding boxes often feature inserts or compartments that securely hold the socks in place, minimizing movement and reducing the risk of damage during transit. You can customize these inserts to fit specific sizes and shapes. It provides extra protection and prevents any tangling or mix-up of different sock pairs.


Luxurious Unboxing Experience: Folding boxes create an upscale unboxing experience for your customers. The premium feel adds excitement and anticipation when receiving the socks. The sturdy construction, thoughtful design, and attention to detail enhance the perceived value, leaving a lasting impression on customers.


Branding Opportunities: Folding boxes offer ample space for branding and customization. You can incorporate your logo, tagline, or other visual elements on the box surface. This branding opportunity allows you to create a visually striking packaging design that aligns with your brand's aesthetics and reinforces brand recognition.


Customization Possibilities with Folding Boxes


Custom Shapes and Sizes: You can tailor them per your requirements. They can be created in various shapes and sizes to accommodate different sock styles, from ankle-length to knee-high socks. This customization ensures a perfect fit for your socks, enhancing the overall presentation and functionality of the packaging.


Finishing Options: Folding boxes offer a wide range of finishing options to elevate their appearance. These options include embossing, debossing, foil stamping, spot UV coating, and textured finishes. These finishing touches add depth, texture, and visual interest to the box, making it more visually appealing and unique.


Inserts and Compartments: Custom inserts and compartments can be added to folding boxes to hold socks. You can customize them to accommodate single or multiple pairs of socks, ensuring they stay organized and protected. The inserts can also be designed with branding elements to create a cohesive and polished look.


Additional Features: You can enhance folding boxes with magnetic closures, ribbon ties, or window cutouts. These features add a luxurious touch and provide a peek into the socks inside, enticing customers and creating a sense of anticipation.


Backer Card

Backer cards showcase your brand's story, provide product information, and create a visually appealing backdrop for your custom socks. They are typically placed behind the socks within the packaging, allowing customers to see and engage with the card as they unbox the socks. Backer cards serve as an additional packaging layer, enhancing the overall presentation and elevating the unboxing experience.


Benefits of Using Backer Cards for Storytelling and Branding
Brand Storytelling: Backer cards offer a valuable opportunity to communicate your brand's story and values. You can share the inspiration behind your sock designs, the craftsmanship involved, etc. By connecting with customers on a deeper level through storytelling, you create a memorable and meaningful brand experience, fostering a sense of connection and loyalty.


Product Information and Details: Backer cards provide a space to convey important product information to customers. You can include details such as the sock materials, care instructions, sizing information, or special features. This transparency and informative approach enhance the customer's understanding and appreciation of your socks, increasing satisfaction and confidence in their purchase.


Limited Editions and Special Collections: Backer cards can highlight limited editions or unique collections of custom socks. It allows you to create a sense of exclusivity and urgency among your customers, driving excitement and demand for these offerings. Backer cards can showcase distinctive features, design inspiration, or the story behind the limited edition or unique collection.


Visual Branding and Aesthetics: Backer cards are a canvas for visual branding elements. You can incorporate your brand's logo, color palette, typography, and other design elements on the backer card. This cohesive branding creates a professional and visually appealing packaging presentation. It reinforces your brand identity, increases brand recognition, and creates a lasting impression.


Hangtag

Hangtags are a versatile and visually appealing packaging option that adds extra branding and information to your custom socks. These small tags are attached to the socks using a string or ribbon. They offer several benefits in terms of brand visibility and customization. 


Importance of Hangtags for Brand Visibility
Brand Recognition: Hangtags offer a prime opportunity to prominently display your brand's logo, name, or visual identity. Hangtags help increase brand recognition, making it easier for customers to identify and remember your brand. They contribute to creating a cohesive and consistent brand presence across various touchpoints.


Point of Differentiation:

You can design hangtags in unique and creative ways to make your custom socks stand out from the competition. By using distinctive shapes, attention-grabbing

graphics

, or innovative materials, you can differentiate your brand and catch the attention of potential customers. The unique design elements of hangtags help create a memorable impression that sets your socks apart.


Information and Details: Hangtags provide a space to communicate essential information about your socks. It can include details such as the sock composition, care instructions, a sizing guide, or special features. Customers can easily access the necessary without searching for additional packaging or labels. 


Design Possibilities and Creative Use of Hangtags
Unique Shapes and Materials: You can customize hangtags in various shapes beyond the traditional rectangular form. Think outside the box and experiment with unique shapes that reflect your brand or sock design. Additionally, consider using unconventional materials like recycled paper, fabric, or sustainable alternatives to make your hangtags more eco-friendly.


Eye-Catching Graphics and Typography: Utilize visually striking graphics and typography on your hangtags to captivate attention. Consider using bold colors, attractive patterns, or visually appealing illustrations that align with your brand's aesthetics. The well-chosen graphics and typography can make your hangtags visually appealing and memorable.


Interactive or Functional Elements: Get creative with your hangtags by incorporating interactive or functional elements. It could include scratch-off panels, QR codes, or perforated sections offering discounts or revealing a surprise message. Such interactive things engage customers and make the hangtag experience more memorable and enjoyable.


Additional Branding Elements: Consider adding other branding elements to your hangtags apart from your logo. It could include your brand's tagline, social media handles, or a short brand story. You strengthen your brand identity and create a deeper connection with customers.

Hangtag with Hanger

Hangtags with hangers provide a retail-oriented packaging solution for custom socks. This packaging option combines the visual appeal with the functional aspect of hangers, offering several benefits for physical stores.


Benefits of Using Hangtags with Hangers for Physical Stores
Easy Display and Organization: Hangtags with hangers make it effortless to display and organize your custom socks in a retail environment. The hanger allows them to be hung neatly on racks or hooks, creating an attractive and organized display. It saves time for store staff and ensures that the socks remain easily accessible to customers.


Enhanced Brand Visibility: The combination of hangtags and hangers maximizes brand visibility in physical stores. The hangtag prominently displays your brand logo and name, catching the attention as they browse the store. This increased visibility helps create brand recognition and recall, allowing your socks to stand out among other products on display.


Professional and Retail-Ready Presentation:

Custom socks with hangtags with hangers appear professional. This packaging option indicates that your socks store ready. The combination of the hangtag and hanger adds a premium touch to the presentation, making your socks more appealing to potential customers.

Convenient Customer Experience: Hangtags with hangers offer convenience to customers when shopping for custom socks in physical stores. The hangers make it easy for customers to browse the available sock options, allowing them to examine the designs, colors, and details without hassle. This convenience can lead to a positive customer experience, encouraging purchases and repeat visits.


Conclusion

Choosing the packaging can significantly impact your brand's presentation and customer experience for custom socks. Each option offers its advantages to elevate your brand and engage customers.


EverLighten Creates High-Quality Custom Socks for Global Resources/SMS

When Global Resources/SMS, a leading financial services provider, needed custom crew socks for their employee giveaways, they sought high-quality, one-size-fits-all socks. After being dissatisfied with other manufacturers, they turned to EverLighten for assistance. Despite a tight 14-day deadline, EverLighten delivered exceptional custom socks that exceeded expectations. The success of the first order led to another bulk order, cementing EverLighten's reputation as a trusted partner for top-notch custom products.
Read the complete story, https://everlighten.com/blogs/success-stories/global-resources-sms-custom-socks

If you're seeking a reliable partner to bring your custom socks and packaging ideas to life, look no further than EverLighten. With our expertise in manufacturing high-quality custom products, including custom socks, EverLighten can provide exceptional products that reflect your brand's identity and values.


FAQs




Which plastic is used for packaging socks?

The most common plastic used for packaging socks is polypropylene (PP). PP is a clear, sturdy, lightweight plastic that is relatively inexpensive. It is also a recyclable material, which makes it a good choice for sustainable packaging.



How can you label socks?

There are a few different ways to label socks. One way is to use a heat transfer label. Another way to label socks is to use a printed label. Printed labels are of paper or plastic, and you can print with any information you need, such as the brand name, size, and style of the socks.



How do you put name tags on socks?

There are a few different ways to put name tags on socks. 

One way is to sew the name tags onto the socks.

Another way to put name tags on socks is to use safety pins. 

A third way to put name tags on socks is to use adhesive name tags.



What type of plastic is used for packaging?

The most common type of plastic used for packaging is polyethylene (PE). 

Other types of plastic for packaging include polypropylene (PP), polyvinyl chloride (PVC), and polystyrene (PS).



Is plastic a good packaging material?

Plastic is a good packaging material because it is strong, lightweight, and relatively inexpensive. It is also a versatile material for a wide variety of packaging products. However, plastic is not a sustainable material. It can take hundreds of years to decompose and pollute the environment if you do not properly dispose.