How to Use Custom Basketball to Grow Your Brand and Expand Your Organization's Following | EverLighten
|
Aug, 16 , 23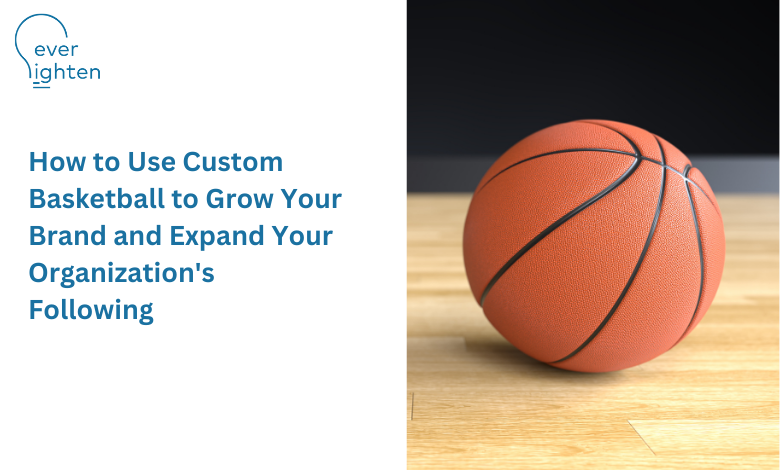 Branding plays a crucial role in the success of any organization. It helps establish a unique identity, build trust, and differentiate from competitors. In today's digital age, building a following is equally important. It allows organizations to engage with their target audience, generate loyal customers, and expand their reach.
Custom basketball is one powerful tool that can effectively contribute to branding and growing an organization's following. While basketball is widely popular, customizing your organization's branding elements takes it to the next level. It offers a creative and unique way to showcase your brand identity, capture attention, and leave a lasting impression on your audience.
From designing your basketball to promoting it through various channels, we will explore how this dynamic approach can help you stand out in a competitive landscape and achieve your branding goals.

Understand Your Branding Goals

Before diving into using custom basketball to grow your brand and expand your organization's following, it's crucial to understand your branding goals. It will provide a strong foundation for your strategies and ensure alignment with your organizational objectives.


Identify your organization's mission, values, and audience





Determine the core values that define your organization's identity and culture. What do you stand for? What principles guide your actions?

Clarify your mission statement, which encapsulates the purpose and goals of your organization. What are you trying to achieve?

Identify your target audience, their demographics, choices, and wants. Who are your ideal customers or supporters?



Determine the primary elements of your brand




Craft a compelling brand story that reflects your organization's history, values, and mission. What makes your organization unique?

Establish your brand voice and tone. How do you want to communicate with your audience? Are you professional, friendly, authoritative, or casual?

Create a visual identity that includes your organization's logo, color palette, typography, and overall design aesthetic. What visual elements represent your brand?



Outline the specific goals you aim to achieve through branding and expanding your following




Consider the overall objectives of your organization. Are you looking to increase sales, raise awareness, attract sponsors, or expand into new markets?

Determine specific metrics to measure your branding success, such as increased website traffic, social media engagement, customer acquisition, or event attendance.

Set realistic and measurable goals that align with your organization's long-term vision and contribute to its growth.
Designing Your Custom Basketball


Significance of custom basketball in representing your brand




Custom basketball serves as a unique canvas for showcasing your brand. It allows you to infuse your organization's values, personality, and visual identity into a tangible and visible item.

You create a memorable and distinctive product that can leave a lasting impression on your audience by incorporating your branding elements into basketball.

Custom basketballs offer an opportunity to showcase your creativity, attention to detail, and commitment to excellence, which can positively influence how your brand is perceived.





Benefits of designing custom basketball




Uniqueness: Custom basketballs set you apart from the competition by offering a one-of-a-kind item. It helps create a sense of exclusivity and intrigue around your brand.

Brand visibility: A custom basketball is a mobile advertisement for your organization. Whether in games, training sessions, or public events, it grabs attention and increases brand visibility.

Engaging with fans: Custom basketballs can become collectible items that fans and supporters eagerly desire. It creates a deeper connection between your brand and audience, fostering loyalty and engagement.



Tips for creating an eye-catching design aligned with your brand identity




Reflect on your brand values: Incorporate visual elements and symbols that align with your organization's values and mission. For example, consider using bold and powerful design elements if your brand represents strength and determination.

Use brand colors: Integrate your brand's color palette into the design. Consistency in colors helps reinforce brand recognition and creates a cohesive visual identity.

Incorporate your logo: Ensure your organization's logo is on the basketball. It acts as a visual anchor and reinforces brand association.

Balance aesthetics and readability: Strive for a visually appealing design while ensuring that any text or graphics included on the basketball and easy to read.

Seek professional help if needed: If you lack design expertise, consider collaborating with graphic designers or professional design agencies to create a visually stunning and impactful custom basketball design.


Incorporating Branding Elements

Incorporating your organization's logo, colors, and tagline into the design of your custom basketballis crucial for brand consistency and recognition.


Importance of incorporating branding elements



Logo: Your organization's logo is the visual representation of your brand and serves as a powerful identifier. Including it in basketball helps establish a brand association and increases recognition.

Colors: Consistent use of your brand's colors reinforces brand identity and creates a cohesive visual experience. Incorporating these colors into the basketball design helps maintain consistency across different touchpoints.

Tagline: If your organization has a memorable catchphrase or slogan, using it on the basketball can enhance brand messaging and leave a lasting impression on viewers



Tips for tastefully integrating branding elements



Placement: Strategically place your logo, colors, and tagline on the basketball. Consider using areas that naturally draw attention, such as the center or focal points of the design. It ensures visibility without overwhelming the overall aesthetic appeal.

Size and scale: Balance the size and scale of the branding elements to maintain harmony within the design. Avoid overpowering the basketball with large logos or text, as it may detract from the overall aesthetics.

Typography: Use fonts per your brand's identity. Ensure legibility by choosing font styles that are easily readable on a spherical surface.

Subtle patterns or accents: Explore incorporating subtle patterns, textures, or accents that complement your branding elements. It can add depth and visual interest to the basketball design without overshadowing the primary branding elements.

Color harmony: Integrate your brand's colors harmoniously into the design. Consider using complementary or analogous color schemes to create a visually pleasing composition. Balance vibrant and neutral colors to maintain a balanced look.


Promoting Your Custom Basketball 

Promoting your custom basketball is essential to maximize its impact on growing your brand and expanding your organization's following.


Explore various marketing channels



Social media platforms: Utilize popular platforms like Instagram, Twitter, Facebook, and YouTube to showcase your custom basketball. Share captivating images, videos, and stories highlighting the design, uniqueness, and benefits. Engage with your audience, encourage user-generated content, and use relevant hashtags to extend your reach.

Website and blog: Create a dedicated page on your organization's website or blog to showcase your custom basketball. Provide detailed information, high-quality visuals, and compelling storytelling to attract and educate your audience.

Email marketing: Leverage your email subscriber list to promote your custom basketball. Create engaging newsletters or announcements highlighting the design, features, and limited availability. Offer exclusive discounts or incentives to your subscribers to encourage purchases.

Offline channels: Explore traditional marketing channels such as print media, local community events, and sports-related publications to reach a wider audience. Consider placing advertisements or press releases to generate buzz around your custom basketball.




The power of social media for a wider audience



Harness social media platforms to amplify your message. Engage with your followers, respond to comments and inquiries, and encourage sharing and tagging to expand your reach organically.

Collaborate with social media influencers or athletes who align with your brand values and target audience. They can promote your custom basketball through their platforms, reaching their dedicated followers and boosting your visibility.

Run social media contests or giveaways centered around your custom basketball. Encourage users to participate by sharing, tagging friends, or creating user-generated content related to your basketball. It fosters engagement and virality, increasing exposure for your brand.



Strategies for leveraging influencers, sponsored events, and partnerships



Identify influencers or athletes with a strong presence in the basketball community or your target audience. Collaborate with them to create content featuring your custom basketball, such as unboxing videos, reviews, or on-court demonstrations.

Sponsor basketball events, tournaments, or leagues to showcase your custom basketball. Offer branded merchandise, giveaways, or even custom basketballs as prizes to generate excitement and visibility.

Seek partnerships with sports organizations, schools, or basketball-related businesses. Collaborate on co-branded initiatives, cross-promotions, or joint marketing campaigns to leverage their existing audience and expand your reach.

Engaging with Your Audience

Engaging with your audience is vital for growing a loyal following and building a community around your brand.


Significance of engaging with your audience




Building relationships: Engaging with your audience allows you to establish personal relationships. It humanizes your brand and creates a sense of trust and loyalty among your followers.

Community building: By actively engaging with your audience, you foster a community where like-minded individuals can come together, share experiences, and support each other.

User-generated content: Encouraging participation and interaction leads to user-generated content. When your audience creates content related to your custom basketball, it increases brand visibility and strengthens the bond between your brand and your followers.



Ideas for organizing basketball-related contests, giveaways, or challenges




Photo or video contests: Encourage your audience to share pictures or videos of themselves with your custom basketball. Select winners based on creativity, enthusiasm, or specific themes related to your brand or basketball.

Caption contests: Share an image of your custom basketball and ask your audience to captions. Choose the most engaging or humorous captions and reward the winners.

Basketball challenges: Design fun basketball challenges that your audience can participate in and share their results. It could be shooting challenges, dribbling routines, or trick shots. Recognize and celebrate the participants' achievements.

Predictions or quizzes: Organize prediction contests for basketball games. Offer prizes to participants with the most accurate predictions or highest scores.



Importance of responding to comments, messages, and feedback




Timely responses: Promptly reply to comments, messages, and inquiries. Show that you value their engagement and opinions by providing helpful and genuine replies.

Encourage dialogue: Initiate conversations with your audience by asking open-ended questions or seeking their input on basketball-related topics. It encourages active participation and invites diverse perspectives.

Feedback and improvement: Actively listen to feedback from your audience regarding your custom basketball, contests, or overall brand experience. Use this feedback to improve and meet their expectations.

User-generated content sharing: Repost or share user-generated content featuring your custom basketball. It demonstrates your appreciation for their support and encourages further engagement from others.

Leveraging Custom Basketball for Organizational Growth

Using custom basketball as a strategic tool helps grow your brand and expand your following but also opens up potential benefits for attracting sponsors, investors, or partnerships.


Significance of engaging with your audience



Unique branding opportunity: Custom basketball offers a unique and eye-catching marketing opportunity for sponsors, investors, or potential partners. They can associate their brand with your custom basketball, creating a mutually beneficial partnership that enhances both organizations' visibility.

Targeted audience reaches: You can demonstrate a strong connection with your target audience through your custom basketball and associated promotional efforts. It attracts sponsors, investors, or partners interested in reaching and engaging with the same audience.

Increased exposure and brand alignment: Custom basketball with your organization's branding elements prominently displayed generate increased exposure and visibility. This visibility attracts sponsors, investors, or partners who align with your brand values, mission, or target market, as they see the potential for a meaningful partnership.




Expanded opportunities for your organization



Enhanced brand recognition: Through custom basketball, your brand gains increased recognition and visibility within the basketball community and among a broader audience. The heightened brand recognition can lead to new partnerships, collaborations, or sponsorships.

Credibility and professional image: By investing in a custom basketball and incorporating it into your branding efforts, you demonstrate a commitment to professionalism, excellence, and attention to detail. It enhances your organization's credibility and attracts like-minded sponsors, investors, or partners.

Access to new markets or demographics: Custom basketball and its associated promotions can help expand your organization's reach into new markets or demographics. The increased visibility and brand recognition generated by custom basketball can capture the attention of previously untapped audiences, creating opportunities for growth and expansion.

Competitive advantage: Standing out in a crowded marketplace is crucial for organizational growth. Utilizing custom basketball as a branding tool gives you a competitive edge by offering a unique and creative approach. It sets you apart from competitors and increases your chances of attracting sponsors, investors, or partners.


How EverLighten helped create high-quality custom basketballs

Eric Thomes wanted to present his high school basketball players with custom basketballs, each adorned with the player's name, to symbolize their accomplishments of scoring 1,000 points in a season. However, finding a manufacturer capable of delivering three distinct basketball designs was challenging. 
EverLighten's Solution: Upon receiving Eric Thomes' inquiry, EverLighten embraced the opportunity to fulfill his vision. Despite the complexity, EverLighten's team accepted the challenge with enthusiasm. We took the following steps to achieve the desired outcome:
Initial Consultation and Quote: EverLighten engaged in an in-depth consultation with Eric Thomes to understand his specific requirements. It was a comprehensive quote outlining the project's scope and costs.

Budget-Friendly Approach: Eric expressed concerns about budget constraints. EverLighten proactively collaborated with raw materials suppliers to negotiate competitive prices without compromising quality.

Personalized Design Process:EverLighten's design team worked closely with Eric to create personalized leather designs for each basketball. We matched similar types of leather, and synthetic alternatives, offering Eric a range of options.

Approval and Prototyping: We presented a technician panel drawing to ensure the designs were accurate, saving time and enhancing customer satisfaction. We created a sample and promptly shared it with Eric for review.

Efficient Production: With Eric's approval, EverLighten's production team went to work. We created three unique basketball designs with meticulous attention to detail and uncompromising quality.
Results: The collaboration between EverLighten and Eric Thomes resulted in a resounding success:
Customer Satisfaction: Eric and his team were delighted with the final custom basketballs. The high-quality craftsmanship exceeded their expectations, leaving a lasting impression on the players and Eric as a coach.

Swift Delivery: EverLighten demonstrated its capability to deliver custom items promptly without compromising quality. The sample was completed within seven days, showcasing EverLighten's commitment to timely service.
EverLighten's case study with Eric Thomes showcases the company's unwavering dedication to bringing custom item ideas to life. By collaborating closely with the client, offering budget-friendly solutions, and delivering top-quality products within a short timeframe, EverLighten exemplified its commitment to excellence. The personalized custom basketballs are a testament to the players' achievements and a strong sense of pride among the recipients. The successful partnership between EverLighten and Eric Thomes exemplifies how passion, expertise, and innovation can transform dreams into tangible realities.
https://everlighten.com/blogs/success-stories/custom-basketballs-eric-thomes


Conclusion

Custom basketball as a strategic tool to grow your brand and organization following can yield remarkable results. By incorporating your branding elements, designing eye-catching basketballs, engaging with your audience, and leveraging the increased visibility, you can attract sponsors, investors, and partnerships while opening up new opportunities for your organization.
To bring your custom basketball vision to life, we encourage you to connect with EverLighten. With our expertise in creating high-quality custom products, including basketballs, they can provide you with the best value and ensure that your brand gets the most attention. EverLighten takes pride in its attention to detail, commitment to customer satisfaction, and competitive pricing, making them the ideal partner for your custom basketball needs.


FAQs


How to design a basketball?

Designing a basketball involves creating the outer texture, color schemes, and graphics for the ball's surface. Professional basketballs are often designed with input from players, coaches, and manufacturers to optimize performance and aesthetics.



How can I legally use sports logos?

To legally use sports logos, you must obtain permission from the respective sports organizations or teams that own the logos. You can do it through licensing agreements, which may involve paying royalties or fees.



How profitable is basketball?

Basketball can be highly profitable, especially for professional leagues and major tournaments. Revenue comes from ticket sales, sponsorships, broadcasting rights, merchandise, and endorsements.



How much does it cost to make a basketball?

The cost of making a basketball varies depending on the quality, materials used, and production scale. Professional-grade basketballs can cost more due to higher-quality materials and manufacturing standards.



Can I put a picture on a basketball?

Yes! It is possible to put a picture on a basketball through custom printing. However, ensure you have the right to use the image to avoid copyright infringement.



How to custom-paint a basketball?

Custom painting a basketball involves using specialized paints and techniques to create unique designs on the ball's surface. It requires skill and attention to detail to achieve the desired results.



What kind of material is used in basketballs?

Basketballs are commonly made from materials like synthetic rubber or leather for the outer covering and have an inflatable rubber bladder inside for proper air pressure and bounce.



How big is the basketball market?

The basketball market is significant and global, encompassing professional leagues, collegiate competitions, school and amateur leagues, and the sale of basketball equipment and merchandise.