The Future of Custom Socks: Antimicrobial Fabrics Are the Next Big Thing | EverLighten
|
Aug, 19 , 23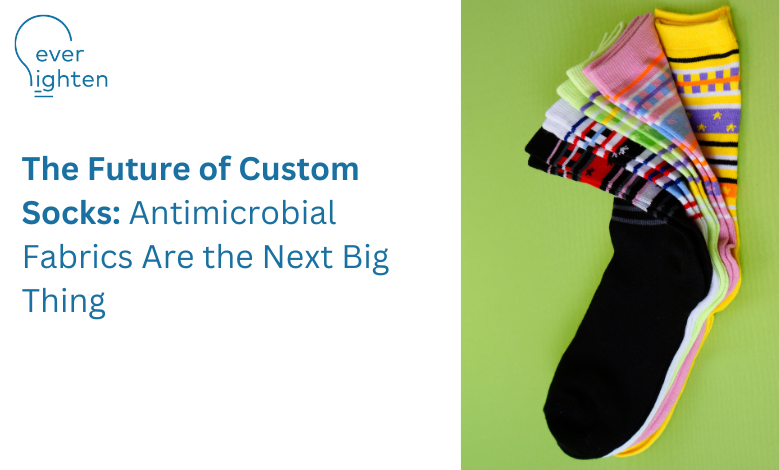 Custom Socks: Antimicrobial Fabrics Are the Next Big Thing

Socks: those unassuming garments play a crucial role in our daily lives. They are the unsung heroes that keep our feet cozy and protected, whether dashing to catch the morning train, lounging at home, or conquering a hiking trail. But have you ever stopped to consider the potential of socks beyond their function? That is where the future of custom socks comes into play, and the buzz is about one groundbreaking feature: antimicrobial fabrics.
Understanding Antimicrobial Fabrics

Antimicrobial fabrics may sound like something out of a science fiction novel, but they are a reality reshaping the textile industry. At their core, antibacterial fabrics are specially engineered materials designed to inhibit the growth of microorganisms like bacteria, fungi, and even viruses. This innovative technology goes beyond mere cleanliness, offering a proactive approach to maintaining hygiene and health.
The secret to the effectiveness of antimicrobial clothing lies in its ability to disrupt the cellular structure of microorganisms. This disruption prevents their growth and reproduction, ultimately leading to a reduction in the spread of germs. Unlike traditional fabrics, which can serve as breeding grounds for various pathogens, antimicrobial materials actively work to create an inhospitable environment for these microorganisms.


Benefits of Antimicrobial Fabrics in Socks

The benefits are both practical and health-oriented. 
Firstly, antibacterial socks combat one of the most common sock-related issues: odor. By minimizing the bacterial growth responsible for odors, these socks keep your feet smelling fresh even after a long day.

Antimicrobial socks contribute to enhanced foot hygiene. Moisture is a primary factor that promotes microbial growth, and our feet tend to get sweaty – especially during active pursuits. Antibacterial fabrics wick moisture away from the skin, reducing the chances of bacterial proliferation and potential infections.


Comparison with Traditional Sock Materials
Conventional socks may provide comfort and warmth, but they can quickly become breeding grounds for bacteria due to their moisture-retaining properties. On the other hand, antimicrobial clothing actively inhibits bacterial growth, creating an environment for foot health.

While traditional socks might require frequent washing to combat odors, antibacterial socks can retain their freshness for a long, reducing the need for constant laundering. It saves time and contributes to a more sustainable approach to clothing care.


The Evolution of Custom Socks

Customization has always been a cornerstone of fashion, allowing individuals to express their unique personalities and preferences through their clothing choices. In this era of personalization and innovation, even the humble sock has undergone a remarkable evolution. The days of standard, one-size-fits-all socks are long gone, replaced by a dynamic landscape of custom socks that cater to diverse tastes and needs. But there's a new player in this evolutionary journey. It will revolutionize how we perceive and wear socks – the antimicrobial material.


From Basic Necessity to Fashion Statement

Socks once considered a mere necessity for protecting our feet from discomfort and cold, have evolved into fashion statements in their own right. No longer confined to neutral colors and simple designs, socks have become canvases for artistic expression, brand promotion, and even social causes. 
Custom sock companies have sprung up, offering options to match individual preferences – from quirky patterns and vibrant hues to personalized messages and intricate artwork.
This shift towards customization has tapped into the innate human desire for self-expression and uniqueness. But beyond aesthetics, the modern consumer is becoming increasingly conscious of hygiene and well-being. As awareness of the importance of maintaining a clean and healthy environment grows, it's only natural that this awareness extends to the garments closest to our skin.
Enter the Antimicrobial Clothing

Imagine socks reflecting your style and actively contributing to your foot health. The antimicrobial materials of custom socks mark a significant leap forward in addressing comfort and hygiene. These innovative textiles, embedded with properties that inhibit the growth of harmful microorganisms, bring a new dimension to sock design.
The antimicrobial element in custom socks addresses concerns such as odor control and bacterial proliferation. These issues have long plagued traditional sock materials. By incorporating this advanced technology, sock designers ensure they do not compromise trends with comfort and vice versa. Whether sprinting through a busy day, sweating at the gym, or simply lounging at home, antimicrobial custom socks are designed to keep your feet fresh and clean.


Advantages of Antimicrobial Custom Socks


Odor Control and Hygiene



Bid farewell to the age-old struggle of battling foot odor. Antimicrobial custom socks combat the growth of odor-causing bacteria. The antimicrobial properties woven into the fabric actively inhibit the proliferation of these microbes, preventing the buildup of unpleasant odors. Whether you're spending hours on your feet at work, engaging in physical activities, or simply navigating your day, these socks keep your feet feeling fresh and odor-free. Embracing antimicrobial custom socks means embracing a new level of foot hygiene beyond surface cleanliness.


Moisture Management and Comfort

Our feet endure a lot throughout the day, often leading to moisture buildup from sweat. This damp environment becomes a breeding ground for bacteria and fungi. It can lead to discomfort and even infections. Antimicrobial custom socks tackle this issue head-on with their moisture-wicking properties. By efficiently drawing moisture away from the skin, these socks create an environment less conducive to microbial growth. The result? Enhanced comfort and reduced risk of skin irritations or infections. No more feeling bogged down by damp socks during your activities – antimicrobial technology keeps your feet dry and content.


Prolonged Lifespan of Socks

We all know the frustration of seeing our favorite socks lose their vibrancy, elasticity, and quality over time. Antimicrobial custom socks offer a solution to this common woe. These custom socks maintain their integrity and longevity by preventing the growth of microbes that can break down fibers and degrade materials. It means that your custom socks retain their visual appeal and continue to provide the same level of comfort and performance for an extended period. Investment in antimicrobial custom socks pays off in the form of socks that look and feel newer for longer.
Technological Advancements in Antimicrobial materials

From fabric treatments that target microorganisms to the integration of cutting-edge nanotechnology, the evolution of antibacterial fabrics is a testament to human ingenuity and our ongoing commitment to enhancing our daily lives. 


Innovations in Fabric Treatments

The journey of antimicrobial textiles begins with innovative treatments for fabrics. These treatments involve antimicrobial agents directly into the fibers or onto the surface. People have used silver and copper compounds for their inherent antimicrobial properties. However, the research and development in this area have led to the creation of newer, more effective compounds that target a broader spectrum of microorganisms.
Today, fabrics can undergo treatment processes that infuse them with antimicrobial properties while retaining their texture, color and feel. This innovation ensures that the antimicrobial effect remains durable even after multiple washes, making these textiles a practical and long-lasting solution for maintaining hygiene.


Integration of Nanotechnology

Nanotechnology has emerged as a game-changer in the realm of antibacterial fabrics. By harnessing the power of nanoparticles, scientists and engineers have developed fabrics that possess enhanced antibacterial capabilities. Nanoparticles can penetrate the cell walls of microorganisms, disrupting their vital functions and inhibiting their growth.
Silver nanoparticles, for instance, have shown exceptional promise in this field. When incorporated into textiles, they act as tiny guards, continuously working to eliminate harmful bacteria and viruses. This integration of nanotechnology elevates the effectiveness of antimicrobial clothing, taking the battle against microorganisms to a microscopic level.


Sustainability of Antimicrobial Techniques

Antimicrobial textiles have also embraced eco-friendly approaches. Antimicrobial fabric manufacturers are exploring natural antimicrobial agents derived from plant extracts and essential oils. These alternatives offer effective microbial inhibition without synthetic chemicals, making them a more sustainable choice for consumers and the environment.
Additionally, they are directing efforts toward ensuring that the production and disposal of antimicrobial textiles have a minimal ecological impact. It includes exploring biodegradable materials and optimizing manufacturing processes to reduce waste and energy consumption.

Concerns and Myths

Antimicrobial treatments have sparked discussions and raised concerns. It is a common phenomenon with any new technology. We address these concerns and dispel any myths surrounding antimicrobial fabrics. 


Safety of Antimicrobial Treatments

One common concern is the safety of antimicrobial treatments, particularly in direct contact with our skin. They did extensive research and testing to ensure that the antimicrobial agents used in textiles are safe for human use. Regulatory bodies set standards to assess the impact of these agents on human health and the environment before commercial use.
Furthermore, antimicrobial materials inhibit microbial growth without harm to humans. The treatments release antimicrobial agents at a controlled rate, ensuring they remain effective while minimizing any potential risks.


Environmental Impact and Biodegradability

The environmental impact of antimicrobial fabrics is another concern that deserves attention. Some treatments and agents used in traditional antimicrobial fabrics have raised questions about their persistence in the environment. However, we are developing antimicrobial clothing with reduced environmental impact.
Researchers are exploring biodegradable and naturally derived antimicrobial agents to mitigate concerns over long-term environmental effects. Additionally, innovations in manufacturing processes minimize waste and energy consumption during production.


Clarifying Misconceptions

Misconceptions about antimicrobial textiles can sometimes cloud our understanding of their benefits. One common misconception is that antimicrobial fabrics eliminate all microorganisms, including beneficial ones. In reality, these textiles target harmful microorganisms while leaving beneficial ones untouched. It ensures that the body's natural microbiome remains intact.
Another misconception is that antimicrobial clothing render washing unnecessary. While these textiles maintain freshness and hygiene for longer, regular washing remains crucial to remove dirt and sweat.


Case Studies of Successful Antimicrobial Fabric Manufacturers


FreshFeet: This brand became famous for odor control and foot hygiene. FreshFeet's antimicrobial socks have become synonymous with freshness and comfort. By combining advanced fabric treatments with stylish designs, FreshFeet has captured the attention of active individuals seeking both performance and aesthetics.


HygieneStride: With an emphasis on moisture management and prolonged sock lifespan, HygieneStride has carved a niche in the market. The brand's commitment to sustainable antimicrobial agents resonates with environmentally conscious consumers. Their success story highlights the importance of aligning innovation with consumer values.


Market Reach and Impact

The impact of the antimicrobial sock revolution is not limited to a specific demographic; it has a broad reach across various age groups and lifestyles. Brands that have embraced antimicrobial technology have gained traction among athletes, fitness enthusiasts, and professionals seeking comfort during long work hours. The market for these socks continues to expand as more consumers recognize their benefits beyond traditional socks.
Furthermore, the influence of these brands extends beyond individual customers. Corporate partnerships, collaborations with medical professionals, and endorsements from influencers in the health and wellness sectors have contributed to the widespread adoption of antimicrobial socks.
Organizations taking antimicrobial socks to the next level:
Darn Tough: Darn Tough is a company that makes high-quality socks for outdoor enthusiasts. They offer a line of custom socks made with antimicrobial yarn to help prevent odor and bacteria buildup.
Smartwool: Smartwool is a company that makes high-performance socks for outdoor enthusiasts. They offer a line of antimicrobial socks that are perfect for active and who sweat a lot.
Over to you:

Custom socks are undergoing a remarkable transformation with the infusion of antimicrobial fabrics. These textiles offer benefits beyond aesthetics, addressing our growing concerns for hygiene, comfort, and sustainability. As we journey through this evolution, it's clear that innovation in the textile industry is opening doors to a more personalized, health-conscious, and eco-friendly approach to sock-wearing.
If you're intrigued by the possibilities of antimicrobial custom socks and want to experience these benefits firsthand, look no further than EverLighten. EverLighten is a leader in custom socks, and its commitment to quality and customization is unparalleled. 
What sets EverLighten apart? 


100% Customization: Express your unique style through fully customizable designs that reflect your personality.


Low MOQ: Whether you need a few pairs or a larger batch, EverLighten accommodates orders of all sizes.


Free Shipping: Seamlessly receive your customized socks with the added convenience of free shipping.


Free Design Help: Unsure about your design? EverLighten offers expert design assistance to bring your vision to life.


Unlimited Customization: The customization options are limitless, from colors and patterns to logos and messages.


24/7 Customer Support

: Have questions or need assistance? EverLighten's customer support is available around the clock.
Connect with EverLighten today and step into a world of innovation, comfort, and personalization.


FAQs




What are antimicrobial socks?

Antimicrobial socks are treated with an antimicrobial agent to prevent the growth of bacteria and fungi. It can help to prevent foot odor, athlete's foot, and other infections.



What fabric is most antimicrobial?

Several fabrics are naturally antimicrobial, including:

 

What are the benefits of antimicrobial fabric?

There are several benefits to wearing antimicrobial socks, including:

Prevention of foot odor

Prevention of athlete's foot

Improved comfort

Increased durability

 

What is the most effective antimicrobial?

There is no one "most effective" antimicrobial. The best antimicrobial for you will depend on your individual needs and preferences. If you want a natural antimicrobial, merino wool is a good option. If you are looking for a more affordable option, cotton can work.