Gear Up for Success: Top 15 Custom Products For Back-to-School Essentials with EverLighten
|
Aug, 02 , 23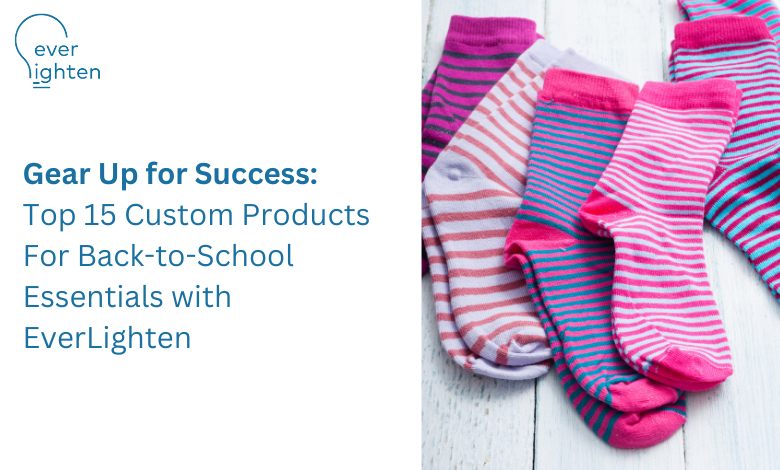 As the back-to-school season approaches, it's the perfect time to make a name for your brand and capture the attention of students, parents, and educators. To help you stand out, we've curated a collection of 15 top products perfect for selling and promoting during this exciting time. These customizable items elevate your brand visibility, foster school spirit, and create a lasting impression among your target audience.


Why back to school is crucial for brands?

The back-to-school season holds significant importance for brands due to several reasons:


High consumer demand: Back-to-school is when parents and students actively seek products and services to prepare for the upcoming academic year. It presents a prime opportunity for brands to tap into a large consumer base.


Increased spending: Back-to-school shopping involves many purchases, including clothing, stationery, electronics, and more. It is a period when consumers are willing to spend money to ensure they have the necessary items for a successful school year. Brands can benefit from this increased spending by offering attractive products and promotions.


Brand exposure and awareness: Back-to-school marketing campaigns allow brands to enhance their visibility and generate awareness among their target audience. By showcasing their products and services during this season, brands can capture the attention of parents, students, and educators, creating lasting impressions and building brand recognition.


Brand loyalty and customer retention: Establishing a connection with students and parents during the back-to-school period can lead to long-term brand loyalty. By delivering quality products, exceptional customer service, and memorable experiences, brands can cultivate relationships extending beyond the back-to-school season, encouraging repeat business and customer retention.


Opportunities for new product launches: Back-to-school season is perfect for brands to launch new products or introduce innovative offerings. By aligning with the needs and preferences of students and parents, brands can create excitement, generate buzz, and differentiate themselves in the market.


Partnerships with schools and educational institutions: Back-to-school campaigns often involve collaborations with schools, educational institutions, and student organizations. Such associations can offer brands access to a captive audience, co-branding opportunities, and the ability to position themselves as trusted and preferred suppliers among educational communities.


Influencer marketing potential: Back-to-school influencers and bloggers influence consumer purchasing decisions. Brands can leverage influencer partnerships to reach a wider audience, tap into established trust and credibility, and gain exposure through product endorsements and reviews.


Seasonal sales boost: Back-to-school shopping generates a surge in sales for numerous industries, making it a critical period for revenue generation. By offering compelling deals, discounts, and promotions, brands can capitalize on this increased consumer activity and achieve significant sales growth.


Back To School Products:
What are the things to keep in mind while creating back-to-school custom products?

When creating products for the back-to-school season, consider several factors to ensure their success. 


Understand your target audience: Gain a deep understanding of the preferences, needs, and aspirations of your target audience, whether it's students, parents, or educators. Consider age, gender, interests, and educational requirements to tailor your products accordingly.


Quality and durability:

Focus on creating

high-quality

products that are durable and built to withstand the demands of a school environment. Students and parents value items that can last throughout the academic year, ensuring they get a return on their investment.


Customizability: Provide options for customization to allow individuals to personalize the products according to their preferences. Whether adding names, logos, or designs, customization creates a sense of ownership and uniqueness to the products.


Safety considerations: Ensure that the products meet safety standards and regulations, especially when creating items for children. Check materials, finishes, and construction to minimize any potential risks.


Functional and practical design: Create products for their intended use. Consider the specific needs of students, parents, or educators and design features that enhance usability and convenience.


Branding and identity: Incorporate your brand's identity into the products through logos, colors, or design elements. The products should reflect your brand's values and messaging, helping to build brand recognition and loyalty. 


Trend relevance: Stay updated on the latest trends and preferences within the back-to-school market. Incorporate popular themes, colors, patterns, or characters that resonate with your target audience, ensuring your products remain relevant and appealing.


Price point and affordability: Consider the pricing of your products and ensure they are right priced while still offering value for money. Find the balance between affordability and quality. 


Packaging and presentation: Eye-catching and well-designed packaging can enhance the perceived value of the items and leave a positive impression on customers.


Sustainable practices: Consider incorporating sustainable practices into your products, such as using eco-friendly materials or responsible manufacturing processes. It can resonate with environmentally conscious consumers and reflect your brand's commitment to sustainability.

How to promote back-to-school custom items and your brands?

Promoting your back-to-school items and brand requires a well-rounded marketing approach. 


Social media marketing:


Create engaging content on platforms like Facebook, Instagram, Twitter, and LinkedIn to showcase your products. Use high-quality visuals, compelling  captions, and relevant hashtags to reach your target audience.
Collaborate with influencers or student ambassadors to promote your products through sponsored posts, reviews, or giveaways.
Run targeted ads to reach specific demographics, such as parents or students in your desired geographical area.


Email marketing:
Build an email list of interested customers and send regular newsletters or promotional emails highlighting your back-to-school items, discounts, and special offers.

Personalize your emails based on customers' preferences and purchase history to increase engagement and conversions.


Content marketing:
Create valuable and informative content related to the back-to-school season. It could include blog posts, videos, or infographics offering tips, advice, or guides for students, parents, or educators.

Optimize your content for search engines to increase organic visibility and drive traffic to your website or online store.


Collaborations and partnerships:
Collaborate with schools, educational institutions, or local organizations to sponsor events, competitions, or fundraisers. It can increase brand visibility and showcase your commitment to the education community.

Partner with other brands or influencers in complementary niches to cross-promote each other's products or run joint campaigns.


In-store or on-campus promotions:
If you have a physical store or can access school premises, create attractive displays and offer in-store promotions to attract customers.

Participate in back-to-school fairs, events, or parent-teacher meetings to showcase your products and engage directly with your target audience.


Loyalty programs and referrals:
Implement a loyalty program to reward repeat purchases and referrals. Offer discounts, exclusive access to new products, or special incentives to encourage customer loyalty and word-of-mouth marketing.


Customer reviews and testimonials:
Encourage satisfied customers to leave reviews and testimonials about your products. Positive feedback builds trust and credibility, attracting new customers to your brand.


Online marketplaces and e-commerce platforms:
Utilize popular online marketplaces like Amazon, eBay, or Etsy to reach a broad customer base. Optimize your product listings with compelling descriptions, attractive visuals, and positive customer reviews.


 Offline advertising:
Explore traditional advertising channels such as print media, radio, or billboards, targeting local communities or relevant educational publications.



 
Stanford University's Custom Socks Case Study: Building Brand Loyalty and Fundraising Success

Stanford University, renowned for its academic excellence and rich sports tradition, has harnessed the power of custom socks in various innovative ways. This case study explores how Stanford effectively used custom socks to promote its brand, engage with fans and alumni and raise funds for scholarships and university programs. By leveraging the popularity of custom socks, Stanford successfully connected with its community, fostering a sense of loyalty and support for the university.


Custom Socks for Promotion: Stanford University embraced custom socks as powerful promotional items, distributing them at various events, including football games, basketball games, and gatherings. This approach reinforced the university's brand identity and served as a heartfelt gesture of appreciation to fans and alumni. The custom socks adorned with Stanford's logo resulted in pride and camaraderie among attendees, further strengthening the bond between the university and its community.


Sales as Merchandise: Recognizing the demand for unique Stanford gear, the university made its custom socks available through its online store and on-campus bookstore. By offering custom socks as merchandise, Stanford empowered its fans to showcase their unwavering support for the institution. Wearing the distinctive Stanford socks became a fashionable and meaningful way for individuals to exhibit their connection to the university, both on and off campus.


Custom Socks as a Fundraising Tool: Taking innovation further, Stanford leveraged custom socks as a powerful fundraising tool. The university organized auctions featuring custom socks signed by renowned athletes and coaches. The exclusive nature motivated fans and supporters to participate actively. The proceeds from these auctions were channeled towards scholarships and vital university programs, reinforcing the sense of community support and philanthropy.


Benefits of Custom Socks for Promotions: Stanford's strategic use of custom socks not only brought tangible promotional benefits but also offered some noteworthy advantages:


Cost-Effectiveness: Custom socks proved an economical promotional option, making them ideal for Stanford to reach a broad audience without straining the budget.


Engaging and Unique: Custom socks are a fun and distinctive way to engage with fans. The personalized touch of favorite team logos and colors created a strong emotional connection, deepening the loyalty towards Stanford.


Enhanced Brand Awareness: The logo visibility helped brand awareness. As fans donned the socks, they inadvertently became brand ambassadors, spreading the university's identity wherever they went.


Conclusion: Stanford University's case study on using custom socks for promotions exemplifies the innovative ways institutions can build brand loyalty and connect with their community. Through strategic distribution, merchandise sales, and fundraising auctions, Stanford maximized the impact of custom socks to further their objectives. The success of custom socks as a promotional tool lies in their versatility, cost-effectiveness, and ability to foster emotional connections with fans and graduates. As a result of this endeavor, Stanford strengthened its brand image, fostered a sense of belonging among its community, and effectively raised funds for its noble causes. Their enduring popularity and impact make them a timeless promotional strategy for organizations seeking to build strong and lasting connections with their stakeholders.


Geisel School of Medicine: Delivering Custom Medals for a Memorable Convocation

The Geisel School of Medicine at Dartmouth, one of America's oldest medical schools and an Ivy League Research University, is renowned for its dedication to improving global healthcare through innovative solutions. As their convocation day approached, the school sought to make it truly memorable for their students by gifting specially customized medals. They turned to EverLighten, looking for a reliable partner to deliver high-quality customized medals meeting their requirements and deadlines.
The Geisel School of Medicine's collaboration with EverLighten proved a resounding success. The custom medals served as a tangible representation of the student's achievements, adding to the significance of their convocation day. EverLighten's expertise, dedication, and prompt delivery resonated deeply with the Geisel School of Medicine, reinforcing our commitment to delivering exceptional products and services to our valued customers.
Read the complete story 
https://everlighten.com/blogs/success-stories/medical-school-giesel-school-of-medicine


Over to you

As the back-to-school season approaches, it's time to make a lasting impression with custom products that elevate your brand and foster school spirit. EverLighten is your trusted partner for all your back-to-school needs, offering a wide range of customizable items designed to capture the attention of students, parents, and educators.
Our collection of personalized hoodies, custom t-shirts, stylish scarves, and functional accessories ensures that your brand stands out from the crowd. With a focus on quality, durability, and trend relevance, our products withstand the demands of the school year while reflecting your brand's unique identity.
At EverLighten, we understand the importance of connecting with your target audience. That's why we offer customization options that allow individuals to add their names, logos, or designs, creating a sense of ownership and uniqueness. Our team provides exceptional customer service and ensures your satisfaction every step of the way.
Don't miss the opportunity to promote your brand and make a memorable impact this back-to-school season. Connect with EverLighten today to explore our wide range of customizable products and discover how we can help you leave a lasting impression on students, parents, and educators.


FAQs


What supplies do I need for back to school?

Back-to-school supplies include notebooks, pens, pencils, erasers, backpacks, folders, binders, calculators, and other stationery items



What school supplies do kids need most?

Kids often need basic supplies such as pens, pencils, erasers, notebooks, and backpacks. Additionally, specialized supplies may be required based on their grade level and courses.



How many outfits should I buy for back to school?

The number of outfits for back-to-school varies depending on personal preference, dress code, and laundry frequency. A few versatile outfits that can be mixed and matched are usually sufficient.



What are 5 things that you carry in your school bag?

Five items in a school bag are pens, pencils, notebooks, a water bottle, and a lunchbox or snacks.



How much do people spend on back-to-school supplies?

The amount spent on back-to-school supplies can vary widely depending on the grade level, location, and specific requirements, but it can range from tens to hundreds of dollars per student.



How can I spend less on school supplies?

To spend less on school supplies, consider shopping during sales and discounts, buying in bulk, reusing items from the previous year, and comparing prices at different stores or online retailers. Additionally, consider opting for generic brands instead of name brands, as they are often more affordable.