5 Things You Must Look For In Custom Plush Toys | EverLighten
|
Aug, 02 , 23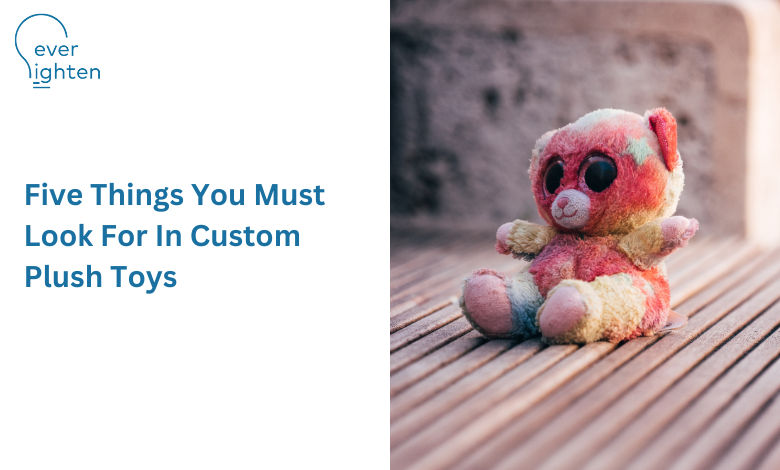 As your little one grows up, you witness their newfound mobility, curiosity, and imagination. The toys that once captivated them no longer hold their interest, prompting you to seek toys that can entertain and stimulate their development. Fortunately, the internet is a treasure trove of children's toys. However, it is crucial to look and what to consider. We will explore five essential factors to ensure your child's entertainment and growth with custom plush toys.
Durability:

A custom plush toy that withstands endless adventure



Your child's strength has grown, and flimsy toys are inadequate for their robust play. Opting for good-quality, durable materials is crucial to ensure longevity and enjoyment. When it comes to

custom plush toys

, it is imperative to select a manufacturer that adheres to rigorous standards and norms, ensuring the production of high-quality, long-lasting personalized stuffed animals or dolls. EverLighten, a reputable manufacturer, can create custom stuffed toys that meet your child's durability requirements with meticulous attention to detail.


Safety: Protecting Your Curious Explorer

As your child explores their surroundings, toys often find their way into their mouths. Therefore, it is vital to consider the safety of toys. Look for hazards like sharp edges, materials like eyes and nose that could detach, or toxic fabrics. You can provide your child with a personalized stuffed animal or doll free from potential harm by selecting a manufacturer that prioritizes safety. EverLighten understands the importance of safety and incorporates these considerations into the customization process, ensuring your child's well-being.




Activity: Nurturing Physical and Mental Development

This stage of your child's life is ideal for fostering physical and mental growth through engaging activities. Encouraging pretend play can ignite their imagination, while toys promote creativity. Additionally, motivating them to draw, doodle, and share stories about their creations can stimulate mental growth. The toys you choose should facilitate their overall development while keeping them entertained.



Variety: Combating Boredom with Customizable Options

Children are naturally curious and quickly become bored with toys that offer limited experiences. Opting for toys with a wide range of features and customization options is essential. Custom stuffed animals or dolls provide an excellent avenue for variety, as they can be uniquely personalized for your child. You offer your child diverse options by purchasing different accessories and clothing sets. With these customizable sets, your child will experience years of excitement, discovering something new each time.



Learning: Combining Education and Fun

Why not make learning an enjoyable experience? Selecting toddler toys that serve as learning tools is an effective way to enhance your child's educational journey while they have fun. Choosing custom stuffed toys incorporating educational elements can help your child develop essential skills during this crucial time. With numerous toy options available, following these guidelines ensures that you make informed decisions and actively contribute to your child's growth.


How does EverLighten ensure each custom plushie is top-quality?

EverLighten takes several measures during production to ensure our toys are durable, secure, and vivid/print-friendly.

Material Selection: EverLighten carefully chooses high-quality materials for their toys. They prioritize using durable fabrics that withstand rough play and daily wear and tear. The materials are selected with safety in mind, ensuring they are free from any toxic substances or harmful components. By using premium materials, EverLighten ensures the durability and safety of its toys.

Quality Manufacturing: EverLighten follows stringent manufacturing processes to maintain high-quality standards. We have skilled craftsmen who pay attention to detail and ensure that each toy is precise. Through careful stitching and construction techniques, we create sturdy toys that withstand the rigors of play.

Safety Features: EverLighten takes the safety of children seriously. We implement safety measures to eliminate potential hazards in our toys. It includes securely attaching all components, such as eyes, nose, or small parts, to prevent them from detaching and posing a choking hazard. We also ensure no sharp edges or rough surfaces could harm a child during play.


Testing and Certification: EverLighten conducts rigorous testing on its toys to verify their durability and safety. We perform tests, such as tension, durability, and flammability tests ensure that toys meet or exceed industry standards. Additionally, we obtain certifications from reputable third-party organizations to validate the safety and quality of their products.

Printing and Coloring Techniques: EverLighten employs advanced printing and coloring techniques to create vivid print-friendly toys. We use high-quality inks and dyes that are non-toxic and resistant to fading. It ensures the colors remain vibrant, and the printed designs retain clarity after repeated use and washing.

Quality Control: EverLighten implements a robust quality control process at every stage. We have dedicated quality control teams to identify any defects or imperfections. It includes checking the stitching, fabric quality, attachment of components, and overall craftsmanship. By maintaining strict quality control measures, EverLighten ensures that only top-notch toys reach customers.


How Cadbury Used Custom Plush Toys for Marketing:  
Cadbury has utilized custom plush toys for various promotional purposes, and the following are some examples:


Easter Promotions: During Easter, Cadbury has been offering plush toys featuring its popular characters like the Cadbury Bunny and the Freddo Frog as giveaways for many years. These plush toys have become sought-after collector's items among consumers.


School Events: Cadbury has also distributed plush toys as giveaways during school events, including back-to-school fairs and parent-teacher conferences. This strategy helps in promoting the Cadbury brand to both parents and children.


Retail Promotions: As part of retail promotions, Cadbury has collaborated with retailers to provide plush toys as freebies with purchases of Cadbury products. This tactic enhances the appeal of the brand to potential customers.


Social Media Promotions: Cadbury has incorporated custom plush toys into social media promotions. They have organized contests on social media platforms, allowing fans to win their custom plush toys and boosting brand engagement.
Cadbury's use of custom plush toys has proven to be highly successful. These toys have gained popularity among children and adults, making them an effective means to promote the Cadbury brand enjoyably and interactively.
In addition to the mentioned examples, Cadbury has used custom plush toys for other promotional efforts, including:


New Product Launches: To promote new product launches, Cadbury has given away plush toys. For instance, they distributed plush toys of the new Dairy Milk Caramel Bunny during Easter.


Charity Events: Cadbury has participated in charity events by giving away plush toys. For instance, they offered plush toys of their Freddo Frog character at a charity event fundraising for children's hospitals.


EverLighten's Mascot Creation: Bringing the McLennan Community College Highlander to Life

EverLighten takes immense pride in its partnership with McLennan Community College (MCC) to create its beloved college mascot - the Highlander. The Highlander is an iconic symbol of the college's spirit, tradition, and commitment to excellence. EverLighten's team was determined to accurately capture the essence of this mascot, encompassing its unique features, traditional Scottish attire, and fierce demeanor. Despite facing some challenges during the design process, EverLighten's unwavering dedication resulted in the successful creation of the Highlander mascot, which has become a cherished symbol within the college community.
The collaboration between EverLighten and McLennan Community College exemplifies the company's dedication to fulfilling customer visions for custom creations. By adeptly navigating challenges, engaging in transparent communication, and delivering exceptional results, EverLighten successfully brought the Highlander mascot to life. This 12" plush toy now stands as a testament to the college's enduring tradition, unity, and pride, embodying the spirit of the McLennan Community College community. EverLighten takes immense pride in contributing to the college's identity and looks forward to forging more fruitful partnerships to create custom item dreams for their clients.
Read the complete story 
https://everlighten.com/blogs/success-stories/mclennan-community-college-custom-plush-toys
Conclusion

As a parent, it is essential to find toys that entertain and support your child's development. By considering factors such as durability, safety, activity, variety, and learning potential, you can make informed choices when selecting toys for your little one. 

EverLighten understands the significance of these factors and offers high-quality custom plush toys that meet your child's needs. Connect with EverLighten today to provide your child with personalized, durable, and safe toys that foster growth, imagination, and endless joy. Your child's journey of exploration and learning begins with custom plush toys in their hands.


FAQs


What makes a good plush toy?

A plush toy should have high-quality materials, softness, durability, appealing design, and safe construction to ensure it brings joy and comfort to its owner.



Why are custom plushies so expensive?

Custom plushies are expensive due to the additional labor and design costs of creating unique products tailored to specific preferences. Smaller production runs and specialized materials can also drive up the price.



What are popular toys to flip?

Popular toys to flip often include limited edition or rare collectibles from popular franchises or brands. Items with high demand and low supply tend to have higher resale value.



How to design and sell a plush?

Start by conceptualizing a unique and appealing design to design and sell a plush. Create a prototype and find a manufacturer. Develop a business plan, set pricing, and establish distribution channels to market and sell the plush toys.



What material is used for plushies?

Plushies are typically made from soft fabrics like polyester, fleece, or cotton and filled with stuffing made from polyester fibers or other materials to give them their cuddly and huggable feel.



Can you copyright a plush toy?

Yes, you can protect design and artistic elements by copyright. However, copyright law does not cover functionality, only creative expression.