The Ultimate Guide to Custom Lanyards: Enhancing Your Style and Brand Identity | EverLighten
|
Jul, 26 , 23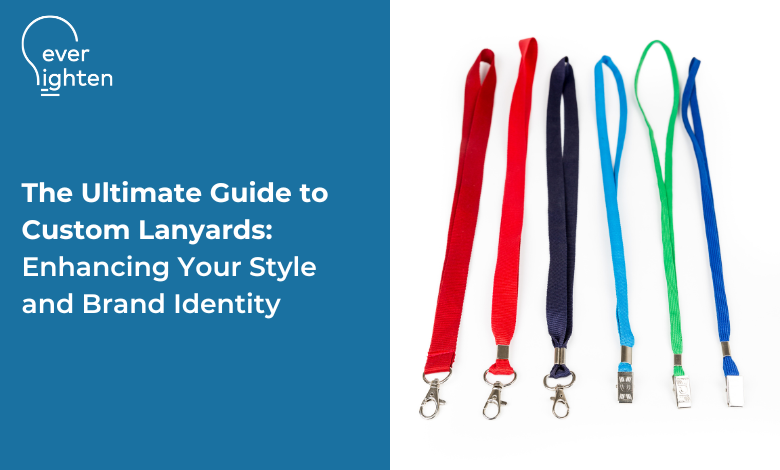 Lanyards are more than just practical accessories for holding keys, ID cards, or badges. They have become versatile fashion statement and an effective branding tool. In this ultimate guide tocustom lanyards, we will explore the importance of lanyards as versatile accessories and how customizing them offers a unique opportunity to showcase personal style or brand identity.
Understanding Custom Lanyards
Lanyards are functional accessories designed to keep items close and easily accessible. They are durable materials like nylon, polyester, or satin. The strap or cord is often equipped with various attachments, such as swivel hooks, lobster claws, or bulldog clips, to hold items. Lanyards serve the purpose of preventing loss, providing convenience, and ensuring quick access to essential items.
Advantages of Custom Lanyards over Generic Ones: Custom lanyards offer several benefits over generic, plain lanyards:


Personalization: Custom lanyards allow individuals or businesses to personalize the design, color, and pattern to reflect their unique style, brand, or event theme. This personal touch sets them apart from generic lanyards and creates a memorable impression.


 Branding Opportunities:

Custom lanyards

provide an excellent branding opportunity for businesses, organizations, or events. They can effectively promote brand identity and increase visibility by incorporating logos, slogans, or brand colors onto the lanyards.


Enhanced Professionalism: Custom lanyards look professional for employees, volunteers, or event staff. They create a sense of unity and represent a company or organization's professionalism and attention to detail.


Marketing and Promotional Tool:

You can utilize custom lanyards as promotional items or giveaways at

trade shows

, conferences, or other events. They help raise brand awareness and serve as functional items that recipients can continue to use, further extending the brand's reach.


Security and Identification: Custom lanyards can include identification information, such as employee names or event passes, improving safety and streamlining identification processes.



Popular Applications of Custom Lanyards: Custom lanyards find widespread applications in various settings, including:


Businesses:

Custom lanyards help organizations to enhance their brand presence. Employees often wear them at trade shows, conferences, or retail environments. Customized lanyards can also hold

employee

ID cards or access badges.


Events: Custom lanyards are popular at conferences, concerts, festivals, and sporting events. People can customize them to match the event branding or serve as VIP passes.


Schools and Universities: Educational institutions frequently use custom lanyards to hold student ID cards, ensuring easy identification and access control. They can also promote school spirit by incorporating school colors or logos.


Non-profit Organizations: Non-profit organizations often use custom lanyards to identify volunteers, staff, or participants in fundraising events. Customized lanyards can also help raise awareness for specific causes.


 Healthcare and Government Institutions: Custom lanyards are utilized in healthcare facilities, government agencies, and security-sensitive environments to hold identification badges for staff and visitors, enhancing security measures.


Choosing the Right Material

When it comes to custom lanyards, selecting the material is crucial as it affects their durability, comfort, and overall appearance. 


Nylon:



Pros: Nylon lanyards are known for their durability and strength. They are resistant to abrasion, making them suitable for heavy-duty use. Nylon lanyards offer a smooth texture and a slight sheen, giving them a polished and professional look.


Cons: Nylon lanyards can be slightly more expensive compared to other materials. They may not be as soft or comfortable against the skin as others.



Polyester:



Pros: Polyester lanyards are cost-effective, making them popular for bulk orders. They are known for their vibrant color retention and excellent print quality, allowing for detailed customization. Polyester lanyards are soft, lightweight, and comfortable to wear.


Cons: While polyester lanyards are generally durable, they may not be as strong as nylon lanyards. They have a slightly matte finish, which may not provide the same level of sheen as nylon or satin.



 Satin:



Pros: Satin lanyards have a luxurious and elegant appearance due to their smooth and glossy surface. They are comfortable to wear and offer a unique texture. Satin lanyards are for special events or occasions that require a touch of sophistication.



Cons: Satin lanyards are not as durable as nylon or polyester options. They are more prone to fraying and may not withstand heavy usage or rough handling. Additionally, satin lanyards can be more expensive compared to other materials. 

which may not provide the same level of sheen as nylon or satin.



Tubular:



Pros: Manufacturers make tubular lanyards by stitching a polyester or nylon tube, creating a round and pliable lanyard. They are lightweight, comfortable, and offer a unique look. People prefer tubular lanyards for their affordability and versatility.


Cons: Tubular lanyards may not be as durable as flat options, as the tube construction can be susceptible to twisting or fraying over time. They may not be ideal for heavy items or extended use.

Factors to consider when selecting the material:


Durability: Assess the intended use and environment for their use. Choose a material that can withstand the expected wear and tear, such as nylon for heavy-duty applications or polyester for general use.



Comfort: Consider the comfort level of the material against the skin, especially for extended periods. Softer materials like polyester or satin may offer better comfort than stiffer options like nylon.



Appearance:

Determine the desired look and feel of the lanyards. Consider the sheen, texture, and overall aesthetic that aligns with your personal style or

brand

identity.


Budget: Evaluate your budget and the number of lanyards needed. Some materials, like polyester or tubular, tend to be more cost effective for large orders, while satin or nylon may be pricier but offer specific benefits.


Customization options: Ensure the selected material can accommodate the desired customization methods such as printing, embroidery, or weaving.


Exploring Design Options:

Design plays a crucial role in custom lanyards to create a visually appealing and unique accessory that aligns with your goals. 


Importance of Design in Custom Lanyards:



Visual Identity: Custom lanyards offer an opportunity to showcase your personal style or brand identity through design elements. They can act as an extension of your overall visual identity and create a cohesive look. 


Brand Recognition: Well-designed lanyards with logos, colors, or slogans help reinforce brand recognition. They serve as portable billboards, promoting your brand to a broad audience.


Aesthetic Appeal: Visually appealing lanyards grab attention and leave a positive impression. Eye-catching designs can spark conversations, generate interest, or make a statement.


Differentiation: Designing unique lanyards helps set you apart from others. Customization options allow you to create something distinctive that reflects your individuality or represents your brand's values.




Customization Options:



Logo Printing: Adding your logo to the lanyard is a popular choice. Manufacturers can do it through screen printing, heat transfer, or dye-sublimation per the material. Logos can be placed horizontally, vertically, or repeated along the lanyard.


Text: Incorporating text allows you to include company or event names, slogans, taglines, or website URLs. Consider font styles, sizes, and legibility when choosing text customization.


Graphics and Patterns:

Custom lanyards

can feature graphics, illustrations, or patterns that align with your brand or event theme. These elements can be subtle or bold, depending on your design preferences.


Color Choices: Selecting the right colors can enhance the overall appeal of the lanyard. Consider using brand colors or complementary color schemes to create visual harmony.


Additional Enhancements: Explore customization options such as adding QR codes, reflective materials, or special finishes like embossing or metallic accents.



Tips for Creating Visually Appealing Designs:



Keep it Simple: Simplicity can make the design more memorable and versatile. Avoid crowding the artwork with too many elements.


Consistency: Maintain consistency with your brand identity, using fonts, colors, and visual elements that align with your existing branding materials.


Consider Lanyard Size: Understand the available space on the lanyard and optimize the design accordingly. Ensure key elements are visible and legible when wearing.


Test Design Mockups: Create mockups or digital previews of the lanyard design to visualize how it will look in the final product. It allows you to make adjustments and ensure the style meets your expectations.


Seek Professional Design Assistance: If you're unsure about design concepts or lack graphic design expertise, consider working with professional designers or engaging with the manufacturer's design services to create high-quality designs.


Selecting Attachment Options

When customizing lanyards, choosing the proper attachment is essential to ensure functionality, security, and ease of use. 


Lobster Cla

Lobster claw attachments are spring-loaded metal clasps that open and close with a lever mechanism, similar to a lobster's claw. They are sturdy and secure, making them suitable for holding items such as ID cards, keychains, or small accessories.

Lobster claw attachments are versatile and can be helpful for various purposes. They are particularly suitable for items that need to be easily attached or detached, such as ID cards that require frequent scanning or keys that need quick access.

Bulldog Clip

Bulldog clips are spring-loaded clips with serrated jaws that can open and close using a lever. They provide a firm grip on items and are commonly used to hold ID cards, badges, or lightweight objects.

Bulldog clips are ideal for securely holding items like ID cards or badges in place. They are easy to use and provide a massive grip, ensuring the attached stays in position.

Swivel Hook

Swivel hooks are metal attachments featuring a hook with a 360-degree rotating mechanism. It allows for flexibility and prevents the tangling or twisting of the lanyard. Swivel hooks help attach ID cards, keychains, or small electronic devices.

Swivel hooks are beneficial to prevent the lanyard from twisting or tangling, ensuring easy and comfortable use. They are helpful when the attached item needs to be rotated or accessed from different angles.

Split Ring

Split rings are circular rings that you can open by prying them apart. They are similar to key rings and helpful for attaching keys, keychains, or other small items.

Split rings are the go-to attachment to hold keys or keychains. They provide a reliable connection and prevent keys from detaching.

Breakaway Safety Buckle

Breakaway safety buckles release under pressure, providing a safety feature that allows the lanyard to break apart if caught or pulled forcefully. They are helpful in environments where safety is a concern, such as schools, healthcare facilities, or industrial settings.

Breakaway safety buckles are essential for situations where the lanyard needs to release quickly to prevent accidents or injuries. They are especially suitable for lanyards carrying ID cards or badges that may get caught in machinery or equipment.


Considerations for functionality, security, and ease of use
Item Weight and Size: Consider the weight and size of the item you intend to attach to the lanyard. Ensure that the attachment can hold the item without strain or detachment.


Ease of Attachment and Detachment: Evaluate how easy it is to attach or detach items from the chosen attachment. Quick and hassle-free attachment mechanisms are beneficial for items that require frequent use or handling.



Security Requirements: If you are attaching items with high-security requirements, such as access cards or sensitive information, opt for attachments that provide a secure grip and minimize the risk of accidental detachment.



Comfort and Ergonomics: Consider the comfort of wearing the lanyard and the ergonomics of accessing the attached item. Choose attachments that provide a comfortable fit and allow easy retrieval or scanning when needed.


Environment and Industry Considerations: Consider any specific requirements or regulations depending on the industry or environment. For example, safety buckles may be necessary in specific industries, while quick-release mechanisms may be helpful in high-security settings.



Enhancing Lanyards with Accessories


In addition to selecting the attachment options, incorporating accessories can further enhance functionality, convenience, and aesthetics.


Badge Holders:



Badge holders are transparent plastic sleeves or pouches that protect and display ID cards, badges, or event passes. They typically feature slots or holes for attaching to lanyards.

Badge holders keep identification visible and protected from wear and tear. They allow easy scanning or identification verification without removing the card from the holder. 

Opt for badge holders with colored borders or customized designs that align with your brand or event theme. You can also consider using retractable badge holders for extending or retracting the ID card as needed.



Safety Breaks:

Safety breaks are quick-release mechanisms integrated into lanyards. They provide a breakaway feature that releases the lanyard when pulled forcefully, reducing the risk of injury or accidents.

Safety breaks enhance safety by preventing lanyard-related accidents, such as entanglement or choking hazards. They are crucial where the lanyard may get caught in machinery or equipment.

Choose safety breaks that complement the lanyard design and color scheme. Consider using breakaway features to add additional branding elements or custom patterns.



Phone Holders:



Phone holders are attachments or pockets to hold smartphones or other small electronic devices. You can integrate them into the lanyard or attach them as detachable accessories.

Phone holders provide hands-free convenience and accessibility, allowing users to keep their phones within reach. They are helpful in settings where frequent phone use or easy access to mobile devices is required.

Select phone holders that align with your lanyard design and branding. Explore options with adjustable straps, additional card slots, or detachable features for extra versatility.



Bottle Openers or USB Holders:



Bottle openers or USB holders are specialized attachments for lanyards. Bottle openers are perfect for events or gatherings, while USB holders are convenient to carry and access digital files.

Bottle openers add practical value, ensuring users have a bottle opener readily available when needed. USB holders provide a secure and easily accessible storage solution for digital files.

 Integrate bottle openers or USB holders into the lanyard design in a visually appealing way. Customize them with branding elements or unique shapes that reflect your style or event theme.



Customized Accessories:



Customized accessories suit specific needs or enhance the lanyard's functionality. It may include retractable reels, safety whistles, compasses, or mini toolkits.

Custom accessories provide specialized features or tools tailored to specific requirements. They can serve as practical tools or conversation starters, per their purpose.

Explore unique accessory ideas that align with your goals or brand identity. You can creatively incorporate customized accessories into the lanyard design, showcasing innovation and functionality.



Showcasing Your Brand

Custom lanyards offer a fantastic opportunity to showcase your brand and increase brand recognition. 


Incorporate Your Logo:



Your logo visually represents your brand. Incorporate it prominently on the lanyard to create brand awareness and recognition.

Ensure the logo is clear, legible, and scaled appropriately to maintain its visual impact on the lanyard.

Choose the placement for the logo, such as near the attachment point or along the length of the lanyard, to maximize visibility.



Consistent Branding Elements:



Maintain consistency with your overall brand identity. Use the same colors, fonts, and visual elements in your other branding materials.

Consistent branding helps create a cohesive and recognizable brand image, making it easier for people to associate the lanyards with your brand.



Color Selection:



Use colors aligning with your brand's color palette. It reinforces brand recognition and creates a cohesive visual identity.

Consider using bold or vibrant colors that stand out and attract attention. However, ensure that the colors complement your logo and overall design.



Clear Text and Messaging:



Include text or messaging that reinforces your brand's message, tagline, or website URL.

Choose readable and legible fonts from a distance to ensure your message reaches you effectively.



 Custom Patterns or Graphics:



Incorporate custom patterns or graphics that align with your brand identity, products, or services. It adds visual interest and makes your lanyards more unique.

Patterns or graphics can be used as a background design or as accents around the logo or text, enhancing the overall aesthetic appeal.



Multiple Design Variations:



Consider creating multiple design variations of your custom lanyards. It allows you to cater to different events, target audiences, or promotional campaigns.

Each design variation can focus on specific aspects or showcase different products or services.



High-Quality Materials and Printing:



Opt for high-quality materials that reflect the value and professionalism of your brand. It ensures the durability and longevity of the lanyards.

Choose printing techniques that result in crisp, vibrant, and long-lasting graphics. Dye-sublimation or heat transfer printing are popular options for achieving high-quality results.



Visual Mockups and Previews:



Create visual mockups or previews of your

custom lanyard

designs before production. It allows you to assess the overall look, branding elements, and visibility.

Mockups help you make necessary adjustments or refinements to ensure the final product effectively represents your brand.



Ordering and Production Process


Finding reliable suppliers or manufacturers and understanding the ordering process is crucial when ordering custom lanyards.


Research and Identify Reliable Suppliers:



Start by researching reputable suppliers or manufacturers that specialize in producing custom lanyards.

Look for companies with positive customer reviews, a track record of delivering quality products, and customization options.

Check if they have experience working with businesses or organizations similar to yours.



Request Quotes and Samples:



Contact multiple suppliers and request quotes based on your requirements, including the desired quantity, materials, attachments, and customization options.

Ask for samples of their previous work to assess the quality of their products and printing techniques.

Evaluate the pricing, quality, and turnaround time of each supplier.



Determine Quantity and Customization Options:




Consider the number of lanyards you need based on your intended usage, budget, and promotional goals.

Discuss customization options with the supplier, including material selection, attachment types, printing techniques, color choices, and any additional accessories or features you require.

Ensure the supplier can accommodate your specific customization needs and provide recommendations.



Finalize Artwork and Design Approval:




Prepare your artwork, including your logo, text, and any other graphics or patterns you want to incorporate.

Provide the artwork to the supplier in the required format and size.

Review and approve the design mockup or proof provided by the supplier before proceeding with production.

Double-check all details, including spelling, colors, and placement of branding elements. 



Production and Timelines:


The supplier will begin production once the design is approved and the order is confirmed.

Inquire about the estimated lead times for production, which can vary depending on the quantity, customization complexity, and the supplier's workload.

Communicate with the supplier regularly to ensure smooth production and address any questions or concerns.



Quality Control and Inspection:


Before shipping, request the supplier conduct a quality control check to ensure the lanyards meet your specifications and quality standards.

Ask for sample lanyards from the production batch to inspect the printing quality, material durability, and attachment functionality.

Communicate any necessary revisions or adjustments to the supplier promptly.



Shipping and Delivery:


Coordinate with the supplier to arrange shipping and delivery options that suit your timeline and budget.

Consider factors such as shipping method, tracking capabilities, and customs or import regulations.

Request an estimated delivery date and tracking information to monitor the shipment progress.



Follow-Up and Feedback:


Once you receive the

custom lanyards

, inspect them to ensure they meet your expectations and specifications.

Provide feedback to the supplier about your experience, product quality, and overall satisfaction.

If any issues arise, communicate with the supplier promptly to seek resolution or discuss any necessary adjustments.





Maintenance and Care




It's crucial to follow some general maintenance tips. Use appropriate cleaning techniques, and store and handle them properly to extend the lifespan of your custom lanyards and keep them in good condition.


General Maintenance Tips:



Regularly inspect your lanyards for wear, fraying, or damage. Replace worn or damaged lanyards promptly to prevent further deterioration.

Avoid exposing lanyards to excessive heat, direct sunlight, or harsh chemicals, as they can fade colors, weaken materials, or cause discoloration.

Remove lanyards when engaging in activities that may snag or pull on them, such as sports, heavy lifting, or machinery operation.

Be mindful of any safety features, such as breakaway mechanisms, and ensure they function.



Cleaning Techniques for Different Lanyard Materials:





Nylon and Polyester

: Spot cleaning is usually sufficient for most nylon or polyester lanyards. Use a mild detergent or soap and a soft cloth or sponge to clean any stains or dirt. Rinse with water and allow them to air dry.

Satin and Silk:

 Satin and silk lanyards require more delicate handling. Spot clean using a mild detergent or silk-specific cleaner and a soft cloth. Avoid excessive rubbing or scrubbing to prevent damage to the fabric. Allow them to air dry.

Cotton and Bamboo:

 

Cotton and bamboo lanyards can typically be machine washed using a gentle cycle with mild detergent and cold water. Avoid using bleach or harsh chemicals and tumble or air dry.

Leather:

 Leather lanyards require special care. Use a damp cloth or leather-specific cleaner to wipe away dirt or stains. Avoid soaking or submerging them in water. Apply leather conditioner to maintain their suppleness and prevent cracking.



Proper Storage and Handling:




Store lanyards properly to prevent moisture buildup and mold growth.

Consider using lanyard hooks or hangers to keep them neatly organized and untangled.

If you do not use them for an extended period, store them in a sealed bag or container to protect them from dust and dirt.

Avoid storing lanyards near sharp objects or rough surfaces that can cause snags or abrasions.

When not using, detach accessories or attachments from the lanyards to prevent damage or loss.


Creative Uses for Custom Lanyards

Custom lanyards offer versatility beyond their traditional applications.


Promotional Items or Giveaways:



Custom lanyards make excellent promotional items for businesses, events, or fundraisers.

Include your brand logo and contact information to increase brand visibility.

Distribute them at trade shows, conferences, or

 

corporate events to create brand awareness and leave a lasting impression.



Accessory for Everyday Items:





Attach a custom lanyard to everyday items like water bottles, keychains, or wallets for easy identification and portability.

It creates a unique and personalized accessory showcasing your style or brand identity.



Fashion or Statement Piece:




Use

 

custom lanyards

 as a fashionable accessory by incorporating unique designs, patterns, or colors.

Match lanyards with outfits or use them as statement pieces to express personal style.



Personalized Gifts

:





Create custom lanyards as personalized gifts for friends, family, or colleagues.

Add their names, favorite quotes, or messages to make the gift more meaningful and unique.



Special Occasions and Events:





Design custom lanyards for special occasions like weddings, birthdays, or anniversaries.

Include the event date, the couple's name, or event-specific graphics to commemorate the occasion.



Fundraising or Awareness Campaigns:




Customize lanyards for

 

fundraising events

 or awareness campaigns to support a cause or organization.

Feature campaign logos, slogans, or symbols to spread awareness and rally support.



Team Building or Group Identification:





Create custom lanyards for sports teams, clubs, or organizations to foster team spirit and unity.

Use team colors, logos, or names to identify members and promote a sense of belonging.



ID Holders for Schools and Institutions:





Customize lanyards for schools, universities, or institutions with their logos or colors.

Provide students, faculty, or staff with personalized lanyards for carrying ID cards, access passes, or keycards.



Event Access and Security:



Design custom lanyards for events, concerts, or conferences to grant access to attendees.

Include event-specific branding, unique numbering, or QR codes for efficient access control and security.



Souvenirs or Memorabilia:




Create custom lanyards as souvenirs or memorabilia for tourist attractions, museums, or landmarks.

Incorporate iconic images, quotes, or symbols to commemorate the experience or place.




Conclusion:
Custom lanyards offer a versatile and impactful way to showcase personal style, promote brands, and enhance various occasions. From businesses seeking promotional items to individuals looking for personalized gifts, the possibilities for creative uses of custom lanyards are endless.
If you want high-quality custom lanyards that meet your needs, look no further than EverLighten. With our expertise in manufacturing custom products and commitment to exceptional customer service, EverLighten is the perfect partner for your custom lanyard needs.


FAQs


Why Do You Need Custom Lanyards?

Lanyards are a great way to promote your business or organization.

They help display your logo, branding, or contact information.

They help keep track of items, such as ID cards, keys, or event passes.

They are a unique and memorable way to show your employees or customers you appreciate them.

 

What is the best material for a lanyard?

The best material for a lanyard depends on its intended use. For example, if you need a lanyard in a harsh environment, you will need durable and waterproof materials. Some popular lanyard materials include:

Polyester

Nylon

Canvas

Leather

Rubber

 

How many types of lanyards are there?

There are two main types of lanyards:

Retractable lanyards:

These lanyards have a spring-loaded mechanism that allows you to retract the lanyard into a small loop. 

Non-retractable lanyards:

These lanyards do not have a spring-loaded mechanism.

 

What fabric is used to make lanyards?

The most common fabric used to make lanyards is polyester. Polyester is a durable and weatherproof fabric that is also relatively inexpensive. Other fabrics include nylon, canvas, and leather.



What is the lifespan of a lanyard?

The lifespan of a lanyard depends on the material and its use. A lanyard made of polyester can last several years if cared for. However, a lanyard made of a more delicate fabric, such as leather, may only last a few months.



What is the minimum lanyard length?

The minimum lanyard length is typically around 18 inches. It is the minimum length needed to fit most ID badges and key tags. However, you can make lanyards in any length and choose a length per your needs.



How much does it cost to build a Custom lanyard?

The cost of a custom lanyard depends on many factors, including the material, the length, and the printing method. However, you can typically expect to pay between $1 and $5 for a custom lanyard.



How can lanyards be considered a marketing tool?

Lanyards can be a great way to promote your business or organization. When people see your logo or branding on a lanyard, they are more likely to remember your business. Lanyards can also be helpful for collecting contact information from potential customers.



How much does it cost to customize a lanyard?

The cost of customizing a lanyard depends on many factors, including the printing method, the number of lanyards you order, and the complexity of the design. However, you can typically expect to pay between $0.50 and $2 per lanyard for customization.



How many types of lanyards are there?

There are two main types of lanyards: retractable lanyards and non-retractable lanyards. Retractable lanyards have a spring-loaded mechanism that allows you to retract the lanyard into a small loop.



Why is it called a lanyard?

The word "lanyard" comes from the Old French word "larger," which means "to hang." People used to hang objects from the neck, such as keys or pouches.



What is the best lanyard material?

The best lanyard material depends on its intended use. Some popular lanyard materials include:

What are the 2 types of lanyards?

There are two main types of lanyards:

Retractable lanyards:

These lanyards have a spring-loaded mechanism that allows you to retract the lanyard into a small loop. 

Non-retractable lanyards:

These lanyards do not have a spring-loaded mechanism.

 

What is the best length for a lanyard?

The best length for a lanyard depends on your individual needs. However, a good starting point is to choose a lanyard that is 36 inches long. This length will allow you to wear the lanyard around your neck comfortably and still have enough length to reach your ID card or other items.



How long is a standard lanyard?

A standard lanyard is typically 36 inches long. However, lanyards can be any length. You can choose a length comfortable for you.



How thick is a standard lanyard?

A standard lanyard is typically 1/8 inch thick. However, lanyards can be in different thicknesses. Choose a thickness that is comfortable for you.