Best Custom Socks, Custom Design Socks, Custom Made Socks, Custom Socks, Custom Socks Bulk, Custom Socks Wholesale, Customized Socks, Design Your Own Socks, Personalization Socks, Personalized Socks
The Ultimate Buyer's Guide to Wool for Custom Socks
|
Sep, 26 , 23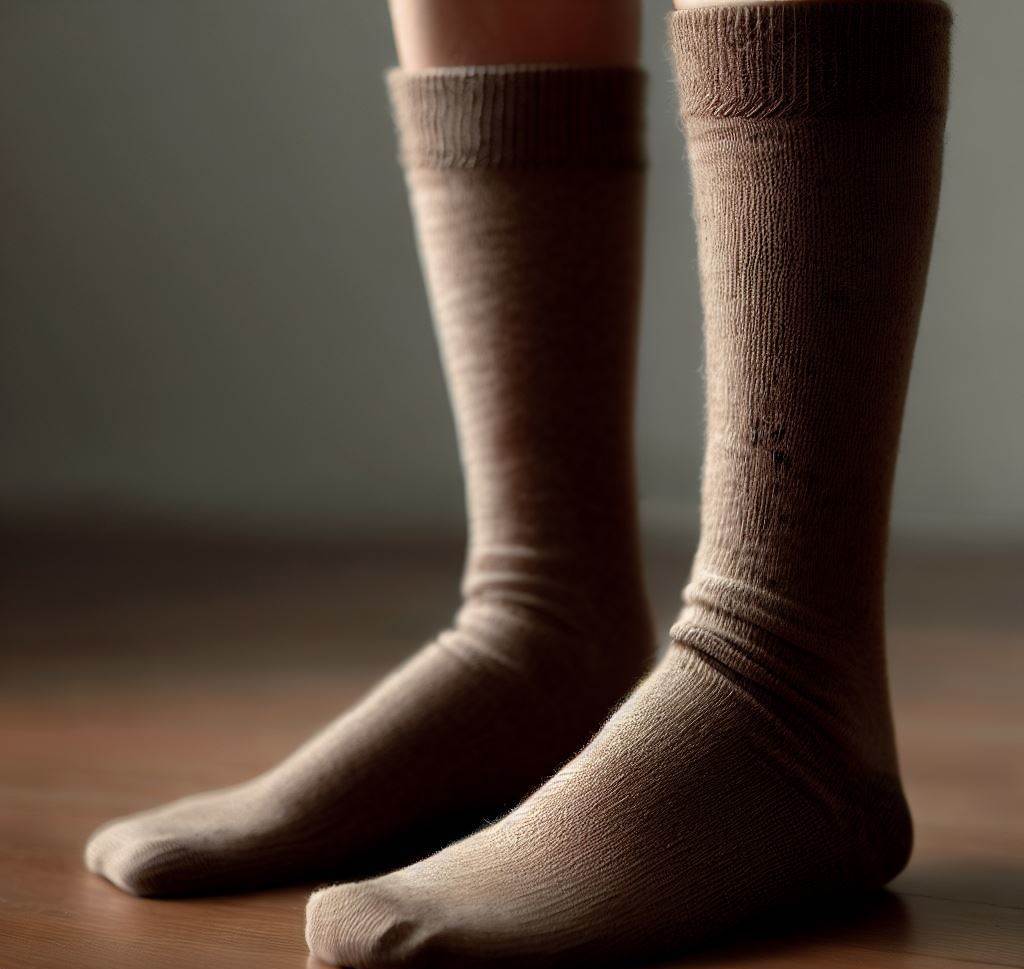 Everything You Need to Know About Custom Wool Socks
When crafting the perfect pair of custom socks, wool is one essential element that stands out for its unbeatable comfort, warmth, and versatility. Whether you're a seasoned sock enthusiast or just starting, understanding the world of wool is crucial. With many options, choosing wool for your custom socks can be daunting. Don't worry. We will address the most frequently asked questions and shed light on the intricate world of wool. So, let's dive into the enchanting world of wool, unravel its mysteries, and embark on a journey to create socks that reflect your style and are a testament to your comfort and craftsmanship.
What are the benefits of using wool for custom socks?
Using wool for custom socks offers many benefits that make it a top choice for both experienced sock enthusiasts and those new to the world of custom sock crafting. 
Exceptional Insulation

: Wool is renowned for its outstanding insulation properties. It naturally regulates temperature, keeping your feet warm in cold weather and cool in hot conditions. This thermal regulation helps maintain comfort during various activities and seasons.

Moisture Management

: Wool wicks moisture away from your skin, keeping your feet dry even during strenuous activities. This moisture-wicking property helps prevent blisters and discomfort caused by dampness, making wool socks ideal for athletic pursuits.

Odor Resistance

: Wool's natural fibers are resistant to odors. They can effectively absorb and neutralize sweat and bacteria, reducing unpleasant foot odors. This feature makes wool socks an excellent choice for long hours of wear.

Softness and Comfort

: Wool is soft and luxurious, providing a comfortable and cozy feeling when worn. Unlike synthetic materials, wool does not feel scratchy against the skin, making it a comfortable choice for everyday use.

Durability

: Wool fibers are known for their durability and resilience. Wool socks withstand frequent washing and wear, maintaining their shape and quality over time. This longevity is a significant advantage for custom sock enthusiasts looking for a lasting investment.

Natural Elasticity

: Wool possesses natural elasticity, allowing socks to conform to the shape of your feet without sagging or losing their form. It ensures a snug and secure fit, reducing the likelihood of chafing or discomfort.

Environmental Sustainability

: Wool is a renewable and biodegradable resource, making it an eco-friendly choice for those concerned about the environment. We do it by shearing sheep, a process that does not harm the animals when done responsibly.

Style and Versatility

: Wool is available in many colors and patterns, making it easy to create custom socks matching people's styles. It can be blended with other fibers for added strength or specific characteristics, offering versatility in sock design.

Hypoallergenic

: Wool is often hypoallergenic, making it suitable for sensitive skin. It is less likely to cause skin irritations or allergies compared to some synthetic materials.

Natural UV Protection

: Wool fibers naturally protect against harmful UV rays, making wool socks an excellent choice for outdoor activities and sunny days.
What are the different types of wool used for custom socks?
Various types of wool are used for customizing socks, each with unique characteristics and advantages. These different wool types cater to many preferences, needs, and climates. 
Merino Wool

: Merino wool is renowned for its softness and fine fibers. It is highly prized for its comfort and used in premium-quality socks. Merino wool socks are excellent for moisture-wicking, temperature regulation, and odor control. 

Lambswool

: Lambswool is obtained from the first shearing of young sheep, resulting in ultra-soft and fine fibers. Lambswool socks are warm and comfortable. They are ideal for cold climates and winter activities.

Cashmere

: Cashmere wool comes from cashmere goats and is known for its softness and warmth. Cashmere socks are incredibly soft and provide exceptional insulation, making them suitable for chilly weather or special occasions.

Alpaca Wool

: Alpaca wool is naturally hypoallergenic and softer than traditional sheep's wool. Alpaca socks are known for their warmth, comfort, and resistance to pilling. 

Angora Wool

: We source it from Angora rabbits. It has incredible softness and warmth. Angora wool socks are known for their fluffiness and are comfortable in cold weather.

Mohair

: Mohair comes from the hair of Angora goats and is known for its durability and natural sheen. Mohair socks are strong, moisture-wicking, and provide excellent cushioning and insulation.

Cotton-Wool Blend

: Socks made from a blend of cotton and wool combine the moisture-wicking properties of wool with the breathability of cotton. This blend is comfortable and versatile, suitable for various temperatures.

Silk-Wool Blend

: Silk-wool blends combine the warmth of wool with the smooth, luxurious feel of silk. These socks are comfortable, moisture-wicking, and often used for dressier occasions or as a lightweight layer in colder weather.

Bamboo Blend

: Bamboo wool is a natural, eco-friendly option that blends well with wool. It is breathable, moisture-wicking, and thermoregulating.

Bamboo-wool blend socks

are helpful for outdoor activities.

Synthetic Blends

: Some wool socks incorporate synthetic fibers like nylon or elastane to enhance durability, stretch, and shape retention. These blends can increase the lifespan of the socks while maintaining the benefits of wool.

Recycled Wool

: Eco-conscious consumers may choose socks made from recycled wool, which repurposes existing wool fibers to reduce waste and environmental impact.
What are the drawbacks of using wool for custom socks?
While wool is a fantastic material for socks, offering numerous benefits, it also has some drawbacks that individuals should consider when choosing their sock materials. 
Price

: Wool socks are more expensive than socks made from synthetic materials or cotton. High-quality wool, such as merino or cashmere, comes with a premium price tag.

Care Requirements

: Wool socks often require more careful care than other socks. They need hand or machine-washing on a gentle cycle with cold water to prevent shrinking and damage. Additionally, they should be air-dried rather than placed in a dryer.

Durability

: While wool is durable, it may not be as abrasion-resistant as some synthetic materials. In high-friction areas, like the heels and toes, wool socks may wear out more quickly, especially if not reinforced with synthetic fibers.

Allergies

: Although wool is generally hypoallergenic, some individuals may still be sensitive or allergic to it. It's essential to test for any allergic reactions before committing to wool socks, especially if you have a history of wool allergies.

Sensitivity to Itching

: Wool of coarser varieties can be itchy or irritating to some people's skin. Selecting a softer wool type, like merino, is advisable for sensitive skin.

Bulky Thickness

: Wool socks can be thicker and heftier than lightweight synthetic socks. It might not be ideal for individuals who prefer thin socks or need them to fit snugly in specific footwear.

Color Fading

: The vibrant colors of some wool socks can fade over time, especially with frequent washing and exposure to sunlight. It may impact the visual appeal of the socks.

Shrinkage

: Wool tends to shrink when exposed to heat or agitation during washing. If not washed properly, wool socks can become smaller and less comfortable.

Pilling

: Some wool socks may develop small pills or fuzz balls with wear and washing. Regular maintenance can help address this issue, like using a fabric shaver.

Limited Use in Hot Weather

: While wool is excellent at regulating temperature, it may not be the best choice for hot and humid conditions, as it can feel too warm and may not wick moisture as effectively as some synthetic materials.
How can you personalize your custom wool socks?
Personalizing custom wool socks allows you to create unique, one-of-a-kind pieces that reflect your style, personality, or special occasions. 
Choose the Wool Type

: Start by selecting the type of wool that suits your needs and preferences. Consider factors such as softness, warmth, and durability. Merino wool, for example, is known for its softness and versatility.

Color Selection

: Pick the color or colors of the wool for your socks. You can choose natural and dyed colors to match your wardrobe or create a specific look.

Custom Patterns

: Decide on the sock's design and pattern. You can choose from various knitting or weaving patterns, such as ribbed, cable-knit, Fair Isle, or stripes. Create your unique combination, or opt for classic designs.

Personal Monograms

: Add a personal touch by including your initials or a monogram on the socks. Monogrammed wool socks can make for excellent personalized gifts.

Embroidery

: Consider embroidery for adding names, dates, or messages to the socks. This option works well for commemorating weddings, birthdays, or other significant events.

Custom Logo or Artwork

: If you have a specific logo, artwork, or design you'd like to feature on your socks, work with a skilled craftsperson who can incorporate it into the design.

Contrast Heel and Toe

: For a subtle yet distinctive look, choose a contrasting color for the heel and toe of your wool socks. It adds a unique visual element to your design.

Sock Length

: Decide on the length of your socks. Options include ankle socks, crew socks, knee-high socks, or even thigh-high socks. It can significantly impact the overall style.

Texture and Thickness

: Experiment with wool textures and thicknesses to achieve the desired look and feel. Some wools have a smoother finish, while others may have a more textured or fuzzy appearance.

Blend with Other Fibers

: Customize your socks by blending wool with other fibers, like silk, to add sheen and softness, or nylon for extra durability and stretch.

Personalized Packaging

: Consider personalized packaging or labels for your socks. You can create custom labels with your name or a unique logo, enhancing the presentation when giving them as gifts.

Sock Tags

: Sew or attach small tags with your name, logo, or a special message to the cuffs of the socks.

Size and Fit

: Ensure to tailor per fit preferences. Custom-sized socks provide a better fit and maximize comfort.

Custom Dyeing

: Explore the option of custom dyeing to achieve unique and vibrant colors that match your vision.

Seasonal Themes

: Design socks with seasonal or holiday themes. For example, Christmas, Halloween, or Valentine's Day.
What are some popular designs for custom wool socks?
Custom wool socks offer endless design possibilities, allowing you to express your creativity and individuality. Popular designs for custom wool socks can vary widely depending on personal preferences, fashion trends, and the occasion. 
Stripes

: Classic stripes in various colors are a timeless design choice for wool socks. You can opt for bold or subtle stripes to match your style.

Argyle

: The iconic argyle pattern featuring diamond shapes and intersecting lines is a sophisticated and traditional design often seen on wool socks.

Fair Isle

: Fair Isle patterns incorporate intricate, multicolored motifs inspired by Nordic and Scottish traditions. They add a cozy and rustic touch to your socks.

Cable-Knit

: Cable-knit patterns create a textured and chunky appearance, providing style and warmth to your socks. They are popular in colder climates.

Geometric Patterns

: Explore geometric designs, including triangles, chevrons, and hexagons, to add a modern element to your socks.

Polka Dots

: Polka dots are a playful and charming option for custom wool socks. You can choose the size and color of the dots to match your preferences.

Animal Prints

: Animal prints, like leopard or zebra, can add a bold and trendy look to your socks. Fashion-conscious individuals like them. 

Holiday and Seasonal Themes

: Customize your wool socks with designs related to holidays and seasons, such as snowflakes for winter, pumpkins for Halloween, or hearts for Valentine's Day.

Novelty Patterns

: Get creative with novelty patterns like smiley faces, emojis, or your favorite fictional characters. These designs add a playful and personalized touch.

Custom Text or Quotes

: Incorporate your favorite quotes, slogans, or personalized messages into the design of your socks. It is an excellent way to make a statement or commemorate special occasions.

Gradient or Ombre

: Gradually transitioning colors from one end of the sock to the other can create a stunning ombre effect, adding visual interest to your socks.

Nature-Inspired

: Draw inspiration from nature with designs like leaves, flowers, or mountain landscapes. These patterns can bring a touch of the outdoors to your wardrobe.

Tie-Dye

: The vibrant and psychedelic look of tie-dye patterns can be an exciting choice for custom wool socks, especially for those seeking a retro or bohemian style.

Color Blocking

: Create bold contrasts by using different colors to block off sections of your socks. This design can be visually striking and modern.

Monochrome Minimalism

: For a clean and minimalist aesthetic, stick to a single color and simple lines or textures.

Vintage Patterns

: Explore vintage-inspired patterns and motifs from different eras, such as the 1960s or 1980s, to add a touch of nostalgia to your socks.

Personalized Portraits

: Some custom sock manufacturers offer the option to print personalized portraits or images on your socks, allowing you to showcase your loved ones or favorite photos.
How do you choose the right type of wool for custom socks?
Choosing the type of wool for your socks is essential to ensure they meet your comfort, performance, and style preferences. 
Softness

: Evaluate the softness of the wool. Some wool types, such as merino and lambswool, are known for their exceptional softness and are less likely to cause skin irritation. If you have sensitive skin, prioritize softer wool options.

Warmth

: Consider what you need from your socks. Thicker and denser wools like lambswool and angora provide excellent insulation. They are suitable for colder climates. Opt for lighter wool blends for socks to wear year-round or in milder temperatures.

Moisture Management

: Assess the moisture-wicking properties of the wool. Merino wool, for example, excels at wicking moisture away from the skin, keeping your feet dry even during physical activities. If you have sweaty feet or plan to wear socks during sports, prioritize moisture-wicking capabilities.

Durability

: Examine the durability of the wool. Some wools, like mohair or blends with synthetic fibers, offer enhanced durability and resistance to wear and tear. If you want long-lasting socks, consider wool blends with added strength.

Allergies

: Be aware of any wool allergies or sensitivities. While wool is generally hypoallergenic, some individuals may experience skin irritations or allergies. Test a small sample before committing to an order.

Season and Climate

: Think about the season and climate. Thicker wool socks are ideal for winter, while lighter and breathable wools may be better for spring, summer, or fall.

Sustainability

: If environmental sustainability is crucial, consider wool from ethically raised animals and brands with environmentally conscious practices. Sustainable wool options aim to minimize the impact on the environment.

Texture and Feel

: Explore the texture and feel of the wool. Some wools have a smoother finish, while others may have a more textured or fuzzy appearance.

Blends

: Consider wool blends with other fibers, such as silk, cashmere, nylon, or bamboo. Blended wools can combine the best qualities of multiple materials. They offer a balance of softness, strength, and other desirable characteristics.

Budget

: Keep your budget in mind. High-quality wool, like merino or cashmere, can be more expensive. Determine how much you're willing to invest in your wool socks and choose a wool type that fits within your budget.

Color and Style

: Finally, consider the color and style of the wool. Different wool types may come in various natural and dyed colors, allowing you to match your socks with your wardrobe and personal style.
What are the different occasions for wearing custom wool socks?
Custom wool socks are versatile and can be worn on various occasions to elevate your style, provide comfort, and make a statement. 
Everyday Wear

: Wool socks are comfortable, moisture-wicking, and insulating, making them a lovely choice for everyday use, whether running errands, working, or simply relaxing at home.

Work or Office

: Custom wool socks can add a touch of personality to your office attire while keeping your feet comfortable for hours. They are especially beneficial in colder months or air-conditioned environments.

Outdoor Activities

: Wool socks are ideal for outdoor adventures such as hiking, camping, and backpacking. They provide warmth, moisture management, and cushioning for your feet, ensuring a comfortable experience.

Athletic Activities

: Merino wool socks are popular for

athletes and fitness enthusiasts

. They offer moisture-wicking properties, temperature regulation, and odor resistance, making them suitable for running, cycling, and other sports.

Formal Events

: For formal occasions like weddings or galas, custom wool socks with elegant patterns, monograms, or personalized designs can add a unique touch to your outfit while maintaining comfort.

Winter and Cold Weather

: Wool socks are a must-have in cold weather. They provide excellent insulation to keep your feet warm while you engage in winter activities or go about your daily routine.

Summer and Hot Weather

: Lightweight and breathable wool blends suit summer and hot weather. They wick moisture away from the skin and help regulate temperature, making them comfortable for outdoor events or vacations.

Travel

: Custom wool socks are a must-have for any traveler who wants to stay comfortable and stylish. They keep your feet cozy and reduce swelling.

Special Occasions

: Celebrate special occasions like birthdays, anniversaries, or

milestones

with personalized wool socks featuring custom designs, quotes, or dates that hold sentimental value.

Gift Giving

: Custom wool socks make thoughtful and personalized gifts for loved ones. You can create socks with their favorite colors, patterns, or even inside jokes to show you care.

Cultural or Themed Events

: Attend cultural festivals, theme parties, or costume events with custom wool socks that match the theme or represent your cultural identity.

Relaxation

: Unwind and relax at home with cozy wool socks. Personalized socks with humorous or motivational messages can add a touch of fun to your relaxation routine.

Sporting Events

: Show your team spirit by wearing custom wool socks featuring your favorite sports team's colors or logo when attending games or sporting events.

Fashion Statements

: Make a statement with bold, unique, or eccentric custom wool sock designs.

Wedding Parties

: Custom wool socks can be a fun addition to wedding attire. You can personalize them with the wedding date or names.

Business Meetings and Conferences

: Stand out at business meetings or conferences with custom socks that reflect your brand or profession. They can be a conversation starter and a subtle branding element.
How much do custom wool socks cost?
The cost of custom wool socks can vary widely depending on several factors. 
Basic Custom Wool Socks

: If you're ordering a single pair of basic custom wool socks with minimal personalization, you can typically expect to pay anywhere from $10 to $30 or more per pair. The price may vary based on the brand and the specific wool type.

Customization Complexity

: The more complex your customization requirements, such as intricate patterns, personalized designs, or multiple colors, the higher the cost. Intricate designs or special requests may add $5 to $20 per pair.

Quantity Discounts

: Many manufacturers offer quantity discounts. You may receive a lower per-pair price if you order multiple pairs of custom wool socks. Bulk orders can lead to significant savings.

High-End Wool

: Socks made from premium wool types, such as merino or cashmere, tend to be more expensive. Expect to pay a premium for the use of high-quality wool, potentially ranging from $20 to $50 or more per pair.

Artisanal or Handcrafted

: If you choose to work with an artisan or small-scale manufacturer specializing in handmade custom socks, the cost may be higher due to the craftsmanship involved. Handcrafted custom wool socks can range from $20 to $50 or more per pair.

Branding or Logo

: If you're customizing socks for promotional purposes or with your brand's logo, the cost may vary based on the complexity of the logo and the printing method used. Prices can range from $15 to $40 or more per pair.

Compression or Medical Socks

: Custom compression or medical-grade wool socks may be more expensive due to their specialized construction and therapeutic benefits. Expect prices to start at $20 and on the compression level and features.

Special Features

: Some custom wool socks have reinforced heels and toes, extra cushioning, or advanced moisture-wicking technology. These features can increase the price.

Custom Packaging

: If you opt for custom packaging, labels, or additional presentation elements, this may add to the overall cost.

Shipping and Handling

: Don't forget to factor in shipping and handling costs, especially if you're ordering from a manufacturer in a different region or country.
Case Study: 
Netflix gave away custom wool socks to its employees as a holiday gift in 2021. They were black with the Netflix logo on the front and the words "Netflix Family" on the back. The socks were a hit with employees, who appreciated the thoughtful gift and the opportunity to show their support for the company.
They used merino wool. We know it for its softness, warmth, and moisture-wicking properties. They were also durable. Employees could wear them for many years.
The socks were a part of Netflix's holiday gift program. The program showed appreciation to employees for their hard work and dedication.
The Netflix custom wool socks were a successful promotional item. They were well-received by employees. They helped to promote the company's brand. They were also a sustainable choice. 
How did EverLighten help Ian Hawkins with unique custom socks? 
Ian Hawkins wanted custom compression socks with zippers for winter. But, his order was unique and small, so no manufacturer accepted it. Regardless of the quantity, EverLighten is always happy to help people create custom items. We helped him make the orders and deliver on time. 
Read the complete story at https://everlighten.com/blogs/success-stories/ian-hawkins-custom-socks. 
Conclusion: 
When crafting personalized and high-quality custom socks, EverLighten is your trusted partner. With a passion for excellence and a commitment to your unique vision, we're here to bring your sock dreams to life. Get started today. Let us create custom socks that stand out from the rest. Contact us now to begin your custom sock journey. 
FAQs:
Are wool socks good for you?
Yes, wool socks are good for you. 
Warmth: Wool is a natural insulator. 
Moisture-wicking: Wool absorbs moisture from your skin, keeping your feet dry and preventing blisters.
Odor-resistant: Wool has natural antibacterial properties, so it helps to prevent foot odor.
Durable: Wool is a strong and durable material. It can withstand wear and tear.
Hypoallergenic: Wool is a hypoallergenic material. It is less likely to cause allergic reactions.
Is 100% wool good for socks?
Yes, 100% wool is helpful for socks. However, some people find that 100% wool can be itchy. They may prefer socks blended with other fibers, such as cotton or nylon.
Are wool socks for winter or summer?
People can wear them for both winter and summer. In winter, they will help to keep your feet warm. In summer, they can help to keep your feet cool by wicking away moisture.
Are wool socks good for hot feet?
Wool socks can be good for hot feet, as they are moisture-wicking and keep your feet cool. However, people may prefer socks from a lighter material, like cotton.
Which is better, cotton or wool socks?
Wool socks are generally better than cotton socks for many reasons. Wool is a natural insulator, so it helps to keep your feet warm in cold weather and cool in hot weather. It is also moisture-wicking and odor-resistant. Cotton is not as good at wicking away moisture, so it can make your feet feel sweaty and clammy. Cotton is also not as durable as wool. 
However, there are some situations where cotton socks may be a better choice. For example, if you have sensitive skin, you may prefer cotton socks, as they are less likely to irritate. Cotton socks are also less expensive than wool socks.