6 Top Upgrades for Custom Socks: Enhance Comfort and Style | EverLighten
|
Aug, 29 , 23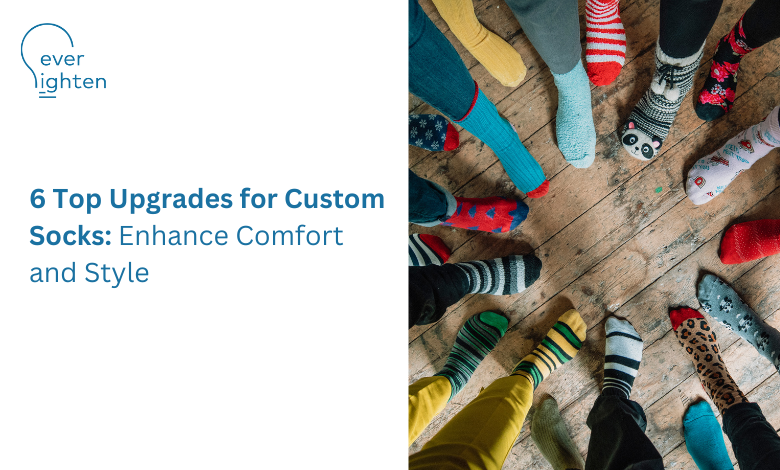 Socks may seem like small accessories, but they play a significant role in our daily lives. They provide essential comfort, support, and protection to our feet, making every step more comfortable. But socks are not just functional; also an opportunity to express our style and showcase our unique personality.
In recent years, there has been a growing trend in custom socks. People are moving away from generic, mass-produced options and embracing the idea of designing their socks. Custom socks allow individuals to unleash their creativity and create personalized pieces that reflect their interests, passions, and individuality.
Custom socks have become a way to make a statement, whether it's through bold colors, patterns, or even custom designs that hold sentimental value. From sports teams and hobbies to favorite quotes or iconic images, custom socks provide a canvas for self-expression and fashion-forward choices.
We will explore how to upgrade socks that enhance comfort and elevate your style. These upgrades will allow you to take your custom sock game to the next level, ensuring your feet feel great and look fabulous.
Upgrade socks with the following:


Terry Cushion:

Terry cushioning is a popular upgrade in custom socks that offers exceptional comfort and support. The concept of terry cushioning involves adding extra padding and a soft, plush layer or specific areas. We get the cushioning using looped yarns or terry loops, which create a thicker and more comfortable fabric.
The benefits of terry cushioning in socks are manifold. Firstly, it provides enhanced comfort by creating a soft and cozy feel against the foot. The additional padding helps to alleviate pressure and reduce friction, making it ideal for long hours of wear or high-impact activities.
Moreover, terry cushioning absorbs impact, acting as a shock absorber for the feet. This feature is valuable during physical activities such as running, hiking, or any sport that involves constant foot movement. By reducing the strain on the feet, Terry cushioning helps prevent fatigue and discomfort, allowing you to perform at your best.
Custom socks with terry cushioning offer broad personalization options to suit individual preferences. You can choose the thickness and density of the cushioning based on your desired level of comfort. Some may prefer a plush, thicker cushion for maximum softness, while others may opt for a lighter one for balancing ease and breathability.
In terms of design, you can personalize custom socks with terry cushioning to match different preferences. You can select various colors, patterns, or logos representing your personality or interests. Whether you prefer vibrant and eye-catching designs or subtle and sophisticated artwork, you can customize them to align with your unique style.
For example, if you're a sports enthusiast, you can design custom socks with terry cushioning featuring your favorite team's colors and logo. If you're a nature lover, you can opt for designs inspired by flora and fauna. The possibilities are endless, and the ability to personalize terry-cushioned custom socks ensures that you enjoy the benefits of comfort but also showcase your individuality.
Welt/Cuff Shape:

The welt or cuff shape refers to the top band around the calf or ankle. While it may seem irrelevant, the welt/cuff shape is significant for comfort and style. It can add a touch of elegance, provide a secure fit, and enhance overall comfort.


Various welts to upgrade socks:
Ribbed: Ribbed welt/cuff is a classic and widely used design. It features vertical ridges or raised lines for a comfortable fit around the leg. The ribbed pattern provides flexibility, allowing the sock to adapt to different calf sizes without causing discomfort. Ribbed cuffs are known for their durability and ability to stay in place, making them suitable for various activities. This style offers a timeless look that pairs well with casual and formal attire.


Fold-Over: Fold-over welt/cuff, also known as a double cuff, is a popular choice for style and comfort. This design features a long cuff that people can fold to create a layered appearance. The fold-over cuff adds extra warmth and insulation to the lower leg, making it ideal for colder climates or loungewear. It offers a cozy look while providing a secure fit around the calf. Fold-over cuffs often showcase contrasting colors or patterns when folded, allowing creative customization options.


Scalloped: Scalloped welt/cuff features a decorative edge with curved or wavy lines, resembling the shape of scallop shells. This style adds a touch of femininity and visual interest to the sock design. The scalloped edge can be subtle or more pronounced. It depends on personal preference. Besides its aesthetic appeal, the scalloped welt/cuff also helps to distribute pressure evenly around the leg, reducing the chances of discomfort or constriction.

Silicone Gripper:

Silicone grippers are a valuable upgrade in custom socks that serve a practical purpose: enhancing the grip of the socks. These small, silicone-based elements are strategically placed on the interior surface of the sock's welt or cuff to provide traction and prevent the socks from sliding down during activities.
The silicone grippers ensure the socks stay in place, offering a secure and comfortable fit throughout the day or during physical activities. Slipping socks can be a nuisance, irritation, and distraction. They potentially lead to blisters or chafing. Silicone grippers effectively address this issue by creating friction between the sock and the skin or the fabric of your shoes, preventing unwanted movement.
Silicone grippers have a slightly tacky texture that clings to the skin or the shoe's interior, maintaining a firm grip. It helps to keep the socks properly positioned, even during high-intensity workouts, running, or other sports activities that involve repetitive movements. With silicone grippers, you can focus on your performance or daily tasks without constantly readjusting.


How are socks made with grippers?
Athletic Socks

are for sports and active lifestyles and greatly benefit from silicone grippers. They provide stability and prevent slippage during intense physical activities, ensuring you can perform at your best without distractions. From running and hiking to cycling and gym workouts,

silicone grippers

enhance the functionality and comfort of athletic socks.


Dress Socks: Even dress socks can incorporate silicone grippers offering a more reliable fit. With silicone grippers, dress socks stay in place, maintaining a polished and professional appearance throughout the day. Whether attending a formal event, spending long hours at the office, or elevating your style, silicone grippers in dress socks add a practical touch without compromising elegance.


Casual and Everyday Socks: Silicone grippers can also be applied to everyday socks, ensuring a secure fit during daily activities. Whether running errands, walking, or simply lounging around, silicone grippers keep your socks in place and prevent them from bunching up or sliding down, enhancing overall comfort.

Accessories (Pockets)

:

When it comes to custom socks, the possibilities for creativity and functionality are endless. One exciting upgrade to consider is the inclusion of pockets. Adding pockets to custom socks allows users to conveniently store small items like keys, cash, or other essentials, providing a unique blend of fashion and practicality.
The idea of incorporating pockets into socks is not only innovative but also highly functional. It eliminates the need for carrying a wallet or searching for a secure place to keep small items on the go. With pocketed socks, you can have your essentials within reach, offering convenience and peace of mind.


Upgrade socks with
Hidden Ankle Pockets: These pockets are discreetly placed on the inside or outside of the ankle area of the sock. They are inconspicuous, allowing you to stash small items without compromising the overall appearance. Hidden ankle pockets are ideal for keys, cash, or even small cards securely tucked away.


Zippered Pockets: Zippered pockets offer added security and ensure that items won't accidentally fall out. These pockets typically have a small zipper closure, providing a secure compartment for essentials. Zippered pockets are versatile and suitable for various items, including keys, spare change, or small jewelry.


Mesh Pockets are breathable and lightweight. It allows easy storage and quick access to items. These pockets are typically located on the upper part of the sock and are suitable for holding smaller items such as earbuds, coins, or even folded notes.


Multi-Compartment Pockets:

For those who need more organization options, multi-compartment pockets are a fantastic choice. These pockets feature multiple sections or dividers within the sock, allowing you to store different items separately. This design is practical for carrying essentials like keys, coins, or medication.
Custom socks with pockets offer a delightful combination of fashion-forward design and practicality.


How to make custom socks to inspire you:
Travel-inspired Socks: Imagine custom socks with hidden ankle pockets featuring designs inspired by popular travel destinations. These socks add a touch of wanderlust to your outfit and provide a convenient and secure place to store your passport, cash, or travel cards while exploring new places.


Music Lover's Socks: Custom socks with mesh pockets in the upper part can be designed with musical motifs, reflecting your love for music. These socks can store small music accessories like picks, earplugs, or even a compact harmonica, ensuring you are always ready for your musical moments.


Gamer's Socks: For gamers on the move, custom socks with zippered pockets can showcase designs inspired by their favorite games. These socks can house small gaming accessories like game cartridges, memory cards, or even spare batteries, making them perfect for gaming.

Reflective:

Visibility and safety are paramount, especially in low-light conditions. People can easily see you walking, running, or cycling, and can prevent accidents and ensure your well-being. Reflective materials play a vital role in enhancing visibility and promoting safety, and incorporating them into custom socks can be both stylish and practical.
Reflective materials consist of tiny glass beads or retroreflective surfaces that bounce light back to its source. When exposed to light, these materials reflect in the direction they came from, making them highly visible even in dimly lit environments. 
You enhance your visibility from various angles, making it easier for others to spot you in low-light conditions by adding reflective accents to custom socks. It is crucial when walking or exercising near roadways, where being seen by drivers is crucial for safety.


Upgrade socks with:
Reflective Stripes or Bands: One common approach is to include reflective stripes or bands along the length of the sock. These can be horizontally, vertically, or diagonally for a striking pattern. Reflective stripes or bands add style and safety, ensuring you stand out in low-light environments.


Reflective Logos or Patterns: Another option is to incorporate reflective logos or patterns into the design of the sock. It allows for personalization while maintaining visibility. Custom socks with reflective logos or artwork can showcase your favorite sports team, brand, or even personalized motifs while providing an added layer of safety.


Reflective Heel or Toe Caps: Strategically placing reflective material on the heel or toe caps can draw attention to your movements. These areas are naturally noticeable when walking or running, making them ideal for reflective accents. They add a touch of style while improving visibility during each step.


Examples of custom socks with reflective accents:
Nighttime Running Socks: Custom socks designed for nighttime running can feature reflective bands that encircle them. These socks provide enhanced visibility to ensure you can safely enjoy your run, even in low-light conditions.


Cycling Safety Socks: For cyclists, custom socks with reflective stripes running vertically along the back of the calf provide increased visibility to drivers approaching from behind. These socks combine style and safety, offering peace of mind during nighttime rides.


Urban Commuter Socks: Custom socks designed for urban commuters can incorporate reflective patterns or logos that align with the wearer's style. These socks offer functionality and fashion, allowing individuals to express their unique personalities while staying safe on the streets.


Glow in the Dark:

Glow-in-the-dark socks offer a fun and unique feature that captivates children and adults alike. These socks can emit a soft, glowing light in the dark, creating a visually striking and playful effect. The technology behind glow-in-the-dark materials allows them to absorb and store light energy, which it releases as a luminous glow.
The science behind glow-in-the-dark materials involves phosphorescence. These materials contain phosphors. These substances can absorb energy from various light sources, such as sunlight or artificial light. When these phosphors come to light, they become excited and store that energy. Then, they release the stored energy in the dark as a glowing light.


How to make custom socks with glow-in-the-dark technique?

Incorporating glow-in-the-dark materials into custom sock designs opens up exciting possibilities for creativity and personal expression.


Glow-in-the-Dark Patterns or Accents: Custom socks can feature glow-in-the-dark patterns or accents that add a touch of playfulness and intrigue. These patterns or accents can include stars, stripes, dots, or custom designs that reflect personal interests or styles. During the day, the artwork may not be visible, but once in a dark environment, it emits a soft and mesmerizing glow.


Glow-in-the-Dark Logos or Graphics: Glow-in-the-dark socks can also showcase logos or graphics that become luminous when the lights go out. These can be brand logos, sports team emblems, or personalized motifs that glow, adding an element of uniqueness and identity to the socks.


Full Glow-in-the-Dark Socks: Custom socks can be made entirely from glow-in-the-dark materials for a bold look. These socks radiate a vibrant glow throughout their entire surface, creating a stunning visual effect. They are perfect for themed events, parties, or simply adding a touch of excitement to everyday outfits.


The potential applications of glow-in-the-dark socks are diverse:
Enhanced Visibility: Glow-in-the-dark socks can be an extra safety feature during nighttime activities such as running, cycling, or walking. The glowing effect helps increase visibility, making it easier for others to spot you in low-light conditions.


Nighttime Events or Parties: Glow-in-the-dark socks are a hit at nighttime events, concerts, or parties. They add a fun and eye-catching element to your outfit, allowing you to stand out and contribute to the lively atmosphere.


Kids' Socks: Children often find glow-in-the-dark socks enchanting. They can make bedtime more enjoyable or add an extra element of excitement to playtime. Glow-in-the-dark socks can become a favorite accessory for kids, stimulating their imagination and sense of wonder.

How EverLighten Came to Rescue:

EverLighten showcased its expertise by assisting the Control Industry, a prominent music and entertainment merchandise company in Los Angeles, with its unique requirements for custom-knitted socks. The Control Industry was seeking casual knit socks with four distinctive artworks in a crew style, suitable for a one-size-fits-all, but faced challenges with the intricate artwork design and tight deadline when approaching other manufacturers.
Our experts swiftly engaged with the customer, understanding their vision for the socks. Despite the complexity of the artwork, our designers produced an impressive mock-up within hours, earning the customer's satisfaction with no revisions needed.
Given the urgency, we proposed streamlining the process by skipping the sample stage and trusting our technicians and production team to proceed directly to bulk production. EverLighten successfully delivered custom-knitted socks on time and with exceptional quality. The Control Industry was delighted with the outcome, as we met their unique needs and exceeded their expectations. 
Read the entire story: 
https://everlighten.com/blogs/success-stories/control-industry-custom-socks
How to make custom socks with EverLigthen?

Custom socks have become a fantastic avenue for expressing personal style, showcasing individuality, and prioritizing comfort. These socks have evolved beyond basic functionality by offering fashion-forward design and practical features.
If you're ready to elevate your sock game and experience the joy of premium-quality custom socks, look no further than EverLighten. With our expertise and commitment to excellence, EverLighten offers a wide range of customization options and ensures that every pair of custom socks meets the highest standards of quality and style. Order now.


FAQs




How long does it take to get custom socks?

The time to get custom socks varies based on the manufacturer, design complexity, and order quantity. It can range from a few days to a month.



How are socks printed?

You can print socks using screen printing, sublimation, or direct-to-garment printing. It depends on the fabric and design requirements.



How do I choose quality socks?

Choose socks with high-quality materials like cotton, wool, or a blend. Look for reinforced toes and heels, seamless construction, and a comfortable fit for better quality.



Which socks are best?

The best socks depend on personal preferences and intended use. Consider factors like fabric, cushioning, breathability, and the activities you'll be doing while wearing them.



What is the best fabric for socks?

Cotton, wool, and synthetic blends are popular choices for socks. Each fabric has advantages, such as comfort, moisture-wicking, or thermal properties.



How are socks with designs made?

We make socks with designs using printing techniques like sublimation or direct-to-garment printing. The designs are transferred onto the socks using specialized equipment and processes.