Planning to sell custom socks online: Avoid these top 10 common mistakes
|
Feb, 11 , 22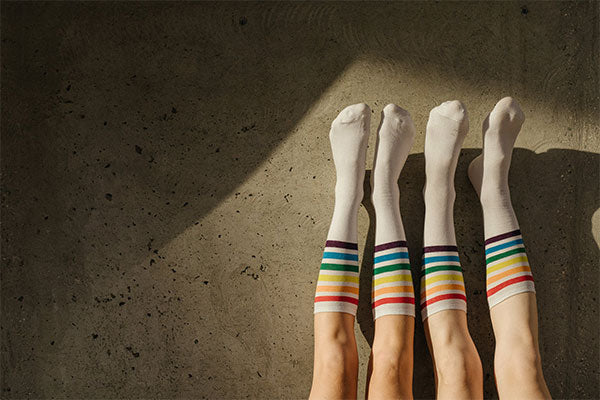 Are you planning to sell custom socks online? Do you have an online store and not get enough sales? Do you want to succeed and earn more? If the answer to all these questions is yes, this blog is for you. Socks are one product that is always in demand, whether it's winter, summer, Christmas, or any other occasion. According to Persistence market research, sales of socks are growing at a rate of 4.5% per year from the year 2015. That's not all; the demand for custom socks grew by 6%. Customers have become intelligent with so many resources available for learning and options; they like specialization. Nowadays, we can see people looking for custom socks like athletic socks and organic material socks with growing awareness regarding health & fitness and environmental friendliness. To enhance socks' durability, consumers demand a combination of different yarns and classical materials, i.e., cotton and wool. North America is seeing a growth of 18.4% in thinner socks with specialized cushions offering protection and warmth. There is also a higher demand for custom socks after the pandemic; Germans are now owing around 24 pairs of socks, most of which are custom.
With the technology and demand, selling custom socks has become easy and lucrative. And, if you are looking to start your own business, the time is right. However, it would help if you were careful; people make mistakes when launching their online store. But you can learn from other people's mistakes to avoid the initial headaches. You don't need to be an expert in either sock manufacturing or eCommerce marketing; there are plenty of companies out there to take care of - you need to focus on your business. You can always learn as you go along, pass hurdles and grow from them. For now, look at the most common mistakes to avoid:
Not having a business plan
When most people hear "business plan," they get fearful. They think of it as some daunting task that will take months to complete, or they would have to hire some experts. But, with the resources available today, it is pretty straightforward. All you need is a few hours each day to collect the data. Some people think they don't need a plan. They have all sorted out in their head, but writing everything down helps get a clear picture of the business. Checking competition planning out promotions and future growth projections is necessary to succeed. It will also give you an idea of where to find the manufacturer with the custom socks you want to design. Anything you want needs to connect with the business plan, whether the design of your socks, the niche market you want to focus on, launching a new line of socks for seasonal use, or finding the gaps in the market.
Analysis paralysis
Many people get caught up in the analysis paralysis mode; they assume everything needs to be perfect when they start. They think about every little detail and never start working. We understand beginning a custom sock business is difficult with the competition out there, but you will never know whether the methods will work without trying. Don't go into sock business with a fixed idea of what will happen; be fluid - it will help explore all the possibilities.
Not promoting enough
People are more likely to find out about your sock business when you spend regular time and effort on promotions. Sometimes they think all you need is to be promoted once, and that's all. Advertising is an ongoing effort. People don't want to look at the beautiful images of socks with perfect lighting and camera angles on your website; they want to see real people wearing those. Put on socks yourself or use pictures of family and friends with them. It looks genuine and makes people feel like they're a part of your business. Adapt the images to different social platforms but don't lose the vibe of your products.
Trying to do too much
There is an old saying, "you can do anything, but you can't do everything." It suits the context; just because you can be on every platform promoting your product doesn't mean you should. It is one of the most critical eCommerce mistakes people make. They spread themselves thin, trying to be on every social media platform. You need to understand not everyone is your customer, and not every platform is beneficial for your business. For example, if you create custom socks for college teens, you will need to concentrate on Instagram instead of LinkedIn.
Not understanding your audience
People start their custom sock business, not understanding the needs/ likings of their audience. Making money from your online business needs people buying your product. Start by answering these questions: Who is your audience? How can you get their attention? Your niche can be pretty specific as you like, and it's easier to attract customers with a niche product. Join groups and follow hashtags relevant to your custom merch like #Customsocks # custom athletic socks, etc. It will also help you become familiar with your audience and understand their needs. Talk like a real person; engage with them regularly to build relationships. 
Incorrect pricing
Pricing is one of the trickiest parts of any business. You want to make a profit, while on the other side you want to keep the socks affordable. It would help if you considered every cost, including manufacturing, shipping, promotions, running the site, paying employees, and more. But that doesn't mean you go crazy and upcharge the products. It is vital to keep two things in mind: the average market price and how much your niche customers will spend? No one will buy it if you price it too high, even if they are the most functional and cool-looking socks. 
Shopping experience
People like simplicity in the shopping experience; you need to provide the same. First-timers put a lot of focus on the products, and they neglect the overall vibe of the site and ease of shopping. We understand the individual pages are essential, but the shopping needs to be seamless. Customers want to know the details of the sock; the materials, the design, their uses, after-sales service, and more. You don't want to appear pushy with pop-ups for hard sell appearing every few seconds. Remember, few people buy in one go; they need many touches with your brand - at least seven before they consider buying. They need to see the testimonials and ratings. Afterward, you need to provide the smoothest payment options; one hiccup, and they will abandon the cart.
Not knowing your competitors
When starting your custom sock business, you need to be unique and not like your competitors, but ignoring them is foolhardy. You don't need to reinvent the wheel. Look at their website, products, shopping experience - if they have been doing business for some time, they must do something right; you got to learn from them. Check for patterns, whether it's measuring their social followers or product range. You can find out the gaps and help differentiate your business.
Giveaways
People love free stuff, and giveaways are a way to introduce your business and generate hype. However, it would help if you had a balance for handouts as they don't have the staying power as people like to think. You want to lay a firm foundation for your socks business success, at least six to twelve months down the line. It works for the launch of your store on special occasions, but don't depend on them as the primary source of interaction with customers. Too many giveaways are also not suitable for social media algorithms as it shows the volatility in how people receive your posts. 
Securing your intellectual property
It's essential to identify and secure your core brand elements like names, slogans, logos, and other similar things. If you ignore these, you are opening yourself to others to copy them. Securing your brand and custom socks designs, names, etc., needs to be on top of your priority list. You don't want your energy and time building your business and let it slip away. 
We hope you don't make these mistakes when starting your business. Still, for your custom sock business to succeed, you need quality products - you can only get quality products from a reliable manufacturer with years of experience. EverLighten is a custom sock manufacturer specializing in helping people grow their brands. 
Custom socks, no minimum: EverLighten is all about helping people start their sock businesses; you can order any number of socks you need. 
Fast turnaround: They have their factory, ensuring you get the quickest delivery. 
100% quality check: The manufacturing experts check every piece of sock for their quality during the process and before manufacturing. 
Free design help: You don't need to be a designer to start a custom sock business. Our in-house designers help you with impressive designs. 
Order tracking: You can track your orders anytime with an online tracking tool.
Dedicated account manager: Despite the order size, every customer gets a dedicated account manager. 
Worldwide delivery: They provide worldwide shipping for free. 
When you are ready to start your journey of selling custom socks, visit EverLighten.com to design your dream socks.