Custom Socks
Improve your restaurant's productivity and turnover with custom socks
|
Sep, 13 , 22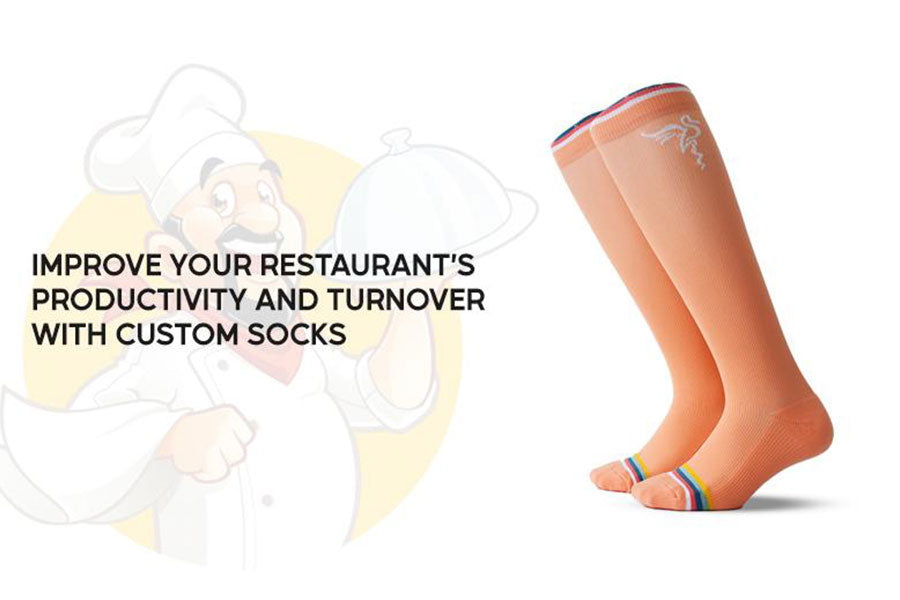 The restaurant industry is exciting and challenging. It is continuously changing, and the demands for working in it are high. Anyone who has ever worked in a restaurant can tell you how much physical toll it takes on the body. Workers have to stand and move day long with little rest. While it is manageable for a few days, it has severe consequences in the long run. It affects mentally and is one of the critical reasons for the high attrition rate. While you may be used to it, it does not mean you have to accept it. There is a solution: custom compression socks. Now, you might wonder how they can help. The blog will provide all the information, reasons, benefits, and tips for using
custom socks
 in restaurants.
Vital stats:
Working in a restaurant is the first job experience for 1 in 3 Americans, and 6 in 10 adults have worked in restaurants.
90% of restaurants have fewer workers than they need.
51% of restaurants say staffing is the top challenge to success.
Turnover is at an all-time high, at 75%.
The average work time for most is over 50 hours and can go up to 80.
Most of the time, workers are standing or moving.
Prolonged standing at work is associated with several serious health outcomes, like leg pain, lower back issues, cardiovascular, fatigue, discomfort, etc. It prevents people from working for a long time in the restaurant industry. It has a colossal effect on spending. Hiring and training a new staff member costs up to $2000.
How does working in restaurants affect workers?
Achy bones and joints:Restaurant workers have to work long hours on their feet; it puts pressure on their joints. They will probably start aching and feeling sore after working a few hours. For example, a bartender at a busy service bar can not take a break. Instead, they carry on working and inflicting more strain on their bones and joints. They find sore ankles and backache when they go home after their shift. It happens more often at weekends with more busy and longer working hours.
Foot problems: Standing throughout the shift affects feet and can cause issues like corns, bunions, etc. Severe problems include developing flat feet, heel spurs, weak arches, etc.
These look like minor issues, but they take a long time to go away.  
Fatigue:Running back and forth from the table to the kitchen with food plates is tiring; it drains physically. Happy and satisfied workers can turn into grumpy. It affects employees' productivity, and the service level may go down.

Leg cramps

 are one of the common issues, especially during hot days. Overworking can cause sharp pain in the calves and hamstrings. It hampers performance and lessens productivity.
How can custom compression socks help?
Several scientific studies have shown the positive effects of wearing compression socks. By giving
custom socks
 to your workers, you show them you are concerned with their health and safety. With your logo on the compression socks, they feel a sense of belonging and unity, thus increasing productivity and turnover.
They will show you care:Custom compression socks are a surefire method to display your appreciation towards employees. Workers can see the time, effort, and thought put into them; it can unite teams, excite new workers, and bolster branding. People will talk about your restaurant positively.
They encourage bonding:it might seem trivial, but custom items like compression socks improve the team environment. They feel a sense of purpose and connection to the organization.  
Benefits of custom compression socks for workers:
Energize your legs:Standing for long makes it harder for the body to circulate blood. Custom compression socks improve blood flow with precise therapeutic tightness. Better blood flow contributes to various benefits for the feet and the body, including energy levels.
Less swelling and fluid retention:with the improved blood circulation because of custom compression socks comes reduced swelling and fluid retention. We medically know the issue as Edema - the liquid leaks from veins into muscles and can cause other health issues.
Reduce achiness:Custom compression socks reduce the achiness and feeling of heavy legs. It helps to move comfortably and perform the work efficiently.
Improves recovery: They reduce muscular stress and improve recovery by decreasing lactic acid build-up throughout the day. Employees will feel and work better; they won't have exhausted calf muscles.
Increased productivity:Workers can do a better job when they feel fresh. Custom compression socks help to reduce muscular stress, which results in increased productivity.
Better sleep: They improve sleep quality by reducing sleep apnea and restless leg syndrome, which results from standing for long hours.
Improved blood circulation: The graduated compression prevents blood from trapping in the legs. Our hearts do not have to work harder.
Reduce feet issues:Custom compression socks reduce problems like varicose veins, and doctors recommend them.
Relief from chronic issues: You can deduce the benefits from all the mentioned points. Chronic problems like back pains also reduce after using custom compression socks.
How to choose the correct size and compression level? 
The three vital elements for choosing custom compression socks are size, length, and compression level. It affects the tightness, fit, and comfort level.
Light compression (15-20 mmHg): They are suitable for everyday usage and reduce aching legs, swelling, etc. Your restaurant workers will thank you, and their productivity will increase. They do not require any medical prescription and are suitable for everyone.
Medium or moderate compression (20-30 mmHg): these induce recovery and leg issues like heaviness, swelling, etc. Doctors recommend them for pregnant women; give them as gifts to expecting mothers.  
Stong or firm compression (30-40 mmHg): Physicians recommend them for advanced symptoms like blood clots and lymphedema. They help recover from severe foot issues.
Types of custom compression socks:
Knee-high:It is the most well-known, providing total feet, ankle, and calf support. You can customize it to go with the uniform with antibacterial and moisture-wicking fabrics. They will keep the feet comfortable the whole day.
Open-toe: They are helpful for corns, bunions, and swelling. They are ideal for summers and places with high temperatures. Open-toe custom compression socks help stabilize ankles, reduce arch pain, plantar fascistic, Achilles tendinitis, etc.
Calf-compression:People wear these over the calves to reduce swelling. The compression is the highest in the calf region. Restaurant workers can wear these over their footwear.
Conclusion:
A happy and healthy worker is more productive and satisfied at work. It results in a reduction in the attrition rate. Your restaurant's service level will increase, which is one the most vital things for better business. Custom compression socks are easy to create without spending much. You can design according to your brand colors and logo. However, precise compression and design are challenging and take years of experience. EverLighten has helped startups, large companies, sports teams, hotels, restaurants, hospitals, etc., to create custom compression socks for eighteen years.
Justine Arechiga, the Director of nurses at Bundle Birth, was looking to design custom compression socks. Working in obstetrics is quite challenging; they have to spend long hours standing, taking a toll on their feet and productivity. Justine realized that nurses could make or break a patient's birth experience. She contacted several manufacturers, but they did not accept the order because of various sizes, colors, prints, and quantities. When she reached out to EverLighten, the team helped her understand size, materials, production, and packaging. Working together and after modifications, they got the best compression socks. She thanked us for our patience, suggestions, and quality.
Get the EverLighten's difference:
Best pricing: We are a dedicated factory for producing custom socks and not intermediaries; customers always get the best price.
Quality without a compromise:We use premium-quality materials and the latest processes.
Fast turnaround time:We provide the quickest delivery for every order.
24*7 support:you can contact us anytime; our team provides round-the-clock support.
Real people, phenomenal service:EverLighten loves helping and offers various options for every sock.
Free design help and unlimited customization: the custom socks will look as you imagined; we provide endless customization.
No MOQ requirement:you can order as many socks as you need; we accept orders without a minimum limit.
Worldwide shipping: we deliver worldwide; customers can track their orders anytime with an order tracking tool.
Source: The blog first appeared on "
https://bestadvicezone.com/improve-your-restaurants-productivity-and-turnover-with-custom-socks/
" and was created by EverLighten's team and published with our permission as a part of the customer outreach program.