Custom Socks
A guide to buying custom socks designs
|
Sep, 13 , 22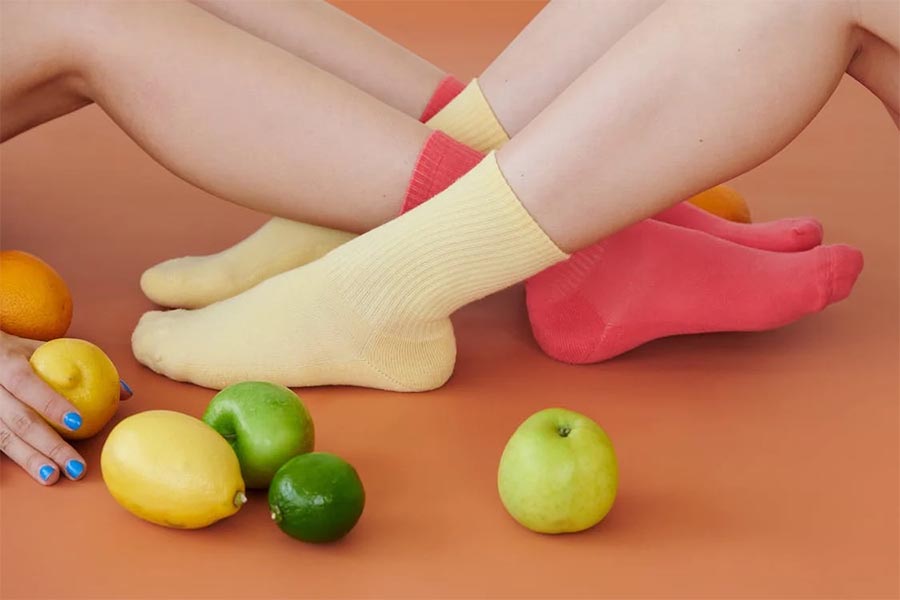 If you want to create
custom socks
, you can either design them yourself or buy a design. With tools, anyone can design; buying seems like a tiresome process. But, not all are suitable for custom socks, and most will be worthless. A captivating design is necessary to make the socks more memorable to customers. You can draw a few lines, use some colors and print your company's name, but that won't make a mesmerizing design. There are more elements to good socks design. That's where the need for professional designers arises.
Types of designs to buy:
There are two options, i.e., pay a designer to create from scratch or purchase a ready-made design. Let's find out more:
Buying pre-made v Custom designs:
Pre-made designs allow you to customize a few elements, including brand names and colors. Although you get little freedom, buying a pre-made design has its place:
Timesaving:They have designs ready, and all you have to do is insert your brand name and print on custom socks. The option is a time-saver and helpful when working with a tight timeframe.
Budget-friendly:They are ideal for a small company or working with a limited budget. You don't have to pay a lot of money for promotional socks.
Easy accessibility:You can download it from anywhere and use it. But, here is one downside - your custom socks won't be unique.
Custom designs involve working with a designer who will create according to your brand guidelines.
Getting a custom design takes more time and involvement from your side. But, it ensures the socks represent your brand identity and make an impression. They go a long way to help establish customer loyalty and awareness.
It allows you 100% control over every element, including colors, fonts, graphics, etc. It helps because no one knows your business more than you do. Sitting down with a designer and explaining your vision to them ensures you get the socks you want.
Tips for the right design for custom socks:
Understanding what separates a lovely design from an average one is the first step to buying. The best promotional sock design comprises the following elements:
Simplicity for design; often less is more. A crowded design may turn off customers. A promotional sock can be as simple as writing your company name with a unique or creative font.
Timeless: big brands maintain consistency in their promotional items and hold well. A simple and timeless sock design will do the same for your brand. Remember, your audience comprises people of various ages, personalities, backgrounds, etc., so the socks should appeal to different people. It is especially vital if your business serves a large market because it can be risky to go with a design that only appeals to a specific group of people. Use classical and professional fonts, limit the number of colors, and adapt to various occasions.
Versatility:Create a design that looks good in various styles, backgrounds, and materials like ankle-length, calf-length, over-the-calf, cotton, bamboo, athletic, compression socks, etc. The design should look consistent with other promotional products like t-shirts, hats, keychains, etc.
Appropriate: Understand your industry and your audience before buying a design. A design for custom socks for a gym might not be suitable for hospitals or businesses. Ensure you buy that resonates with your audience. A custom sock is more than the design - it is a part of your brand identity. It carries the brand's personality and tells your prospects about your business.
Unique:You don't have to invent a new design for promotional socks. There is no shame in using standard ones, but make them your own. You can do this by transforming a simple image with subtle design elements and wowing the audience.
Brand colors: Use brand colors for designing promotional socks; it will help people make a connection subconsciously. Colors evoke emotions like black represents professionalism and strength, blue serenity, and purple wisdom. A designer understands this and can help design per the message you want to send to your customers.
How much does it cost to buy a promotional sock design?
There is no standard price for a sock design; you can get a little money from a new designer or hire a big name by spending more. Your budget and the result you want to achieve will dictate the price.
What is your goal for custom socks?
Custom socks have various purposes, including increasing brand visibility, gifts, fundraisers, selling, etc. Understanding your purpose will give you a better idea of what design you want, like, image-based, textual, or a combination of both. Remember that the design is a part of your branding strategy, and if it does not represent your business identity, it is useless.
How many options do you need?
It is usual for people to check multiple designs for promotional socks. Designers charge more for several options. Ask yourself, do you need unique designs for various occasions? They can also provide you with different versions of the same design. Check to see how the designs look with diverse background colors. Tweaking the designs little can make or break the promotional socks effect.
You can get a design for custom socks regardless of your budget, but how will you know if a designer is not overcharging? It is advisable to set your budget and choose a designer accordingly. Going with a big agency will cost more compared to hiring a freelancer. Setting the budget beforehand allows both you and the designer to set expectations.
Strategies for custom socks designs:
Crowdsourcing: If you have a sock design idea but can not create it yourself, you can crowdsource it on various online platforms. Set the amount you will spend, and designers will submit their designs. Remember, the quality and quantity are directly proportional to the set price.
Connect with a freelance designer: There are a bunch of online platforms to hire freelance designers. Check out their reviews before assigning.
Use existing designs:You can find many mesmerizing designs that are unsold. If you find a suitable one for the custom socks, reach out to the designer. Offer to buy; there is a huge possibility that you can get that for less.
Conclusion: 
After reading the blog, you are now aware of plenty of affordable ways to find designs for your custom socks. With the designs ready, it is time to connect with an expert and reliable manufacturer. EverLighten has helped startups, large companies, schools, universities, hospitals, nonprofits, etc., create custom socks for eighteen years. They have in-house expert designers that help to improve the design per need.
Evelina Edens, the founder of the fashion brand Wear Your Snacks, was looking to create custom socks. Her idea was unique - athletic socks with people's favorite foods and beverages. She did not want to be like other companies selling brightly colored generic design socks. They contacted several manufacturers to no avail; they did not accept the order because it is challenging to produce exact designs on athletic socks. After reading hundreds of testimonials, she contacted EverLighten. Our team took on the challenge and patiently helped to understand the technical details. The design experts created the drawings, matched threads, and made comfortable, breathable, durable socks. She is satisfied and is a regular client with us.
Advantages of partnering with EverLighten:
Best pricing: We are a dedicated factory for producing custom socks and not intermediaries; customers always get the best price.

Quality without a compromise

:We use premium-quality materials and the latest processes.
Fast turnaround time:We provide the quickest delivery for every order.
24*7 support:you can contact us anytime; our team provides round-the-clock support.
Real people, phenomenal service:EverLighten loves helping and offers various options for every sock.
Free design help and unlimited customization: the custom socks will look as you imagined; we provide endless customization.
No MOQ requirement:you can order as many socks as you need; we accept orders without a minimum limit.
Worldwide shipping: we deliver worldwide; customers can track their orders anytime with an order tracking tool.
Source: The blog first appeared on "
https://12disruptors.com/a-guide-to-buying-custom-socks-design/
" and was created by EverLighten's team and published with our permission as a part of the customer outreach program.