Custom Socks
Custom socks to promote mental health awareness
|
Sep, 09 , 22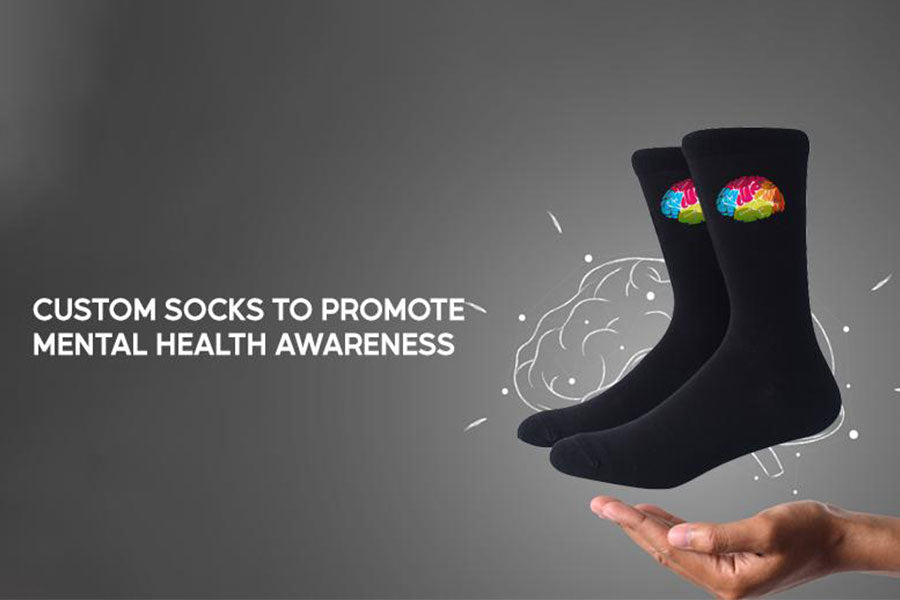 Our country is facing an increase in mental health issues. People feel more overworked and isolated than ever. With the pandemic, it grew manifold, and many people did not recover from its impact on our mental well-being. Social work and mental health services like therapy have become a must for many. It means therapists and social workers should market their services and increase awareness. But, mental health is a sensitive subject and is taboo by many. So you must balance campaigns properly, but how can you do it?
Custom socks
 are one of the handiest items to promote subtly. It is a helpful item people need in their lives and lovely for awareness campaigns without going over the top.
Mental health stats:
21% of US adults, i.e., 52.9 million, experienced mental illness last year.
Out of that, 5.6%, person people experienced severe mental illness.
5% of US youth aged between 6-17 experience mental disorders.
As you can see from the numbers, it is one of the critical issues of modern times.
How can custom socks help raise mental health awareness?
Practicality: Everyone needs socks, and they are practical accessories. 73% of men and 41% of women wear socks daily - making them the most used accessories. According to market research, 77% of receivers say usefulness is the number one reason to promote a message effectively. 69% of people connect to an issue if they find the product helpful.
Versatility: custom socks are versatile, with various options from materials to styles and printing options. E.g., ankle-length, calf-length, over-the-calf, knee-high, etc. Materials: cotton, polyester, bamboo, wool, silk, etc. Create the one per your needs, like giveaways, fundraisers, etc.
Easy customization: Custom socks are easy to customize according to the message you want to convey. They have printing options such as DTG, screen printing, 3D, and Jacquard knitting.
Budget-friendly: Custom socks are budget-friendly promotional products; you can create them in numbers without spending much money. They will help you reach more people and create awareness about mental health issues.
One-size-fits-all: custom socks are one-size-fits-all, so you do not have to create varieties to reach a large number. You can forget the headache of sizing or running out of a particular size. They are small and easy to hand out.
Where to market mental health services and awareness?
Keep in mind the places when promoting mental health services with
custom socks
. While promotion to individuals can be effective, there are other efficient ways to increase awareness. The time it takes to promote the issue to an individual can use to reach an organization. Reach out to organizations with the custom socks:
Schools
Employers
Health clinics
Insurance providers
Assisted living centers
By partnering with larger organizations, you can reach a much larger audience and people suffering from mental health issues. If you are in the mental health treatment service, it will ensure you have a lot of patients for years to come.
You also want to market the custom socks in places where people need mental health services the most like
Homeless shelters
Food banks
Rehab centers
Halfway homes for convicts
To cover the promotional and treatment costs, you can apply for government grants and organize funds in your community using custom socks. It could allow you to reach a larger audience; for some, treatment and social work can be the difference between life and death.
Finding and marketing to a niche: 
Mental health issues cover a large spectrum, from diagnosing mental disorders to family therapy services, student behavioral therapy, etc. It is challenging to target such a vast subject at once. You can not tackle everything alone. Find your niche, whether couples, specially-abled individual, the elderly, pediatric services, employee burnout, etc. Distribute the custom socks to make people aware and to display they are not alone in their fight.  
Once you know your niche, reflect your specialty in custom socks. For example, if you are a specialist in children's therapy, you can offer baby socks and market counseling services to schools and pediatric services. If you want to make people aware of addiction issues, you can partner with rehab centers to create custom socks; work with insurance providers to cover the cost.
Combat the stigma with custom socks:
One critical part of mental health services is to combat social roadblocks that prevent patients from getting the required help. Often people and parents balk at advertisements talking about these issues. While denial seems the correct response, it makes the problem worse. When marketing to individuals and their families, you need a two-step solution.
Awareness campaigns:Sometimes, people do not realize that there is a problem or that the issue is fixable. Use custom socks to raise awareness with related messages or catchy slogans.
Normalize: if people see something regularly, they get accustomed to it. Do the same with mental health issues. Custom socks with the message are helpful - more people use the socks for longer it helps ingrain the message in their subconscious minds. Use it to suggest those unaware of such issues or hesitant to seek counseling.
Some ways to accomplish the mentioned goals:
Hosting educational workshops and distributing custom socks
Attending schools and business events
Organizing community events like 5K run and giving away the socks
Breaking the stigma is absolute to allow more people to access mental healthcare.
Use social media to fight the issue:
Social media is one of the most effective ways to fight the issue. It can be a venue to educate and reach new patients. Here are some ways:
Use lots of visuals:people respond more to visual modes, like videos and pictures. Use custom socks in your campaigns to engage with your audience.
Offer them as rewards:branded socks are lovely as incentives to connect with more people. Ask questions, take polls, and encourage people to share their stories.
Be candid:People want to see a person, so show them pictures of patients with custom socks fighting the issue. Help people quickly whenever someone approaches.
Conclusion:
Your efforts to fight the issue can go a long way and improve the quality of life of many. While creating custom socks, focus on creating awareness with a simple message. Use colors that bring out emotions and avoid bright colors. One vital point: focus on high-quality materials because low-quality products do not make the desired impact. A reliable and expert manufacturer with a willingness to make a difference. EverLighten has helped hospitals, nursing associations, and charities create custom socks for over eighteen years.
The Let It Be Foundation - run by women - helps children and their families affected by cancer and other issues. They approached EverLighten to create custom socks for a fundraiser to assist women with intellectual disabilities. Their mission touched us, and we wanted to show our support and contribute to the cause. Our in-house designers helped them complete the design for free, and we gave them a 15% discount on the production charge. The team put their heart and soul into creating the socks. The project became successful, and they praised our work and ethic.
Best pricing: We are a dedicated factory for producing custom socks and not intermediaries; customers always get the best price.
Quality without a compromise:We use premium-quality materials and the latest processes.
Fast turnaround time:We provide the quickest delivery for every order.
24*7 support:you can contact us anytime; our team provides round-the-clock support.
Real people, phenomenal service:EverLighten loves helping and offers various options for every sock.
Free design help and unlimited customization: the custom socks will look as you imagined; we provide endless customization.
No MOQ requirement:you can order as many socks as you need; we accept orders without a minimum limit.
Worldwide shipping: we deliver worldwide; customers can track their orders anytime with an order tracking tool.