custom products
How to use promotional products to grow your daycare enrollment
|
Sep, 07 , 22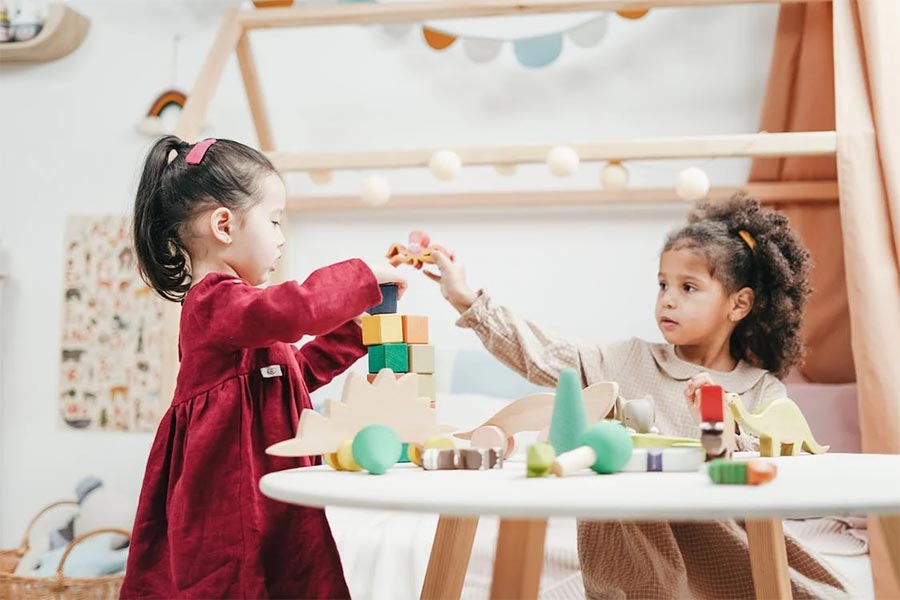 Providing childcare is one of the most critical services in any community. It helps families and communities to have peace of mind and grow. However, like any other service, the market is filled with competition. You can not open a daycare facility and expect parents to find you. To compete with other providers, especially the big ones, you need to ensure your brand is visible to parents. Setting up a daycare facility takes a lot of resources, and it is a general issue not to have much marketing budget. What to do? One of the most effective solutions is using promotional products. Not sure where to start? Read the blog to help your daycare grow in your community.
Importance of daycare facilities:
58% of working parents, i.e., over 6.3 million parents across the nation, rely on childcare centers.
They value the industry at $54 billion in the US.
50% of American families have trouble finding openings, especially in small towns and rural areas.
So if you open a daycare facility, you will favor families, the community, and the country. 
Importance of promotional products for daycare facilities:
Budget-friendly

:one of the best things about promotional products is the cost. They are budget-friendly compared to most marketing methods like TV or digital ads.
Brand exposure:Promotional items are lovely for brand recall; according to marketing research, 90% of receivers can recall the messaging from the brand. They help customers and prospects remind them of your daycare facility.  
Longevity:recipients keep the promotional products with them for a long time; a helpful one longer than gimmicks. The longer a product is with people, the more influence it will have on them.
Integrated marketing:You can incorporate promotional products into a marketing mix. Smaller products work well as part of a direct marketing campaign, and other items can support exhibitions or trade shows. The integrated approach will give you a boost.
Tactile:It is more of a psychological thing than you can measure objectively. A physical object is more appealing and creates more impressions than printed images or on-screen advertisements.
Resonance:Promotional items build an emotional relationship between consumers and brands. The American Retail Association market survey reports that 71% of people felt happy after receiving promotional items, and 83% of those agreed to have a positive effect.  
Variety:one reason for using promotional products is the variety they offer. It means there is something for everyone; children and parents. Choose from a range of products according to your budget and requirements; premium and entry-level.
Most affordable custom products:
Thousands of custom products are available, but not every item is suitable for daycare promotion. You need to find products that are helpful in people's lives. Something like a plastic sunglass with your logo might not be ideal; it does not provide much value and will not last long. Here are three of the most effective items:  
Custom plush toys: Daycare facilities are for children and should be the focus of marketing efforts. We understand parents decide and choose the daycare facility. But, when you can make a child happy with your custom plush toy, parents would be more influenced to choose your facility. They are ideal for children and last long without breaking. Even when the child does not attend your facility, you will build goodwill within the community, and people will recommend your center.
Custom socks:are helpful products. Everyone, from children to adults, needs them. Create in bulk; they are unisex, and the size does not vary much. Choose from the styles like the ankle, calf-length, over-the-calf, etc. There are a variety of materials like cotton, wool, bamboo, blended, etc., per your budget.
Custom keychains:are small, budget-friendly, practical, and durable; every house needs them. They will remind people of your daycare facility whenever they use them.
How to use promotional products:
Expense is one of the significant factors that keep parents away from using childcare facilities. However, you can bring the cost down and pass those savings on to the parents with customized promotional items.
Government grants and subsidies: People, including government officials, understand these facilities are essential. Reach your local and federal authorities with promotional items to boost the funding. They will attract their attention.
Hosting fundraisers: throw a family event for parents and kids and use the mentioned items. Use the money to reduce the cost and provide benefits to low-income families. People are good at heart and need some push; fundraisers are the push they need.
Trade marketing for discounts: if children are exposed to particular toys at your facility every day, they are more likely to want them for home too. It provides you with a unique opportunity; to reach out to children's brands and offer to market their business in return for sponsorship.
Employer marketing: reach out to every major organization with promotional products in your local area to see if they will partner with you to provide childcare to their employees. Even if they do not partner, you could reach out to parents in those organizations.  
Weekend clients:New parents are often stressed out and want some time to recharge themselves. Organize once-a-month weekend watches and give away small promotional products to people coming.
The local library hosts various children-centered activities, like reading; if you want to reach young parents, the library is a lovely palace to have your promotional products visible.  

Pediatric doctors and hospitals

 are places you must reach out to with your custom logo items.
Online visibility: People search for everything online, including daycare facilities. Online visibility is necessary for the growth of your daycare facility. Use social media and promotional products to your advantage. Ask parents to tag your facility with promotional products like custom plush toys, socks, etc. Upload the pictures of your center regularly.
Market your daycare facility:
While the demand for daycare is high, you can not leverage it if no one knows about your facility. Use promotional products to be visible in the community and online. As you put together your marketing plan, take time to find a reliable, expert, and experienced manufacturer. Manufacturers like EverLighten makes your message more memorable for parents and children with high-quality custom products. They have helped hospitals, birth centers, nurse organizations, schools, universities, online education companies, etc., create promotional items for eighteen years.
Ferris State University in Big Rapids, Michigan, is a public research university. They wanted to create
custom socks
for teachers and students. Since they had a supplier, they asked us to provide a quote. After knowing our competitive price - 60% less than their previous supplier - they asked to produce samples and ran them past the teachers and students. Everyone was 100% satisfied with the quality. EverLighten created 2,000 pairs of comfortable, breathable, and durable socks.
EverLighten created over 1,300 custom medals for VIPKid. It is one of the fastest-growing online education platforms, with an estimated market value of over $3 billion. At first, they were looking for custom lapel pins but changed their mind after receiving the samples. They thought lapel pins were not big enough to suit the special occasion and wanted to replicate the design on medals. Our team was patient, made several changes per their needs, and came technical challenges to create high-quality custom medals. The quality satisfied them.
Benefits of partnering with EverLighten
Best pricing:they are a dedicated factory for producing custom products and not intermediaries; customers always get the best price.
Quality without a compromise:they use premium-quality materials and the latest processes.
Fast turnaround time:they provide the quickest delivery for every order.
24*7 support: you can contact us anytime; they provide round-the-clock support.
Real people, phenomenal service: EverLighten loves helping; they offer various options for every product.
Free design help and unlimited customization:the custom items will look as you imagined; they also provide endless customization.
No MOQ requirement:you can order as many as you need; they accept orders without a minimum limit.
Worldwide shipping:they deliver worldwide; customers can track their orders anytime with an order tracking tool.