custom keychains
How to promote your toystore with custom plushie keychains
|
Sep, 07 , 22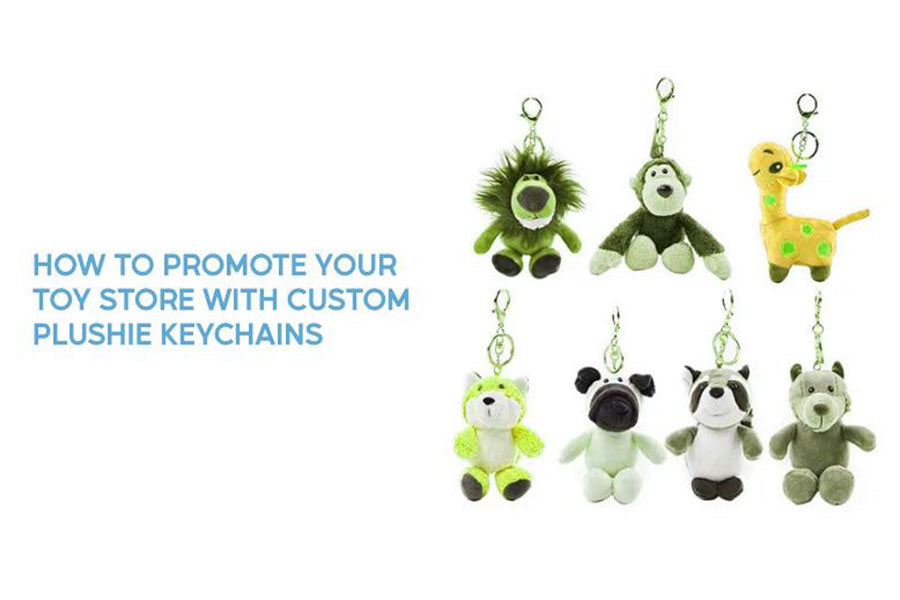 Everybody loves toys, and they are a vital part of childhood. They are more than only fun and games for kids. Toys engage a child's senses, spark their imagination, and encourage social interaction. Babies are curious and eager to learn about the world; every new color, shape, texture, and sound is a learning experience. That is why the toy business is a popular niche. It was profitable even during the pandemic when people cut back their expenditures. However, there is plenty of competition. You can not expect to make a profit without marketing and promotions. You might wonder how to promote a toy shop. The answer: custom plushie keychains. If you have a toy shop and want to promote it, the blog will provide you with all the information. Let's start with some vital stats:
The global toy market revenue is $94.7 billion.
They estimate the US toy market to be $25.5 billion.
What are custom plushie keychains?
Keychains designed like plush toys with your business name and logo are custom plushie keychains. People can use them to keep their keys safe, while it promotes your toy store. It is a revolutionary idea that will set you apart from the competition.
Why use custom plushie keychains?
They are novel:Custom plush keychains are a one-of-a-kind product. It combines two ideas into one, i.e., keychains and plush toys. They are not something people see or get every other day, like generic promo items like pens or mugs. The unique product will impress customers and prospects and will leave a mark. It is a definite way to be unique and quirky to stand out from countless other toy stores.
They apply to your business:Custom plushie keychains extend your toy business. Large companies do a lot of research to make their ads and promotional campaigns relevant to their niche. Using these as promotional products is specialty advertising. They will prompt receivers to think of your shop when they buy toys.
They are practical and fun: Custom plushie keychains are fun and worthwhile items. They target both kids and adults. Every household needs keychains to organize their keys; kids will love them because they are cute. They will add an extra dimension to your promotional efforts.
They are easily customizable:Custom plushie keychains are easy to customize per your needs. It has enough real estate to add your business name, logo, contact information, and address at the back. You can choose from various materials, sizes, stuffing, etc. In short: it fits your promotional requirements.
They have mass appeal:we make them with kids in mind, but they appeal to adults also. They look like toys, fun to use with cute designs; it is easy to send your message across cleverly and effectively. It makes them potent marketing products for the toy industry.
They are long-lasting: The longer a promotional product remains with receivers, the more effective they are for ingraining your business name. Custom plushie keychains are durable and last for 2-3 years easily.  
They have high-retention value:People get promotional items like pens, mugs, etc., regularly. So, they do not get excited, and people could throw them at the end of a shelf. Custom plushie keychains are practical and cute; people want to use and show them.
They are budget-friendly:custom plushie keychains are budget-friendly compared to other promotional items. They also make an impact, thus better value for marketing money.
How to use custom plushie keychains:
Giveaways are one of the effective methods of using
custom plushie keychains.
But be more creative. Use these tips to get started:
Contests are a lovely method to engage with customers; organize online or in-store contests. It is a fun and inexpensive way to generate a following and sales. Hand out custom plushie keychains at the end of the event with the prizes.
Promote locally:People can buy toys from anywhere, but if they visit the store, they are looking for a more personalized experience. Be a part of the community and promote locally with custom plushie keychains. Attend local events and distribute.  
Toy unboxing events: People love unboxing videos; they are one of the most popular video categories on YouTube and social media. Do a Live unboxing of new toys to promote; create a replica of the same as a custom plushie keychains and giveaway them to selected people watching the video.  
Organize game nights:hosting community game nights at your toy store is a wonderful to engage with families. Children can enjoy the games, and parents would be happy to get a free giveaway.
Book readings are another lovely way to engage with kids and parents. Read a popular book once a month at the store to be in the local gossip. Turn the occasion into an event with a custom plushie keychain giveaway.
Conclusion:
Custom plushie keychains are fun, budget-friendly, and effective for promoting your toy business. But, creating them is a challenging task that requires years of experience and expertise. You do not want to give low-quality generic items to customers; it could hamper your business image.
EverLighten
 has helped startups, shops, realtors, restaurants, comic cons, etc., create for over eighteen years.
The South Texas Comic Con, produced by South Texas Conventions LLC, is one of the biggest comic cons. They were looking to increase participation with promotional keychains. However, they could not find a manufacturer because of quality and a short deadline. After going through positive testimonials, they contacted EverLighten. Our team took on the challenge and created custom keychains in a record time. They were 100% satisfied and praised our quality and hard work.
Best pricing: We are a dedicated factory for producing custom keychains and not intermediaries; customers always get the best price.
Quality without a compromise:We use premium-quality materials and the latest processes.
Fast turnaround time:We provide the quickest delivery for every order.
24*7 support:you can contact us anytime; our team provides round-the-clock support.
Real people, phenomenal service:EverLighten loves helping and offers various options for every keychain.
Free design help and unlimited customization: the custom keychains will look as you imagined; we provide endless customization.
No MOQ requirement:you can order as many keychains as you need; we accept orders without a minimum limit.
Worldwide shipping: we deliver worldwide; customers can track their orders anytime with an order tracking tool.