Step into Cuteness: How to use National Cat Day to sell more custom socks | EverLighten
|
Jul, 10 , 23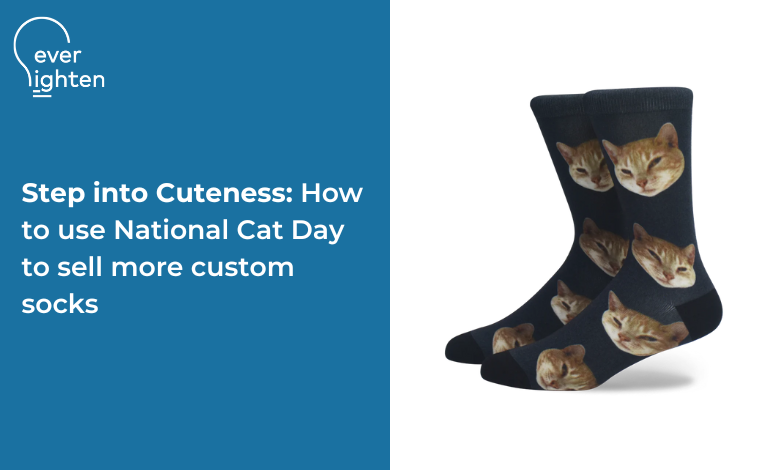 Step into Cuteness: How to use National Cat Day to sell more custom socks 
Welcome to our blog, where we let the cat out of the bag on a perfect marketing opportunity for all feline enthusiasts. That's right! We are talking about National Cat Day! This day, celebrated annually on August 8th, provides a unique chance to embrace our love for all things cat-related. But here's the twist: we're going to show you how you can leverage the charm of National Cat Day to sell more custom socks!
Custom socks have become a fashion trend that allows individuals to showcase their personal style, interests, and passions right on their feet. And what better way to capture the hearts of cat lovers than by offering them the opportunity to wear their adoration for these furry friends? By combining the allure of National Cat Day with custom sock designs, you'll be able to tap into a market that is not only passionate but also eager to display its love for cats in every step they take.
Why are custom socks the perfect items for National Cat Day?

Socks are the perfect items for National Cat Day for several reasons:

Expressing Personal Style: National Cat Day celebrates our love for feline companions. Custom socks offer a unique and personalized way for cat lovers to showcase their passion. By allowing individuals to customize their socks with cat-themed designs, patterns, or even their beloved cat's image, you help them express their style while embracing their love for cats.


Attention-Grabbing Fashion Statement: Custom socks are popular; it adds flair and individuality to any outfit. For National Cat Day, people are eager to demonstrate their love for cats in creative ways. By offering custom cat-themed socks, you tap into their desire to make a fashion statement that catches their eyes and sparks conversations about their favorite feline friends.


Emotional Connection: Cats hold a special place in the hearts of many people. They are beloved family members and sources of comfort. Custom cat socks allow individuals to create a tangible connection to their furry companions, even when they're not physically present. Wearing socks featuring their cat's face or a cute cat design evokes warm and positive emotions, enhancing the bond between cat lovers and their pets.


Gift-Worthy Items: National Cat Day is an excellent opportunity to spread joy and appreciation for cats. Custom cat socks make fantastic gifts for cat owners, cat enthusiasts, or even as memorabilia for those who have lost their beloved cats. Offering customized socks as gifts allows people to show their thoughtfulness and affection while giving recipients a unique and cherished item they can proudly wear.


Social Media Buzz: On National Cat Day, cat-related content floods social media platforms. You offer a visually appealing and shareable product by providing custom cat socks. People love sharing pictures of their adorable cats and unique finds, and custom cat socks are perfect for capturing attention on social media. It presents an opportunity for your brand to gain exposure and reach a wider audience as users share their customized sock designs online.
How to design custom socks for National Cat Day?

Designing custom socks for National Cat Day can be fun and creative. 


Determine Your Cat Theme: Consider the cat-related themes you want to incorporate into your sock design. You can choose from playful cats, cat faces, paw prints, whiskers, cat silhouettes, or even specific cat breeds. Decide on the overall style and mood you want to convey, whether cute, whimsical, or elegant.


Select Color Palette: Choose a color palette that complements your cat theme. Bright and vibrant colors can add a playful touch, while pastel shades or monochromatic schemes create an elegant and sophisticated look. Consider the preferences of your target audience and align the colors accordingly.


Sketch or Use Design Software: Begin the design process by sketching your ideas on paper or using design software. Sketching allows you to visualize the placement of various elements and experiment with different compositions. If you're comfortable using design software, you can create a digital mock-up to refine your ideas.


Placement and Proportions: Decide how to distribute the cat-themed elements on the socks, and consider a repeat pattern, a single large image, or a combination of both. Ensure the design elements are appropriately scaled and proportionate to fit the sock's surface.


Incorporate National Cat Day Elements: To make your custom socks specifically tailored for National Cat Day, consider adding subtle or prominent National Cat Day elements to the design. These could include incorporating the date, the National Cat Day logo, or other symbolic representations associated with the day.


Get Feedback: Share your design ideas with a focus group or trusted individuals to gather feedback and insights. Their perspectives can help you identify any necessary adjustments or improvements to the design.


Test the Design: Before mass production, it's essential to test the design by producing a few samples. This step ensures that the design translates well onto the socks and helps you identify any necessary refinements or modifications.

Production and Printing: Once satisfied with the design, proceed with production. Work with a reliable manufacturer or printing service that specializes in custom socks. Give the finalized design files and discuss any specific requirements or preferences for materials, printing techniques, and sizing.
How to promote and market custom socks for National Cat Day?

Promoting and marketing your custom socks for National Cat Day is crucial to generate interest, increasing sales, and creating brand awareness.


Social Media Campaigns: Create engaging content and share visually appealing images and videos of your cat-themed custom socks. Ask people to share their cat-related stories, pictures, or videos while wearing your custom socks, and create hashtags specific to your brand or National Cat Day to increase visibility and encourage user-generated content.


Influencer Collaborations: Partner with cat-loving influencers, bloggers, or social media personalities with a significant following. Collaborate with them to create sponsored content featuring your custom socks. This collaboration can include product reviews, styling tips, or giveaways. Their influence and endorsement can help expand your reach and attract a wider audience.


Limited Edition Releases: Create a sense of exclusivity and urgency by introducing limited edition custom cat socks for National Cat Day. Promote these designs through your website, social media platforms, and email newsletters. Highlight that these designs will only be available for a limited time, encouraging customers to purchase before they're gone.


Cat Shelter Partnerships: Establish partnerships with local cat shelters or animal welfare organizations. Donate some of the proceeds from your National Cat Day custom sock sales to these organizations. It not only supports a good cause but also creates a positive brand image and encourages customers to purchase your socks because they know they are contributing to the welfare of cats.


Email Marketing: Utilize your email subscriber list to send out targeted campaigns. Craft personalized email newsletters per your cat-themed custom socks, special promotions, and discounts for National Cat Day, and include eye-catching visuals and compelling copy to drive engagement and conversions.


Cross-Promotions: Collaborate with complementary businesses that cater to cat lovers. It can include cat-themed cafes, pet supply stores, or cat grooming services. Explore cross-promotion opportunities, such as discounts on custom socks with cat-related products or services.


Contests and Giveaways: Organize contests or giveaways on social media platforms to generate excitement and engagement. Encourage followers to share their favorite cat photos, stories, or cat-related designs, with the chance to win a pair of your custom cat socks. This strategy boosts user-generated content, increases brand visibility, and encourages participation.


Create Engaging Content: Develop blog posts, articles, or videos around National Cat Day and custom sock fashion. Share styling advice and gift ideas, or showcase how your custom socks can add a touch of cat-inspired charm to different outfits. 
Place it on your website, social media platforms, or even guest posts on cat-related blogs or websites.
How to make a profit and connect with customers for the long term using National Cat Day?

To make a profit and foster long-term connections with customers using National Cat Day, consider the following strategies:


Offer Special Promotions: Create exclusive discounts, bundles, or limited-time offers for National Cat Day. It incentivizes customers to purchase during this period and increases the perceived value of your custom cat socks. Consider offering promotions like "Buy One, Get One Half Off" or "Free Cat Toy with Every Purchase." It drives immediate sales and repeats purchases and customer loyalty.


Focus on Exceptional Customer Service to leave a lasting impression on your customers. Respond promptly to inquiries, address concerns, and resolve any issues efficiently. Offer personalized assistance, such as suggesting cat-themed designs or helping customers with sizing choices. You build trust and loyalty, encouraging customers to return for future purchases and recommend your brand to others by going the extra mile.


Establish a Loyalty Program: Implement a loyalty program that rewards customers for repeat purchases. Create a point-based system where customers earn points with each purchase and can redeem them for discounts, freebies, or exclusive perks. It encourages customers to choose your brand over competitors and fosters long-term engagement.


Collect Customer Feedback to understand their preferences, needs, and expectations. Use surveys, reviews, or social media polls to gather insights. Listen to their feedback, make improvements based on their suggestions, and communicate how their feedback has influenced your product offerings. It shows customers that their opinions are valued and helps you refine your offerings.


Build an Engaged Online Community where cat lovers can connect, share their love for cats, and engage with your brand. You can do it through social media groups, forums, or even a dedicated online platform. Encourage community members to share or participate in fun cat-related contests. You create a loyal and engaged customer base by fostering a sense of belonging and providing value beyond just selling products. 


Email Newsletters and Personalization with your customers through email newsletters. Inform them about new cat-themed designs, upcoming promotions, and exclusive offers. Utilize personalization techniques to tailor content to their preferences and past purchases. Sending personalized birthday discounts or anniversary rewards can make customers feel appreciated and valued.


Sponsor Cat-related Events or Charities: Support local cat-related events, cat shows, or charities by becoming a sponsor. It demonstrates your commitment to the well-being of cats and allows you to connect with like-minded individuals and organizations. Participate in these events, set up booths to showcase your custom cat socks, and engage with attendees. It strengthens your brand presence and aligns your business with the broader cat-loving community.
Over to you:

National Cat Day provides a golden opportunity to connect with cat lovers, generate profits, and establish long-term relationships. You can tap into a massive market by leveraging the charm of custom cat socks and implementing effective marketing strategies. From designing captivating cat-themed sock designs to promoting them through social media campaigns, influencer collaborations, and email marketing, you can create a buzz around your brand and drive sales.
To make the most of National Cat Day and beyond, it's crucial to partner with a reliable and experienced provider of custom products. EverLighten, a leader in custom manufacturing, is your go-to solution for high-quality custom cat socks. Their expertise, attention to detail, and commitment to customer satisfaction ensure that your custom socks are crafted with care and precision, delivering a product that delights cat lovers and exceeds expectations.

So, whether you're a business owner looking to expand your product offerings or an individual seeking personalized cat-themed socks, connect with EverLighten today.


FAQs


Why do cats like to play with socks?

Cats are attracted to the texture, scent, and movement of socks. It makes them an interesting and engaging plaything for them.



Do cats wear socks?

Generally, cats do not wear socks. However, in some cases, owners may put socks on their cats to protect their paws or keep them warm.



What are some of the most famous cats associated with socks?

There aren't specific famous cats associated with socks, but cats have a playful nature and often enjoy interacting with socks.



What are some ways to celebrate National Cat Day with socks?

To celebrate National Cat Day with socks, you can donate cat-themed socks to animal shelters, wear cat socks, share pictures of your cats and socks on social media, or organize a cat-themed sock drive for a local charity.

 

What are some of the best places to find cat-themed socks?

You can find cat-themed socks at various places, like, specialty pet stores, manufacturers like EverLighten, or clothing stores that offer a range of novelty socks.