Elevate Your Yoga Experience with Custom Yoga Mats | EverLighten
|
Jul, 13 , 23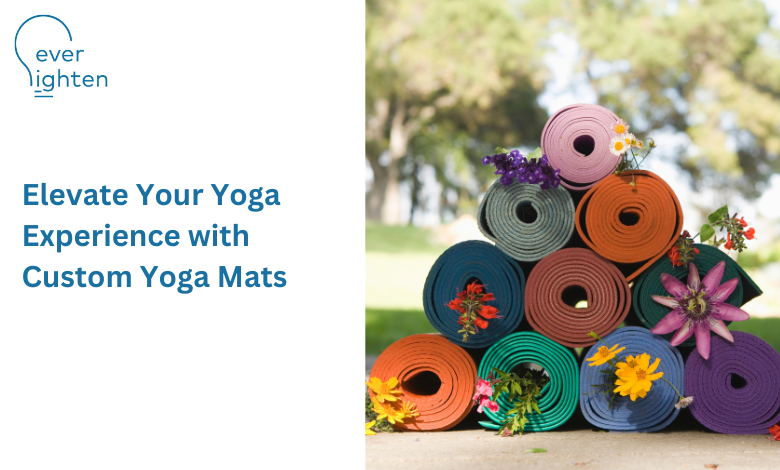 In yoga, a mat is more than just a surface to practice. It becomes a sacred space where the mind, body, and spirit unite. A yoga mat offers stability and support and creates a personal sanctuary for self-discovery and transformation. Imagine taking this experience to the next level with a custom yoga mat designed specifically for you. In this blog, we will explore the significance of yoga mats in enhancing your practice and delve into the world of custom yoga mats, discovering their unique benefits.


Understanding Custom Yoga Mats


Custom yoga mats are designed and created according to your preferences and requirements. Unlike standard mass-produced mats, custom mats allow you to personalize various aspects such as design, materials, dimensions, and more. These mats are tailor-made to suit your unique style, ensuring a one-of-a-kind yoga experience.


Benefits of using custom yoga mats


Enhanced comfort and support: Custom yoga mats can be customized with additional cushioning or thickness to provide extra comfort and support during your practice. You can choose materials that offer the ideal balance of softness and stability, allowing you to focus on your poses without discomfort or distractions.


Personalized design and aesthetics:

You express your creativity and individuality with

custom yoga mats

. You can select colors, patterns, and artwork that resonate with you, reflecting your unique personality and style. This personal touch makes them visually appealing and creates a meaningful connection to your practice.


Customized dimensions for a perfect fit: Standard yoga mats may not always meet your specific size requirements. Custom mats offer the advantage of being tailored to your desired size, ensuring a perfect fit for your body and practice. Whether you prefer a longer mat for extended poses or a narrower one for better portability, custom options allow you to achieve an ideal match.


Choosing the Right Material


Understanding the various materials used in yoga mats can help you make an informed decision when selecting a material for your custom mat. 


PVC (Polyvinyl Chloride): PVC mats are durable, affordable, and provide a good grip. 


TPE (Thermoplastic Elastomer): TPE mats are more environmentally friendly than PVC. They are lightweight, cushioned, and provide good traction. They are also free of harmful substances.


Natural Rubber: Natural rubber mats are eco-friendly, provide excellent grip, and offer good cushioning. They are also durable and resilient. However, some people may be sensitive to the natural rubber smell.


Cork: Cork mats are sustainable and antimicrobial. They offer a unique textured grip and natural cushioning. They are also lightweight and provide good stability.


Jute: Jute mats are eco-friendly and have a natural, earthy feel. They offer moderate grip and are suitable for gentle or restorative yoga practices.


Factors to consider when selecting a material for a custom mat


Grip and traction: The grip and traction of the mat are crucial to prevent slips and provide stability during your practice. Consider the material's texture and surface characteristics to ensure it offers a secure grip, especially when practicing challenging poses or when you tend to sweat.


Cushioning and thickness: The level of cushioning and density you desire depends on your preference and the type of yoga you practice. Thicker mats provide more joint support and cushioning, while thinner ones offer a firmer and more stable base. Choose a material and thickness that aligns with your comfort needs and the intensity of your practice.


Durability and sustainability: Evaluate the durability to ensure your custom yoga mat withstands regular use and maintains its quality over time. Additionally, consider the sustainability aspect of the material, opting for eco-friendly options that align with your environmental values.

Designing Your Custom Yoga Mat


Importance of personalizing your yoga mat: Personalizing your yoga mat adds a unique touch to your practice and enhances your overall experience. It allows you to create resonance with your individuality, reflects your intentions, and is a source of inspiration during your yoga journey. Customization brings a sense of ownership and connection, making your mat an extension of your personality and a meaningful part of your practice.


Customization options:



Colors, patterns, and prints: Choose from a wide range of colors, patterns, and imprints to customize the visual appearance of your yoga mat. Opt for colors that evoke certain emotions or align with your energy that inspire or elements crucial to your practice.


Embroidery or printed text: Add a personal touch to your mat by including embroidered or printed text. It can be a mantra, a motivational quote, or your name. This option allows you to infuse with words of encouragement, affirmations, or reminders that resonate with your practice.


Logo or branding options: If you're a yoga instructor or own a studio, custom yoga mats can be a branding opportunity. Include your logo, studio name, or other branding elements to create a cohesive look. This option promotes your brand and allows your students to feel a connection.


Tailoring Your Mat to Fit Your Practice


Selecting the ideal size and thickness for your needs



Size: Consider the dimensions of your mat based on your body type and the space you have available. Standard yoga mat sizes range from 68 to 74 inches and 24 to 26 inches. However, custom mats allow you to choose a size that suits your height, offers ample space for movement, and accommodates any specific requirements.


Thickness: The thickness of your mat affects the level of cushioning and support it provides. Thicker mats, typically around 6mm, offer more comfort for sensitive joints and provide additional cushioning during challenging poses. Thinner ones, around 3-4mm, offer a more stable and grounded feel. Consider your preferences, the type of yoga you practice, and any specific needs for joint support.



Considering portability and travel-friendly features



Weight and compactness: If you frequently travel or attend yoga classes outside of your home, consider the weight and portability of your custom mat. Lighter mats are easier to carry, and compact designs ensure convenient storage and transportation.


Foldability and rollability: Some custom mats offer folding flexibility rather than rolling, making them more compact and easy to pack. This feature benefits those who travel frequently or have limited storage space.


Carrying straps or bags:

Look for

custom mats

with dedicated carrying binds or bags. These accessories make it effortless to transport and keep it protected from dust and damage.




Exploring specialized mats for specific yoga styles or activities




Consider whether your yoga practice involves uniqueness or may benefit from particular mat features:



Hot yoga: Look for custom mats with enhanced grip and moisture-wicking properties for stability and prevent slipping during heated yoga sessions.


Alignment guidance: Some custom mats feature alignment markers or lines to help with positioning and alignment during practice. It can be beneficial for beginners or individuals focusing on precise alignment.


Travel yoga: If you enjoy practicing yoga outdoors or while traveling, explore custom mats designed specifically for outdoor use. These mats are often lightweight, durable, and resistant to outdoor elements.


The Benefits of Custom Yoga Mats


Igniting joy and enthusiasm in your practice: Practicing yoga on a custom mat that reflects your style and preferences can bring joy and excitement. The vibrant colors, meaningful designs, and personalized elements can uplift your mood, making each practice session a delightful and inspiring experience.


Enhancing focus and mindfulness:

Custom yoga mats

create a dedicated space that is uniquely yours, allowing you to cultivate focus and mindfulness. When it is to your liking, it becomes a sanctuary that promotes a deeper connection with yourself and the present moment. The intentional design and personalized features remind you to stay fully engaged in your practice.


Cultivating a deeper connection to your yoga journey: Custom mats create a profound link between you and your yoga journey. Personalizing them with meaningful symbols, mantras, or your name fosters a sense of ownership and attachment. It becomes a sacred space that holds your intentions, aspirations, and progress, strengthening your commitment to the practice and deepening your connection with its transformative power.


Conclusion

Custom yoga mats offer a transformative experience, elevating your practice to new heights of personalization, joy, and connection. You can create a yoga mat that reflects your unique style, enhances your focus, and cultivates a deeper connection to your yoga journey.
If you're ready to embark on this journey of self-expression and alignment, we invite you to connect with EverLighten—a trusted provider of high-quality custom yoga mats. Whether you're a brand, sports team, celebrity, influencer, or individual seeking a personalized yoga mat, EverLighten offers a range of options to bring your vision to life.
With EverLighten, you can unlock the potential of custom yoga mats to align with your brand identity, inspire your team, or create a standout accessory that resonates with your brand. Our expert team will guide you through the customization process, ensuring every detail is perfect.


FAQs


What are the benefits of yoga mats?

The benefits of yoga mats are providing cushioning and support for the body during yoga practice, enhancing stability and grip, creating a dedicated space for exercise, and improving hygiene by acting as a barrier between the body and the floor.



What is considered the best yoga mat?

The best yoga mat is subjective and depends on individual needs and preferences. Factors to consider include thickness, material, grip, durability, and portability. Popular options include mats made of natural rubber, PVC, or TPE.



Is it worth it to invest in a good yoga mat?

Investing in a good yoga mat is worthwhile for those who practice yoga regularly or have specific requirements for comfort and performance. A high-quality mat can provide better support, durability, and grip, enhancing the overall yoga experience.



Which is better, rubber or foam yoga mat?

Whether rubber or foam is better for a yoga mat depends on personal preferences and needs. Rubber mats generally offer superior grip and durability, while foam mats are lightweight and provide more cushioning.

 

Which is a better yoga mat or an exercise mat?

Yoga mats are designed for yoga practice, providing cushioning, grip, and stability. Exercise mats, on the other hand, are more versatile and suitable for various types of workouts beyond yoga.



How do I know if my yoga mat is good?

To determine if a yoga mat is good, consider factors such as thickness, material quality, grip, durability, ease of cleaning, and overall comfort. Reading product reviews and trying out different mats can also help to choose.