Make a Splash with Custom Umbrellas: Amplify Your Brand's Reach | EverLighten
|
Jul, 10 , 23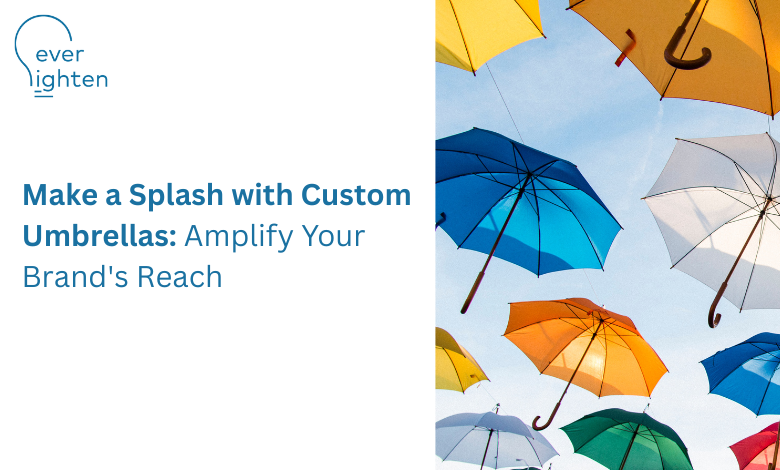 How Custom Umbrellas Can Boost Your Brand Visibility
Effective marketing strategies are essential for brand recognition and customer engagement in today's competitive business landscape. Promotional products play a vital role in these strategies, offering businesses a tangible way to connect with their target audience. Among the array of promotional items available, custom umbrellas have emerged as a powerful and versatile tool for promotional campaigns. In this blog, we will discuss the promotional appeal of custom umbrellas and explore why they have become a popular choice for businesses seeking to leave a lasting impression.
Custom Umbrellas as Promotional Tools

Custom umbrellas offer a range of unique qualities that make them highly effective in leaving a lasting impression on customers. Let's explore why custom umbrellas are effective for businesses looking to promote their brand.


Unique Qualities of Umbrellas

Custom umbrellas stand out among promotional items due to their distinct features:


Practicality

: Umbrellas are practical items that serve a functional purpose, protecting against rain, sun, or other weather conditions. This practicality enhances the perceived value of the promotional item, making it more likely to be used by recipients.



Longevity

: Unlike many other promotional products people may use and discard fast, umbrellas have a longer lifespan. They can use repeatedly, ensuring prolonged exposure to your brand message.


Branding Space: Umbrellas offer a sizable canvas for branding opportunities. The large canopy allows for creative designs, bold logos, and prominent messaging, maximizing brand visibility.


Practicality and Usefulness

Umbrellas are everyday essentials that serve a practical purpose in various situations. By offering custom umbrellas, businesses can align their brand with utility and convenience, thus enhancing customer appreciation:


Rainy Days: Custom umbrellas protect from rain, keeping recipients dry and comfortable during wet weather. This utility ensures their use, increasing brand visibility.


Sun Protection: Umbrellas also offer shelter from the sun's rays, providing a valuable function during hot and sunny days. This versatility makes them useful year-round and increases the chances of recipients utilizing them regularly.


Mobile Advertisements and Wide Audience Reach

Custom umbrellas act as mobile advertisements, exposing your brand to a diverse audience wherever they go:


Walking Billboards: When recipients carry custom umbrellas, they essentially become walking billboards, showcasing your brand to people they encounter on the streets, in parks, at events, and more.


Extended Reach: As umbrellas are portable, they often accompany recipients on their daily commutes, outdoor activities, and travels. This mobility allows your brand message to reach various locations and diverse demographics, expanding your audience.


Public Exposure:

Custom umbrellas

can attract attention in public spaces, drawing curious glances and inquiries about the brand or design. It creates opportunities for brand conversations and engagement.


Advantages of Customization

Customization plays a crucial role in elevating the promotional impact of products, and custom umbrellas are no exception.


Significance of Customization in Promotional Products

Customization adds a personal touch to promotional products, making them more memorable and impactful for recipients. It allows businesses to tailor the design, messaging, and overall appearance to align with their brand identity and promotional objectives. The key advantages of customization include:


Brand Consistency: Custom umbrellas showcase your brand elements consistently. Incorporating your logo, brand colors, and tagline into the design ensures a cohesive representation of your brand across different marketing channels.


Unique Brand Identity:

Businesses can create a unique and recognizable brand identity by

customizing umbrellas

. Standout designs, creative patterns, and visually appealing elements make your promotional umbrellas distinctive, enabling them to capture attention and leave a lasting impression.


Tailored Messaging: Customization allows you to convey specific messages or calls to action on umbrellas. Whether it's a slogan, promotional offer, or brand story, personalized messaging helps to reinforce brand positioning and create a connection with your target audience.


Branding Opportunities and Creative Designs

Custom umbrellas offer a canvas for creativity and branding opportunities, allowing businesses to maximize their promotional impact:


Logo Placement: Customization enables strategic placement of your logo on the umbrella. Placing it prominently on the canopy or handle ensures high visibility and immediate brand recognition.


Engaging Designs: Custom umbrellas provide a platform to showcase visually appealing designs that resonate with your target audience. Whether it's through vibrant colors, unique patterns, or artistic illustrations, engaging artwork makes your umbrellas visually appealing, sparking interest and curiosity.


Product Variations: Customization extends beyond design. You can offer different umbrella types, such as compact or golf umbrellas, catering to specific preferences or target markets. This versatility allows you to provide tailored promotional items that align with your audience's needs.


Enhanced Brand Visibility and Recognition

Customization significantly boosts brand visibility and recognition, ensuring that your brand stands out in a crowded marketplace:


Increased Exposure: Custom umbrellas, with their eye-catching designs and branding, attract attention wherever people use them. Whether on crowded streets, at outdoor events, or in public spaces, the umbrellas become attention-grabbing marketing assets that draw the gaze of passersby, generating exposure for your brand.


Word-of-Mouth Marketing:

Unique and well-designed

custom umbrellas

often spark conversations and generate positive word-of-mouth marketing. When recipients receive compliments or inquiries about their umbrellas, they become brand ambassadors, sharing their positive experiences and spreading awareness about your brand.


Brand Recall: Personalized umbrellas create a strong association between your brand and recipients while using them. This association enhances brand recall and increases the chance of people remembering your brand when they need products or services related to your industry.





Targeting Specific Audiences

Custom umbrellas offer a versatile promotional tool catering to various target audiences. By tailoring the design and messaging to specific demographics, businesses can maximize the promotional impact of custom umbrellas.


Outdoor Enthusiasts
Camping and Hiking: Custom umbrellas designed with nature-inspired themes or adventure-related graphics can appeal to outdoor enthusiasts who enjoy camping, hiking, and other outdoor activities.


Sporting Events: Sports-themed custom umbrellas featuring team logos or colors can attract sports fans attending outdoor matches, tournaments, or tailgating events.


Beachgoers: Vibrant and beach-themed custom umbrellas with tropical designs or coastal motifs can be popular among beach enthusiasts, vacationers, and coastal communities.


Urban Dwellers 
City Exploration: Custom umbrellas with cityscapes, iconic landmarks, or street art designs can resonate with urban dwellers who navigate city streets and appreciate metropolitan aesthetics.


Commuters: Custom umbrellas designed for commuters can feature practical elements like compact size, easy folding mechanisms, or reflective patterns to enhance safety during rainy or dark commutes.


Fashion and Style:

Custom umbrellas

that align with fashion trends or showcase unique patterns can attract style-conscious individuals who see umbrellas as fashion accessories.
Corporate and Business Settings 
Business Events: Custom umbrellas can be utilized as corporate gifts or promotional items at trade shows, conferences, or business expos, providing a professional and functional branding tool.


Corporate Gifts: Businesses can offer custom umbrellas as premium gifts to clients, partners, or employees, showcasing their professionalism and fostering long-term relationships.


Financial Institutions: Custom umbrellas can serve as branding tools for banks, insurance companies, or financial institutions, featuring elegant designs, sophisticated colors, or financial-related imagery.


Non-Profit Organizations
Fundraising Events: Custom umbrellas can be used as incentives or rewards for participants in fundraising events or charity walks, displaying the organization's logo and message to raise awareness.


Cause Awareness Campaigns:

Custom umbrellas

can support cause-related initiatives by incorporating symbols, colors, or messages associated with specific social or environmental causes.


Tailoring the design and messaging to specific audiences maximizes the promotional impact of custom umbrellas in several ways:


Relevance: Designs and messages that resonate with the target audience's interests, hobbies, or values create an immediate connection and increase the likelihood of recipients using and appreciating the custom umbrellas.


Emotional Appeal: Custom umbrellas can evoke emotions when the design and messaging align with the target audience's aspirations, preferences, or memories, creating a positive association with the brand.


Differentiation: Tailoring the design to specific industries or events allows businesses to stand out from competitors, showcasing their expertise and understanding of the target audience's needs.


Targeted Messaging: Custom umbrellas provide an opportunity to convey specific messages or calls-to-action that speak directly to the target audience, reinforcing brand positioning and motivating desired actions.




Designing Custom Umbrellas

Creating attractive and potent designs for custom umbrellas is crucial for maximizing their promotional impact. Here are some tips and considerations to keep in mind when designing custom umbrellas:


Align with Brand Identity
Consistency: Ensure that the design of the custom umbrella aligns with your brand's visual identity, including colors, fonts, and overall style. It helps reinforce brand recognition and strengthens brand association.


Brand Elements: Incorporate your logo prominently on the umbrella to increase brand visibility and recognition. Make sure it is clear and legible even from a distance.


Messaging: Consider the brand's voice and values when determining the messaging on the umbrella. Craft a concise and impactful slogan or tagline that resonates with your target audience.


Color Choices
Brand Colors: Utilize your brand's primary or recognizable colors in the umbrella design to reinforce brand recognition. Use them strategically for the canopy, handle, or other design elements.


Color Psychology: Consider the emotions and associations evoked by different colors. Choose colors that align with your brand's personality and the desired response from your target audience. For example, bold and vibrant colors convey energy and excitement, while muted tones show sophistication.


Contrast: Ensure sufficient contrast between the background, logo, or text to ensure readability and visual impact.


Logos and Graphics
Placement: Position your logo and graphics in a prominent location on the umbrella, such as the canopy or handle, for maximum visibility.


Size: Ensure that the logo and graphics are large enough to be easily seen from a distance while maintaining a balanced and visually appealing design.


Simplified Versions: If your logo is complex, consider creating simplified versions for the umbrella design to maintain clarity and legibility.


Slogans and Messaging
Concise and Impactful: Keep your messaging brief to make a memorable impression. Use catchy slogans, taglines, or short phrases that communicate your brand's value proposition or message.


Legibility: Choose clear and legible fonts for the text on the umbrella. Ensure the text size is large enough and in outdoor or rainy conditions.


Call-to-Action: Incorporate a call-to-action on the umbrella design to encourage recipients to engage with your brand or take a specific action.


Visual Appeal and Creativity
Unique Designs: Create visually appealing and unique designs that stand out. Consider incorporating creative patterns, illustrations, or graphics that resonate with your target audience and reflect your brand's personality.


High-Quality Graphics: Ensure the graphics or images used in the design are high resolutions to maintain visual clarity and prevent pixelation.


Simplicity: Avoid too many design elements. Opt for a clean and uncluttered design that allows the main message and visuals to be easily understood and appreciated.


Distribution Strategies 

When maximizing the promotional impact of custom umbrellas, the distribution strategy plays a vital role. 


Trade Shows and Expos
Giveaways: Use custom umbrellas as giveaways at trade shows, exhibitions, or industry-specific events. Offer them to booth visitors who engage with your brand or participate in a specific activity, such as filling out a survey or providing their contact information.


Brand Activation: Create an engaging brand activation or booth experience where attendees can interact with your brand and receive a custom umbrella as a reward or incentive.


Corporate Gifts and Incentives
Client Gifts: Offer custom umbrellas as premium gifts to clients, partners, or key stakeholders. Personalize the umbrellas with their names or include a handwritten note expressing gratitude for their partnership.


Employee Rewards: Recognize and motivate employees by gifting them custom umbrellas as rewards for outstanding performance, events, or as part of an employee appreciation program.


Charity Events and Fundraisers
Sponsorship

: Partner with charitable organizations or participate in fundraising events. Donate

custom umbrellas

as prizes, incentives, or auction items to support the cause and increase brand visibility among event attendees.


Cause-Related Campaigns: Tie your custom umbrella distribution to specific cause-related initiatives. For example, donate a portion of the sales proceeds from each umbrella to a chosen charity, creating a win-win scenario for the cause and your brand.


Outdoor Events and Festivals
Event Sponsorship: Sponsor outdoor events, festivals, or community gatherings where attendees need umbrellas. Distribute custom umbrellas with your branding at the event entrance or as part of event registration packages.


Branded Booths or Pop-ups: Set up branded booths or pop-up shops at outdoor events and offer custom umbrellas for sale or as giveaways to increase brand visibility and attract potential customers.


Social Media Contests and Online Campaigns
Engaging Contests: Run social media contests or online campaigns where participants can enter for a chance to win a custom umbrella. Ask them to share their experiences or create user-generated content featuring the umbrella and your brand.


Influencer Collaborations:

Partner with social media influencers who align with your brand to promote the

custom umbrellas

. Offer them as giveaways to their followers or have influencers showcase the umbrellas in their content.





Unleash Your Brand's Potential with Customized Umbrellas

Custom umbrellas offer a powerful and versatile promotional tool that can effectively enhance brand visibility, engage target audiences, and leave a lasting impact. By harnessing the advantages of customization, businesses can tailor the design and messaging of custom umbrellas to align with their brand identity and connect with specific demographics. Whether targeting outdoor enthusiasts, urban dwellers, corporate settings, or non-profit organizations, custom umbrellas have the potential to capture attention, spark conversations, and increase brand recognition.
When sourcing high-quality custom umbrellas at the best price, EverLighten is your go-to partner. With their expertise in custom merchandise and commitment to customer satisfaction, EverLighten provides top-notch custom umbrellas that meet your branding needs. Whether you're looking for trade show giveaways, corporate gifts, or promotional items, EverLighten offers a wide range of customization options and exceptional service.


FAQs


Why a custom umbrella is good for branding?

Custom umbrellas are perfect for branding because they offer a practical and highly-visible item that can display a company logo or message. They are helpful in various weather conditions and can serve as mobile advertising platforms.



What makes a good quality umbrella?

A good-quality umbrella has a sturdy construction, durable materials, reliable mechanisms, and excellent resistance to wind and rain. It should also provide sufficient coverage and be comfortable to handle.



Which material is most suitable for making an umbrella?

The most suitable material for making an umbrella depends on the specific requirements and preferences. Common materials include polyester, nylon, and Pongee fabric, each offering different levels of durability and water resistance.



Are all umbrellas UV-proof?

Not all umbrellas are UV-proof. However, many umbrellas have special coatings or materials that offer UV protection. Check the product description or labels for UV protection information.

 

What makes an umbrella durable?

An umbrella's durability depends on factors such as the quality of materials, construction techniques, and the strength of its frame. Reinforced joints and wind-resistant features contribute to increased durability.



What color is best for an umbrella?

The best color for an umbrella is subjective and depends on personal preferences. However, brighter colors or patterns can enhance visibility and make it visible in a crowd.