How to run your sustainable custom apparel store
|
Mar, 15 , 22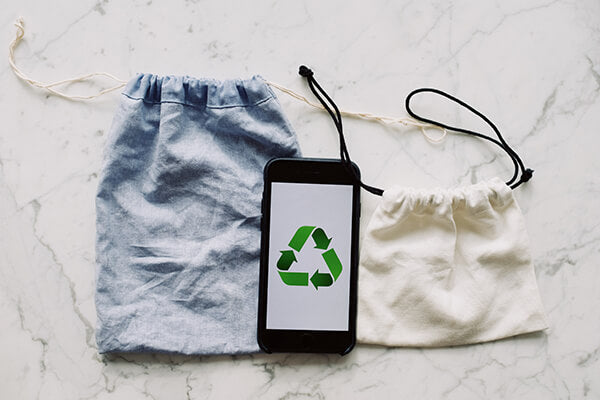 Climate change and global warming are happening much faster. The clothing industry is the third most pollution-causing industry in the world. Thankfully people are also becoming more aware and concerned about the issue. They are making changes to help the earth, and the rise of sustainable clothing can be seen in the market trend. It presents a unique opportunity for people looking to run their apparel store. Looking carefully, you can see that sustainable custom apparel is big right now and will grow at a fast rate in the coming years. 
What is custom sustainable apparel?

 
On-demand personalized apparel created from fabrics derived from natural eco-friendly resources is custom sustainable apparel. E.g., Clothes made using fiber crops or recycled materials. 
The global fashion market size was valued at 6.35 billion dollars in 2019. It grew at a CAGR of 8.7% since 2015 and is expected to raise $8.25 Billion by 2023. Awareness about using sustainable products is the primary driver. The government of China announced its plan for sustainable manufacturing, including apparel, in 2018. Cities like Shanghai are promoting green manufacturing initiatives for sustainable manufacturing. Whether you are an entrepreneur or business organization, you can leverage custom sustainable apparel for you.
Follow these steps
Making up your mind: 
You need to make up your mind to start your sustainable apparel store because once you start walking this environmentally-friendly route, there is no going back. Sustainability in your business and brand means serious commitment. Your customers will expect honesty, authenticity, and transparency from your side. They will want to know how you make your products, the materials, and more. For making up your mind, try answering these questions: 
What problems do you want to solve? 
Is the issue important to you? 
How can you fix the issue?

Apparel ideas:
Coming up with new product ideas is challenging and even more difficult to create sustainable products. It is a crowded space, and you will have to do your research carefully, look at the trends, and find out the gaps in the market. Two things help you stand out: innovative products and unique designs from other sustainable brands. 
Materials and design:
According to market studies, the average life of apparel is around 2.2 years. High-quality, sustainable materials is necessary to design long-lasting clothing. It would help if you designed to make them reusable and recyclable for reducing the impact on the environment. Use these points to get started:
Using design and manufacturing techniques to reduce waste
Designing apparel with multiple uses to increase versatility
Can you manufacture products with such design and materials that prolong the lifecycle of products
Making customers aware about washing, caring and recycling
If you are going the sustainable route, you also have to think about the materials incorporated in the apparel. Are the materials recycled? You would want to choose a manufacturer that uses less water, chemicals and energy and make people aware of it through various marketing efforts. 
Sustainable materials:
One of the most significant parts of creating a sustainable apparel brand is using sustainable materials. You will have to choose eco-friendly suppliers and materials over suppliers not prioritizing sustainability. Learn the basics of various materials, their impact on the environment, and their eco-friendly options. You will need to work with transparent, trusted, and certified manufacturers like
EverLighten
, whose goals are to reduce their carbon footprint. 
Materials and their sustainable alternatives: 
Cotton: People have been using cotton for thousands of years for making their clothes. They are soft, breathable, hypoallergenic, and biodegradable. However, they take much water to grow, are prone to wrinkles, and shrink quickly. Some sustainable alternatives are organic and recycled cotton, hemp, bamboo. You can also increase the lifespan of cotton apparel by skipping a wash - if not much necessary - spot cleaning and air drying.
Polyester: It is one of the most popular fabrics for manufacturing apparel because of its durability, cost-effectiveness, moisture-wicking, and wrinkle-resistant properties. However, they are not breathable and release microplastic in nature. Some of the alternatives are; recycled and biobased polyester. You can use a special washing bag or use laundry machines filters to reduce microplastic pollution. When buying polyester products, look for high-quality smoother threads; they don't shed plastic microfibers quickly. 
Viscose or rayon: Rayon is a breathable fabric, looks elegant, cost-effective and resembles silk. However, the production is resource-intensive with many chemicals, and the apparel quickly loses its shape. The two alternatives are Tencel and ecoVero. You can increase its lifespan by airdrying them flat, by not twisting and ironing them to make them look new. When the time comes for replacing it, look out for plant-based alternatives.  
Wool and leather: These are two of the oldest materials people have been using. They are great insulators, odour free, biodegradable, and durable. You can use vegan leather and recycled wool if you don't support animal products. Some of the alternative options are organic cotton, hemp, linen. You can also use second-hand leather. 
Manufacturing:
While manufacturing your custom apparel gives you more control over the final products, it can be quite time consuming and expensive. You can go with on-demand manufacturing; several manufacturers are available, like EverLighten. It's easy to sell products without taking care of the manufacturing process. With on-demand manufacturing, you are also reducing waste; you are ordering only a specific number of products that you can sell. Whether you opt for an on-demand or eco-friendly model, they both have their pros and cons. Evaluate, compare and choose the one suitable for you.
Brand name:
People don't expect it, but coming up with a brand name is more time consuming, than they think. The brand name plays a huge role in your business's success. Your name needs to communicate clearly to people, show what you stand for and attract new customers. Try these tips to come up with your business name: 
Keep it short, memorable and straightforward, e.g., EverLighten, because our brain can store only a fixed number of words at a time, and the more complex a name, the more un-recallable it becomes. 
Try to keep something meaningful: You can choose from two different options here: Choose a meaningful name and put efforts to make it into a brand name, or choose any name and make it a brand name like big brand names of the world. 
Get feedback: Learning from feedback is essential for success in life, including business. Try to get feedback from professionals and not from friends and family. 
Products:
There is a wide range of options for sustainable custom apparel!
Building a brand name:
People love stories; a captivating brand story is necessary to build trust, engagement and loyalty. It is similar to the experience, where you had to what sustainability means to you; you now have to define how you want your brand identity to be. Some key points to remember while creating your business identity: 
You need to explain three things: 1. What do you do? 2. How do you do it? And 3. Why do you do it? 
Your brand story needs to represent your brand's 1. Mission 2. Vision 3. Beliefs 4. Values 
Being honest and transparent helps include essential facts about your business. 
Store:
There are two options with you when it comes to setting up your store: Online or brick and mortar store. 
Online-store:

With so many resources these days, setting up an online store is simple. If you're confused and don't want to waste energy, hire experts. 

Brick and mortar store:

For this option, you have to consider things like location, property rent, inventory and more. 
Both have their pros and cons; consider all of them before making a decision. 
Marketing:

 
Even if you have the most beautiful sustainable products in the market, all your effort and resources will go in vain if no one knows about them. Marketing your brand name is one of the most crucial aspects of any business's success. Appropriate methods and proper channels will help you reach more customers caring for nature. There are several different marketing methods, but online marketing is the best nowadays. People spend more time looking at their device screen than looking around. 
Since you are running a custom sustainable apparel brand, you need to highlight it to effortlessly stand out from the crowd. Don't fall into the trap of greenwashing - yes, it's a term for offering more than you can deliver. E.g. if your apparel is not eco-friendly don't market it as sustainable. Please provide all the information on labels so customers can read them to make informed decisions. 
Apart from the online marketing methods, you can use these valuable marketing items to spread awareness. 
Custom patches:

You can create eco-friendly

custom patches

with your brand name and message. Start distributing to people at tradeshows, customers and vendors. Try to keep the logo and colors consistent with your business image. 
Pins: Custom lapel pins are an easy way to increase brand awareness. People can proudly wear these pins supporting sustainable products on their apparel.  
Giveaways: For increasing awareness, you can giveaway some products like custom socks on special occasions to your loyal customers. It will encourage them to be with you. 
Social media posts: Engaging with people on social media and forums is the most effective way of increasing awareness. Ask your customers to tag your business and post pictures with your products to spread the message of sustainability. 
Sustainable apparel will grow faster in the coming future; it presents a unique opportunity for entrepreneurs to jump on the bandwagon and build their brand successfully. However, you will need a reliable manufacturer for your products - EverLighten has over eighteen years of experience manufacturing custom merch for startups, sports teams, big businesses, NGOs, colleges, universities, social media influencers and individuals.
Production and delivery: The quality inspectors check each patch for their quality ensuring only the best products reach its customers. 
Best pricing: They are a factory and not intermediaries ensuring factory direct pricing. 
Quality in every product: The company uses the highest-quality materials helping to create the best sustainable products. 
Real people, real service: They love helping people at EverLighten; whether the order is small or large, they provide help from the start to the order delivery. 
They make you look great: Their in-house design experts help match the design in the customer's head to the real-life design. 
Fast turnaround: With their dedicated factory, they can complete every order in the least time possible. 
No minimum order limit: The company doesn't have a minimum order limit and accepts every order. 
Free shipping: They deliver worldwide for free. 
Real-time supply chain visibility: Customers can track their orders with an order tracking tool. 
The sustainable apparel industry is the present and future of apparel. We hope you got all the necessary information for successfully running your custom sustainable apparel store. For more information and design, visit EverLighten.com.