Effective tips for marketing and driving customer engagement with custom merch on St. Patrick's day
|
Mar, 15 , 22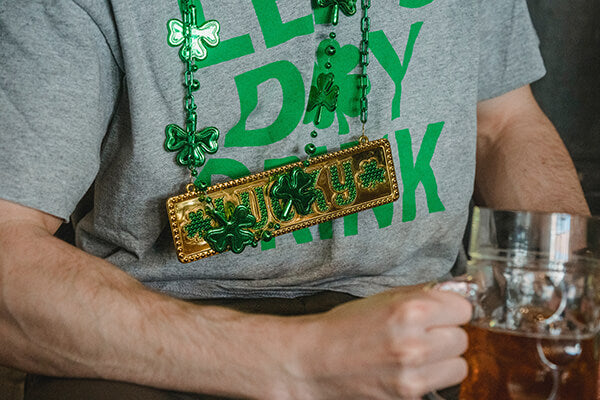 It's hard to believe, but it's March already! It seems like yesterday; we celebrated and wished each other a Happy New Year. And, here we are, nearing the end of the year's first quarter. March is a festive month with people celebrating St. Patrick's Day, especially in the US. It's a day where people claim Irish heritage by wearing green, attending parades, and drinking beer. It is an opportunity for businesses to increase their brand awareness and sales using custom logo merch giveaways. 
According to data from the National Retail Federation, 56% of Americans celebrate or plan to celebrate St. Patrick's Day, and the number is even higher in the 18-34 age group at 73%. This year, consumers are expected to spend $6.16 billion on this day, so you don't want to miss this tremendous opportunity to get some of the "pot of gold." 
What is St. Patrick's Day? 
It is a day dedicated to St. Patrick - the patron saint of Ireland. People credit him for converting pagan people to Christianity and banishing snakes from Ireland. The day is a National holiday in Ireland, and people worldwide celebrate with great zeal. People dress up wearing green which provides you with an opportunity for marketing using St. Patrick's Day merch. 
Tips for merch creation
When creating St. Patrick's Day products, you need to focus on color. At this point, everyone in the world knows the day is about green; from hats to socks, you need to focus on green. Think funny, humorous, sarcastic, and a bit rude and naughty - when it comes to the written messages, you can get away with anything as long you hit the right notes on this party day. 
Another critical factor to success with your efforts this day is incorporating popular Irish themes and symbols into your custom merch. With this, you can connect with an estimated 70 million people with Irish ancestry globally and a phenomenal 30 million people in the US alone. You have a chance to leverage this untapped market from Brazil to the Baltic states with custom merch. 
Here are some tips for St. Patrick's day 
Show your festive spirit with green: The most effective way to show people your festive spirit on St. Patrick's day is with green, both online and offline. When someone passes in front of your offline store, they need to know you respect and celebrate the Irish holiday - even if you don't have Irish roots. Decorate your display window using the right merch and props. If you haven't customized merch, visit EverLigthen.com now for fast delivery. You can start with keeping all the green merch on display. Encourage all your employees to dress in green to celebrate the festivities. For online stores

:

You need to add some green elements to your website to get into the spirit. Consider temporarily updating your website color scheme or adding St. Patrick's day centric images to your site. 
Creating St. Patrick's day collections merch: One of the most effective ways to generate buzz is coming up with custom collections and designs, especially for this day. Limited edition designs and products work great because of their relevance to the season and occasion. And, since they are not widely available year-round, you can promote a sense of exclusivity and urgency using them. For maximizing the benefits, make a conscious effort to drive up the excitement with hype-building. You need to build up anticipation with both online and offline marketing. 
Use a special promotion: If you're into apparel and your budget allows, you can consider running a special promotion for the event. Check your stocks and find out products you can move; create a special St. Patrick's day themed promotion. Some tips you can use: 
Since the date is 17th of March, you can offer a discount of 17% on all or selected products. 
Add a themed product to the merch you want to move to encourage people more. 
You can offer some discount to customers who come into your store wearing green. 
You can put up all green merch for sale.
Keep a dedicated section in the store: Creating a dedicated area will make it easy for people to see all the merch in one place and check out the products. If you don't have many items, you can keep a table or shelf. If you have an E-commerce site, you can set up a particular page or category named "St. Patrick's day." You can then promote and redirect people to the page with a special banner. 
Ask your employees to join in the fun: Any festivity is not complete without participation; ask your employees to show their festive spirit with green. You can distribute props like Custom lapel pins and custom hats with four-leaved clover to spice up their attire. Perhaps they can use these props as a conversation starter with customers coming to the shop. You can get creative and meet with your employees and celebrate together at the end of the day. 
There are numerous ways to celebrate online with customers and employees also. Ask them to post their party pics with your custom merch and tag your organization. To encourage participation, you can create some contests and provides prized custom t-shirts; it will help build loyalty. Another effective method for engaging more people is creating special promo codes or coupons for St. Patrick's day.
Hosting an event: If you have an engaged community, you can throw an event celebrating the day; check your local laws about community gatherings in these Covid times. Come up with fun activities that everyone can enjoy and service food and beverage; no Irish celebration is complete without beer. 
You can also organize fun activities for online celebrations and pick winners to encourage more participation and engagements. 
Provide tips to people

:

 Even if you can't organize or throw a party celebrating the day, you can provide celebration ideas. People are on the lookout for ideas, recipes, decor, and outfits; you can drive engagement by delivering tips even if you are not selling something particular they can use. You can drive sales by providing links to specific items when publishing your content. 
Using giveaways: One of the common themes of this day is being lucky, and you can use it to drive engagement. Use custom giveaways to accomplish your goals. Start by encouraging your customers to try their luck by running contests. Here are a few tips you can use for this event: 
Use the occasion to give away prizes to the best green-dressed customer. 
Hide "Leprechaun treasure" in your store and ask customers to find it. 
Ask people to post their pics celebrating St. Patrick's day and hand out prizes. 
Custom merch you can create to celebrate this day: 
"Luck" may be the common theme for St. Patrick's day celebrations, but you shouldn't be reliant upon it for marketing success. It would help if you had high-quality custom merch, which is only possible with a reliable company with experience and expertise. EverLighten has been in custom manufacturing for over eighteen years, having created merch for large and small organizations, NGOs, colleges, celebrities, influencers, and individuals. 
Production and delivery: The quality inspectors check each product for their quality ensuring only the best products reach its customers. 
Best pricing: They are a factory and not intermediaries ensuring factory direct pricing. 
Quality in every product: The company uses the highest-quality materials helping to create the best products. 
Real people, real service: They love helping people at EverLighten; whether the order is small or large, they provide help from the start to the order delivery. 
They make you look great: Their in-house design experts help match the design in the customer's head to the real-life design. 
Fast turnaround: With their dedicated factory, they can complete every order in the least time possible. 
No minimum order limit: The company doesn't have a minimum order limit and accepts every order. 
Free shipping: They deliver worldwide for free. 
Real-time supply chain visibility: Customers can track their orders with an order tracking tool. 
Make sure you have a solid plan with a decisive end goal. Use this high-energy day to spread awareness and get people excited to do business with you in the future. For more marketing and customer engagement tips, visit EverLighten.com.