Best Custom Socks, Brand, Custom Sock, Custom Socks, Custom Socks Bulk, Custom Socks Wholesale, Customized Socks, Design Your Own Socks, Premier Sock
How to Get the Best Price on Bulk Custom Socks
|
Oct, 27 , 23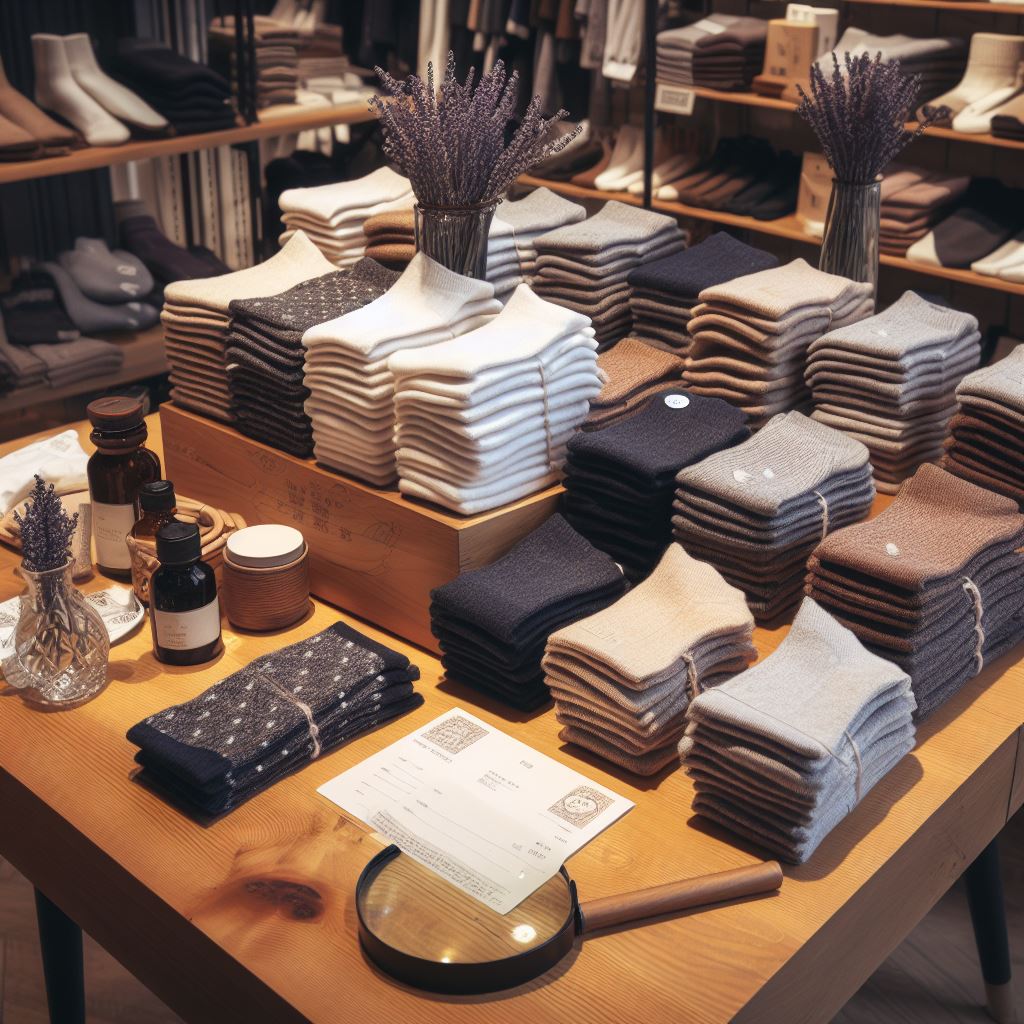 Custom socks have emerged as a versatile and impactful accessory, serving diverse purposes across various occasions, events, and businesses. From corporate branding to sports teams and special events, custom socks have become a trendy and practical way to make a statement and leave a lasting impression. Their significance transcends mere fashion, often serving as a powerful tool for brand promotion, team unity, and fostering a sense of belonging among communities.
Benefits of Purchasing Custom Socks in Bulk:
Purchasing custom socks in bulk offers many advantages, making it an ideal choice for businesses, organizations, and event planners. 
Bulk orders often result in significant cost savings, allowing for economies of scale and reduced per-unit pricing. 

It facilitates uniformity and consistency in design and quality, ensuring each participant or

employee

receives a standardized product.

Ordering custom socks in bulk enables customization on a larger scale, accommodating specific design preferences and branding requirements. This approach also streamlines the logistics and procurement process, reducing the time and effort required for multiple individual orders. 

It fosters a sense of unity and identity among team members or event participants, creating a cohesive and professional appearance that sets them apart.
Understanding Your Custom Sock Needs:
Before ordering custom socks in bulk, it is crucial to identify and outline your specific requirements to ensure a seamless and successful manufacturing process. It involves various aspects, including design, material, size, and quantity.
Design: Conceptualize the design elements best representing your brand, team, or event. 
Consider logo placement, color schemes, and patterns or graphics aligning with your vision. 
Ensure the design aligns with your branding guidelines and resonates with your target audience.
Material: Selecting the appropriate material for your custom socks is essential in ensuring both comfort and durability. Evaluate different options such as cotton, polyester blends, or specialized performance fabrics depending on the intended use of the socks. Consider factors like breathability, moisture-wicking capabilities, and overall comfort to cater to the preferences and needs of the end-users.
Size: Accurate sizing is paramount to ensure that the custom socks fit comfortably and effectively cater to the diverse needs of your target audience. Consider the range and variations in foot size and shape. Ensure the sizing chart aligns with industry standards and provides options for various age groups or specific user demographics.
Quantity: Determine the exact quantity of custom socks needed for your specific purpose, taking into account the number of participants, employees, or target recipients. 
Assess any potential future requirements to avoid ordering insufficient quantities or overstocking. Consider potential growth, event attendance, or projected usage to determine the optimal bulk order quantity.
Clarity in Design and Material Specifications:
To obtain accurate quotes and meet your custom sock needs, maintain clarity in your design and material specifications. Provide detailed information and visual references, if possible, to convey your design preferences accurately to the manufacturer. Clearly articulate the desired color palette, logo placement, and specific design intricacies integral to your custom sock vision.
Similarly, when specifying the material requirements, provide detailed information about the preferred fabric type, weight, and any specific features necessary for the intended use of the socks. Communicating your expectations for material quality and performance can help manufacturers provide accurate quotes that align with your budget and desired product standards.
Researching Reputable Custom Sock Manufacturers:
Partnering with a reputable manufacturer for your custom sock needs is crucial to ensure the production of high-quality, durable, and visually appealing products that meet your specific requirements. Working with an established manufacturer guarantees superior craftsmanship and a seamless and professional experience from design to delivery.
Significance of Working with Reputable Manufacturers:
Quality Assurance:

Reputable manufacturers maintain high standards. They employ skilled professionals and use advanced production techniques to ensure that every custom sock meets or exceeds industry standards.

Timely Delivery:

Reliable manufacturers understand the importance of adhering to deadlines and delivering orders on time. Their efficient production and supply chain management processes ensure you receive your bulk custom sock order within the specified timeframe, allowing you to plan your events or promotions effectively.

Customer Support:

Reputable manufacturers prioritize customer satisfaction and provide exceptional support throughout the process. They offer transparent communication, address concerns promptly, and provide guidance to help you make informed decisions about your custom sock order.
Tips for Researching and Evaluating Manufacturers:
Check Credentials:

Verify the manufacturer's certifications, licenses, and affiliations to ensure industry standards and regulations compliance. Look for manufacturers with a proven track record of ethical manufacturing practices and quality control procedures.

Customer Testimonials and Reviews:

Read through customer testimonials and reviews to gain insights into the experiences of past clients. Pay attention to feedback regarding product quality, customer service, and overall satisfaction to assess the manufacturer's reputation and credibility.

Evaluate Past Projects:

Examine the manufacturer's portfolio of past custom sock projects to assess the quality and design capabilities. Look for examples that align with your design requirements and evaluate the overall aesthetics and durability of the socks produced.

Assess Communication and Transparency:

Communicate directly with the manufacturer to assess their responsiveness, willingness to address your concerns, and transparency in providing information about their production processes, materials used, and pricing structures.

Request Samples:

Request samples of custom socks to evaluate the quality of materials, craftsmanship, and overall product durability firsthand. Conduct a thorough inspection of the samples to ensure they meet your standards and expectations before proceeding with a bulk order.
Comparing Price Quotes and Services:
Obtaining and comparing price quotes and services from multiple custom sock manufacturers is critical in ensuring you get the best value for your investment. This process involves thorough research, effective communication, and a comprehensive evaluation of various factors to make an informed decision that aligns with your budget and quality expectations.
Process of Obtaining Quotes from Multiple Manufacturers: 
Initial Inquiry:

Reach out to multiple custom sock manufacturers and provide them with detailed information about your specific requirements, including design, material, size, and quantity. Request comprehensive quotes that outline the pricing structure for your bulk custom sock order.

Provide Detailed Specifications:

Ensure each manufacturer receives the same set of specifications to generate accurate and comparable quotes. Clear and detailed specifications help manufacturers understand your expectations and provide more precise pricing information for the desired custom socks.

Request Comprehensive Quotes:

Ask for detailed quotes that include a breakdown of costs for design, materials, manufacturing, and any additional services offered. Obtain information on production timelines, minimum order quantities, and any discounts for bulk orders to facilitate a comprehensive cost comparison.
Importance of Comparing Prices, Additional Services, and Product Quality:
Budget Alignment:

Comparing prices allows you to assess the overall cost implications of each manufacturer's quote and ensure that it aligns with your budget constraints without compromising the desired quality of custom socks.

Service Offerings:

Evaluate the additional services provided by each manufacturer, such as design assistance, customization options, and post-production support. Choose a manufacturer that offers a comprehensive range of services that can streamline the entire manufacturing process and enhance the overall customer experience.

Product Quality:

Assess the quality of materials used, manufacturing techniques employed, and the overall durability and aesthetic appeal of the custom socks produced by each manufacturer. Prioritize manufacturers with a commitment to delivering high-quality products that meet or exceed your expectations.
Significance of Considering Hidden Costs:
In addition to the base price quoted by manufacturers, it is crucial to consider any potential hidden costs that may impact the overall cost of your bulk custom sock order. Factors such as shipping fees, taxes, import/export duties, and additional fees for specialized packaging or rush orders can significantly affect the final cost.
Before deciding, request detailed information on any potential hidden costs from each manufacturer to ensure you understand the total expenses associated with your order. 
Factor in these additional costs when comparing quotes to make an informed decision that accounts for all potential expenditures associated with your bulk custom sock order.
Negotiation Tactics for Bulk Orders:
When it comes to securing a better price on bulk custom sock orders, effective negotiation strategies can make a significant difference in reducing costs and enhancing the overall value of your purchase. 
Emphasize Long-Term Relationship:

Highlight your interest in establishing a long-term partnership with the manufacturer. It demonstrates a commitment to ongoing business, which may encourage them to provide more favorable pricing and terms. Manufacturers often value repeat business and may be willing to offer discounts to secure a loyal client.

Volume Commitment:

Express your willingness to commit to a substantial volume of custom socks over time. Manufacturers are often more inclined to negotiate pricing when they see the potential for large orders. Provide forecasts or projections of your future sock requirements to demonstrate your volume commitment.

Market Research:

Conduct thorough market research to understand the current competitive landscape. If you know of other manufacturers offering similar products or better prices, use this information as leverage during negotiations. Let the manufacturer know that you have alternative options and are open to exploring them if they do not give a competitive price. 

Bundle Services:

Negotiate for additional services or features that can enhance the overall value of your order. For instance, you can ask for complimentary design assistance, special packaging, or express shipping. You can often secure a more favorable overall deal by bundling services with your order.

Flexible Payment Terms:

Negotiate for flexible payment terms that align with your cash flow. It can include extended payment periods, partial upfront payments, or milestone-based payments.

Price Breaks:

Inquire about price breaks based on order size. Manufacturers may be willing to offer lower per-unit prices for larger orders, so explore tiered pricing options based on quantities.

Quality Assurance:

Be committed to product quality and discuss measures. Emphasize the importance of receiving custom socks that meet your quality standards. Manufacturers may be more inclined to offer a competitive price when they understand your dedication to the product's quality.

Open Communication:

Be open-minded and transparent throughout the negotiation process. Be prepared to listen to the manufacturer's perspective and be flexible in your negotiations. Finding common ground and working together can lead to a more favorable outcome.

Multiple Quotes:

If possible, obtain quotes from different manufacturers and use these as leverage during negotiations. Inform manufacturers that you are actively comparing offers and are interested in the best deal.

Walk Away Option:

While negotiating, be prepared to walk away if the terms do not align with your objectives. Demonstrating your willingness to explore other options can motivate the manufacturer to improve their offer.
Leveraging Seasonal and Promotional Offers:
Keeping an eye on seasonal and promotional offers from custom sock manufacturers can yield significant cost savings and additional benefits for your bulk orders. 
Cost Savings:

Seasonal and promotional offers often come with discounted prices or special deals that can significantly reduce the overall cost of your bulk custom sock orders. Take advantage of these offers to secure high-quality products at more affordable rates, allowing you to stay within your budget while maximizing the value of your purchase.

Additional Services:

Some seasonal and promotional offers may include complimentary services or extra benefits, such as free design consultations, expedited production, or upgraded packaging. You can enhance the overall quality and presentation without incurring additional costs.

New Product Launches:

Manufacturers may introduce new product lines or updated designs during specific seasons or promotional periods. Keeping an eye on these launches can help you access the latest trends, and innovative custom sock options can elevate your brand or event.

Bulk Order Discounts:

Manufacturers may offer additional discounts or unique pricing tiers for bulk orders during promotional periods. Timing your bulk orders to coincide with these promotional events can result in substantial cost savings, allowing you to procure a large quantity without exceeding your budget. 

Customization Options:

Some seasonal offers may include exclusive customization, or unique design features are only available for a limited time. By taking advantage of these opportunities, you can create custom socks that stand out and leave a lasting impression on your target audience or participants.

Brand Visibility:

Leveraging seasonal and promotional offers can increase brand visibility and recognition, especially if the promotional period aligns with events, holidays, or industry-specific milestones. Capitalize on these opportunities to enhance your brand's presence and strengthen your market positioning.
To effectively time your bulk orders and take advantage of seasonal and promotional offers, consider the following strategies:
Regular Monitoring:

Know the latest promotions and seasonal offers by monitoring manufacturers' websites, social media channels, and newsletters. Set up alerts or notifications to ensure you don't miss out on limited-time deals.

Strategic Planning:

Plan your bulk orders well to align with upcoming promotional periods or seasonal events. Anticipate your custom sock requirements and strategically time your orders to coincide with these periods, maximizing your cost savings and overall benefits.

Communication with Manufacturers:

Establish open communication with manufacturers to inquire about upcoming promotions or seasonal offers. Discuss your long-term purchasing plans and explore the possibility of reserving bulk orders for specific promotional periods to secure the best possible deals.
Ensuring Quality Control and Sample Testing:
Maintaining stringent quality control measures throughout the manufacturing process is crucial to guarantee the production of high-quality custom socks that meet your specific design and performance requirements. Prioritizing quality control ensures customer satisfaction and your brand's reputation and fosters long-term trust and loyalty. 
Adherence to Specifications:

Stress the importance of adhering to the predetermined design, material, and size specifications during manufacturing. Clear communication of your expectations and standards ensures the final product aligns with your requirements and reflects the desired quality and aesthetics.

Material Inspection:

Advocate for thorough material inspections to verify the quality and durability of the fabrics and components used in the custom sock production. Ensure that the materials meet industry standards for comfort, breathability, and performance, aligning with your intended use and target audience's preferences.

Craftsmanship Assessment:

Highlight the significance of evaluating the craftsmanship and attention to detail during the manufacturing. Emphasize the importance of precise stitching, color consistency, and finishing to maintain visual appeal and structural integrity.

Quality Assurance Protocols:

Encourage the implementation of comprehensive quality assurance protocols, including regular checks at different stages of production. These protocols should encompass visual inspections, functional testing, and performance evaluations to identify and rectify potential defects or inconsistencies before the final products are delivered.

Sample Product Evaluation:

Stress the value of requesting sample products from the manufacturer before placing a bulk order. Thoroughly examine the sample socks to assess their design accuracy, material quality, and skill. Evaluate comfort, fit, and visual appeal to ensure the samples meet your expectations and align with your brand standards.

Performance Testing:

Conduct performance testing on the sample products to assess their durability, moisture-wicking capabilities, and overall wear resistance. This testing can provide valuable insights into the custom socks' suitability for specific activities, environments, or promotional purposes, ensuring they meet the intended functional requirements.

Feedback Integration:

Encourage open communication with the manufacturer and provide constructive feedback based on the sample product evaluation. Communicate any concerns, suggestions, or necessary adjustments to facilitate improvements and ensure that the final production batch meets the desired quality standards.
Building a Long-Term Relationship with the Manufacturer:
Establishing a long-term relationship with your custom sock manufacturer can yield benefits beyond a single transaction. By fostering a collaborative and mutually beneficial partnership, you can unlock various advantages that contribute to the success and growth of your business or organization. 
Consistent Quality and Reliability:

Cultivating a long-term relationship fosters an understanding between you and the manufacturer, leading to consistent quality and reliable delivery of custom socks that meet your specific requirements and expectations. This continuity ensures that your brand or organization is consistently represented through high-quality products, bolstering your reputation and customer satisfaction.

Streamlined Communication and Collaboration:

Long-term partnerships facilitate streamlined communication and collaboration, enabling a more efficient and effective manufacturing process. Open communication allows for the seamless exchange of ideas, feedback, and adjustments, leading to improved product development and a smoother production workflow.

Tailored Solutions and Flexibility:

Developing a strong rapport with the manufacturer results in tailored solutions that cater to your evolving needs and preferences. Manufacturers are more likely to accommodate special requests, customizations, or last-minute changes when they understand your brand identity and objectives.

Loyalty Programs and Preferential Treatment:

Many manufacturers offer loyalty programs that provide exclusive benefits, such as priority production scheduling, dedicated account management, and access to premium materials or customization options. Building a long-term relationship can grant access to these loyalty programs, ensuring preferential treatment and enhanced support for custom sock orders.

Special Discounts for Repeat Orders:

Long-term partnerships often get special discounts or pricing incentives. Manufacturers may offer discounted rates, bulk order pricing benefits, or loyalty-based pricing structures that contribute to cost savings and increased affordability for your ongoing custom sock procurement needs.

Product Innovation and Collaboration:

A long-term relationship with the manufacturer fosters a collaborative environment that encourages product innovation and continuous improvement. Manufacturers may involve you in product development discussions, seeking your input on new design concepts, materials, or features, which can lead to innovative and market-leading custom sock solutions.

Reliability and Trust:

Long-term partnerships build a foundation of reliability and trust, establishing confidence in the manufacturer's ability to deliver on its promises. This trust fosters a stable and dependable supply chain, reducing the risk of disruptions and ensuring a seamless procurement process for your custom sock orders.
Conclusion:
As you embark on your journey to procure high-quality custom socks in bulk, partner with a manufacturer that prioritizes your vision, values, and unique requirements. At EverLighten, we are committed to delivering exceptional custom sock solutions that reflect your brand's identity and exceed your expectations.
By choosing EverLighten for your custom sock needs, you can benefit from the following:
100% Customization:

Tailor every aspect of your custom socks, from design and material to size and features, to create a product that perfectly aligns with your brand or event.

Complete Quality Check:

Rest assured that every pair of custom socks undergoes rigorous quality control measures to ensure durability, comfort, and visual appeal, meeting the highest industry standards.

Free Design Help:

Our experienced designers bring your creative vision to life. Leverage our expertise to refine your custom sock designs and achieve a look representing your brand or occasion.

Worldwide Delivery:

With a global reach, we facilitate seamless and timely delivery of your custom sock orders to your desired location, ensuring that your products reach you when and where you need them.
Contact us today to explore how our customized solutions can elevate your brand, team, or event with premium custom socks that leave a lasting impression.
FAQs: 
How much does it cost to make custom socks?
The cost of making custom socks depends on several factors, including the quantity, the type of socks, the complexity of the design, and the shipping costs.
You can expect to pay around $5-$20 per pair for custom socks. 
However, if you order a large quantity of socks or have a complex design, the price per pair may be higher.
Quantity:

The more socks you order, the lower the price per pair will be.

Type of socks:

The socks you order will also affect the price. For example, crew socks are typically less expensive than ankle socks.

Complexity of the design:

The more complex your design is, the higher the price per pair will be. Complicated designs require more time and resources to produce.

Shipping costs:

It will also affect the overall price of your order.
How long does it take to make custom socks?
The production time for custom socks varies depending on the sock company. However, most companies can produce custom socks in 2-4 weeks.
Let the sock-making company know if you need your socks by a specific date. They may be able to accommodate your request, but there may be an additional charge.
Can you print on socks?
Yes, you can print on socks. We have many different sock printing methods, including screen printing, sublimation printing, and digital printing.
Each sock printing method has its advantages and disadvantages. Screen printing is the most cost-effective method for large orders but is not as well-suited for complex designs. 
Sublimation printing produces high-quality prints but is more expensive than screen printing. 
Digital printing is the most versatile method but also the most expensive.
Is the socks business profitable?
Yes, the socks business can be profitable. There is a high demand for socks and many ways to differentiate your business from the competition.
For example, you can offer custom socks, socks made from sustainable materials, or socks with unique designs. You can also target a specific niche market, such as athletes, children, or business professionals.
What is the average profit margin for socks?
The average profit margin for socks is around 20-30%. However, the actual profit margin will vary depending on some factors, such as the type of socks you sell, the cost of your goods sold, and your marketing costs.
If you can keep your costs low and sell your socks, you can achieve a profit margin of 30% or higher.