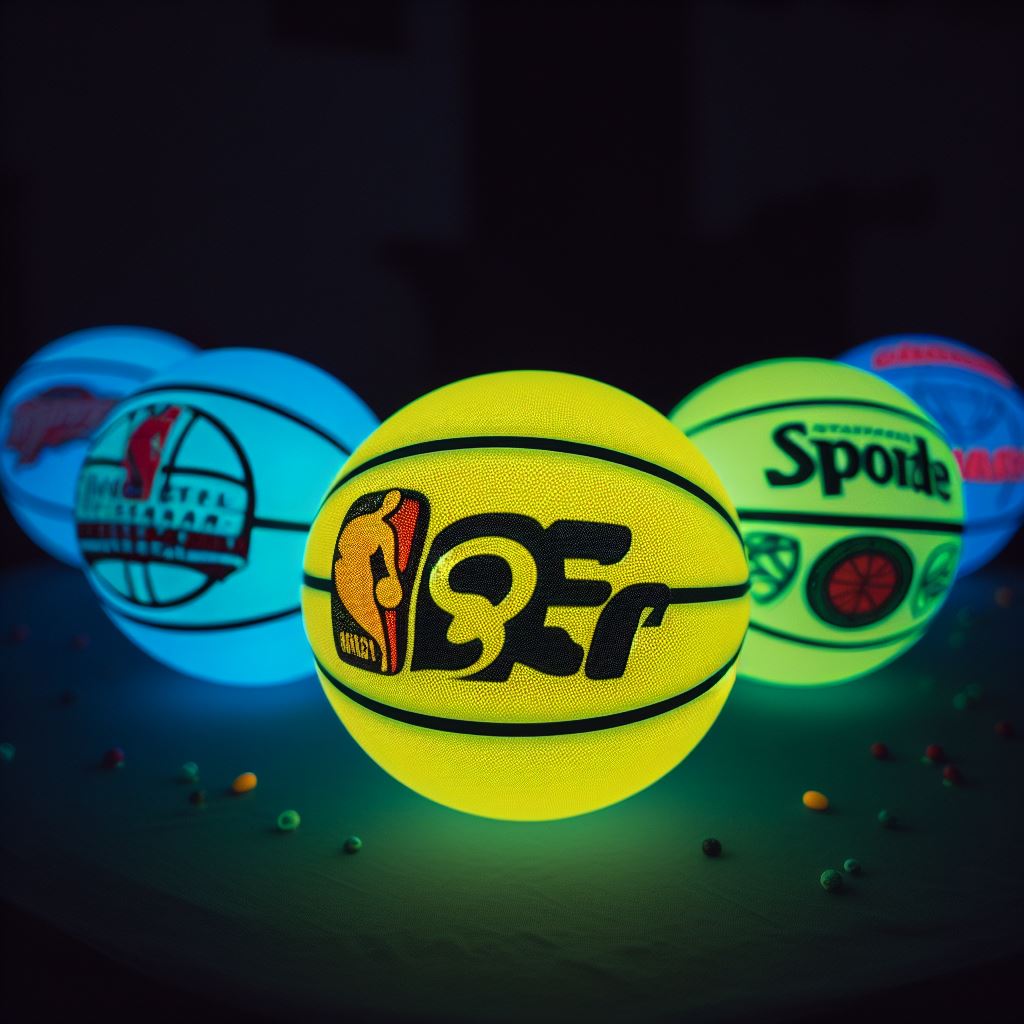 Picture a basketball court in the darkness, the players' moves illuminated by the pulsating radiance of the ball itself. Can you imagine the electrifying energy such an environment creates? Glowing custom basketballs have transcended the realm of novelty, capturing the attention of sports enthusiasts and marketers alike. The innovation has revolutionized brand marketing, forging new paths for businesses to engage with their audiences. 
According to recent industry reports, glowing custom basketballs in marketing strategies have shown a staggering 75% increase in brand engagement and a 60% rise in social media reach. It begs the question: How can your brand leverage the power of these luminous spheres to unlock unparalleled marketing potential and leave a lasting impression in the minds of your customers?
Join us on a journey through the vibrant world of glowing basketballs and discover how your brand can shine bright in sports and marketing.
What are glowing custom basketballs?
Glowing custom basketballs are specialized basketballs that incorporate technology to emit light, making them visible and sometimes even luminous in low-light or dark environments. These basketballs create a captivating visual experience, enhancing the aesthetics while serving practical purposes such as improved visibility during nighttime.
Custom glowing basketballs can be tailored to specific preferences, incorporating personalized designs, logos, or branding elements per the requirements of teams, organizations, or brands. They use various materials and technologies that allow them to emit light, with options ranging from LED lights to phosphorescent or reflective materials. These materials are strategically integrated into the basketball's surface, ensuring durability and consistent performance.
These innovative basketballs have gained popularity for their functionality in low-light conditions and their ability to create a unique and engaging experience for players, spectators, and audiences. They have found applications in various settings, including sports events, promotional campaigns, and entertainment activities, adding an element of excitement and visual appeal to the game of basketball.
Why are glowing custom basketballs so popular?
Glowing custom basketballs have gained immense popularity for several compelling reasons:
Visual Appeal:

Their striking luminosity and vibrant glow in dark or low-light settings create a visually captivating experience, adding excitement and spectacle to the game.

Enhanced Visibility:

They significantly improve visibility for players and spectators during nighttime or indoor games, allowing for smoother gameplay and a better viewing experience, especially in environments with limited lighting.

Brand Promotion:

Custom glowing basketballs offer a unique and innovative way for brands to promote themselves. By incorporating logos, designs, or brand elements into the surface, businesses can increase brand visibility and create memorable impressions during sports events or marketing campaigns.

Novelty and Entertainment:

The novelty of playing with glowing basketballs adds an element of fun and entertainment, making the game more engaging and enjoyable for players of all ages. This unique feature also appeals to fans and audiences. It contributes to an overall enhanced experience.

Social Media Engagement:

Glowing basketballs generate significant buzz on social media platforms, driving user-generated content and encouraging online engagement. It amplifies brand visibility and fosters community among followers and fans.

Versatility:

These basketballs are not limited to just sports events. They can be used in many settings, including promotional events, entertainment shows, and recreational activities, making them a versatile and adaptable marketing tool for businesses.

Innovation and Technological Appeal:

Glowing basketballs represent a fusion of technology and sports, highlighting advancements in materials and design. Their incorporation of modern lighting technology showcases a forward-thinking approach, appealing to individuals and businesses interested in cutting-edge and innovative products.
What are the benefits of using glowing custom basketballs for your brand?
Using glowing custom basketballs can offer several significant benefits for your brand:
Enhanced Brand Visibility:

By incorporating your brand's logo or design on glowing custom basketballs, you can significantly increase your brand's visibility during sports events, promotional activities, and marketing campaigns.

Memorable Brand Promotion:

The unique and eye-catching nature of glowing custom basketballs creates an impression among your target audience, helping your brand stand out in a competitive market.

Increased Engagement:

The captivating and novel aspect of glowing custom basketballs can help drive engagement with your brand, as they attract attention and encourage interaction from both players and spectators.

Social Media Buzz:

Leveraging glowing custom basketballs in your marketing efforts can increase social media engagement and user-generated content, enabling your brand to reach a broader audience and build an online presence.

Innovative Brand Image:

Aligning your brand with innovative products like glowing custom basketballs can enhance your brand's image, signaling a commitment to creativity, technology, and an engaging customer experience.

Diversified Marketing Strategy:

Incorporating glowing custom basketballs into your marketing strategy allows you to diversify your approach, enabling you to reach and engage with a broad demographic, including sports enthusiasts, event attendees, and social media users.

Long-lasting Impressions:

The visually striking nature of glowing custom basketballs can leave a lasting impression on your target audience, creating a positive association with your brand that extends beyond the initial interaction.

Versatile Applications:

Glowing custom basketballs can be used in various settings, including sports events, promotional activities,

corporate

gatherings, and recreational events, providing your brand with versatile marketing opportunities.
Types of Glowing Custom Basketballs
LED Glowing Custom Basketballs:

LED glowing custom basketballs incorporate small LED lights within the structure of the basketball. These LED lights emit a bright, vibrant glow, enhancing the visibility of the basketball in low-light or dark environments. They often come with customizable options for the color and intensity of the glow, allowing brands to align the basketball's appearance with their specific branding requirements. LED glowing basketballs are known for their high visibility and the ability to create a dynamic visual experience during gameplay.

Reflective Glowing Custom Basketballs:

These use reflective materials integrated into their surface. These materials reflect external light sources, such as artificial lighting or natural sunlight. They are particularly effective in indoor settings with adequate lighting, where the reflective properties of the basketball can amplify its visibility and create an eye-catching appearance. Reflective glowing basketballs offer a more subtle and ambient glow compared to LED variants, providing an elegant and sophisticated aesthetic.

Phosphorescent Glowing Custom Basketballs:

They use materials that absorb and store light energy when exposed to a light source. This stored energy is gradually released as a soft glow, creating a luminous effect that persists in low-light or dark environments. Phosphorescent glowing basketballs offer a subtle and enchanting glow, adding an element of mystique and allure to the playing experience. They maintain a consistent and prolonged glow. It makes them ideal for extended nighttime use or dimly lit environments.
Tips for Choosing the Right Glowing Basketball
Consider the Purpose of Use:

Before selecting a glowing basketball, it's crucial to consider the purpose. The context can help determine the most suitable type, design, and features for optimal playing, whether for recreational play, promotional events, or professional competitions.

Choose the Right Size and Weight:

Selecting the appropriate size and weight of the glowing basketball is essential for ensuring comfort and optimal performance. Adhere to standard basketball size guidelines based on the age group and intended players. Additionally, considering the weight that feels comfortable and manageable for the target players can contribute to a more enjoyable gameplay experience.

Make Sure the Basketball is Durable:

Durability is critical when choosing a glowing basketball, especially for frequent or rigorous use. Opt for a basketball crafted from high-quality, durable materials that can withstand the impact of regular play and potential exposure to various environmental conditions. Ensuring the basketball's durability contributes to its longevity and sustained performance over time, making it a worthwhile investment for recreational and professional use.

Consider the Price:

While considering the price of a glowing basketball, balance your budget and quality. Assess the features, materials, and overall build quality to its cost. Comparing different options and evaluating their value proposition based on the intended use and durability can help make an informed decision. Invest in a glowing basketball that offers a reasonable price point without compromising on essential features and performance, ensuring a satisfactory and cost-effective solution for your needs.
How to Use Glowing Basketballs to Market Your Brand
Host Glowing Basketball Tournaments and Events:

Organizing glowing basketball tournaments and events can serve as an effective way to market your brand. You can create a unique and memorable experience for participants and spectators. It increases brand visibility and fosters community and engagement around your brand, positioning it as a supporter of sports and recreational activities.

Partner with Influencers to Promote Your Brand's Glowing Basketballs:

Collaborating with influencers, particularly those with a strong presence in the sports and entertainment industry, can help amplify the visibility of your brand's glowing basketballs. Through sponsored content, product demonstrations, or endorsements from these influencers, you can effectively reach a wider audience and build credibility for your brand, thereby increasing brand awareness and fostering consumer trust.

Give Away Glowing Basketballs as Prizes and Giveaways:

Hosting promotional giveaways or contests that feature your branded glowing basketballs as prizes can incentivize audience engagement and participation. By creating a buzz around these giveaways, you can generate excitement and interest in your brand, encouraging more people to interact with your products and promotional campaigns. This approach boosts brand recognition and cultivates a positive association between your brand and the concept of fun and excitement.

Use Glowing Basketballs in Your Marketing Campaigns and Social Media Posts:

Incorporating glowing basketballs into your marketing campaigns and social media posts can create visually appealing and engaging content for your audience. Whether through captivating images, videos, or interactive posts, showcasing the unique features and benefits of your glowing basketballs can pique the interest of potential customers and followers. Sharing user-generated content and testimonials can strengthen your brand's credibility and influence within your target market.
Successful examples of brands using glowing custom basketballs for marketing: 
Gatorade has used glowing basketballs to promote its sports drink at night events and trade shows. For example, Gatorade once set up a luminous basketball court at a trade show where attendees could compete against each other in shooting challenges. 
Mountain Dew has used glowing basketballs to promote its energy drink at night events and parties. For example, Mountain Dew once hosted a glowing basketball tournament at a music festival. 
State Farm Insurance has used glowing basketballs to promote its insurance products. For example, State Farm once gave away luminous basketballs to fans at college basketball games. 
Embracing the Glow - Illuminate Your Brand with Custom Basketball
In a world where innovation meets entertainment, the luminous charm of glowing custom basketballs has emerged as a beacon of marketing ingenuity. From engaging tournaments to captivating social media campaigns, these radiant spheres have illuminated the path for brands seeking to leave an indelible mark on their audience. 
By harnessing the power of these technologically advanced yet visually striking basketballs, businesses can transcend the ordinary and step into a realm of extraordinary brand promotion and engagement.
Now is the time to take the leap and illuminate your brand's potential. Connect with EverLighten, your trusted partner for high-quality custom basketballs. We ensure that your brand shines bright in every sphere.
Let EverLighten elevate your brand's game with 
100% Customization:

Tailor your glowing basketballs to reflect your brand's unique identity and vision.

Complete Quality Check:

Every aspect of your custom basketballs undergoes thorough quality scrutiny.

Free Design Help:

Leverage our design expertise to bring your glowing basketball concept to life, free of charge.

Worldwide Delivery:

Reach your audience worldwide with our seamless and efficient delivery services.

24*7 Customer Support:

Experience unparalleled assistance and guidance from our dedicated customer support team, available round the clock to address your queries and concerns.
FAQs: 
What is glow basketball?
Glow basketball is a type of basketball that glows in the dark. We achieve it by using one of three methods:
LED lights

Reflective materials

Phosphorescent materials
How long does the glow of these basketballs last?
The length of time that a glow basketball glows depends on the type of glow material used. 
LED glow balls will glow for as long as the battery charge lasts. 

Reflective glow balls will shine till there is a light source to reflect.

Phosphorescent glow balls will be luminous for several minutes after being removed from a light source.
Do these basketballs offer the same fun as standard?
Glow basketballs offer the same fun but with the added benefit of being able to play in the dark. Glow basketballs can be helpful for the same games and drills as standard basketballs. They are also just as durable and well-made.
Many people find them even more fun than standard basketball because it allows you to play at night or in other low-light conditions. It is also a great way to add a new element of excitement.