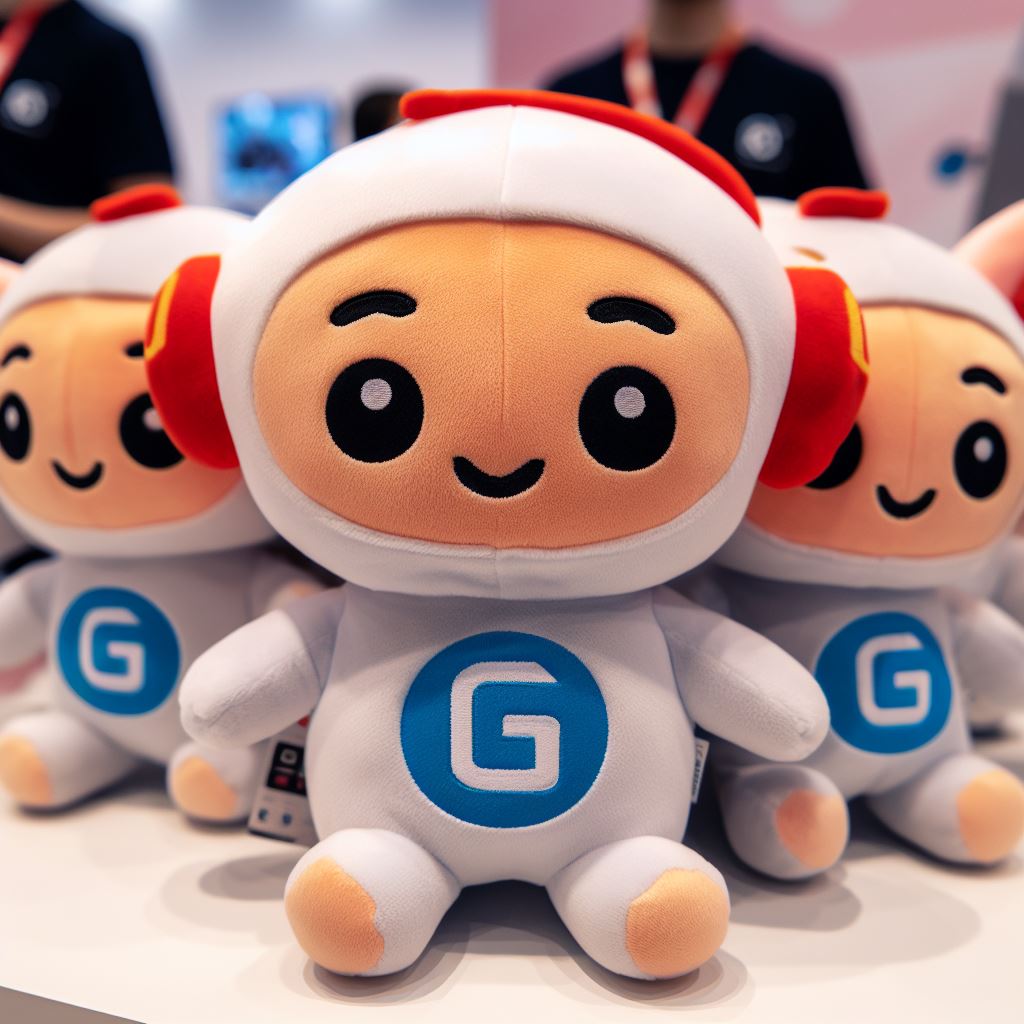 Designing a corporate plush mascot becomes inevitable for any enterprise at a certain point. Crafting unique plush mascots for staff, developing event souvenirs, or marketing branded plushies all enhance the credibility of your business, exuding professionalism and fostering team cohesion. Undeniably, tailor-made plush toys have an impressive visual appeal.
Benefits of a Company Plush Mascot Design
In the realm of business, incorporating plush mascots offers remarkable marketing advantages. Envision imprinting your brand name or logo on your team's plush mascot. This strategy guarantees heightened visibility, enabling potential customers to engage with your brand effortlessly. The plush mascot functions as an excellent icebreaker, facilitating the dissemination of information to prospective clients in a non-intrusive manner.
You amplify your brand recognition and identity by integrating your business emblem into a plush mascot. With each enterprise, leveraging your logo and corporate hues on plushies increases your distinctiveness, setting you apart in a sea of competitors.
When considering the creation of custom plush mascots for your workforce, they play a pivotal role in nurturing team spirit and cultivating a sense of loyalty. Furthermore, adorning a meticulously crafted company plush mascot lends a professional air to your team, fostering a sense of cohesion and dedication.
Explore this article to grasp the essential factors when devising a corporate plush mascot and to gather inspiration.
Where to Start With Company plush mascot Ideas?
Getting started with company plush mascot ideas involves a creative process with a strategic approach. 
Define Your Brand Personality:

Clearly outline your brand's values, mission, and overall personality. Understanding these aspects will guide the design process, ensuring your plush mascot aligns seamlessly with your brand identity.

Research and Inspiration:

Explore existing plush mascot designs within and outside your industry. Draw inspiration from successful examples and identify elements that resonate with your brand's ethos. Consider colors, shapes, and other design elements that reflect your brand's story.

Audience Analysis:

Analyze your target audience to comprehend their preferences, interests, and what appeals to them. Tailoring your plush mascot design to cater to your audience's tastes can significantly enhance its effectiveness in connecting with potential customers.

Conceptualization and Sketching:

Brainstorm and sketch initial concepts for your plush mascot. Begin with rough drafts, exploring various ideas and iterations. This process allows you to visualize different possibilities and refine your ideas before finalizing the design.

Feedback and Iteration:

Seek feedback from trusted colleagues, clients, or focus groups to gain valuable insights and perspectives. Use this feedback to refine your initial concepts, ensuring the final design is well-received and aligns with your branding objectives.

Collaboration with Design Experts:

Consider collaborating with professional designers or agencies specializing in plush mascot creation. Their expertise can provide invaluable guidance and ensure that the final product meets industry standards and your specific requirements.

Prototype Development:

Develop a prototype of your plush mascot design to assess its physical form and appeal. Make any necessary adjustments to the prototype to ensure the final product accurately reflects your envisioned design.

Production and Distribution Plan:

Develop a comprehensive plan for the production and distribution of your plush mascot. Consider budget, quantity, and distribution channels to ensure a smooth and effective rollout of your mascot to your intended audience.
Pick the Right Plush Mascot
Selecting the plush mascot for your business involves various factors to ensure that the final design effectively represents your brand and resonates with your target audience. 
Brand Identity and Values:

Your plush mascot should embody the core values and personality of your brand. Consider how you want your brand to be perceived and ensure that the mascot's design, colors, and overall appearance reflect these attributes.

Audience Appeal:

Understanding your target audience's preferences, interests, and demographics is crucial. Choose a plush mascot design that appeals to your target market and engages them effectively, fostering a strong connection with your brand.

Uniqueness and Originality

: Aim for a design that sets your plush mascot apart from competitors. Incorporate unique elements that make it memorable and instantly recognizable, allowing it to stand out in a crowded market and leave a lasting impression on customers.

Versatility and Adaptability:

Consider the potential uses of your plush mascot beyond its primary role. Ensure the design is adaptable to marketing and promotional initiatives, such as merchandise, advertising campaigns, or corporate events, maximizing its overall utility and impact.

Practicality and Feasibility:

Evaluate the practical aspects of bringing your plush mascot design to life. Consider factors such as production costs, materials, and manufacturing processes to ensure your chosen design is feasible and sustainable within your budget and production capabilities.

Longevity and Timelessness:

Strive for a plush mascot design that withstands the test of time and remains relevant across different trends and market shifts. Avoid overly trendy or faddish elements that might quickly become outdated, and opt for a timeless design that can represent your brand for years to come.

Alignment with Marketing Goals:

Ensure your plush mascot design aligns seamlessly with your overall marketing and branding objectives. It should effectively communicate your brand message and contribute to your business goals, whether that involves increasing brand awareness, driving sales, or enhancing customer loyalty.
Define Your Budget and Quantity
Defining your budget and quantity is a crucial step in creating a plush mascot for your business. It involves setting financial parameters and determining the quantity of mascots you intend to produce. 
Budget Allocation

: Have a clear budget for your plush mascot project. Determine how much you're willing to invest in designing, producing, and distributing the mascots. The budget should encompass all related expenses, including design fees, materials, production prices, and marketing expenses.

Cost Considerations:

Research and gather cost estimates for various aspects of the project, such as design services, manufacturing, materials (fabric, stuffing, embellishments), quality control, and packaging.

Quality vs. Quantity:

Decide whether you prioritize quality or quantity. Higher-quality materials, craftsmanship, and design can elevate the perceived value of your plush mascots but may come at a higher cost per unit. Balancing quality and quantity is essential to ensure your budget is well-managed.

Production Scale:

Determine the number of plush mascots you plan to produce. The quantity should align with your marketing objectives and anticipated demand. Consider factors such as the size of your target audience, distribution channels, and the intended usage of the mascots.

Economies of Scale:

Explore the potential benefits of economies of scale. Ordering larger quantities can often lead to cost savings in manufacturing and production per unit. Assess whether producing in bulk is a cost-effective strategy for your project.

Contingency Fund:

It's advisable to set aside a portion of your budget as a contingency fund for unexpected expenses or design revisions. This buffer can help you navigate unforeseen challenges without disrupting your project's progress.

Return on Investment (ROI):

Evaluate the expected return on investment. Consider how the plush mascots will contribute to your business goals, such as increased brand recognition, customer engagement, or sales. Ensure that the budget allocated aligns with the potential benefits and long-term value the mascots will provide.

Iterative Budget Planning:

Recognize that the budgeting process may require adjustments as the project progresses. Keep a close eye on expenses and be prepared to make changes. Staying within budget is essential for the overall success of your plush mascot project.

Vendor Selection:

When choosing a manufacturer or designer, request detailed quotes and ensure they fit within your established budget. Additionally, inquire about any minimum order requirements that may impact your production quantity.
Let the Colors Speak
The colors you choose can significantly impact the overall perception of your brand and the effectiveness of your marketing efforts. 
Brand Identity Reinforcement:

Select colors that align with your brand's identity, values, and messaging. Use colors associated with your brand to maintain consistency across all marketing materials, including the plush mascot. Consistent use of brand colors helps reinforce brand recognition and fosters a stronger connection with your target audience.

Psychological Impact:

Understand the psychological effects of different colors and their potential impact on your audience. Certain colors can evoke specific emotions and convey particular messages. For example, blue might signify trust and reliability, while red could transmit energy and passion. Consider the emotional response you want to evoke in your audience and select colors accordingly.

Contrast and Visibility:

Ensure the colors offer sufficient contrast to make your mascot visually appealing and easily recognizable. High contrast can improve visibility, making your plush mascot stand out, especially in crowded marketing environments. Additionally, consider how the colors will appear in various lighting conditions and on different backgrounds.

Market Alignment:

Research the color preferences within your target market. Understanding the cultural significance and preferences of colors in your target demographic can help you create a plush mascot design that resonates more effectively with your intended audience.

Color Harmony and Balance:

Create a cohesive and balanced color palette for your plush mascot. Avoid using too many colors that might overwhelm the design or confuse the brand message. Strive for a harmonious blend of colors that work together to create a visually appealing and memorable mascot design.

Versatility and Adaptability:

Consider the versatility of the selected colors for various applications and marketing materials. Ensure the colors translate across different mediums, such as digital marketing, print materials, and merchandise. This adaptability ensures a consistent brand identity across all platforms.

Competitive Differentiation:

Use colors strategically to differentiate your brand from competitors. Analyze the color schemes and aim for a unique combination that helps your plush mascot and overall brand stand out.
Logo Placement
Logo Placement is a critical aspect when designing a plush mascot, as it directly influences brand visibility and recognition. 
Strategic Visibility:

Place your logo in a prominent and strategically visible location on the plush mascot. Ensure that it's easily noticeable to anyone interacting with the mascot. The placement should be such that it doesn't hinder the overall design aesthetic while effectively reinforcing your brand identity.

Size and Proportion:

Consider the appropriate size and proportion of your logo concerning the plush mascot's dimensions. The logo should be large enough to be visible and identifiable but not overly dominant to the point where it overwhelms the overall design. Achieving the right balance is crucial for maintaining a visually appealing and professional appearance.

Seamless Integration:

Integrate the logo seamlessly into the plush mascot's design to create a cohesive and unified look. Ensure that the logo doesn't appear as an afterthought but as an integral part of the mascot's overall aesthetic. A well-integrated logo enhances brand recognition and reinforces your brand's visual identity.

Consistency Across Platforms:

Ensure that the logo placement on the plush mascot is consistent with other branding materials and marketing collateral. Consistency in logo placement across various platforms, such as digital media, print materials, and merchandise, helps reinforce brand recognition and fosters a sense of familiarity among your target audience.

Visibility in Various Settings:

Anticipate the settings, such as corporate events,

trade shows

, or promotional campaigns. Ensure the logo placement is effective in different contexts and lighting conditions, guaranteeing maximum visibility and brand exposure across diverse marketing environments.

Brand Storytelling:

Use the logo placement to convey your brand's story or message. Consider incorporating elements of your brand narrative into the design surrounding the logo, creating a visually engaging and compelling story that resonates with your audience and strengthens their connection with your brand.

Feedback and Testing:

Gather feedback from stakeholders, colleagues, and focus groups to assess the effectiveness of the logo placement. Test the mascot design in various settings and solicit input to ensure the logo placement achieves the desired impact and aligns with your branding objectives.
Cultivating Client Connections: How EverLighten's Custom Plush Mascots Empowered Yellowpike Media's Brand Engagement
Yellowpike Media, a dynamic creative agency, sought a unique approach to connect with their clients. They envisioned custom plush toys as the perfect holiday gift, reflecting their brand ethos. Collaborating with EverLighten, their vision materialized into adorable plush mascots, each intricately designed with embroidered eyes, logo, and agency colors.
The journey wasn't without hurdles; the desired reclining position posed a challenge. Yet, with persistent communication and a flurry of innovative designs, a perfect plush prototype emerged. Delighted, Yellowpike Media swiftly distributed the endearing plush mascots, igniting heartfelt connections with their clients. The plush toys not only conveyed warmth but also symbolized the agency's commitment to creativity and personalized experiences. 
Elevate Your Brand with Tailor-Made Plush Creations
In the competitive landscape of modern marketing, fostering meaningful connections with clients is paramount. Custom plush mascots are a testament to the power of personalized, tangible gestures in building lasting relationships.
Are you ready to make a lasting impression with custom plush creations? Look no further than EverLighten. Our commitment to excellence encompasses:
100% Customization

: Tailoring each plush creation to encapsulate your brand's essence.

Complete Quality Check:

Ensuring that every piece meets the highest standards of craftsmanship and durability.

Free Design Help:

Leveraging our expertise to bring your vision to life without additional design costs.

Worldwide Delivery

: Seamless delivery services, reaching you wherever your business operates.

24*7 Customer Support

: A dedicated team is always ready to assist and address queries or concerns.
Connect with EverLighten today and elevate your brand's engagement through high-quality, bespoke plush creations.
FAQs: 
What are the benefits of using a custom plush mascot toy for my business?
Custom plush mascot toys can offer several benefits for businesses, including
Increased brand awareness:

A custom plush mascot toy can help to increase brand awareness by making your brand more visible and memorable.

Enhanced customer engagement:

A custom plush mascot toy can help to engage customers by providing them with a fun and interactive way to interact with your brand.

Positive brand associations:

A custom plush mascot toy can help to create positive brand associations by making your brand seem more friendly, approachable, and trustworthy.

Increased sales:

A custom plush mascot toy can help to increase sales by promoting your products and services uniquely and memorably.
What are the different types of custom plush mascot toys available?
There are a variety of different types of custom plush mascot toys available, including:
Traditional plush toys:

Traditional plush toys have soft materials and cotton or polyester stuffing. They can be in any shape or size, and you can customize them with your brand's colors, logos, and designs.

Interactive plush toys:

Interactive plush toys feature electronic components that allow them to move, talk, or make other sounds. You can use them to create engaging and interactive marketing campaigns.

Promotional plush toys:

Promotional plush toys

are typically small and economical, and we use them as giveaways at trade shows, sporting events, and other promotional events.
How do I choose the custom plush mascot toy for my business?
When choosing a custom plush mascot toy for your business, there are a few things you should keep in mind:
Your brand identity:

The mascot toy should reflect your brand's identity and values. It should be consistent with your brand's colors, logos, and designs.

Your target audience:

Consider who your target audience is and what type of mascot toy they would find appealing.

Your budget:

Custom plush mascot toys can range in price from a few dollars to several hundred dollars. 
How can I use custom plush mascot toys to market my business?
There are many ways to use custom plush mascot toys to market your business. 
Give away mascot toys as prizes or giveaways at trade shows, sporting events, and other promotional events.

Use mascot toys in your marketing campaigns, such as in print ads, TV commercials, and social media posts.

Create a character for your brand and use mascot toys to bring the character to life.

Partner with a mascot marketing company to create a custom mascot marketing campaign for your business.
Where can I get custom plush mascot toys made?
Many companies, like EverLighten, specialize in making custom plush mascot toys. You can find these companies online.
When choosing a company to make your custom plush mascot toys, read reviews and compare prices. You should also ensure the company has a good record of producing high-quality products.