Custom Socks
Happy feet, happy teeth_ Get more referrals to your dental clinic with custom socks
|
Sep, 16 , 22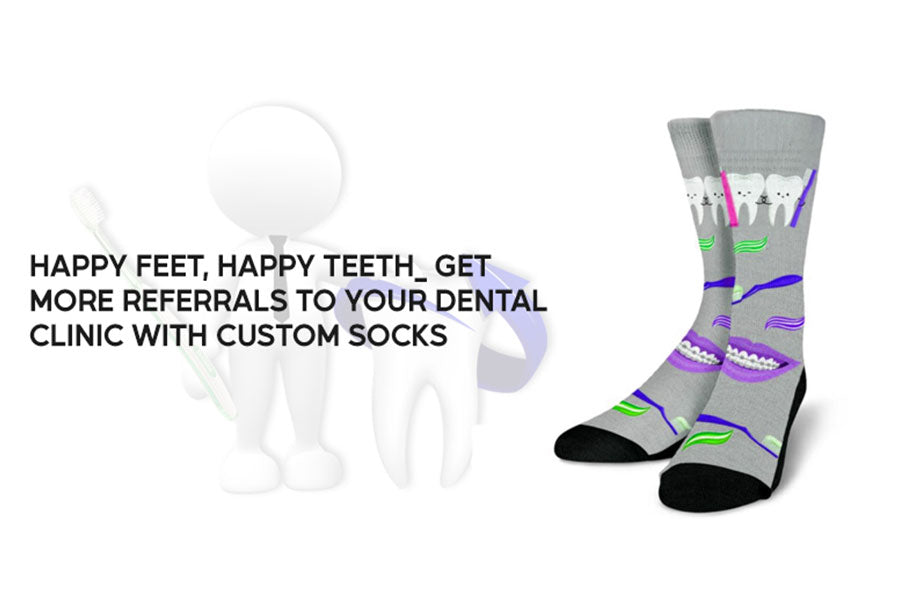 Being a good dentist was enough to build your clinic in the past. Word-of-the-mouth was the most potent tool to expand your patient base, and advertising was unheard of for dentists. With time, things change, and the same happened with dental practice. A few clinics started giving promotional products to their patients, and the custom grew. So, the question is - are dental promotional products worth the investment? With every clinic giving away cheap toothbrushes - will your patients use the items they receive? Since people expect to get a promotional product, how can you make an impression and get people talking?
Custom socks
 are one of the most effective ways to differentiate your dental clinic and get people talking about your service. It is a better method to remind patients about your practice and a thank you gift than other items - the blog will provide you with all the information.
Dental practice marketing statistics:
Growing your dental practice is a challenging task. In the past, referrals were a substantial means to grow the business. However, today referrals are few, and it is time to use other methods.
Referrals account for 72% of all new business.
While most dentists still use old practices, the trend is shifting, and they are focusing on increasing their visibility in the community with promotional products.
Most patients said promotional products affected them positively.
71% of patients ask their friends and family to decide which dental practice to choose.
Promotional products increase the number of visits from patients two to three times more. It helps dentists to grow their practice without having to add more patients.
Why are custom socks an ideal promotional product for your dental practice?
Smiles travel: Branded socks may help your clinic get more visibility. Think about it: how many dental clinics use custom socksfor promotions? Most use products like toothbrushes, mint boxes, etc.; patients now expect to get these products when they visit a clinic.
Custom socks are practical items people can use in their daily lives for a long time without feeling they are promoting. A vital consideration here is they are helpful for every patient, including children.
Business card for targeted growth:Your current patients are ideal, the fastest and most effective to influence more patients in the same demographic. As you look to grow your practice, consider the exact ways you want to grow, like a specific service, geographic area, or a specific patient type. After all, they might work, learn, exercise, and hang out with the exact market you want to target.
Conversation starter:Visiting a dental clinic is a traumatic experience for many they do not want to talk about it. Promotional socks may make the experience positive for patients to discuss you as a dentist. They will talk about your practice if your socks are of exceptional quality with clearly marked branding. Before you order another generic item, think outside of the box for giveaways.  
Customize your brand for patient personas:Custom socks are versatile per-patient personas to target your marketing efforts. They give you a unique opportunity to improve your brand impression for those select patients. For example, cotton socks are helpful for mass distributions, while premium or luxury socks like bamboo, silk, etc., may impress high-end cosmetic dentistry clients.
Foster patient loyalty:It is 5-7 times more challenging to get a new patient than to keep an old one. By positioning your practice name, logo, and tagline in patients' everyday lives, your clinic may become a part of their daily routine. Custom socks help them long after their appointment. Consider high-quality socks to foster brand loyalty and retention.
Giving it away:one way to get your foot in the door of a specific patient type or organization is a donation or sponsoring. Use custom socks for schools, colleges, daycare facilities, camps, gyms, businesses, special events, etc. You may put your clinic in front of a vast audience for a low cost.
Differentiate your dental practice:
To successfully promote your dental practice with custom socks, consider the following:
Am I making the promotional socks with the right audience in mind:Different practices require different sock designs. For instance, if your clinic specializes in family and child dentistry, your socks might include kid-friendly images. If your practice focuses on orthodontics, use the socks accordingly.
Is the sock design aesthetically pleasing:Promotional socks extend your brand; you must work with professionals to use color palettes to promote a sense of calm and relaxation.
Does your sock showcase your uniqueness: With so many dental clinics, you need to grab attention with high-quality materials, colors, and prints.
Identify your target market:Women make over 90% of all dental decisions. They are powerhouse consumers who decide for their families. A lovely marketing idea is to entice them with unique socks.
Get out in the community:The most effective way to promote your clinic is within the community. Send out custom socks and brochures for additional engagement. Take part in volunteer activities, sponsor a local minor league team, etc.
Events:Host fun events or checkups to let people know you provide community service also. To succeed, be visible, friendly, and support the community.  
Keep your clients smiling:
For many, finding the right dentist is challenging; they have to find the right dentist for their needs and one who can make them comfortable with a positive experience. Custom socks for the dental practice are an investment for you and your patients. Always have your name and logo printed on them. The best part: you do not have to break the bank; they will appreciate the gesture and feel more loyal to your practice. Connect with a reliable supplier to create high-quality dental socks. EverLighten has been helping hospitals, dental clinics, nonprofits, nurses, etc., for eighteen years.
Justine Archiga, the Director of Nurses at Bundle Birth, was looking for custom compression socks for nurses. Their goal is to empower and make the birth room experience comfortable. They contacted several manufacturers but did not find one that would accept their various colors and sizes orders. Printing on compression socks is more challenging than on regular socks. They contacted us and asked to create samples because of their previous experience with others. EverLighten offered design, size, packaging information, and advice to make better socks. The team guided size, design, and texts. After receiving the delivery, they gave us fabulous feedback and ratings.
Advantages of partnering with EverLighten:
Best pricing: We are a dedicated factory for producing custom socks and not intermediaries; customers always get the best price.
Quality without a compromise:We use premium-quality materials and the latest processes.
Fast turnaround time:We provide the quickest delivery for every order.
24*7 support:you can contact us anytime; our team provides round-the-clock support.
Real people, phenomenal service:EverLighten loves helping and offers various options for every sock.
Free design help and unlimited customization: the custom socks will look as you imagined; we provide endless customization.
No MOQ requirement:you can order as many socks as you need; we accept orders without a minimum limit.
Worldwide shipping: we deliver worldwide; customers can track their orders anytime with an order tracking tool.