custom patches
How to grow your plumbing business with custom patches and keychains
|
Sep, 17 , 22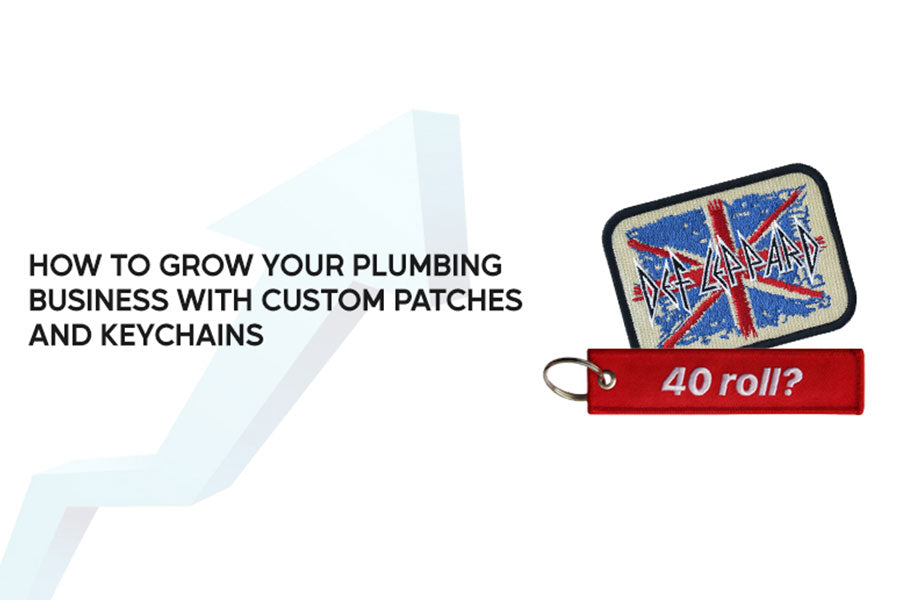 Most of us think about plumbing only when a puddle of water surrounds us in our homes or apartments. We should not underestimate the importance of plumbers for living a comfortable life. Plumbing is one of the essential services - try living a day or two without water coming from your taps, and you will understand the importance. It is vital for getting up to getting to bed at night. It is one of the few services that were highly in demand during the pandemic and boomed. Plumbing services are traditional and depend upon word-of-the-mouth referrals. However, the industry has changed, and it needs marketing to get more business. But, most plumbing businesses are small to medium-sized organizations with little to no marketing budget or experience. However, there are other ways to turn your plumbing business into a brand name in your community. You can use custom embroidered patches and keychains. The blog will provide all the information to make a name if you have a plumbing business.
Stats about plumbing service:
According to market research, the plumbing fixtures market will be worth $121.9 billion by 2025. Fixtures are becoming popular because of their functional aesthetic appeal; they make up only a portion of the overall market. The market value is even more.
An average US family of four goes through 400 gallons of water daily; it affects costs. We need efficient and more plumbing services to have water for future generations.
You can save up to 10% on water bills by fixing leaks.  
In the US, there are around 480,600 licensed plumbers. California, Texas, and New York takes the top three spots.
It is one of the few professions that best survive any economic recession.
Plumbing brings comfort and beauty to our lives and homes. The industry is a potent economic engine that provides jobs and livelihoods to millions of people worldwide. We hope these stats helped you understand the importance.
How can custom patches help your plumbing business:
Plumbing is demanding work in which uniforms get dirty and wet
. Custom patches
 help ensure a level of professionalism. They show a plumber's name, the organization they belong to, license number, etc. They can apply to their outfits, caps, toolbags, etc. When people see the patches, they feel assured.
Professional Image for plumbers:Custom embroidered patches or leather patches helps attain a professional look. Using a custom patch on your plumbing uniforms will aid in gaining more trust and respect from customers.  
Customization for various services: custom patches will distinguish the employees, like faucet service, water heater service, piping/ leak services, toilet plumbing, etc. Each of them can have their service mentioned.
Long-term use: Plumbing is a tough job; the last thing you want is the patches to peel off when the uniforms get wet. Sew-on custom patches ensure they last as long as the uniforms.
Develop a persona: Custom patches will help your plumbing business develop a persona. They will help spread your business name and logo without direct marketing. A good embroidered patch design will help people note your company, and you would not be another plumbing company only.
How can custom keychains help your plumbing service:
People need to organize their home, car, and office keys.
Custom keychains
 with your plumbing service will grab attention and stick out. They will generate a lot of curiosity and goodwill when you hand them out to people.  
High utility value:Keychains are practical items that provide some value to people's lives. A high-quality keychain enjoys a high retention rate and keeps your plumbing business exposed in front of an audience for a long time. You can add multiple tools that anyone can find helpful, like a screwdriver, flashlight, bottle opener, etc. They will make your brand message get in front.
High emotional value:Custom keychains make a lasting and positive relationship with customers. They will put a fun spin on your plumbing branding and will take your message far on a small budget.
As a token of business identity:Custom keychains will show your plumbing service personality and work culture emphatically and subtly. They will show you are different and thinks about customers.
How to use custom patches and keychains:
Build goodwill with a giveaway:Whenever you visit a customer, wear the uniform with the custom patch and give out a custom keychain after fixing the issue. Use your phone number and website on the keychains.
Attend local events: Community events are effective for making a name for your plumbing business. You can sponsor the event, and if your budget permits - distribute merch with your custom logo patches, for example, hats and t-shirts. Make keychains in bulk and use them for such events.
Take part in trade shows: Connecting with other businesses is a lovely way to grow your plumbing business, and attending trade shows is the most effective way to network. Use merch with patches and distribute your keychains.
Reach out to homeowner associations:Get in touch with a homeowner's association (HOA) in your service area. Tell them about your plumbing services and give them keychains with your business card. It will help them give you a call for a plumbing emergency.
Partner with local builders: to see if they have any upcoming projects that need water system designing and installation. Share your knowledge, experience, pricing, and keychains to connect better.
Get new or repeat business with online and offline marketing:Promote your business to new customers in your service area by handing out keychains with brochures.
Conclusion: 
Whether you have started your plumbing business or are already the local go-to plumbers in your local market, custom patches and keychains can help you get more business. However, you do not want to use low-quality products. It could do more harm to your business image; you need high-quality patches and keychains with your logo and name. EverLighten has helped startups and large companies create custom products for eighteen years.
Heating and Cooling Co., Ltd is a heating and air conditioning service company. It was looking to use custom patches for its employees. However, they can not find it because of high-quality requirements and fast turnaround time. They contacted EverLighten after going through positive reviews on social media and rating websites. Since many suppliers burned them, they asked us to produce sample patches. After receiving the samples, they were amazed and satisfied. Our partnership is growing strong and has produced over 20,000 patches.
Benefits of partnering with EverLighten:
Best pricing: We are a dedicated factory for producing custom products and not intermediaries; customers always get the best price.
Quality without a compromise:We use premium-quality materials and the latest processes.
Fast turnaround time:We provide the quickest delivery for every order.
24*7 support:you can contact us anytime; our team provides round-the-clock support.
Real people, phenomenal service:EverLighten loves helping and offers various options for every item.
Free design help and unlimited customization: the custom products will look as you imagined; we provide endless customization.
No MOQ requirement:you can order as many items as you need; we accept orders without a minimum limit.
Worldwide shipping: we deliver worldwide; customers can track their orders anytime with an order tracking tool.